Build your own Travel Brand!
Ready to go-LIVE travel solutions that helps your travel agency to sell a range of travel services pretty instantly. adivaha® travel solutions make sure you have no boundation over your imagination, you can do everything online, without the need for any technical knowledge or design skills. Easy Backoffice, extensive reporting with integrated Funds Management System. Upload funds easily and instantly through Netbanking, Debit Card, Credit Card. The best part is, we do offer customizations in case you believe it will boost your business!
Create a Professional Travel Website With WordPress Easily
WordPress offers a strong and adaptable platform for developing a credible travel website, enabling you to promote your offerings, draw visitors, and expand your travel agency software online.
Choose a domain name and a hosting provider
With the help of a hosting service, you can maintain and publish your website online. Without hosting, users wouldn't be able to visit your website. A reliable hosting firm makes sure that your website is accessible 24/7 so that your visitors may browse without interruption. Visitors access your website using a domain name, which is a memorable internet address. It acts as your website's online personal. It establishes a solid web presence and fosters audience trust. A reputable hosting company makes sure that your website runs efficiently and offers a satisfying user experience, further boosting the legitimacy of your business. You have total control over your website when you use your own domain name and hosting company. The functionality, layout, and appearance may all be altered to suit your tastes and professional requirements. As your travel technology company expands, you have the freedom to scale and expand your website. The search engine visibility of your website can be enhanced by a well-selected domain name and a dependable hosting company. More organic traffic can be attracted to your travel website by using a domain name that contains important keywords and a hosting company with high uptime and page load times. Your website and its contents are yours when you use your own domain name and hosting travel website development company. You don't rely on a third-party platform that might restrict your ownership or control rights.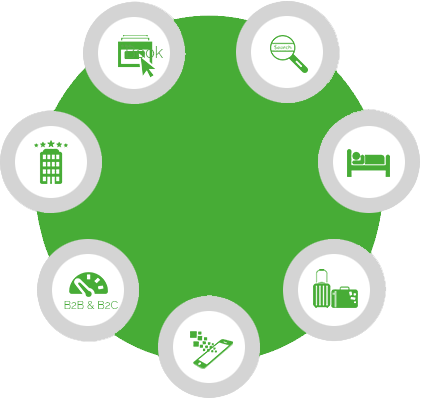 How to Make a Travel Website with WordPress
Install Word Press and Select a Travel Theme
You may simply develop, amend, and manage the content of websites using Word Press, a well-liked and user-friendly content management system (CMS). It has a user-friendly design and a variety of features that make it usable by people with different levels of technical expertise. There are several themes available on Word Press that are specially made for travel websites. The entire appearance and structure of your website are determined by these themes, which are pre-designed templates. By choosing a travel-related theme, you can instantly give your website a polished and eye-catching look that is specific to the travel sector. Word Press themes are made to be adaptable and usable. You can save time and work by using a travel theme rather than starting from scratch when creating your website. It is a cost-effective method for building a reliable travel website templates because it does not require considerable coding or the services of a web designer. Using a vacation theme will help you keep your website's visual branding consistent. It offers a unified design with predetermined fonts, colors, styles, and layout components that complement the aesthetics of the tourism sector. This makes sure that your website presents itself to your target market in a professional and appealing manner. Themes for the travel business frequently include functions and features that were created expressly for the sector. These might contain interactive maps, booking services, testimonial sections, and photo galleries. You may take advantage of these pre-built features by selecting a trip theme, which will save you time and work compared to building each one separately. Many Word Press themes are mobile-responsive, which means that they automatically change their content and layout to accommodate various screen widths. A mobile-friendly website is essential given the rising popularity of mobile surfing. By choosing a travel-related theme, you can make sure that your website is mobile-friendly and offers a good browsing experience for users of smartphones and tablets. Numerous plugins can be used with Word Press themes to increase the functionality of your website. To improve the functionality and features of your travel portal website, you can simply connect plugins for booking, social media, SEO, and more.
Select a Travel Theme and Customize Your Website
A travel theme is created expressly to satisfy the aesthetic preferences and needs of the travel industry. It includes pre-designed components, patterns, and color schemes that inspire a desire for exploration and adventure. You may build a visually appealing website that fits your business and engages your target audience by choosing a travel theme. You may stand out from the crowd and establish a distinctive character by personalizing your website with a travel theme. You can give your travel website a unique visual identity that makes it stand out in a crowded market by customizing aspects like colors, fonts, photos, and layouts. You can customize your website to improve customer experience. You may create a simple and smooth browsing experience by adapting the style and layout to the preferences of your target audience. To direct visitors and make it simple for them to obtain the information they require, take into account user-friendly navigation, clear call-to-action buttons, and strategically positioned material. You may highlight the key services and products your travel agency offers by customizing them. You may, for instance, promote unique offers or packages, show off eye-catching photographs of the area, or past client reviews. By personalizing your website, you may attract potential consumers' attention and successfully explain the distinctive selling aspects of your travel technology services. Visitors will link fonts, colors, and styles with your brand if you use consistency across all of your pages. This encourages brand identification and aids in establishing credibility and trusts with your target market. You can guarantee that your website is mobile-responsive through customization. A seamless browsing experience across platforms is crucial given the growing popularity of smartphones and tablets. You can optimize your website for mobile displays and make it look and work great on any device by making changes to the design and layout. Your website can be customized to allow for search engine optimization. Your website's exposure in search engine results can be increased by customizing Meta tags, optimizing headlines, and carefully arranging your content.
Add Essential Pages and Content and Install Essential Plugins
By incorporating essential pages, compelling content, and essential plugins, you enhance the functionality, user experience, and visibility of your best travel website. This, in turn, increases user engagement, attracts more visitors, and ultimately leads to the growth and success of your travel business online. The home page is the first impression visitors have of your website. It should capture their attention, convey your brand message, and guide them to explore further. The About Us page allows you to build trust and credibility by sharing your story, and team information, and showcasing your expertise in the travel industry. Dedicated pages for destinations provide visitors with detailed information, captivating images, and enticing descriptions of the places creating high-quality, informative, and engaging content is vital for attracting and retaining visitors. Compelling content can include blog posts about travel tips, destination guides, personal experiences, and industry news. It helps build your authority, improves search engine rankings, and encourages visitors to return for more valuable information. If you offer bookings or reservations for tours, hotels, or other travel services, installing a booking plugin allows visitors to make reservations directly on your travel website development. Search engine optimization (SEO) plugins help optimize your website for better search engine visibility. They provide tools for optimizing Meta tags, generating XML sitemaps, improving page load speed, and analyzing keywords. Social media plugins enable visitors to share your content on various social platforms, expanding your reach and increasing brand awareness. Installing an analytics plugin, such as Google Analytics, allows you to track website traffic, user behavior, and other important metrics. This information helps you make data-driven decisions and optimize your website's performance.
Optimize for Performance and Security and Set Up SEO and Analytics
Optimizing your custom travel website for performance and security, as well as setting up SEO (Search Engine Optimization) and analytics, are critical for the success and long-term viability of your website. A fast-loading website with smooth navigation and responsive design provides a positive user experience, encouraging visitors to explore and stay on your site. Slow-loading pages or poor performance can lead to higher bounce rates, where visitors leave your site without engaging. Optimizing performance helps keep visitors engaged and decreases bounce rates. Optimizing your website for mobile devices ensures it displays properly on smartphones and tablets, reaching a wider audience and improving user experience. A well-optimized website improves loading speed, reducing friction during the booking or purchasing process, which can positively impact conversion rates. Implementing security measures, such as SSL certificates and secure payment gateways, ensures that sensitive user information is encrypted and protected from unauthorized access. Regularly updating your Travel technology software website's, using strong passwords, and employing security plugins can help safeguard against hacking attempts and malware infections. Demonstrating a commitment to security instills confidence in your visitors and enhances your brand's reputation as a trustworthy travel provider. Optimizing your website for search engines increases its chances of appearing in relevant search results, driving organic traffic and potential customers to your site. Conduct keyword research to identify relevant keywords and incorporate them naturally into your website's content, titles, Meta descriptions, and headings to improve search engine rankings. Utilize SEO plugins like Yoast SEO or All in One SEO Pack to simplify on-page optimization tasks, such as Meta tag management, XML sitemap generation, and readability analysis. Set up an analytics tool, such as Google Analytics, to monitor important metrics like website traffic, user behavior, referral sources, and conversion rates. This data helps you understand visitor preferences and make data-driven decisions. Define and track goals, such as bookings, newsletter sign-ups, or contact form submissions, to measure the effectiveness of your website and marketing efforts. Analyze user behavior and conversion funnels to identify areas where you can optimize your website to improve conversion rates and maximize your return on investment.
Test and Launch
Before launching it to the general public, you can find any technical or functional problems by testing your website. This includes looking for broken links, making sure forms and interactive features perform properly, ensuring that all pages and content display accurately across all devices and browsers, and making sure that third-party integrations (such as booking systems) function as expected. You can deliver a flawless user experience and prevent any annoyance or client loss by taking care of these problems in advance. Gaining feedback from a focus group or testing your website with actual users can yield insightful results. They can spot usability problems, perplexing navigation, or areas where the user experience could be improved overall. Prior to the launch, you can make the necessary alterations and enhancements to make sure your website lives up to the expectations of your target market. The performance of your b2b website wordpress should be tested to ensure quick load times, ideal responsiveness, and effective resource usage. This is crucial for vacation websites because they frequently have interactive features, high-resolution photographs, and sometimes lengthy content. You can provide a seamless browsing experience and lower the chance that visitors will leave because of lengthy loading times by testing and optimizing performance. The security mechanisms on your website should be tested to find flaws and guarantee that user information is secure. By carrying out security testing, such as vulnerability scans and penetration testing, one can protect against potential attacks and make sure that the proper security controls are in place to secure sensitive user data. Before launching, review your website's content for accuracy, grammar, and readability. Ensure that all SEO elements, such as Meta tags, headings, and keyword optimization, are properly implemented. This helps improve search engine visibility and increases the chances of your wordpress travel website being discovered by potential customers. Launching your website after thorough testing and preparation helps create a positive impression of your travel business. A smooth launch, without technical issues or broken links, showcases your professionalism and attention to detail. It also contributes to a positive brand image and establishes trust among your target audience. After the launch, continue to monitor your website's performance, user behavior, and conversion rates. Regularly update and maintain your website, address any issues or bugs that arise, and incorporate user feedback to further enhance the user experience and meet the evolving needs of your travel business.
Our Comprehensive List of Services
adivaha® is a one-stop-shop for all your travel website needs. We offer a multitude of services that empower you to become a market leader. Contact us for more info.
Have Questions?
The Internet is a huge resource, but
if your question requires particular expertise.
Keep Refreshing your customers - Who doesn't want his site to stand out from crowd? adivaha® gives you multiple options for home pages, headers, colors etc. Which can easily be managed from admin via shortcodes and settings. The theme supports almost all the big players in this market ie, WEGO, Travelpayouts, Agoda, Booking, Expedia etc.
Frequently Asked Questions
Below are some of the questions asked by visitors. Do visit our adivaha® Digest for more such questions. Don't hesitate to ask us if you have any questions
a. What security measures are in place to protect sensitive customer data? b. Does the API comply with data protection …

5

views

0

answers

0

votes