Build your own Travel Brand!
Ready to go-LIVE travel solutions that helps your travel agency to sell a range of travel services pretty instantly. adivaha® travel solutions make sure you have no boundation over your imagination, you can do everything online, without the need for any technical knowledge or design skills. Easy Backoffice, extensive reporting with integrated Funds Management System. Upload funds easily and instantly through Netbanking, Debit Card, Credit Card. The best part is, we do offer customizations in case you believe it will boost your business!
A Step-by-Step Guide to Starting an Online Travel Agency
adivaha® will help you to establish your business on the digital platform. We believe in working with advanced technology. Modern technology brings more features to develop a successful business. We don't do red tape work.
We have tried to load our greatest intel concerning flight property and edifice Apis into separate articles, however, the Global Distribution System topic has relevancy to everybody who's getting into the travel online ticket booking software package world. Here's our guide for understanding the main Global Distribution System and connecting to them.
Use of technology for high performance
adivaha® offers the best travel technology rules. We want our customers to be satisfied and proud of the end product. We make an efficacious place for you to become a successful travel agency.
Commitment with clients
Starting any business alone is a herculean task. But, if you get a professional involved who can help you in starting your business or give valuable suggestions, it can lessen the stress and burden of you. So, we are here to help you start your online travel agency. Working with some consultants makes the work easier.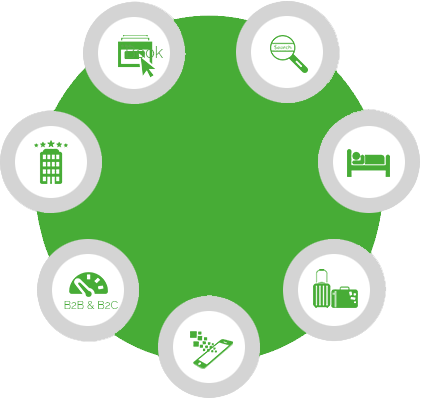 Guide to Setting Up Your Online Travel Agency
Are you looking to start an online travel business? Then you are in the right place. adivaha® is among the companies that ensure the best travel business. We don't rely on profit; our top priority is to bring a smile on customer's faces. We work to lessen the burden of our customers. Our main theme is to get in touch with those customers who offer services like hotel bookings, flight and car bookings.
Features of our online travel booking system
You can upgrade your level of revenue and increase your digital earnings by working with us. Some of the features of our company are listed below:
Advanced reports
Business intelligence reports
Ability to utilize the service of the third party, application performing interface (API), Global distribution systems (GDS)
Manage the travel agent
Add online travel booking
Add offline travel booking
Protean travel websites
Arrange credit limit
Payment flexibility
Reservation management
Customised packaging
Friendly interface
Fast and flexible booking
Why choose adivaha®?
Nowadays travel industry have changed. Now customers can book online and save their time. adivaha® takes care of the customer's reliability. That's why our online travel technology opens the doors for new travel agencies. We provide our best for our customers. We aim to keep our customers healthy and satisfied. Besides this, we provide you with the best opportunities available in the market. Travelling is a prerequisite for the business or any sort of work. By using technology people move ahead and seek lavish sources or easy procedure for travelling. So, adivaha® helps you to bring your travel business online. From this, people easily book their flight, hotel room and rental car. Alongside this, you also see the concurrent and future update of your company. adivaha® builds the hubris of travel agencies and produces top-quality travel content. We recommend a suitable sector after a parley with customers and help them to build their agencies. adivaha® never disappoints its customers. We give our best in all the way. The duty of the adivaha® team to provide the best travelling scheme.
Are you looking for a company to start your online business?
Now, no need to worry. adivaha® gives several options to start an online travel agencies. We are here to digitally transform your business. Some rules are inevitable to start an online agency:
Planning
Planning is the prime thing to start an online hotel reservation system. You must decide on a business structure. No task can be completed smoothly without proper planning. To run the agency properly, you must have proper planning. It will lead towards the fine road of success. The plan should be made with future contingencies in mind. Must review the investment resources in planning. Opt that field in which you are interested. Interesting fields proved efficacious for the lean development of business. While planning, search for the type of travels. Take that domain in which you are interested and plan things accordingly. While planning, one thing must keep in mind, consistency can bring you a lot of business. Let's start with a smooth business plan. The plan should be simple and smooth.
Understanding the niche of how to start an online travel agency
In starting an online hotel booking company list, there are many niches. First of all, search the different types of niche and note down that type of niche in which you are interested. When you choose one niche, you have to do a lot of research on it. After research, it will help you decide what the customers are interested in. In the start, try to gain more experience in a niche as it proves fruitful for the travel agency. You should specialize in one niche that makes the travel agency unique. Then, many customers would want to seek access to your online travel service. For making the agency an attractive and unique proposition, you should specialize in one niche. Try to make a unique niche by using different marketing approaches. Choose that niche that has a high demand within customers. adivaha® will help you in finding a niche by conducting many brainstorming sessions.
Choose your travel agency name
Either you select a niche or have a specialization in it. Name your agency on the base of this niche. It will make the name attractive. Choose the name which isn't similar to another company. We will tell you which things are important or should be taken into consideration when deciding on an attractive name. Lastly, about the website, its name should be easy to remember, just like flight booking api which would be easy to remember for everyone.
Investment
Profit demand investment first. You have to invest money in a travel agency. While making a plan, investment should be kept in mind. Planned investments help you to be ready for any changes in the future. The requirement of capital depends on which sort of business you are interested in. We will help you in starting an online flight booking system agency by asking you to invest a low amount in a suitable business. Investments are quintessential in making or breaking a business. Investment should be enough to cover all the primary expenditure. You can either collect money by borrowing or by taking a loan from a bank. Investment should suffice for running a smooth travel engine business.
Make a brand
To make the business brand, first, you have to create awareness amongst your prospective customers. Provide the customer with better resources as compared to the other travel agent booking system technology company. We can help you with branding your online travel company. To become a brand, the first thing is to provide sufficient services and prioritizing customers satisfaction. Make a logo that will help the agency to become a brand in itself. Provide better customers services and give them a solid reason to come back to you. adivaha® helps you for becoming that brand which customers demand.
Legal
To start an travel agency, you have to take care of the legal side of your business. We provide you with the best quality to tell you about legal rules and help you in maintaining a secure agency. Before you start an online travel agency booking software, you have to register your agency. For that, you needed a license. adivaha® provides you with quality work. adivaha® tells you about the rules and regulations of the legal proceedings. Every country has different aspects of registration. We are here to help you to make a legally viable online travel company.
Use of host agency
The host agency is an important parameter to start the business. Host agencies will teach you how to become a successful travel agent. Professional host agency will lessen the burden of your work by managing multiple tasks for you. It is efficacious to accomplish the business of an online agency. We will help you in choosing a professional host agency. Our experience in the online travelling business will help you if you choose to acquire our services.
Hire employees
Employees are needed to run an online agency. Professionals help to make the work easy. Workers are needed to run a business fast and in a unique way. You need a graphic designer for making a logo and need other professionals to resolve the disputes in the agency. To run the business smoothly, the boss must interact with the employees. Work in tandem to make the agency the best brand. Having local employees, save you money and work should be done in a given budget. These employees provide the clients to get the best experience whenever they visit your travel agency. Employees also help in solving the issues in wordpress travel agency booking plugin and avoid issues which are deleterious for the agency. Hiring the best employees to influence the agency to run their business successfully.
Marketing
You have a question how to start an online travel agency and marketing for your online businesses. Marketing allows the people to let you know your gds integration services which you are provided. Let the market know about your travelling agency by employing several marketing methods. You can do it by the use of social media or by using conventional marketing methods. So, customers will know that there is an travel agency, this will help you in maintaining a travelling standard. Ads include the speciality of your travel agency. Marketing promotes the business at a high level.
Decide the services
To start the online travel technology, you have to decide the services that you provide to your clients. Either try to add the special services that other online travel agencies software are not providing or provide the services in a unique to attract the customers. Give services all time 24/7. Research which type of speciality do customers seek. Give extra services to your regular customers. Tell your customers about your services. Try to add these all services provided by you in marketing. Give some discounts on special events. Your special packages or services attract customers.
Use of social media
We tell you how to use social media to up rank your business. Start marketing on social media. Get in touch with persons, groups on social media and tell them about your agency. Make friends, establish healthy relationships with them for further assistance. Do marketing of your business on social media. Facebook, Instagram, Twitter and many other operating resources that are fruitful, and are used by millions of people. In every social media platform, pages should be established where people Share their experiences travelling with you in the form of pictures and videos, which will be eye-catching for many. Share your new initiative, offers, through these pages. People would like and share if they find these services productive. Offering incentives and different packages are a great source of inciting your followers.
Interaction with customers
Agencies must remain in interaction with their customers. Making customers is an uphill task. With smooth communication, online travel agencies make customers. Remain in touch with your customers. Send them greetings on special occasions and tell your customers about your special services or packages. When you offer a discount or leisure package, it will be eye-catching. Your utmost priority is to tell your clients about these specialities that you are offering. Hire employees that communicate with your clients. Try your best to give them the best reply. Always remain in touch with your previous clients and thank them for availing their agency. Send them a special thank you note in return to the customers. It will increase the positive feeling of the client. Thus, next time for travelling they choose you because of your better services, good interaction and unique services. It would be so progressive to offer different offers on every festival like eid, Christmas, and Diwali etc. That's a big tool to energize your stance in the hearts of the public and get some sympathies. By establishing this people would come back every week, month and occasions would get a big boost to revenue. It is also a healthy and influential impression on your customers where you give them added services and value.
Writing blogs
Write blogs about your travelling agency. Blogging is the best way to find out the best clients who are interested in travelling. In the blog, write about the services that you provided. In the blog, write useful information about travelling. Disclose new places and tell about special things about those places. Discover new attractive places. Focus on informative content writing about your business to write a blog. Keep the standard of your blogging. The purpose of blogging is not only to promote your business but also to make your brand. Write a blog about tourism and travel agencies. Tell the people that you are providing the best facility to their clients. Thus, when writing a blog, write informative things and special services of your company.
Ask customers for reviews
Ask the customers for reviews. Positive ones help you in attracting more potential clients. It will also inform you about your customer's satisfaction. Reviews inform you that the services provided to their customers are really up to the mark. Clients also give suggestions to your travel company. In this way, you will interact with your customers and satisfy them. You can ask your customers to give reviews on social media, third party consumers, and on Google for reviews. Reviews help you in making the customers for your agency. And let's know the world or people, those who don't avail your service yet, that, your agency is the best one for travel agencies.
Salient points to start a new online travel agent
Register the agency name and make the license of this agency as per required by the local government.
Take membership with a professional company like us.
Get your travel website development by a company who do work in professionalism like us (adivaha®)
Do work to gain maximum publicity
Offer the smooth and eye-catching deals to your customers
adivaha® is the travel technology company that can help and gives you proper solution for how to start an online travel agency in making a flawless travel agencies that serves customers all across the world. adivaha® can help you to set up the business.
Our Comprehensive List of Services
adivaha® is a one-stop-shop for all your travel website needs. We offer a multitude of services that empower you to become a market leader. Contact us for more info.
Have Questions?
The Internet is a huge resource, but
if your question requires particular expertise.
Keep Refreshing your customers - Who doesn't want his site to stand out from crowd? adivaha® gives you multiple options for home pages, headers, colors etc. Which can easily be managed from admin via shortcodes and settings. The theme supports almost all the big players in this market ie, WEGO, Travelpayouts, Agoda, Booking, Expedia etc.
Frequently Asked Questions
Below are some of the questions asked by visitors. Do visit our adivaha® Digest for more such questions. Don't hesitate to ask us if you have any questions
What all GDS and Providers are connected in the platform?

36

views

1

answers

0

votes