Distribute rich and dynamic itineraries
Let your customers build their tour itinerary by themselves. An itinerary is booked all at once or service-by-service in a single checkout ie. hotels, flights, point of interest and transfers. Offer an online service to create and save itinerary for regular use or share it through email.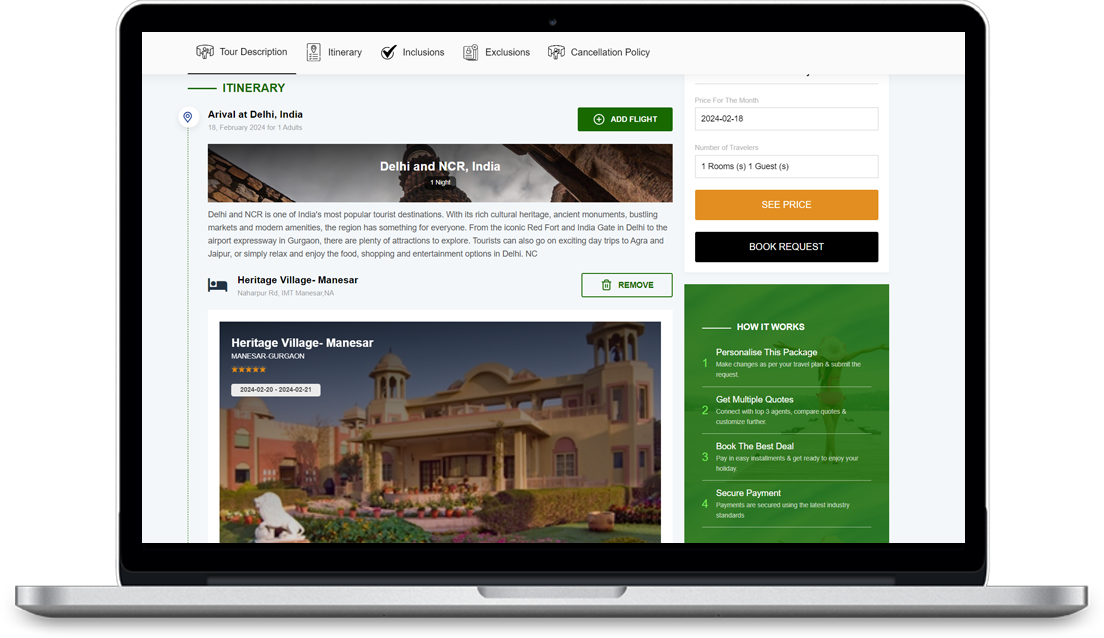 Freedom
Let customers decide on itinerary
Interactive Map
Visual display through Google map
Accuracy
Reduce human errors
Automation
Real-time travel booking engine
Save Time
Outcomes with minimal human input
Cross Platform
Integrate on any website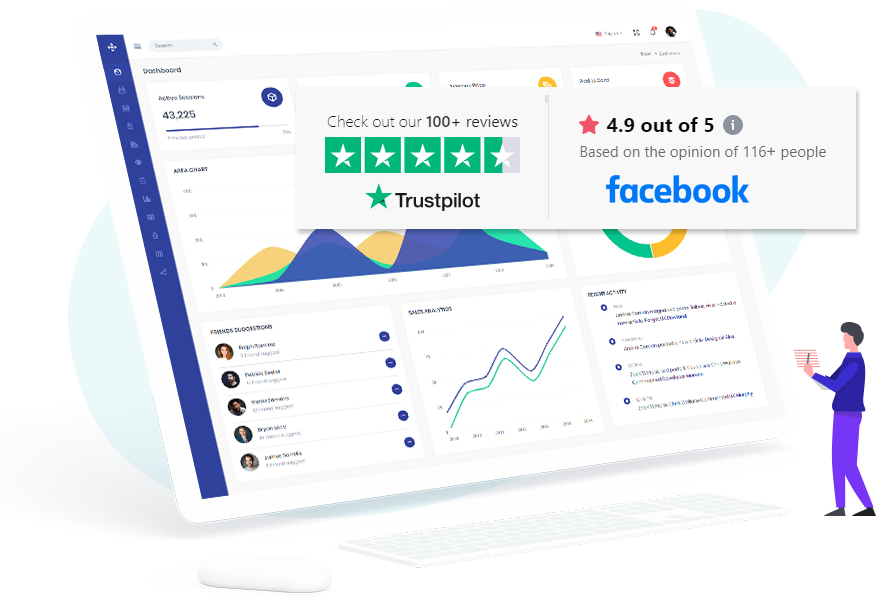 Why Itinerary Builder?
Say goodbye to paper work

Save and share itineraries
Complete Guide to Using Itinerary Builders For Travel Planning
With this in-depth guide to using itinerary builders, you can maximize the benefits of vacation planning. Learn to design unique, life-changing adventures for your clients while exploring travel technology's future. Get going right away!
To streamline their operations and give their customers the greatest experience possible, today's travel enterprises rely on cutting-edge tools and technologies. The travel itinerary builder is one such device that has transformed the tourism industry. In this thorough article, we'll look at how itinerary builders may help online travel agencies improve the quality of their travel planning offerings.
Why is it important to use itinerary builders in travel planning?
For modern travel technology companies like yours, using itinerary builders in travel planning is not simply a choice; it's a strategic need. Adivaha is aware of how essential itinerary builders are to improving your offerings and guaranteeing client happiness. Here are some reasons why it's critical to utilize itinerary builders:
Adivaha believes in personalizing travel experiences to suit the distinct interests of each customer. You may personalize every part of the tour using itinerary builders, from the locations and lodging to the activities and food choices. This level of customization makes you stand out in a crowded market.
Seamless Multi-Destination Journeys: Adivaha is aware that many contemporary travelers choose multi-destination journeys. We ensure a seamless transition between destinations, Flight APIs, and transfers by integrating different places into our itinerary builder. This convenience improves the experience for the traveler and gains their trust.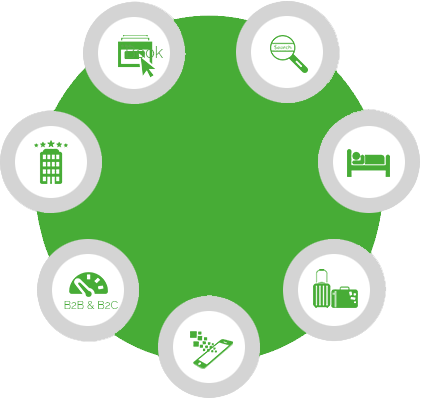 The Benefits of Using Itinerary Builders
Including Memorable Activities: Adivaha understands the value of giving visitors experiences they won't soon forget. You can easily add tours, excursions, and local experiences to the itinerary using itinerary builders, which will enhance the journey and leave a lasting impression on your customers.
Effective communication and updates are essential in the ever-changing tourism travel industry. The itinerary builder from Adivaha provides notifications and updates in real-time to make sure that travelers are instantly informed of any changes or disruptions. This attentiveness fosters loyalty and confidence.
Data-Driven Decision-Making: Adivaha believes in harnessing the power of data. Itinerary builders provide valuable insights into client preferences and behaviors. By leveraging this data, you can optimize future itineraries and stay ahead of industry trends.
What criteria should travel businesses consider when selecting an itinerary builder?
When selecting an itinerary builder, travel businesses should carefully evaluate various criteria to ensure they choose the right solution that aligns with their specific needs and goals. Here are the essential criteria to consider:
An easy-to-use itinerary builder is essential for travel businesses. It should offer an intuitive interface that minimizes the learning curve for travel agents and ensures a smooth user experience. Intuitive design and navigation can help agents efficiently create and modify itineraries, ultimately saving time and reducing the risk of errors.
You should prioritize itinerary builders that offer a high degree of customization. This means the ability to tailor travel plans to meet individual client preferences. Customization should extend to various aspects, such as destination choices, accommodations, activities, and even dietary restrictions or special requests. A robust itinerary builder empowers travel agents to create truly personalized experiences for clients.
Integration is crucial for streamlining operations. You should assess whether the itinerary builder can seamlessly connect with other travel software and booking systems. Integration with airline, hotel, and activity booking platforms ensures that agents can access up-to-date information and make bookings efficiently, all within a single platform. This reduces manual data entry and enhances accuracy.
Many travelers today seek multi-destination itineraries. Travel businesses should choose an itinerary builder capable of handling complex, multi-city trips. This ensures that travel agents can plan and manage itineraries that involve multiple stops, flights, accommodations, and activities while maintaining a cohesive and convenient experience for clients.
Effective communication with travelers is essential. The selected itinerary builder should provide real-time updates and notifications to clients throughout their journey. This feature helps travelers stay informed about any changes, delays, or disruptions, allowing them to adjust their plans accordingly. Timely communication builds trust and enhances the overall travel experience.
Protecting client information is a top priority. Travel businesses should confirm that the chosen itinerary builder prioritizes security and complies with data protection regulations, such as GDPR. Robust security measures should be in place to safeguard sensitive client data, including personal details, travel itineraries, and payment information. Demonstrating a commitment to data security enhances trust and credibility in the eyes of clients.
What customization options are available with itinerary builders?
Itinerary builders offer a wide range of customization options, allowing travel businesses to create tailored travel plans that meet the unique preferences and needs of their clients. Clients can select their preferred types of accommodations, such as luxury hotels, boutique inns, vacation rentals, or budget-friendly hostels. The itinerary builder can incorporate these choices into the travel plan, ensuring that clients stay in accommodations that align with their preferences and budget. Itinerary builders offer a catalog of activities and experiences that can be customized to suit the client's interests. Clients can choose from options like guided tours, outdoor adventures, cultural experiences, culinary tours, and more. These activities can be seamlessly integrated into the itinerary. Travelers can choose their preferred modes of transportation, whether it's flying, taking trains, using private transfers, or even embarking on road trips. The itinerary builder can incorporate these choices into the travel plan and provide details on bookings and connections.
Clients can also set their budget parameters for various aspects of the trip, such as accommodations, activities, and dining. The itinerary builder can help clients stay within their budget by suggesting options that align with their financial preferences. For clients interested in multi-destination trips, the itinerary builder can create complex travel plans that include multiple stops, flight API, transfers, and activities. The builder ensures that these itineraries are seamless and well-coordinated.
How does Adivaha®'s solution stand out and benefit travel businesses?
Adivaha®'s solution stands out in the realm of itinerary builders and offers a multitude of benefits to travel businesses. Here are some key ways in which Adivaha®'s solution distinguishes itself and provides value to travel businesses:
Comprehensive Customization: Our solution offers extensive customization capabilities, allowing travel businesses to create highly personalized itineraries for their clients. From destination selection to accommodation preferences, activities, and transportation options, our platform empowers travel business to business tailor every aspect of the travel experience to individual client preferences.
Seamless Multi-Destination Support: Adivaha®'s itinerary builder excels in managing multi-destination itineraries. It seamlessly integrates various stops, flights, transfers, and activities, ensuring a smooth and coordinated travel experience. This is particularly valuable for clients who seek to explore multiple locations during a single trip.
User-Friendly Interface: We prioritize user-friendliness with an intuitive interface and easy navigation. Travel agents and clients alike can efficiently use the platform, reducing the learning curve and ensuring a seamless planning and booking process.
Integration Capabilities: Adivaha®'s solution offers robust integration capabilities, allowing travel businesses to connect with airline, hotel, and activity booking platforms, as well as other travel technology software and systems. This streamlines operations, minimizes manual data entry, and enhances accuracy in bookings and reservations.
Real-Time Updates and Communication: Our platform provides real-time updates and notifications to travelers. This feature ensures that clients are promptly informed of any changes or disruptions during their journey, fostering trust and satisfaction.
Data-Driven Insights: We recognize the importance of data analytics and insights in travel planning. The platform collects valuable data on client preferences, booking patterns, and feedback. Travel businesses can leverage these insights to continually optimize their travel technology services, improve future itineraries, and stay ahead of industry trends.
Conclusion
In conclusion, the world of travel planning is evolving rapidly, and itinerary builders have become indispensable for travel businesses seeking to thrive in this competitive landscape. By selecting the right itinerary builder, customizing travel plans, integrating various elements seamlessly, and leveraging data-driven insights, travel business can offer exceptional experiences to their clients. And when it comes to top-notch itinerary builders, Adivaha stands out as a game-changer, ready to empower travel businesses in their journey toward success.