Build your own Travel Brand!
Ready to go-LIVE travel solutions that helps your travel agency to sell a range of travel services pretty instantly. adivaha® travel solutions make sure you have no boundation over your imagination, you can do everything online, without the need for any technical knowledge or design skills. Easy Backoffice, extensive reporting with integrated Funds Management System. Upload funds easily and instantly through Netbanking, Debit Card, Credit Card. The best part is, we do offer customizations in case you believe it will boost your business!
Choose the Right Platform for Your Mobile App Development Project
adivaha® Company is serving thousands of travel business companies to achieve their goals and to become a rising Brands in the digital travel industry. Adivaha, apart from providing Online Travel Portal Development, Amadeus GDS System Integration and API Integration also offers the Best Travel Mobile App Development services for its customer all over the world. Travellers love such apps to make their trips and tours super easy and simple.
adivaha® leading a team of Travel Mobile Application development provides a vast collection of custom travel app solutions. With the top travelling web portal developers and travel mobile app development service, adivaha® is leading as one of the best online Travel Portal Solutions across the globe.
Why Your Business must have a Travel App?
The mobile phone has become everyone`s necessity and more than 60% of this digital world's population is using a phone to make their life easier. Almost 80% of tourists use their smartphone travel app api for their trips and tours research around the world by the stats of travelport.com. Those days are gone when people went to travel agencies or travel agents to book or organize their tour. In this day and age, people use apps for their everyday use.
With the massive evaluation of technology, the world is turning into a digital domain. Now there is an app for everything and the traditional business are transforming digitally bit by bit to keep pace with the digital world. Many businesses are being replaced by e-commerce sites and so the digital travel agencies exceeding the one lacking travel app facility.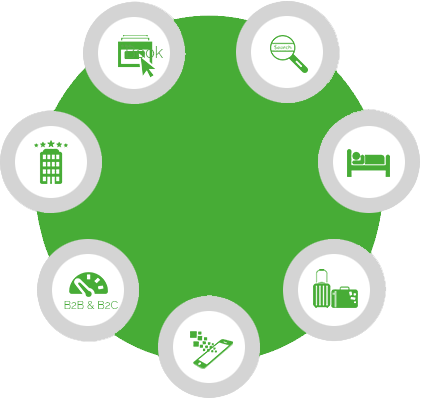 Choosing the Right Mobile App Development Platform
The concept of online and online booking api reservation of hotels for trips is getting popular among the people. The tourists are loving online Web Portals and Mobile Travel apps to book flights, reserving hotels and comparing multiple vacation packages by using their smartphone.
Like all other business, Travel business companies are also revolutionized with this technology. Hundreds of Travel business companies have already built their own Travel Mobile applications and portals to grow their business in the digital market. With the continuously increasing trend of mobile phone apps among the masses, Travel Mobile app has become an essential need for the travel business companies. The travel industry flight booking api integration increased by 30 to 40% after using the Travel App Development service.
If you are a travel agency or Tourist Company want to enter and compete in the digital travel industry, Travel Mobile App Development is the best way for your business to flourish.
Mobile Travel App vs Online Booking:
The concept of a mobile application development for the travel business companies was an outbreak in the digital market. With the increasing no of downloads; travel apps are in the top 10 categories of mobile applications. The statistics provided by the statista.com shows that the travel apps ranked as the seventh-most downloaded app type on the Google play store (Android) and the eighth-most downloaded app type on the Apple App Store (iPhone) and still the number of downloads is increasing day by day. The figures showed the changed behaviour of the tourists and travellers towards the new trend of Travel Apps in the comparison of online booking. At the same time, studies showed that online booking sites users shifted to travel apps.
This new trend of travel apps among the travellers is raising a problem for not only the local travel agencies but also for the travel business companies lacking the facility of travel mobile application. Many travel companies are using the Travel App Development service to keep their pace within the digital travel industry, as it is the only true solution.
If you still, don`t have an app for your travel business then you surely are lagging behind your competitors. adivaha® is providing the best Travel App Development service for its customers to grow their business and compete in this digital world. Let our mobile application developer experts handle your travel business application to boost your business to new heights. If you are, an absolute beginner wants to start your travel agency; still, our web portal and mobile travel app development service is the best option for you. Our expert developers and professional advisers will take you smoothly enter in this digital travel industry and will give a fire-up start to your travel business.
Advantages of Travel Apps
Tourists love to use their mobile travel app not only to book their flights api integration but also for checking their routes and to keep track of their journey. The increasing numbers of downloads of travel apps show the new trend of tourism booking. Still, only a limited no of travel websites are providing the facility of mobile apps for their users. There are high chances that you can surpass your competitors by availing the Travel Mobile App Development services for your travel agency. "Customer is king", it is high time now for you to avail the service of mobile app development from our site and grow your own travel business. Travel apps make tourists journey sweet and easy. Make your tourists happy by providing them with what they love and build a strong relationship with your customers for a long time.
Tourists love travel apps as it saves a lot of time and reduces much effort. They can get all the details of their journey on a single screen rather going to in-box and checking multiple emails. They can track and manage their route, pay bills, print or save info about flights and transactions by just using the travel app instead of going to the web or coming to the agency office. Being a service provider, you can also easily manage all the actions on a single app designed by our expert mobile app devloper.
You can maintain a real-time interaction with your clients using travel apps by providing them customs offers during their journey. The clients can ask any query and you can guide them on every single stage using a mobile app. Opportunities like tracking live location and providing hot deals through notification become feasible. Gather info about your clients` attitude for better accommodation preferences and selling custom offers. You can increase your customers` loyalty by providing them with a better experience through our travel mobile app development service.
Travel Mobile Application Development Cost
The travel application UI/UX designs require a team of mobile app developer experts and hence the overall cost of developing a user-appealing app is a bit high. Still, the exact figure depends on the features of the app and the demands you desire.
The average cost on developing a conventional travel app including the charges of developers, QA-engineers, testing team and other third-party services like gateway and api integration, payment methods and security, would range from $10000 U.S dollars to $50000 roughly. Besides this, the desired platform of the app and the hosting factor also influence the final cost. adivaha® provides the best travel mobile app development service packages to its customers that suit everyone`s budget.
How Travel Mobile Apps Work
There are various designs of travel apps that work in different manners entirely depending on the features of the app. Travel mobile app development service at adivaha® ensures that your application works in a user-friendly way.
Travel agencies build apps not only to provide a mobile application for their smartphone to list the hotels and flights but also to keep a real-time interaction with their clients.
Standard travel apps use built-in algorithms to search the flights, restaurants, hotels or cars available on the internet for booking. The designs of travel apps are so built that it makes the searching, sorting and accommodation of hotels for the users easier than a web portal. Some apps just provide travel guide to the users using maps integration. While some other travel agencies want a travel app that uses mystifly API integration to connect their whole travel business with the app. Whatever kind or sort of travel app you may want? The choice is all yours; adivaha® mobile application development service will convert your vision into reality.
Features of Our Travel Apps
Our team build high-quality Travel apps following the latest trends in the travel industry to keep our clients up-to-date with the digital world. adivaha® offers countless features in the travel app development service ensuring a quality product.
We take care of our clients by taking care of their clients, everything that a traveller needs during his journey, comes in our travel apps. Some core features our joomla api for mobile apps:
User Profiles: We offer our clients to track their users by storing user`s name, email/phone, date of birth and address in a separate user profile. It is totally up to the client, either they want to have a sign-up process feature or not in the app. Users can also use the app without signing in to meta search engine the hotels or flights but in case the client wants online booking system in the app, the user registration process becomes mandatory in the mobile app development.
Unique Searching Algorithm Our travel port api apps are designed using unique search algorithms to give travellers the best search results against their query. Travellers can search flights, explore restaurants, view hotels, rent cars and so on simultaneously on a single app.
Filters and Sorting: We allow travellers to search flights and hotels according to their desire preferences and outlooks by providing several filters. The users can easily switch between listed hotels by applying filters like the number of members, bedrooms, location, and so forth in the app. But it`s not all, once the travellers get the desired search they also want to sort it in a logical order. adivaha® travel apps let the user sort the search results on different factors like price & costing.
Online Booking: Instead of going to the web portal, the travellers can reserve hotels, book restaurants, buy tickets and vacation packages by just using the travel app. adivaha® travel app development service use musement api integration for online booking through the app.
Location details: Travellers want to know more about a place or hotel. The app provides a brief description of the place with photos and feedback rating that allows the traveller to get information about the place.
Tour package catalogue: The app shows multiple vacation offers and tourism packages available on your site. The users can compare these packages in details by seeing the pricing, availability dates and so on.
Notification System: Notification system is another great advantage of travel apps. It allows tourism agencies to keep in touch with their clients. Notifications can be used to give updates, provide guides, offering special offers on events, informing about the tour state or booking changes, special alerts or sending remainders.
There are a lot of other features that we offer in our travel mobile app development service. We love to make travellers happy by making their journey easy.
Why adivaha® for Travel App development?
As mentioned above, the world is becoming revolutionized, so it serves every business's interest to become digital. Every business needs an app that will help them grow, to connect with customers, and also to display their products and services. It is necessary for your business to have an app. Companies that have mobile apps make a better impression on customers than those without one. By using well-developed mobile apps, the business can extend to a targeted audience in no time. Here are some special and fascinating services offered by us to get your successful travel api integraton app.
Our Developers develop Unique UI & UX designs:
Our developer experts know that an eye-catching design is a key feature of a successful app. An appropriate colour selection with specific contrast is a dominant factor to excite the target audience. Unique and attractive User Interface (UI) engages the customers and insist them to stick with their favourite app. User Interaction with layouts and the group of elements is necessary for your app.
Besides design, User Experience (UX) should enable users free to use without any interruption. Brands apps are simple and highly responding. Optimize images are responsible for the high performance of the app.
Our developers have years of experience and they know what a customer desires, moreover they are fully capable to develop a world-class app with great UI & UX designs. adivaha® provides a high quality of work to its customers. We never compromise with the expectations of our customers. Mobile app designs for both Android (APK) and iPhone (IOS) platform according to your desired requirement. With the help of our professional and skill full designers and developers, we serve our client to get an app that gives them quick and reliable recognition in the travel industry.
Concentrate on security monitoring:
Many mobile apps that require a network for their access must need reliable and optimum security. It is the responsibility of creators and developers to provide perfect security, to make it impossible for hackers and cybercriminals to breach the data of customers. Every mobile user prefers to use a more secure application to prevent his personal information safe and sound.
Therefore, that`s the reason developers of adivaha® Company have never compromised with the security of mobile applications. Travel mobile applications developed by us gives you complete satisfaction regarding security. Our developers use different security checks to maintain the reliability of the app. During the development of your mobile app, designers analyze each module individually and then set significant security measures for your app.
Regular updates
Updates are a vital factor for the maintenance of your app, it also brings together new features that increase user engagement. Updates are also crucial for improving both UI & UX designs. The mobile app update performs a significant role in in-app security. To solve the most advanced security issue an updated version of the mobile app is mandatory. Mobile Application Developers of adivaha® Company are continuously working in the backend yards. Bringing regular updates for your app to fix bugs and to improve performance enhancement.
Best Market Price
Usually, Travel App Development service costs high in the local market and need tons of money for a typical travel app. Yet, adivaha® offers the best application service for travel companies at a very reasonable price so that everyone can avail of this opportunity.
24/7 Customer-Support
Our team of developer are experts and they are available for any kind of technical support for our clients. We don`t believe in making fraudulent deals with our clients, instead, we build a long-term relationship with our customers by providing them with a 24/7 customer care service.
Cross-Platform App
Catch your travellers from any device. Our mobile application company service is not only limited to Android OS smartphones but also provide travel app development service for iPhone and iPad so won`t miss a single client.
In short, If you don`t have an app for your travel business yet, you are missing a huge chunk of your targeted audience because your travellers love apps! Get a travel app now and take your travel business to new heights.
Our Comprehensive List of Services
adivaha® is a one-stop-shop for all your travel website needs. We offer a multitude of services that empower you to become a market leader. Contact us for more info.
Have Questions?
The Internet is a huge resource, but
if your question requires particular expertise.
Keep Refreshing your customers - Who doesn't want his site to stand out from crowd? adivaha® gives you multiple options for home pages, headers, colors etc. Which can easily be managed from admin via shortcodes and settings. The theme supports almost all the big players in this market ie, WEGO, Travelpayouts, Agoda, Booking, Expedia etc.
Frequently Asked Questions
Below are some of the questions asked by visitors. Do visit our adivaha® Digest for more such questions. Don't hesitate to ask us if you have any questions
I am setting up this plugin for my client's website, I tried registering and received the account activation email, but …

18

views

1

answers

0

votes