Build your own Travel Brand!
Ready to go-LIVE travel solutions that helps your travel agency to sell a range of travel services pretty instantly. adivaha® travel solutions make sure you have no boundation over your imagination, you can do everything online, without the need for any technical knowledge or design skills. Easy Backoffice, extensive reporting with integrated Funds Management System. Upload funds easily and instantly through Netbanking, Debit Card, Credit Card. The best part is, we do offer customizations in case you believe it will boost your business!
How to Select a Development Team for Your Online Travel Portal
There are several factors you should consider to ensure you have found the right match for your project by selecting a reliable development team for your online travel portal development. Let`s look them up one by one-
Define your project requirements and Identify experienced teams
In selecting a development team for your online travel portal the very first crucial step is to define your project's requirements and identify an experienced team. Defining your project requirements helps you articulate your vision and expectations for the online travel portal India. Clearly defining requirements helps you establish the scope of the project. This prevents unnecessary feature creep or misunderstandings during the development process, ensuring that the final product meets your needs. Having well-defined requirements enables development teams to provide accurate cost estimates for your project. They can assess the complexity of the features and functionalities you require and provide a realistic pricing structure. Clear requirements facilitate a smoother development process. The development team can focus on implementing the specified features, reducing the chances of rework or delays caused by unclear objectives. Online travel portals have specific requirements and challenges that may differ from other types of web applications. By selecting a team experienced in building travel portals, you benefit from their knowledge of industry-specific functionality, integrations with travel APIs, and best practices. Experienced teams possess the necessary technical skills and knowledge to develop a high-quality travel portal websites. They understand the technologies and frameworks required for efficient development and can make informed decisions to ensure optimal performance and scalability. Experienced teams have likely encountered various challenges during their previous projects. This equips them with problem-solving skills and the ability to navigate complexities that may arise during the development of your online travel portal development. They can anticipate potential roadblocks and offer effective solutions. Experienced teams can provide valuable insights and suggestions based on their familiarity with the travel industry. They may have worked with similar clients and gained a deeper understanding of user expectations, industry trends, and effective features to incorporate into your portal. By reviewing the portfolios of experienced teams, you can assess the quality of their previous work, the diversity of their projects, and their ability to deliver visually appealing and functionally sound travel portals.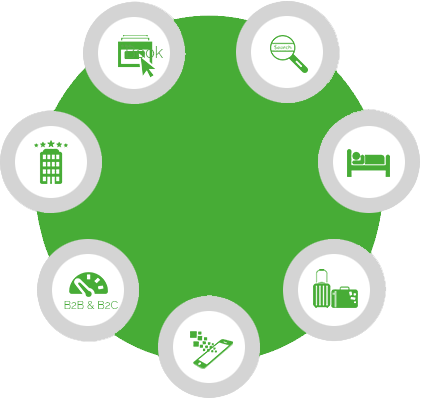 Select a Development Team for Your Online Travel Portal
Evaluate their expertise and technologies and Review their portfolios
By evaluating the expertise and technologies of a development team, as well as reviewing their portfolios, you gain insights into their capabilities, technical competence, and the quality of their previous work. This evaluation helps you assess if the team is well-suited to deliver a high-quality, technically sound, and visually appealing online travel portal that meets your specific requirements. Evaluating a development team's expertise in relevant technologies ensures that they are capable of working with the specific tools, frameworks, programming languages, and databases required for your online travel portal. This compatibility ensures a smooth development process and reduces the risk of technical limitations or compatibility issues. A team experienced in the technologies relevant to your project will be efficient in their development approach. They will have a deep understanding of best practices, performance optimizations, and security measures associated with those technologies, resulting in a well-optimized and robust travel software. Reviewing a development team's portfolio allows you to assess the quality of their previous work. By examining their past projects, you can evaluate the visual appeal, user experience, performance, and overall quality of the travel portals they have developed. This benchmark helps you gauge if their work aligns with your expectations and desired level of excellence. Looking at the portfolio helps you determine if the development team has experience in building online travel portals or similar projects. Assess if they have worked on projects with similar functionalities, such as booking systems, search features, third-party travel API integration, and payment gateways. A diverse portfolio indicates their ability to handle different project requirements and adapt to various business needs. A portfolio review showcases the development team's creative and innovative capabilities. Look for unique and inventive solutions they have implemented in their previous projects, as this indicates their ability to think outside the box and bring fresh ideas to your travel portal software. Pay attention to the usability and user experience of the portals in their portfolio. A user-centric approach in their previous work suggests that they prioritize creating intuitive and engaging interfaces, which is crucial for a successful online travel portal.
Check references and client feedback
Checking references and gathering client feedback is an essential step when selecting a development team for your online travel portal. References and client feedback provide valuable insights into the reliability and credibility of the development team. By speaking with past clients, you can gauge their level of satisfaction with the team's performance, professionalism, and adherence to project timelines. Positive references and feedback indicate a higher likelihood of a successful collaboration. References allow you to gather information about the development team's performance and the quality of their work. You can learn about their ability to meet project objectives, deliver on promises, and produce high-quality outcomes. This firsthand feedback helps you assess if the team has a track record of delivering successful online travel portals that align with clients' expectations. Speaking with previous clients gives you insights into the development team's communication and collaboration skills. You can gather information about their responsiveness, clarity in communication, and willingness to listen and understand client needs. Effective communication and collaboration are vital for a smooth development process and a successful partnership. Client feedback can shed light on the development team's problem-solving abilities and their flexibility in accommodating changes or addressing challenges that arise during the development process. Understanding how the team handles unexpected situations and adapts to client requests will help you assess their ability to overcome obstacles and deliver results. References and client feedback provide information on the development team's project management practices and professionalism. You can gather insights into their ability to meet deadlines, manage expectations, and handle project complexities. This information is valuable in determining if the team operates in a well-organized manner and maintains a high level of professionalism throughout the development life cycle. Client feedback gives you a holistic view of the overall client experience with the travel portal development company team. It provides insights into factors such as client satisfaction, transparency, collaboration dynamics, and the team's commitment to customer service. Understanding the overall client experience helps you gauge if the team is likely to establish a positive and productive working relationship with you. By checking references and gathering client feedback, you gain valuable information about the development team's reliability, performance, communication skills, problem-solving abilities, project management practices, professionalism, and overall client satisfaction. This information helps you make an informed decision and choose a development team that is best suited to meet your needs and deliver a successful online travel portal.
Consider budget and cost estimates
Considering the budget and cost estimates is an important aspect when selecting a development team for your online travel portal. Understanding the budget and cost estimates helps you plan your finances effectively. It allows you to allocate resources appropriately, ensuring you have sufficient funds for the development of your online travel portal without exceeding your financial capabilities. It's crucial to have a clear understanding of the costs involved to avoid unexpected financial constraints during the project. Evaluating the budget and cost estimates allows you to assess the value you will receive in relation to the investment. It helps you understand the pricing structure, what services are included, and the level of expertise you can expect from the development team. By comparing the costs and deliverables of different teams, you can make an informed decision that offers the best value for your investment. Considering the budget and cost estimates helps you identify cost-effective solutions. While it's important to find a development team within your budget, it's equally important to ensure that the team can deliver the desired quality and functionality within that budget. Comparing cost estimates allows you to assess the cost-effectiveness of different teams based on their proposed deliverables and the expertise they bring to the project. Examining the budget and cost estimates helps you identify any potential hidden costs that may arise during the development process. A transparent and detailed cost estimate ensures that there are no surprises or unexpected expenses down the line. It allows you to have a clear understanding of what is included in the proposed cost and any additional charges that may arise for specific requirements or changes. Having a clear budget and cost estimates provides you with a basis for negotiation with the development team. If the estimated cost exceeds your budget, you can discuss potential adjustments, alternative solutions, or phased development approaches that align with your financial constraints. Clear communication about your budget allows for a more productive negotiation process. Assessing the budget and cost estimates helps you determine the feasibility of your project within your financial parameters. It allows you to evaluate whether the proposed development costs align with the expected return on investment and the value the online travel portal will bring to your business. This assessment ensures that the project is financially viable and aligns with your business goals. Considering the budget and cost estimates is essential for effective financial planning, identifying value for money, assessing cost-effectiveness, avoiding hidden costs, enabling negotiation and flexibility, and evaluating the overall feasibility of the project. By taking these factors into account, you can make an informed decision that balances your financial resources with the quality and functionality of your online travel portal.
Evaluate ongoing support and maintenance
Evaluating ongoing support and maintenance is crucial when selecting a development team for your online travel portal. Ongoing support ensures that you have access to technical assistance after the development of your travel portal is complete. This includes addressing any technical issues, bug fixes, and troubleshooting to keep your portal running smoothly. Evaluating the support services offered by the development team ensures that you have reliable and timely assistance when you need it. Travel technology company is constantly evolving, and travel portal software updates are necessary to keep your online travel portal up-to-date and secure. An experienced development team will provide regular updates and patches to address any vulnerabilities and ensure the highest level of security. By evaluating their support and maintenance services, you can ensure that your portal remains secure and protected against emerging threats. As your business grows and user demands evolve, you may need to scale your travel portal or introduce new features and functionalities. A development team that offers ongoing support and maintenance can help you with these enhancements, making sure that your portal can accommodate the changing needs of your business. Evaluating their ability to provide scalable solutions and incorporate new features is essential for the long-term success of your white lavel travel portal. Ongoing support includes performance monitoring and optimization of your travel portal. The development team can analyze usage patterns, identify bottlenecks, and optimize the portal's performance to ensure optimal speed, responsiveness, and user experience. Regular monitoring and optimization can help maintain the efficiency and effectiveness of your portal over time. Evaluating the support and maintenance travel technology services should include assessing the backup and disaster recovery measures provided by the development team. Regular backups of your portal's data and a robust disaster recovery plan are essential to safeguard your information and ensure business continuity in case of any unexpected events or data loss. Knowing that your data is secure and recoverable provides peace of mind. When evaluating ongoing support and maintenance, it's important to consider the service level agreements (SLAs) offered by the development team. SLAs outline the specific terms, response times, and resolution times for support requests. Reviewing these agreements helps you understand the level of support you can expect and ensures that it aligns with your business requirements and expectations.
Our Comprehensive List of Services
adivaha® is a one-stop-shop for all your travel website needs. We offer a multitude of services that empower you to become a market leader. Contact us for more info.
Have Questions?
The Internet is a huge resource, but
if your question requires particular expertise.
Keep Refreshing your customers - Who doesn't want his site to stand out from crowd? adivaha® gives you multiple options for home pages, headers, colors etc. Which can easily be managed from admin via shortcodes and settings. The theme supports almost all the big players in this market ie, WEGO, Travelpayouts, Agoda, Booking, Expedia etc.
Frequently Asked Questions
Below are some of the questions asked by visitors. Do visit our adivaha® Digest for more such questions. Don't hesitate to ask us if you have any questions
I am setting up this plugin for my client's website, I tried registering and received the account activation email, but …

21

views

1

answers

0

votes