Build your own Travel Brand!
Ready to go-LIVE travel solutions that helps your travel agency to sell a range of travel services pretty instantly. adivaha® travel solutions make sure you have no boundation over your imagination, you can do everything online, without the need for any technical knowledge or design skills. Easy Backoffice, extensive reporting with integrated Funds Management System. Upload funds easily and instantly through Netbanking, Debit Card, Credit Card. The best part is, we do offer customizations in case you believe it will boost your business!
Comparing Price-Compare Travel WordPress Themes - Pros and Cons
Consider your specific needs, technical capabilities, and financial constraints while evaluating the numerous price comparison travel WordPress themes before making a choice. To choose the price comparison WordPress theme that best meets your needs and tastes, consider aspects like usability, customization potential, support, data quality, and performance.
Pros of Price-Compare Travel WordPress Themes
Easy setups
You can easily launch your travel price comparison websit wordpress theme thanks to a simple setup procedure. You may focus on other areas of your business, including content production and marketing, by saving time on technical configurations, installation, and initial setup duties. The user experience is considered when designing simple settings. They frequently give you step-by-step directions, user-friendly interfaces, and visual aids to help you through the setup procedure. Even users with low technical knowledge may effectively set up their websites without feeling overwhelmed thanks to our user-friendly setup process. Simple installations remove the need to employ a qualified developer or invest a substantial amount of money in custom website development. By utilizing a price-compare travel WordPress theme with an easy setup, you can save money and allocate your budget to other critical areas of your business, such as marketing or customer acquisition.
Cost-effective
Compare travel costs WordPress themes are typically less expensive than developing a new website. It can be expensive to hire a specialized developer to create a unique website from scratch, especially if you have a tight budget.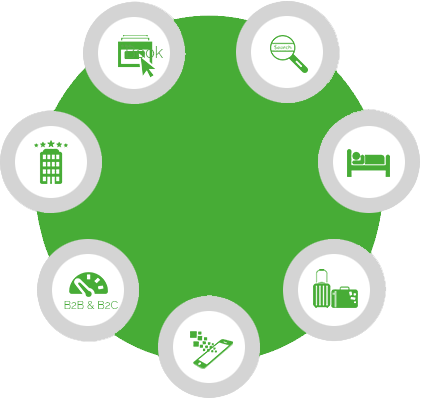 Pros and Cons of Popular Price-Compare Themes
A wordpress compare theme gives you access to all of the built-in features and functionality for a one-time charge for the template. These themes have a user-friendly interface and need little coding or development expertise. As a result, there is no need to engage a web developer or spend money and time learning difficult programming languages. You may build a professional-looking website using the theme's pre-built functionality and customization possibilities without having to pay a developer extra. Travel WordPress themes that let you compare prices can help you save both time and money. The time needed to create a website from scratch can be greatly decreased because these themes have pre-designed templates and built-in functions. You can quickly establish your custom travel website thanks to the simple setup procedure and clear customization possibilities, freeing up your time to work on other elements of your travel technology company. The continuing maintenance expenses for websites with a price-compare travel theme are typically lower than those for custom-built websites after they are up and running. In order to guarantee compatibility with the most recent versions of WordPress and plugins, theme authors frequently offer regular upgrades. These updates assist in keeping your website secure and operating efficiently without the need for expensive technical support or maintenance costs.
Time-saving
Pre-made templates that are especially suited for travel portal websites are included with price-compare travel themes. Layouts, divisions, and features including search forms, results pages, booking forms, and more are included in these templates. Without beginning from scratch or creating each component from scratch, you can quickly set up the structure of your website by using these templates. Travel themes that compare prices often offer simple installation procedures. The majority of themes may be quickly and easily installed right from the WordPress dashboard. These prices compare Wordpress themes that frequently come with setup wizards or instructions that walk you through the preliminary configuration procedures. This shortened procedure saves time and necessitates less technical know-how or help. While price-compare travel themes come with pre-designed templates, they also offer customization options. These themes often include drag-and-drop page builders or theme options panels that allow you to modify the design, colors, typography, and layout of your website. With these intuitive customization tools, you can personalize your website's appearance and make it unique to your brand without spending excessive time on coding or design work. Price-compare travel themes are specifically built to cater to the needs of travel websites. They come with built-in features and functionalities that are essential for a travel comparison platform, such as search forms, filters, sorting options, integration with travel APIs, and more. By leveraging these built-in features, you can save time on developing these functionalities from scratch.
User-friendly interface
Price compare wordpress themes are designed with user experience in mind. They typically feature intuitive navigation menus, clear site structures, and user-friendly layouts. Visitors to your website can easily navigate through different sections, search for travel options, and access relevant information without confusion or frustration. User-friendly price-compare travel themes often include advanced search and filtering options. These features allow visitors to refine their search criteria based on travel dates, destinations, price ranges, ratings, and other relevant parameters. By providing intuitive search and filtering functionalities, the theme enhances the user experience and makes it easier for visitors to find the travel options they are looking for. A user-friendly interface ensures that the information on your price-compare travel website development is presented in a clear and organized manner. Important details such as prices, ratings, availability, and descriptions are displayed prominently, making it easy for users to compare and evaluate different travel options. The theme's design and layout elements prioritize readability and visual hierarchy, enhancing the overall user experience. Many price-compare travel themes integrate booking functionalities or provide seamless integration with popular booking plugins or travel technology services. A user-friendly interface simplifies the booking process, guiding users through each step and minimizing any potential confusion. Clear calls-to-action, intuitive form fields, and progress indicators contribute to a smooth and hassle-free booking experience for your visitors.
Cons of Price-Compare Travel WordPress Themes:
Limited customization
Themes for price comparison travel include established layouts, color schemes, and font options. There could be restrictions in terms of overall design flexibility, despite the fact that they frequently give certain modification possibilities, such as altering colors or fonts. It could be difficult to fully customize the theme to fit your vision if you have a distinct brand identification or other design requirements. Price-compare travel booking wordpress themes have a predefined structure and layout to accommodate the features and functionalities that are already included. This means that substantial customization or alterations may be necessary for significant structural changes, beyond what the theme's options panel or page builders can provide. You can run into difficulties implementing intricate layout requirements or particular needs for the content organization if you use a pre-designed theme. While price-compare travel themes come with built-in features for price comparison, search functionality, and other travel-related elements, they may not include every feature you desire. Adding custom features or functionalities that are not provided by the theme can be challenging without extensive customization or development work. You may need to rely on plugins or custom coding to achieve specific functionalities, which may require additional time and technical expertise. Customization limitations can affect your ability to create a truly unique and branded website. If multiple websites use the same theme with minimal customization, it can lead to a lack of distinctiveness and differentiation in the crowded online travel market. It may be challenging to create a website that stands out and reflects your brand identity if you're limited to the predefined customization options of the theme.
Dependency on third-party APIs
Price-compare wordpress travel themes rely on APIs to fetch and display data from various travel service providers, such as airlines, hotels, or car rental companies. The reliability of these APIs can vary, and if an API undergoes changes, experiences downtime, or becomes unavailable, it can impact the functionality of your website. This dependency introduces a level of uncertainty and potential risk. Price-compare travel themes are designed to work with specific APIs or data sources. This means that the availability and coverage of travel providers' data may be limited to the ones integrated into the theme. If you require access to a broader range of travel providers or specific niche services, the theme's built-in APIs may not fulfill your requirements. Each API comes with its own set of restrictions and terms of use, including limitations on the number of requests, usage fees, and usage policies. These restrictions can affect the performance of your website and may incur additional costs if you exceed the limits imposed by the API providers. It's crucial to review and understand the terms of use of the APIs integrated into the theme before relying on them for your price-compare website. APIs are subject to updates, version changes, and deprecations over time. These updates can introduce changes in data structures, authentication methods, or other technical aspects that require corresponding updates in the theme. If the theme developers do not actively maintain and update the integration with APIs, your website may face compatibility issues or cease to function properly.
Potential performance issues
Price-compare travel themes may come with a range of built-in features and functionalities, such as API integrations, search forms, and data fetching processes. These additional elements can increase the complexity of the website and potentially impact its loading speed. Slow loading times can lead to poor user experience, higher bounce rates, and lower search engine rankings. The performance of a compare WordPress theme depends on the quality and optimization of its underlying code. Some price-compare travel themes may have inefficient or poorly optimized code, leading to slower website performance. It's important to choose a theme from reputable developers who prioritize code efficiency and performance optimization. Price-compare travel themes often rely on various plugins to enhance functionality. However, compatibility issues between the theme and certain plugins can arise, negatively impacting website performance. Incompatible or poorly coded plugins can cause conflicts, slow down the website, or even lead to errors and crashes. The performance of a price-compare best travel website is also influenced by the hosting infrastructure. If the website is hosted on a low-quality or overloaded server, it can result in slower page loading times. Choosing a reliable hosting provider that offers good server performance and scalability is essential for optimal website performance.
Maintenance and updates
Price-compare travel themes often receive updates from their developers to address bug fixes, security vulnerabilities, and compatibility issues. Regularly updating your theme is crucial to ensure optimal performance, security, and compatibility with the latest version of WordPress. Failure to update the theme may lead to potential vulnerabilities or compatibility conflicts with other plugins or WordPress updates. Price-compare travel themes may rely on various plugins to enhance their functionality. It's important to ensure that these plugins are regularly updated and compatible with the theme and the latest version of WordPress. Outdated or incompatible plugins can lead to performance issues, security vulnerabilities, or even website crashes. Regularly check for plugin updates and consider removing any plugins that are no longer maintained or causing conflicts. Maintaining the security of your price-compare wordpress travel website is crucial to protect user data and prevent unauthorized access. Ensure that your theme follows best practices for security and regularly receives security updates. Additionally, implement additional security measures such as using strong passwords, enabling two-factor authentication, and using security plugins to enhance the overall security of your travel website development. Regularly backing up your price-compare travel website is vital to safeguard your data and protect against potential data loss or website failures. Consider implementing automated backup solutions or using WordPress backup plugins to create regular backups of your website. This ensures that you can restore your website quickly in case of any issues or emergencies.
Our Comprehensive List of Services
adivaha® is a one-stop-shop for all your travel website needs. We offer a multitude of services that empower you to become a market leader. Contact us for more info.
Have Questions?
The Internet is a huge resource, but
if your question requires particular expertise.
Keep Refreshing your customers - Who doesn't want his site to stand out from crowd? adivaha® gives you multiple options for home pages, headers, colors etc. Which can easily be managed from admin via shortcodes and settings. The theme supports almost all the big players in this market ie, WEGO, Travelpayouts, Agoda, Booking, Expedia etc.
Frequently Asked Questions
Below are some of the questions asked by visitors. Do visit our adivaha® Digest for more such questions. Don't hesitate to ask us if you have any questions
I am setting up this plugin for my client's website, I tried registering and received the account activation email, but …

21

views

1

answers

0

votes