Build your own Travel Brand!
Ready to go-LIVE travel solutions that helps your travel agency to sell a range of travel services pretty instantly. adivaha® travel solutions make sure you have no boundation over your imagination, you can do everything online, without the need for any technical knowledge or design skills. Easy Backoffice, extensive reporting with integrated Funds Management System. Upload funds easily and instantly through Netbanking, Debit Card, Credit Card. The best part is, we do offer customizations in case you believe it will boost your business!
Creating a Travel Price Comparison Site with WordPress: Guide
Creating a travel price comparison website WordPress is a great way to provide valuable information to travelers and earn affiliate commissions from bookings. With the correct tools and a solid understanding, you can also build the site easily and quickly.
Introduction to Travel Price Comparison Sites
At Adivaha, we offer the best Travel Price Comparison Sites as part of our travel technology software solutions. These sites are powerful tools that allow travelers to compare prices, availability, and other important details across multiple travel companies, all in one place. Our Travel Price Comparison Sites are designed to simplify the travel planning process. Instead of manually searching through various websites or contacting different companies, travelers can visit our site and find all the information they need in a convenient and user-friendly format. They can easily compare prices for flights, hotels, car rentals, and more, ensuring they get the best deals available. By aggregating data from different top travel technology companies, our sites provide comprehensive and up-to-date information. This saves travelers valuable time and effort, as they no longer have to visit multiple sites or make numerous inquiries. They can make informed decisions by accessing a wide range of options and prices from different sources, all in one centralized platform. We prioritize simplicity, ease of use, and intuitive navigation, ensuring that travelers can find the information they need quickly and efficiently. Our wordpress price comparison websites provide detailed information on each travel option, helping travelers make informed choices based on their preferences and requirements.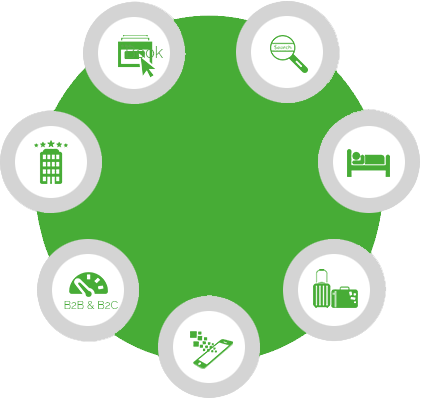 Affordable Travel Price Comparison Site with WordPress
Are you intrigued by creating a Travel Price Comparison Site with WordPress? No worry then, follow our simple and intuitive guide, allowing you to effortlessly establish your platform and start securing bookings with speed and efficiency.
Choose a domain name:
Your domain name represents your brand and is an important part of your online identity. It should be relevant to your business or travel portal website, and easy to spell and pronounce. Having your own domain name gives your website a professional and trustworthy image. It shows that you have invested in your online presence and are committed to your website's content or travel technology services. A relevant domain name can also contribute to your website's search engine optimization (SEO) efforts.
Install WordPress:
WordPress is a user-friendly content management system (CMS) that allows you to build and manage your website without extensive coding knowledge. Its intuitive interface makes it accessible to beginners and allows for easy content updates and best wordpress customization services site. Plugins add specific features or functionalities, while themes control the overall appearance and layout of your site. WordPress has a large and active community of users, developers, and contributors. This means you can find support, tutorials, and resources readily available if you encounter any issues or need assistance.
Select a theme and Install essential plugins:
A well-chosen theme enhances the visual appeal of your best travel website. It sets the overall design, layout, and aesthetics, ensuring a visually pleasing experience for visitors. Make sure that the theme you select should align with your brand identity. It should reflect your brand's colors, fonts, and overall style, providing consistency and reinforcing your brand image. While by installing Plugins you add specific features and functionalities to your website that may not be available by default. Essential plugins include those that enhance website performance, such as caching plugins, and security plugins that protect against malware and vulnerabilities. These plugins ensure your website runs smoothly and is protected from potential threats.
Set up your site structure:
A well-organized site structure improves user experience by making it easy for visitors to navigate your website. A well-organized site structure improves user experience by making it easy for visitors to navigate your website. It helps users find relevant content easily, encourages exploration, and ensures that valuable information is readily accessible.
Import or integrate travel comparison data:
To offer price comparison functionality on your site, you'll need to import or integrate data from various online travel service providers. There are several APIs and services available that provide access to travel-related data, such as Skyscanner, Expedia, or Booking.com. Research the options available and choose the one that best suits your needs.
Customize your site:
Custom travel website to match your brand and improve user experience. Modify colors, fonts, and images to create a visually appealing and professional-looking site. Use high-quality images of destinations and travel-related content to engage users. Choose a color scheme that represents your brand and creates a pleasing visual experience. Use graphics, images, and icons that enhance your content and convey your message effectively. Regularly test your customized site to ensure everything is working correctly. Check for any broken links, compatibility issues, or design inconsistencies. Gather feedback from users and make adjustments as needed.
Optimize for SEO:
Optimize your site for meta search engines to improve visibility and attract organic traffic. Install and configure the Yoast SEO plugin mentioned earlier. Use relevant keywords in your content, optimize meta tags and descriptions, and focus on creating high-quality and informative content. Focus on creating high-quality, informative, and engaging content that satisfies the user's search intent. Use keywords naturally within the content, but prioritize providing value and relevance to the reader.
Test and launch:
Before launching your site, thoroughly test its functionality and user experience. Ensure that the search and comparison features work correctly, and there are no broken links or errors. Test your site on different devices and browsers to ensure compatibility. Once you are confident that your custom website is fully tested and ready, it's time to launch! Publish your website and make it accessible to the public. Remove any "under construction" or placeholder pages and promote your site through various channels like social media, email marketing, or advertising.
Promote your site:
Once your site is live, start promoting it to attract visitors. Utilize social media channels, email marketing, and SEO strategies to increase your site's visibility. Collaborate with influencers or travel bloggers to generate buzz around your site.
Our Comprehensive List of Services
adivaha® is a one-stop-shop for all your travel website needs. We offer a multitude of services that empower you to become a market leader. Contact us for more info.
Have Questions?
The Internet is a huge resource, but
if your question requires particular expertise.
Keep Refreshing your customers - Who doesn't want his site to stand out from crowd? adivaha® gives you multiple options for home pages, headers, colors etc. Which can easily be managed from admin via shortcodes and settings. The theme supports almost all the big players in this market ie, WEGO, Travelpayouts, Agoda, Booking, Expedia etc.
Frequently Asked Questions
Below are some of the questions asked by visitors. Do visit our adivaha® Digest for more such questions. Don't hesitate to ask us if you have any questions