Build your own Travel Brand!
Ready to go-LIVE travel solutions that helps your travel agency to sell a range of travel services pretty instantly. adivaha® travel solutions make sure you have no boundation over your imagination, you can do everything online, without the need for any technical knowledge or design skills. Easy Backoffice, extensive reporting with integrated Funds Management System. Upload funds easily and instantly through Netbanking, Debit Card, Credit Card. The best part is, we do offer customizations in case you believe it will boost your business!
Guide to Choosing the Best Room Booking Plugin for WordPress
Utilize the complete scope of your WordPress website's potential with the help of our guide to picking the finest hotel booking plugin. Boost occupancy rates, streamline your property management process, and provide outstanding guest experiences.
Learn how to choose the ideal room booking plugin for your wordpress travel website with this comprehensive guide. Make informed judgments with our thorough overview, knowledgeable commentary, and important points.
Getting Started with Room Booking Plugins: A WordPress User's Guide
In the fast-paced world of travel, it's crucial for businesses to manage room reservations efficiently. As a travel technology services provider, we offer these plugins to help our customers, like hotels and vacation rentals, streamline their booking processes and enhance the experience for their guests. Our room booking plugins seamlessly work with WordPress websites, making it easy for our customers to manage room availability, handle bookings, and securely process payments. We provide user-friendly interfaces, so our customers can create a smooth and hassle-free booking experience for their customers. Our wordpress booking plugins offer essential features such as real-time availability calendars, automatic email notifications, and tools to manage bookings effectively. They also integrate with popular payment gateways, allowing seamless payment processing. We even offer advanced features like channel management, which helps our clients synchronize reservations across different online travel platforms, expanding their reach and increasing revenue potential. Through our comprehensive guide, we help travel businesses select the best room wordPress booking plugin. We explore different plugin types, share top-rated options, and provide expert advice to optimize online reservations. Our goal is to empower travel businesses to improve their booking processes, deliver exceptional experiences, and succeed in a competitive industry.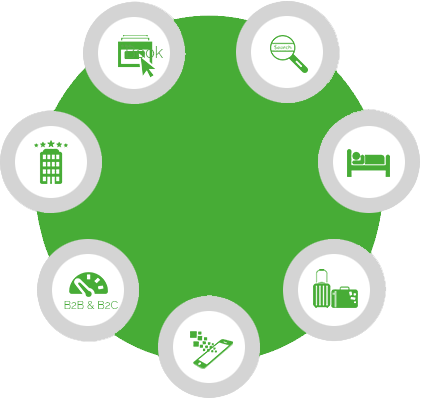 Best Room Booking Plugin for WordPress
Integration Compatibility: A Key Consideration for Plugin Selection
As a third-party service provider of travel technology solutions, compatibility, and integration are vital considerations when offering a room booking plugin to our clients. These factors revolve around ensuring that the plugin seamlessly aligns with their existing WordPress websites and integrates smoothly with other essential components of their online presence.
Compatibility: It is a crucial step for us to ensure that the room booking plugin is compatible with the specific version of WordPress used by our clients. This compatibility guarantees that the plugin functions seamlessly with compatibility with their selected theme is essential. The plugin should seamlessly integrate with their theme's structure and design, ensuring a cohesive and visually appealing booking experience for their customers. Furthermore, ensuring compatibility with other plugins installed on their WordPress travel website template is important. The room booking plugin should work harmoniously alongside these plugins, enabling a unified and hassle-free operation in their chosen WordPress environment, and minimizing the risk of conflicts or errors.
Integration:Integration plays another vital role in the overall functionality of the room booking plugin. It involves seamless integration with other critical components of our client's websites and online travel business processes. For instance, if our clients rely on specific payment gateways for processing online transactions, the room booking plugin offers seamless integration with those gateways. This ensures that customers can make payments for their bookings using their preferred methods without any disruptions. Integration may also extend to synchronization with email marketing services utilized by your clients. This enables automated email notifications, such as booking confirmations or reminders, to be efficiently sent to their customers.
Evaluating Payment Alternatives
The pricing structure is a crucial aspect to consider when choosing a room booking plugin for your WordPress travel portal website. It involves evaluating the different pricing options available, such as free and premium versions, and assessing the value for money based on the features and support provided.
Scalability: As a travel portal solution provider, it is essential for us to consider the scalability of the pricing structure. Anticipate the client's future growth and evaluate whether the plugin offers scalability options, such as the ability to upgrade or customize the package to accommodate evolving needs. This ensures that the room booking plugin can scale alongside the client's business, providing long-term value and adaptability.
Evaluating Free vs. Premium Versions: When offering a room booking plugin as a third-party service provider, it is crucial to assess the differences between free and premium versions. The free version typically offers basic features, while the premium version includes advanced functionalities and additional capabilities. We always try to evaluate whether the free version satisfies the client's requirements or if upgrading to the premium version is necessary to unlock enhanced features and benefits.
Essential Tips for Selecting the Ideal Room Booking Plugin for Your WordPress Site
Choosing the right and best room booking plugin for your WordPress website is essential to ensure smooth and efficient management of your online bookings. By following some steps, you can narrow down your options and select the room booking plugin that best suits your requirements, provides a great user experience, and seamlessly integrates with your WordPress best travel website.
At Adivaha, we understand the significance of choosing the best room booking plugin for our clients' WordPress websites to ensure seamless and efficient management of their online bookings. Allow us to provide you with a step-by-step guide that will assist you in selecting the ideal room booking plugin:
Define Your Clients' Requirements: Start by thoroughly understanding your clients' specific needs, including the type of accommodations they offer (hotels, vacation rentals, bed and breakfasts), the number of rooms, pricing structure, availability management preferences, desired payment gateways, and any additional features they may require.
Conduct Extensive Research: Explore the b2b WordPress plugin repository and leverage our expertise to identify room booking plugins that align perfectly with your clients' requirements. We analyze user reviews, stay up-to-date with the latest developments, and engage with WordPress communities and forums to recommend popular and reliable options.
Assess Compatibility and Integration: Our team evaluates the compatibility of each plugin with the clients' WordPress version and their existing plugins or themes. We ensure seamless integration with their travel booking website infrastructure, including preferred payment gateways and email marketing services.
Focus on User-Friendly Interface: We understand the importance of a user-friendly interface. Our experts test the backend interface of each plugin to verify its intuitiveness and ease of use for managing bookings, updating availability, and making modifications. Similarly, we evaluate the frontend interface to ensure a seamless and delightful booking experience for our client's customers.
Examine Features and Flexibility: Our thorough analysis includes evaluating the features offered by each plugin. We focus on essential functionalities such as real-time availability management, customizable booking forms, support for multiple room types, flexible pricing options, seasonal rates, discounts, coupon codes, and email notifications. We consider the flexibility of each plugin in accommodating our client's unique business needs.
Mobile Responsiveness: With the rising mobile usage, we ensure that the room booking plugin and its frontend interface are optimized for mobile devices. Our experts prioritize a seamless booking experience for customers accessing the custom website from smartphones and tablets.
Customize to Reflect Branding: We understand the significance of branding. Our team explores the customization options offered by each plugin, including the ability to modify booking form design, colors, and layouts to match our clients' branding. We assess if the plugins allow the addition of custom fields or modification of booking rules based on our client's specific requirements.
Secure Payment Options: Our expertise lies in ensuring secure payment options. We verify if the plugins support our clients' preferred payment gateways, offering reliable payment processing that safeguards their business and customers' financial information. We also consider additional payment options like offline payments or deposit payments and check for popular gateway integrations such as PayPal, Stripe, or Woo Commerce.
Streamlined Availability Management: Our team evaluates the availability inventory management features of each plugin, including a comprehensive calendar view, real-time availability updates, minimum and maximum night stay restrictions, and automatic updates across different platforms. We prioritize preventing double bookings and efficiently managing inventory.
Dedicated Customer Support and Regular Updates: We know that exceptional customer support is crucial. Our solutions come with comprehensive customer support channels, including detailed documentation, tutorials, FAQs, and support forums. We also ensure regular updates and maintenance of the plugins to ensure compatibility with the latest WordPress version and address any security concerns.
User Satisfaction: We take user satisfaction seriously. Our team thoroughly reviews user feedback and ratings to gain insights into the experiences of other users. This feedback helps us evaluate overall satisfaction levels, identify any common issues, and assess the responsiveness of the plugin providers to user feedback.
Insights from Users: The Importance of Reviews and Ratings
As a travel service provider, we recognize the significance of reviews and ratings when evaluating room booking plugins for our clients. These reviews provide valuable insights into user experiences and satisfaction levels, enabling us to make informed decisions and recommend the most suitable plugins.
By reading user experiences, we gain firsthand knowledge of how the plugin performs in real-world scenarios. User reviews highlight the plugin's strengths, such as its ease of use, reliability, and effectiveness in managing bookings. They also shed light on any potential shortcomings or areas for improvement, giving us a comprehensive understanding of the plugin's performance. Assessing satisfaction levels is crucial as it helps us gauge the overall user sentiment toward the plugin. Positive reviews and high ratings indicate that users are satisfied with the plugin's features, functionality, and overall performance. Conversely, negative reviews or low ratings may indicate areas where the plugin falls short or fails to meet user expectations.
Our Comprehensive List of Services
adivaha® is a one-stop-shop for all your travel website needs. We offer a multitude of services that empower you to become a market leader. Contact us for more info.
Have Questions?
The Internet is a huge resource, but
if your question requires particular expertise.
Keep Refreshing your customers - Who doesn't want his site to stand out from crowd? adivaha® gives you multiple options for home pages, headers, colors etc. Which can easily be managed from admin via shortcodes and settings. The theme supports almost all the big players in this market ie, WEGO, Travelpayouts, Agoda, Booking, Expedia etc.
Frequently Asked Questions
Below are some of the questions asked by visitors. Do visit our adivaha® Digest for more such questions. Don't hesitate to ask us if you have any questions
I am setting up this plugin for my client's website, I tried registering and received the account activation email, but …

9

views

0

answers

0

votes