Build your own Travel Brand!
Ready to go-LIVE travel solutions that helps your travel agency to sell a range of travel services pretty instantly. adivaha® travel solutions make sure you have no boundation over your imagination, you can do everything online, without the need for any technical knowledge or design skills. Easy Backoffice, extensive reporting with integrated Funds Management System. Upload funds easily and instantly through Netbanking, Debit Card, Credit Card. The best part is, we do offer customizations in case you believe it will boost your business!
The Benefits of Using a Sabre GDS System For Your Travel Agency
A GDS system (Global Distribution System) is a network that facilitates travel agencies and others in the travel industry to sell travel products and services, in addition to hotel rooms, air tickets, as well as car rentals. After their integration, they provide travel agencies with instant access to inventories and real-time pricing.
A GDS system is one of the most far-reaching allotment routes for those operating in hotel management, as it will initiate the hotel noticeable to the travel agents, who can then book hotel rooms for their clients. Subsequently, the hotel is likely to upsurge the number of bookings significantly. GDS connotes "Global Distribution System", a computerized network inclusive of a search-based engine that lets users search for travel products from suppliers all over the world. The system hands over results with real-time price and with an option to compare then. Users can book travel deals that best suit their needs.
GDS is used as an access point to serve services including flights, hotel rooms, rental cars, packages and others. B2C travel portal development agencies can empower their users to book travel commodities and services on their website. With increasing digitization, travel agencies are focusing on their web presence, they use digital promotions to gain internet traffic as their potential customers.
Maximum users wish to book a flight, hotel or other travel-related items online. GDS providers have come up with travel APIs that can be integrated into any web portal for online booking. If you are in the travel industry, you are devising to outset a travel agent, hotel entity or an Online Travel Agency (OTA), you will elect your GDS system that upholds your travel needs, marketing leadership. Sabre, a prominent GDS provider, has transformed the travel industry with its travel products.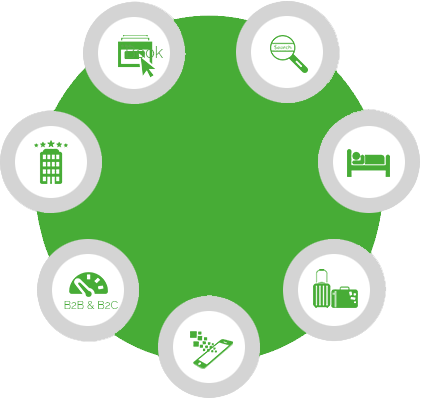 Exploring the Advantages of Sabre GDS Systems
adivaha® is a travel technology company that administers Global Distribution Systems (GDS) and integrates the Saber GDS API on travel booking websites. We assimilate your business and provide you with the best travel solutions. We provide Sabre GDS system for travel management companies, Online Travel Agencies (OTAs), Destination Management Companies (DMC's), tour agents and B2B travel brokers. Our travel reservation system services include flight booking system, hotel booking system, car booking system. Sabre's GDS integration system improves your business by improving your online sales strategy, allowing you wider access to online sales channels and travel products. We give you the best privilege that will support you to expand your travel portal's functionality by providing you with Sabre GDS API integration. Sabre airline reservation system, Sabre car booking system, Sabre travel packages, Sabre hotel booking system, etc. are a part of Sabre GDS integration services. We prepare travel technology services to our global customers for car, hotel, flight, vacation packages. We are legitimizing B2B, B2C businesses encompassing the world. The aspiration is to support market the tourism industry globally with travel technology services. We can understand the needs of the customer to reach their design goals. Subsequently, we grant the best thing you need for an online travel business to support you transform your business into the most lucrative one.
adivaha's Sabre GDS api integration services provide the best of class travel software to leading travel agencies. Travel websites that are affiliated with Sabre GDS API Integration, suggest flights, hotels, cars as well as other value-added services. All travel data comes in real-time through Sabre API. With real-time status updates, managers can efficiently change prices or make exclusive offers. Agents will be able to see all the changes instantly and will be able to suggest offers to customers without any hindrance. Sabre API Integration is the connecting network between buyers and sellers of travel services. adivaha® provides with an open and reliable platform for providing flexible, reliable and scalable quick fixes. We provide a variety of technical solutions to travel agencies including, data-driven, distribution and software as service solutions (SaaS) business intelligence, which travels providers and travel buyers use to plan, market, sell, serve and manage their entire business. Our Sabre GDS API integration service will help your travel agency book thousands of flights, hotels, cars and holidays online.
adivaha® offers Sabre Website Integration services for travel agency booking software business throughout the world. We devise ingenious explications that support travel agents, tour operators and travel agencies oversee their operations and upgrade travel involvements globally. The Sabre system is well suited for B2B as well as B2C. Sabre GDS system accords its agents, merchandisers with features including booking confirmation, rentals and commissions. The gds travel booking system is used by thousands of travel providers and patrons to simplifies market planning, sales, business activities and more. Not surprisingly, Sabre is a prominent flipside considering they are partnering with companies encompassing the world that grant access to more than 400,000 travel emissaries on their platforms. Sabre GDS connects suppliers with thousands of hotels and hundreds of airlines, including more than 50,000 online travel agencies. Travel agents get explicit access to thousands of travel products from contrasting suppliers through one source for their delivery; Customers have access to global supermarkets with the largest travel potential in the world.
Sabre Travel Software
Sabre global distribution system encloses a wealth of convenient data that online travel agency application agencies can take advantage of to increase their customer base. Having all the information in a particular place in a user-friendly interface will strengthen brand loyalty and give you a competitive edge. As the travel industry goes on to become more saturated, businesses must use a global distribution system like Sabre to build up the exposure.
adivaha® can ceaselessly integrate Sabre on your Website, improving your business prospects. Developers of adivaha® will configure and customize your platform so that consumers can access it smoothly. Sabre GDS supports top travel technology companies agents widen their business comprehensively through expanding the volume of travel transactions and remodelling ROI. Sabre API Integration processes the maximum number of transactions per day. Over the past 18 years, Sabre GDS Software has become one of the largest GDS systems in the world.
Sabre travel software contributes to strong solutions for the travel sector. Sabre travel best tour operator software allows businesses such as travel agents, airlines, hospitality, car rental and travel operators. Sabre API Integration travel technology provides travel agencies with ideas, opportunity, cost, strategy and statutes and so forth.
Sabre's inventory includes about 400 airlines and 175,000 hotels. The travel system also provides with services of 40 car rental providers. Sabre GDS best hotel booking software provides users with schedules, opportunity, prices, guidelines and rules, as well as the ability to book tickets for travel agencies. Sabre Website Integration helps travel agents and tour operators boost their business by helping travellers throughout the world detecting the best deals for their clients.
Why integrate Sabre GDS system?
Integrate Sabre on Website builds powerful travel applications by providing a far-reaching range of end-to-end services to developers. You can see your business grow by applying the most relevant technical skills. Sabre API Integration system is united to more than 400,000 travel brokers throughout the world, who are serving clients to the end. Sabre API Integration system transforms more than one million travel booking transactions and negotiations per minute during the high period. Sabre GDS API Integration contributes immense support to travel brokers through online chat, call along with email support. Sabre GDS Software Systems grants a wide scope of data solutions to help airlines methodically serve their customers and market themselves from them.
We assimilate your third party travel theme business into the Sabre GDS (Global Distribution System) database and the Travel Marketplace. For travel agencies / OTAs, corporations, providers and other travel technology services providers, we bring in custom solutions for web services and programs to build Sabre APIs, web services and B2B as well as B2C travel applications.
Broaden your business beyond the regional market with Sabre sabre gds software. adivaha® hands over comprehensive reporting tools that help you to evaluate your booking data. Sabre GDS software helps in output marketing, customer support, making your agency work more methodically.
Its data-rich software supports airlines generate smart operational decisions, personalize and sell their products to travellers. The Sabre reservation system is the pinnacle of airline reservation software and linked to almost all dominant airlines. It provides explications for best travel crm agencies by supporting desktop quick fixes (search and book) and XML web services to link to the conduit database. From global network airlines to low-cost carriers (LCCs), from large travel agents to self-reliant hotels, Sabre technology has been used by assorted travel sectors to devise a lucrative business environment and turn out more worth-while.
Sabre GDS integration for airline storage systems
Sabre Website tbo api integration provides decidedly efficient and reciprocal booking details that support OTAs broaden their booking scope by distributing air and non-air content across large distribution channels. Get up-to-date, real-time flight status information, real-time pricing and instant bookings - reduce your overhead costs. Sabre airline reservation system provides a wide align of software and data explication to support airlines market themselves, sell products, handle clients and operate more accurately. It provides an exhaustive suite of both airlines booking as well as marketing and business planning software and enterprise operating explications.
Integrating the Sabre global distribution system into your travel website or booking engine can equip you with tremendous data and real-time assistances for booking b2b fixed departure flights online. Some of its features are listed below:
Fare specifics
Baggage specifics
Glimpse hundreds of airlines
Progressive filter search
PNR to actual ticket generation
Purview for seat selection
One Way/Return/Multi-City search opportunity
Inquiry PNR status
Arrangement for frequent flier
Get every Specifics about the flight integrating Sabre on the website such as flight name, flight number, department information, departure details (city, date, time), arrival details (city, date, time), trip duration, number of stops, etc.
Sabre GDS integration for Hotel reservations
Hoteliers and OTAs with Sabre Hotel GDS can get the following benefits with huge business generation.
Sabre global distribution system for car rental
Travel agents can figure Sabre cars to their existing online travel booking website, access a broaden election of car rental materials and concede customers to book the cars of their choice smoothly and hastily. The rental car best GDS system concedes agents to provide real-time rental car storage instruction to retain their business before-hand of their competitors.
Benefits of Sabre GDS
Instant booking
Real-time information for an opportunity as well as price modification
Outperform your customer's expectation
Augment customer loyalty
PNR number generation
Access a wide range of travel contents
Build up productivity and revenue
Features of Sabre GDS
Effortless Connectivity: Sabre GDS Technology starts trading inventory through XML/API mode. Airlines XML, Hotel XML and Car XML - Travel Agencies could integrate this XML (Sabre GDS API Integration System) into these best travel website in the form of APIs for BICC users to facilitate their Airline Bow King System / Hotel Booking System to be effective.
Ability to target specific markets: Sabre GDS API Integration lets you devise and tap into the most dominant and prompt market segments. You should be able to filter your access based on your geographic location and specific types of travellers.
Broadened Market Reach: The Sabre GDS API Integration system which is extensively accustomed to broaden market reach. Through the B2C, B2B, B2B2C and B2E websites, a single GDS system is united.
24/7 Global Reservations: With Sabre Global Distribution Connection as well as integrate Sabre on the website, growing travel agents, customers and businesses around the world can view along with book cars, flights, hotels, tours and transfers 24 hours a day, 7 days a week.
Own white-label solution: As the travel industry has shifted from offline to online, travel agents have started asking for white label travel software from hotel providers. Sabre GDS Software system facilitated them to sell hotel bookings and flight tickets with their brand, logo and contact specifics.
Commission-free structure: Sabre GDS API Integration helps you maximize your bookings and increase your revenue, not reduce what you should earn per booking.
Integration capabilities: The capability to fully assimilate with your existing OTA, online booking engine and channel manager. This shortens the process for you and permits you to efficiently implement and manage your delivery strategy.
Automatic Content Update: Integration allows the Sabre GDS API system to automatically update inventory information (availability/price). All agents and B2C users, get non-stop information.
Pooled inventory: With Sabre GDS Software connection that supports Pool Inventory, you can market all your cells across all your distribution channels at once. If this feature is not available, you will be forced to separate your listing based on the distribution channel, which may prevent you from maximizing your bookings and increasing your revenue.
Comprehensive reporting: travel portal software helps you make the best decisions regarding your marketing strategy and distribution plan. Select a GDS that provides complete reporting tools to view and evaluate your booking data.
Our Comprehensive List of Services
adivaha® is a one-stop-shop for all your travel website needs. We offer a multitude of services that empower you to become a market leader. Contact us for more info.
Have Questions?
The Internet is a huge resource, but
if your question requires particular expertise.
Keep Refreshing your customers - Who doesn't want his site to stand out from crowd? adivaha® gives you multiple options for home pages, headers, colors etc. Which can easily be managed from admin via shortcodes and settings. The theme supports almost all the big players in this market ie, WEGO, Travelpayouts, Agoda, Booking, Expedia etc.
Frequently Asked Questions
Below are some of the questions asked by visitors. Do visit our adivaha® Digest for more such questions. Don't hesitate to ask us if you have any questions
What all GDS and Providers are connected in the platform?

27

views

1

answers

0

votes