Build your own Travel Brand!
Ready to go-LIVE travel solutions that helps your travel agency to sell a range of travel services pretty instantly. adivaha® travel solutions make sure you have no boundation over your imagination, you can do everything online, without the need for any technical knowledge or design skills. Easy Backoffice, extensive reporting with integrated Funds Management System. Upload funds easily and instantly through Netbanking, Debit Card, Credit Card. The best part is, we do offer customizations in case you believe it will boost your business!
Sabre GDS - Exploring Its Features and Benefits
Sabre GDS is a popular travel technology provider that offers a global distribution system that can be adopted by commercial organizations. GDS stands for a global distribution system; it refers to a computerized network system that allows travel agency app agencies and the travel industry to transact with each other. Many American Airlines were the brains behind this amazing invention.
GDS integration provides you with travel industry services including hotels, airlines, car rental firms, and many more. Sabre gds system plays a crucial role in enabling travelling agencies to access live inventory details and to sell them to customers.
This system was invented over 50 years ago and has helped thousands of clients globally. Initially, the company used to operate in Southlake, Texas. From where it has spread tremendously to the rest of the world. Currently, most travel companies use Sabre travel software to provide services such as travel agency booking software of flights and car hiring services to their customers.
Sabre Software targets four major aspects of businesses, such as consulting, airline solutions, and travel portal solution marketing. The company now boasts of over 7,000 employees and operates in over 45 countries spreads across the globe. More firms are now adopting this technology, including ferry companies, cruise lines, and railroads.
Major Uses of Sabre Software
Booking flights: One of the major applications of this technology for travel agencies is in the airline sector. The system helps the travel agencies to book flights for clients, as well as to process transactions.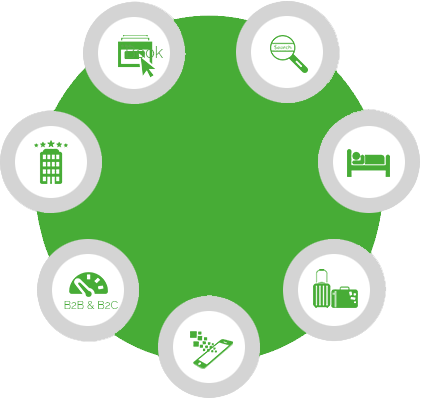 Exploring the Features and Benefits of Sabre GDS
Accessing pricing details: GDS system helps travel agents to access essential information such as inventory and pricing information. These details help the clients to sell hotel rooms to the client without any hassles.
Alerting agents on promotional information: This global distribution system is useful in alerting agents regarding the upcoming promotional packages. Some of these details, including special rates, helps companies to enjoy better returns.
Delivers real-time information to travel agents: Sabre Travel GDS provides essential information in real-time to travel agents both in-person and online. This information helps agents to determine the available accommodation. What's more, agents are also able to determine the right flight for clients.
Management of multiple branches: Travel agent companies can manage all their branches more easily thanks to GDS. The agents can book flights for the client, depending on their preference, location and destination.
It gives access to flexible services: This technology enables developers to design and to test applications. These applications are more flexible hence enables the travel agents to offer a different variety of services to clients.
GDS Software helps companies in marketing their outputs much more efficiently. The beauty of it is that it's designed for integration with other travel agent online portals. Additionally, the system also helps airlines to make informed operational decisions. That's not all; the technology is especially helpful in OTAs. They can now expand their scope of best hotel booking software to more distribution channels. Unknown to some, Sabre software provides different kinds of software applications to enable organizations to popularize themselves. You need to recall that API stands for an application programming interface. API is precise and well-defined instructions that aid a software application to interact with another system.
Details that Sabre Software Provides to Agents
Below are some of the details that GDS Sabre Software offers to their agents.
List of airlines
PNR information
Fare information
Advanced filter search functionality
Baggage details
Seat details
Departure and arrival information
Features of Sabre GDS
Reliable exposure and access to worldwide inventory- Unlike other GDS, Sabre Global Distribution System allows travel agents to have unlimited access to an inventory of ferries, airlines, and hotels.
Simplified booking process- This GDS provides numerous functionalities that simplify the booking process. What's more, some of the booking process steps are undertaken automatically. The system integrates content from useful tools like hotels, ferries, to mention a few.
Online reservation facility- This travel technology company offers customers real-time and reliable reservation functionality. Therefore, the customers can reserve a seat and it reflects immediately. This efficiency in space reservation makes it easy for travel agencies to operate smoothly.
Ability to offer new sales offers- Sabre travel software allows agencies to integrate sale offers. Therefore, customers can now easily access varying sale offers available. Consequently, these companies market themselves to lure more clients and to pocket more returns in the long run. Clients usually get notifications of available sales offers when booking. This ability is key in triggering more interest, especially to relatively disinterested web page visitors.
Open inventory- The most obvious characteristic of Sabre software is its open inventory. Inventory details, as well as pricing information, are key to customers. Thanks to this information, travel agents can allocate the right means for the client. Consequently, it helps to boost customer satisfaction hence boosting their returns.
Quick access to travel agencies- GDS allows the development and integration of customer-friendly software applications. As a result, customers can now easily access all the relevant details on travel agencies.
24/7 access to travel agencies as well as inventory- Sabre provides uninterrupted access to travel agencies at all times. Through linking travel agencies, clients can reach them at any time of the day or night.
Easy maintenance of travel details- This GDS helps travel agencies to maintain information more effortlessly. For instance, the agencies can add or remove information to target their potential clients.
Schedules- Sabre software is highly helpful in displaying all the schedules. This information is essential, especially to travel agencies and their customers. Remember, clients, rely on such information to decide whether to book a space or not.
Price- The most conspicuous feature of GDS is pricing information.

Benefits of Sabre Travel Software

It aids in target marketing- The main benefit of GDS is that it enables travel agents to target the right audience. You'll notice that you can filter access based on the location. The filter functionality also helps customers to access information fast and conveniently.
GDS can integrate with PMS- GDS Travel system integrates smoothly with existing PMS for better management of the right distribution strategy. The distribution system also integrates with the online booking engine for improved booking efficiency.
Effortless updating of information- Unknown to some, Sabre's global distribution system allows automatic updating of inventory details. This timely updating enables all the agencies involves to take the appropriate actions.
It expands the market for travel agencies- GDS systems have played a pivotal role in broadening the market. One single distribution system can connect a wide range of websites.
Convenient and real-time global reservation- Thanks to Sabre Engine, clients who go online to book cars, ferry, and hotels has risen. Previously, people would only book in person hence making it time-consuming and complicated.
Increases the company's revenue- As hinted before, Sabre software helps in boosting customer satisfaction hence attracting better returns. Additionally, the distribution system also aids in simplifying the booking process for hotel management systems.
GDS offers 24/7 access to travel agencies- Customers may want to book a hotel, ferry, or car at any time of day and night. Remember, the need may arise at any time hence the need for 24/7 availability. The integration of PMS and reservation systems with GDS makes convenience a reality. Customers are free to visit the appropriate travel portal website and access all the relevant information. Access to full and reliable information is essential for good decision making.
The system helps to guarantee customer satisfaction- Customers appreciate full and dependable information to make the right decision. Similarly, clients also appreciate convenience. The integration of Sabre software is critical in ensuring booking for reservations without any limitations. Additionally, the system also ensures exposure to global inventories as well as pricing details.
Customization of applications- The uniqueness of the distribution system is that it allows integration of features. A developer can design and integrate helpful software applications, to help customers. Therefore, agents can integrate more customer-friendly features for efficiency.
Unique and Own solutions- Sabre software has come in handy as it's providing a white-label solution to travel agents. Therefore, the agents and hotel suppliers can now book hotels, and sell flight tickets to customers using their logos and brands. As a result, companies can now enjoy good ratings from customers. Remember that thanks to the Sabre Technology, customers interact directly with the hotel suppliers. This beneficial as it helps the customer care agents to address their concerns directly.
GDS increases the hotel agents' revenue- The Global distribution system is usually flexible and allows the agencies to market themselves. What's more, the system also allows the integration of their portals with assistive software applications. Customers can now book hotel spaces, buy flight tickets at any time of the day and night. The convenience and efficiency of the system lure more customers hence slowly raising the overall revenue of these hotel agents.
Quick booking procedure- Unlike another system, Sabre system allows customers to filter search to a specific option of choice. Clients can easily access all these booking options fast and identify available slots and book in time. This booking simplicity has greatly aided in increasing the number of clients who opt for these services. Previously, one had to physically present themselves to the travel agencies to book a slot.
How does adivaha® Help You with Sabre Travelport Software?
adivaha® WordPress booking software application is a popular marketplace for owners of properties as well as sellers. Additionally, adivaha® is widely known for providing reliable travel portal solutions to clients.
Here are some of the ways that adivaha® helps clients with their Sabre travel software system.
Provide clear online demo- Every supplier wants their website to become as unique and captivating as possible to lure clients. Thanks to Adivaha, the suppliers can integrate Sabre travel software to add multiple options to their home page.
The adivaha® WordPress travel themes provides both white labelling and APIs based websites. The beauty of APIs based sites is that they are more customizable and flexible.
Theme add-ons- The only way to increase your customer base is to explore different ways to reach more customers. One of the ways to do so is to extend its website with more extended features on its Sabre software-integrated websites.
Customization of the demos on the homepages- adivaha® WordPress theme technology helps travel agents to alter the demos as they please. For example, they can now try out demos with varying modules depending on the specific service.
Saves money-As hinted before, integrating adivaha® and Sabre software saves the development cost. Remember that adivaha® integrated GDS API plugins bear great documentation for a single plugin.
Facilitating access to schedules and inventory- Thanks to Sabre travel software and adivaha® API integrated services, agents can access schedules. Easy access to hotel inventory, airlines, ferries, makes bookings and addressing customer concerns easy and effortless.
Simplifies access to technical support care-adivaha® GDS API integration leverages technologies such as jQuery, Angular, and PHP. These technologies help design a robust travel solution and a technical support pathway. You need to recall that API stands for an application programming interface. API is precise and well-defined instructions that aid a tour operator software application to interact with another system.
Helps to actualize a customer-friendly hotel portal- adivaha® comes in handy in the development of client-friendly hotel portals. These inclusions include videos, images, and demos, which helps first-time users to use the platform smoothly.
The integration of both technologies helps to display marketing information- Thanks to API integration, customers can now view compelling marketing information. Key among this includes offers and discounts that aid in attracting potential customers to your agency.
adivaha® helps to integrate multi-lingual features- adivaha® travel solutions greatly come in handy in expanding your customer base. One effective way of doing so is by integrating multi-lingual features to your Sabre gds system integrated portal. This capability is key to accommodate as many customers as possible.
Designing of mobile responsive website design- Today, more people own smartphones than those that own laptops or desktops. Interestingly, even that owners prefer using a mobile phone as its more portable. Therefore, hotel booking api free agents need to own mobile responsive website design. A good website should be visible regardless of the gadgets used. Some websites have a poor design hence not fully useful to mobile users. Therefore, clients must use bigger gadgets such as a laptop or a desktop to get access to all the functions.
It helps to boost customer satisfaction- The good thing about the technology is that a customer can get an SMS confirmation after booking. Similarly, the customer gets a reservation confirmation SMS after making a reservation on the website.
API provider aids to integrate multi-currency features- Most hotel agencies are internationals hence deals with different types of currencies. For this reason, the agencies must adopt an efficient multi-currency feature— tbo api integration of Sabre and adivaha® API aids to actualize the processing of multiple currencies. Consequently, the organizations can enjoy more customers translating to improved returns.
Increases the visibility of your website- Online visibility is highly essential in attracting traffic that translates to better revenue. adivaha® top travel technology companies API provider collaborates with Sabre travel software providers to design an SEO friendly URL. Normally, the more SEO friendly a website URL is, the more visible it becomes to potential customers. It is because search engines rank your site highly, making it visible to potential clients online.
Provides multiple services at one website- Sabre API integration gives customers all the travelling needs on a similar platform. For example, a customer can book a hotel and a car on the same website successfully. Initially, the customer had to get these services from different providers independently. This inconvenience not only wasted customer's time but also resulted in wastage of money.
Minimizes the needs for maintenance- Integration of both third party travel theme software and API technologies eliminates the need for regular maintenance. For example, there's an automatic updating of content on the website.
Actualizes wide audience targeting- Thanks to Sabre travel technology software- API integration, hotel agents can design programs to allow all-year-round booking. As a result, both corporate and leisure travellers can book at any time of the year—no wonder these hotel agencies are recording hundreds of new customers daily.Interestingly the integration has also led to the inclusion of demos. Therefore, customers can now book on their own. You no longer need to contact a hotel agent to book on your behalf.
Conclusion
In conclusion, the benefits of both adivaha® APIs and GDS experience cannot be stressed enough. travel agency software suppliers can now enjoy the immense benefits made possible by these technologies. The world is slowly going digital hence the need to leverage modern technologies for better sales and revenue.
Drupal offers unshakable security. The annual Drupal security of 2015 has reported that "there have been no widely exploited vulnerabilities in Drupal core for which there was no patch or upgrade available at the time of public disclosure". In short, the CMS is extremely secure and offers regular patches and safeguarding from exploits, making it a great choice for enterprise clients.
The hospitality industry is one of the sectors that has greatly benefited from the invention of GDS. Not to mention that customers, too, have become more confident in these technologies. Both customers and travel service providers can enjoy mutual benefit thanks to the Sabre Travel system.
Therefore, no travel agents can use the language barrier, currency differences as an excuse for squeezed revenue. There's no more lucrative sector to venture into right now than the online travel agencies. What a timely invention!
Our Comprehensive List of Services
adivaha® is a one-stop-shop for all your travel website needs. We offer a multitude of services that empower you to become a market leader. Contact us for more info.
Have Questions?
The Internet is a huge resource, but
if your question requires particular expertise.
Keep Refreshing your customers - Who doesn't want his site to stand out from crowd? adivaha® gives you multiple options for home pages, headers, colors etc. Which can easily be managed from admin via shortcodes and settings. The theme supports almost all the big players in this market ie, WEGO, Travelpayouts, Agoda, Booking, Expedia etc.
Frequently Asked Questions
Below are some of the questions asked by visitors. Do visit our adivaha® Digest for more such questions. Don't hesitate to ask us if you have any questions
I am setting up this plugin for my client's website, I tried registering and received the account activation email, but …

18

views

1

answers

0

votes