Build your own Travel Brand!
Ready to go-LIVE travel solutions that helps your travel agency to sell a range of travel services pretty instantly. adivaha® travel solutions make sure you have no boundation over your imagination, you can do everything online, without the need for any technical knowledge or design skills. Easy Backoffice, extensive reporting with integrated Funds Management System. Upload funds easily and instantly through Netbanking, Debit Card, Credit Card. The best part is, we do offer customizations in case you believe it will boost your business!
How to Find the Right Template-Travel WordPress Theme
At Adivaha we prioritize understanding our clients' specific needs and objectives for their travel portal website. We conduct thorough discussions to gather information about their target audience, desired features, branding guidelines, and overall vision for the website.
Are you interested in finding the right travel booking WordPress theme for your website? The right travel WordPress theme for your website can greatly enhance its visual appeal and functionality. Remember to select a theme that aligns with your long-term goals and branding. Here is the guide on how to select a right Template-Travel WordPress Theme:
Building Your Travel Website: A Comprehensive Guide to Requirements, Content, Features, and Design Aesthetics
As a dedicated service provider specializing in travel technology solutions, we recognize the importance of understanding your website requirements. Collaborating closely with our clients, our primary objective is to identify the purpose and goals of your travel website. By understanding your unique business objectives, whether it's to drive bookings, promote destinations, or provide travel information, we can align our travel technology services to deliver a website that effectively meets your goals. To enhance the functionality and user experience of your travel website, we'll collaborate to identify the desired features and functionality you seek. Whether it's a robust booking system, interactive maps, customer review capabilities, or social media integrations, we'll ensure that your website incorporates the necessary features that drive engagement and conversions.
At our core, we understand that the design aesthetic of your best travel website plays a vital role in attracting visitors and reflecting your brand identity. Our design experts will work closely with you to define the desired design aesthetic, including color schemes, typography choices, layout preferences, and imagery styles. By aligning the design with your branding guidelines and target audience preferences, we'll create a visually stunning website that leaves a lasting impression.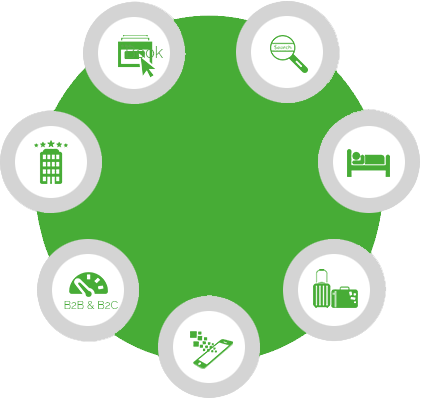 Perfect Travel WordPress Theme Template
Streamlining your search: Effective Search Methods to Identify Travel WordPress Themes that Fit Your Needs
When it comes to finding the best travel WordPress theme, utilizing effective search techniques can make all the difference. As a trusted third-party service provider, we understand the importance of empowering our clients to utilize effective search techniques when seeking the ideal travel booking theme wordpress. We guide our clients in utilizing relevant keywords and filters to maximize the efficiency of their search. By identifying the core elements of their travel website, such as destination guides, tour packages, or travel blogs, we help them incorporate these keywords into their search queries. Additionally, we highlight the value of leveraging filters provided by theme marketplaces to refine the search based on criteria like price, ratings, and compatibility. As a service provider, we emphasize the importance of guiding our clients to prioritize themes that align with their specific requirements. Through in-depth consultations, we help them clarify their needs, whether it's responsive design, booking system integration, multi-language support, or specific plugins. By focusing on travel website themes that cater to these requirements, we ensure seamless integration and a customized solution for their wordpress travel website.
Understanding Theme Descriptions and Previewing Demos
For the perfect tour and travel WordPress theme, reviewing theme details and demos is a critical step that should not be overlooked. By thoroughly examining the theme description, features, and screenshots, you gain a deeper understanding of what the theme offers.
Understanding Theme Features: By reviewing theme details and demos, you gain a comprehensive understanding of the features and functionalities offered by the theme. This allows you to assess whether the theme provides the necessary tools to meet your website requirements and goals.
Visualizing Theme Appearance: Examining theme details and demos gives you a visual representation of how the theme will look on your travel booking website. You can explore different layouts, color schemes, typography options, and design elements to determine if the theme aligns with your desired aesthetics and brand identity.
Assessing Theme Customization: Theme details and demos provide insights into the level of customization available. You can evaluate if the theme allows you to easily customize elements such as colors, fonts, layouts, and header styles. This ensures that the theme can be tailored to match your specific design preferences.
Testing Theme Functionality: Live demos allow you to interact with the travel booking Wordpress theme and experience its functionality firsthand. You can navigate through various pages, test different features, and evaluate the overall user experience. This helps you determine if the theme is intuitive, user-friendly, and meets your visitors' expectations.
Ensuring Responsiveness: Reviewing theme details and demos helps you assess if the theme is responsive, meaning it adapts and displays properly on different devices and screen sizes. This is crucial for providing a seamless browsing experience for your website visitors across desktops, tablets, and smartphones.
Making Informed Decisions: By carefully reviewing theme details and demos, you can make informed decisions about which theme best suits your needs. This ensures that you invest in a theme that aligns with your vision, meets your functional requirements, and provides an optimal user experience for your audience.
Saving Time and Effort: Thoroughly reviewing theme details and demos upfront helps you avoid selecting a theme that may not meet your expectations or require extensive modifications later. This saves you valuable time and effort in the long run, allowing you to focus on building and launching your website more efficiently.
Ensuring Responsive Design
Ensuring responsive travel website designing means that the free travel theme for WordPress you choose will adapt and display properly on different devices and screen sizes, including desktops, laptops, tablets, and mobile phones. A responsive theme should have a layout that is optimized for mobile devices. This includes adjusting the size and placement of elements such as text, images, menus, and buttons to ensure they are easily readable and accessible on smaller screens. Responsive themes use a fluid grid system, which means that the layout and elements of the website adjust proportionally based on the screen size. This ensures that the content fits well within the available space without being distorted or requiring excessive scrolling. Since mobile devices primarily use touch input, a responsive theme should provide touch-friendly navigation. This includes using larger buttons or menus that are easy to tap with a finger and avoiding hover effects that rely on mouse interaction. Before finalizing a responsive theme, it's important to test it on various devices and screen sizes to ensure that it behaves as expected. You can use browser developer tools or online testing tools to preview your travel website development on different devices and ensure that it looks and functions properly.
Review customer support and documentation
When selecting a travel tour booking WordPress theme, it's important to review the customer support and documentation provided by the theme developer. Here's why these aspects are crucial and what to consider:
Customer Support:
Responsiveness: Look for a theme developer that offers prompt and reliable customer support. Check if they provide multiple channels of communication, such as email, support tickets, or live chat, and ensure they have a reasonable response time.
Expertise: Consider the expertise of the support team. They should have a good understanding of the theme and be able to assist you with any issues or questions you may have.
Support period: Determine the duration of the support period. Some developers provide support for a specific timeframe after the theme purchase, while others offer ongoing support or premium support plans.
Support resources: Check if the theme developer offers a knowledge base, documentation, or video tutorials to help you set up and customize your theme. Having access to self-help resources can be valuable when you need quick answers or guidance.
Documentation
Comprehensive documentation: Look for a theme that provides detailed and easy-to-understand documentation. It should cover installation instructions, theme features, customization options, and troubleshooting tips.
Updates: Check if the documentation is regularly updated to reflect any changes or improvements made to the theme. Outdated documentation can lead to confusion and frustration when trying to implement certain features or resolve issues.
Examples and demos: Some themes include examples or demos of how to achieve specific designs or functionality. These resources can be helpful in understanding the theme's capabilities and customizing it to suit your needs.
Conclusion
By following these steps, you can find a travel WordPress theme that meets your requirements, offers an appealing design, and provides the necessary functionality for your custom travel website.
Our Comprehensive List of Services
adivaha® is a one-stop-shop for all your travel website needs. We offer a multitude of services that empower you to become a market leader. Contact us for more info.
Have Questions?
The Internet is a huge resource, but
if your question requires particular expertise.
Keep Refreshing your customers - Who doesn't want his site to stand out from crowd? adivaha® gives you multiple options for home pages, headers, colors etc. Which can easily be managed from admin via shortcodes and settings. The theme supports almost all the big players in this market ie, WEGO, Travelpayouts, Agoda, Booking, Expedia etc.
Frequently Asked Questions
Below are some of the questions asked by visitors. Do visit our adivaha® Digest for more such questions. Don't hesitate to ask us if you have any questions
I am setting up this plugin for my client's website, I tried registering and received the account activation email, but …

21

views

1

answers

0

votes