Build your own Travel Brand!
Ready to go-LIVE travel solutions that helps your travel agency to sell a range of travel services pretty instantly. adivaha® travel solutions make sure you have no boundation over your imagination, you can do everything online, without the need for any technical knowledge or design skills. Easy Backoffice, extensive reporting with integrated Funds Management System. Upload funds easily and instantly through Netbanking, Debit Card, Credit Card. The best part is, we do offer customizations in case you believe it will boost your business!
Most Efficient WordPress Tour Booking Themes
Find the perfect travel and tour WordPress theme tour booking theme for your travel agency wordpress theme. Boost efficiency with features like customizable tour pages, booking forms, and flexible pricing systems.
Looking for the most efficient WordPress tour booking themes for your travel portal website? Look no further! At Adivaha, our expert team has curated a list of top-notch themes that will take your tour booking experience to the next level. With customizable designs, advanced booking functionality, and seamless integration with popular plugins, these themes are designed to boost efficiency and deliver a seamless user experience.
Streamlined Booking Experience: Engage your customers with visually stunning designs, intuitive interfaces, and robust search and filtering options for hassle-free reservations.
Our exceptional travel tour WordPress booking themes boast an impressive array of key features and functionality, purpose-built to elevate your online travel business. Immerse yourself in a world of endless possibilities as you explore the comprehensive tools at your disposal. Craft captivating tour pages that showcase your offerings in a visually stunning manner. Tailor every aspect of the layout, ensuring a seamless blend of aesthetics and information, while capturing the attention of your target audience. Simplify the reservation process with our intuitive booking forms. Seamlessly collect essential details from customers, effortlessly managing bookings and ensuring a streamlined experience from start to finish. Embrace convenience and security with our seamless integration of multiple payment gateways. From traditional methods to modern digital wallets, cater to the diverse preferences of your customers, enabling smooth and secure transactions. With our meticulously crafted WordPress tour booking themes, you gain access to a comprehensive suite of features and functionalities designed to streamline your operations, captivate your customers, and drive your travel business to new heights. Embark on a transformative journey and experience the true potential of our cutting-edge tour booking WordPress themes.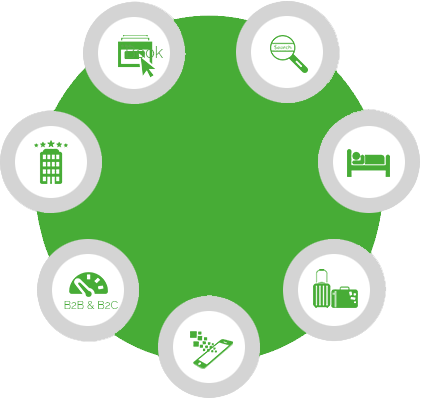 Top Themes for WordPress Tour Booking Websites
Responsive Design and User Experience
Elevate Engagement: Our WordPress tour booking themes prioritize responsive design and seamless user experience, ensuring your travel booking website captivates visitors across all devices and provides an exceptional browsing journey.
Mobile-Friendly Layouts: With a mobile-first approach, our themes guarantee that your website looks stunning and functions flawlessly on smartphones, tablets, and other mobile devices. Responsive layouts automatically adjust to different screen sizes, offering a visually appealing and user-friendly interface.
Intuitive User Interface: We understand the importance of an intuitive user interface in guiding visitors through the booking process effortlessly. Our themes feature thoughtfully designed interfaces with clear navigation, logical flow, and intuitive controls, providing a smooth and enjoyable experience for your customers.
Optimized Performance: Slow loading times and clunky navigation can drive away potential customers. Our themes prioritize performance optimization, employing techniques that enhance website speed, optimize code, and minimize unnecessary elements, resulting in fast-loading pages and seamless navigation.
Engaging Visuals: Visual appeal is crucial in capturing visitors' attention and keeping them engaged. Our tour WordPress themes offer visually stunning designs, striking imagery, and eye-catching layouts that create an immersive experience and leave a lasting impression on your audience.
Streamlined Booking Process: A seamless user experience extends to the booking process as well. Our themes feature intuitive booking forms, clear call-to-action buttons, and simplified steps to ensure a hassle-free reservation process. From selecting dates to adding extras and making payments, customers can easily complete their bookings without any frustration.
Effortless compatibility with popular booking plugins and services
By embracing integration with booking plugins and services, our tour booking WordPress themes empower you to expand your reach, streamline operations, and provide a seamless booking experience for your customers. Harness the power of integration and elevate your online booking capabilities to new heights.
Seamlessly Connect: Our travel tour WordPress theme effortlessly integrates with a wide range of booking plugins and services, expanding the capabilities of your website and streamlining your reservation management process.
Enhanced Functionality: With seamless integration into popular booking plugins and services, our themes unlock advanced functionalities, allowing you to automate booking processes, manage availability, and sync data across platforms, all from a centralized system.
Expand Your Reach: Our travel tour booking WordPress theme offer seamless integration with external booking services, enabling you to tap into a broader audience and increase your booking potential. Connect with online travel agencies, global distribution systems, or third-party platforms effortlessly.
Effortless Synchronization: Experience the power of synchronization as our travel and tour WordPress theme seamlessly connect with booking plugins and travel technology services. Keep your inventory up-to-date, synchronize bookings, and maintain consistent data across multiple platforms, ensuring smooth operations and avoiding double bookings.
Integrated Payment Solutions: Our tour booking themes integrate with payment gateways, ensuring a seamless payment process for your customers. Accept credit cards, digital wallets, and other popular payment methods, providing a convenient and secure booking experience.
Personalize your website with a wide range of design and customization possibilities
As your trusted service provider, we offer an extensive array of design and customization options that empower you to craft a visually captivating custom website. Our goal is to bring your unique vision to life, ensuring your brand stands out in a crowded online landscape. With our expertise in design, we provide tailored solutions that align with your specific requirements. From elegant layouts to stunning color palettes, we offer a range of pre-designed tour booking website wordpress templates and themes that serve as a foundation for your customization journey. We understand the importance of standing out from the competition. That's why we provide you with limitless customization possibilities. Take control of every aspect of your website - fonts, colors, layouts, and more - to create a truly unique and immersive user experience. Your website is a reflection of your brand identity. Our design and customization options ensure seamless alignment with your brand guidelines. Infuse your website with your brand's personality, values, and messaging, creating a cohesive and impactful online presence. Our user-friendly customization tools empower you to make changes effortlessly. No coding skills? No problem. With intuitive interfaces and drag-and-drop functionality, you have the power to transform your website without any technical hurdles. In today's mobile-centric world, responsive design is crucial. Our travel tour booking WordPress themes and templates are meticulously crafted to adapt seamlessly across all devices. Your website will look stunning and provide an exceptional user experience whether accessed from a desktop, tablet, or smartphone.
Customer Support and Updates
At Adivaha, we prioritize customer support to ensure your satisfaction. Our expert support team is readily available to assist you with any questions, concerns, or technical issues that may arise along your journey.
Prompt Assistance: We understand the importance of timely support. Rest assured that our dedicated support team is just a click or call away, ready to provide prompt assistance whenever you need it. We are committed to resolving your queries efficiently and ensuring a smooth experience throughout.
Comprehensive Documentation: To empower you with self-help resources, we provide comprehensive documentation. Access user-friendly guides, tutorials, and FAQs that cover a wide range of topics, enabling you to find answers and troubleshoot common issues independently.
Regular Updates: We are committed to continuously improving our products to meet evolving industry standards and deliver enhanced functionality. Our themes and plugins receive regular updates, ensuring compatibility with the latest versions of b2b website WordPress and offering new features to keep your website up-to-date.
Security and Bug Fixes: Your website's security is our priority. Our dedicated team diligently monitors for vulnerabilities and promptly releases security updates to safeguard your data and provide a secure browsing experience. Additionally, we actively address any reported bugs to maintain a smooth and error-free operation.
Engaging Community: Join our vibrant community of users where you can connect, exchange ideas, and seek advice from fellow website owners. Share insights, learn from experiences, and build relationships with like-minded individuals who share your passion for success.
Conclusion
In conclusion, as your trusted service provider, we offer a wide range of efficient WordPress tour booking themes designed to elevate your best travel website. From seamless integration with booking plugins and services to responsive design and intuitive user experiences, our themes provide the necessary tools to streamline your operations and enhance the booking process for your customers. With customizable designs and extensive customization options, you have the freedom to create a unique and visually captivating website that aligns with your brand identity. Our commitment to customer support ensures that you receive prompt assistance and comprehensive documentation to address any queries or technical issues that may arise.
Our Comprehensive List of Services
adivaha® is a one-stop-shop for all your travel website needs. We offer a multitude of services that empower you to become a market leader. Contact us for more info.
Have Questions?
The Internet is a huge resource, but
if your question requires particular expertise.
Keep Refreshing your customers - Who doesn't want his site to stand out from crowd? adivaha® gives you multiple options for home pages, headers, colors etc. Which can easily be managed from admin via shortcodes and settings. The theme supports almost all the big players in this market ie, WEGO, Travelpayouts, Agoda, Booking, Expedia etc.
Frequently Asked Questions
Below are some of the questions asked by visitors. Do visit our adivaha® Digest for more such questions. Don't hesitate to ask us if you have any questions
I am setting up this plugin for my client's website, I tried registering and received the account activation email, but …

9

views

0

answers

0

votes