Build your own Travel Brand!
Ready to go-LIVE travel solutions that helps your travel agency to sell a range of travel services pretty instantly. adivaha® travel solutions make sure you have no boundation over your imagination, you can do everything online, without the need for any technical knowledge or design skills. Easy Backoffice, extensive reporting with integrated Funds Management System. Upload funds easily and instantly through Netbanking, Debit Card, Credit Card. The best part is, we do offer customizations in case you believe it will boost your business!
Choosing the Right Tour Operator Software for Your Business
Can the right tour operator software truly elevate your travel business? Explore the ins and outs of choosing the perfect solution to boost efficiency and customer service. Our guide breaks down the process of selecting tour operator software, revealing game-changing solutions, including the advanced features from Adivaha.
In today's rapidly evolving travel software industry, technology has become a cornerstone of success for travel businesses. One crucial tool that can significantly impact the efficiency, growth, and customer experience of a tour operator is the right tour booking software. Selecting the most suitable software for your business can be a game-changer, streamlining operations, enhancing customer satisfaction, and boosting overall productivity. This article aims to guide you through the process of choosing the right tour operator software by addressing essential factors and providing insights into key aspects of the decision-making process.
What specific needs and pain points does your business aim to address with tour operator software?
At Adivaha, we understand that every online travel business is unique, facing its own set of challenges and aspirations. Our tour management software is designed to address a range of specific needs and pain points that businesses like yours encounter on a daily basis. We recognize the complexity of managing bookings, schedules, and availability. Our software streamlines the entire booking process, ensuring that you can efficiently handle reservations, minimize double bookings, and allocate resources seamlessly.
We recognize the complexity of managing bookings, schedules, and availability. Our software streamlines the entire booking process, ensuring that you can efficiently handle reservations, minimize double bookings, and allocate resources seamlessly. Crafting personalized itineraries for your clients is essential for creating memorable travel experiences. Our software empowers you to easily create, modify, and share tailored itineraries that resonate with your customer's preferences. Keeping your customers well-informed and engaged is vital for customer satisfaction.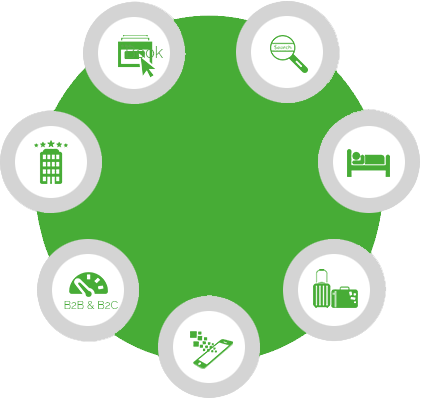 The Benefits of Tour Operator Software
Our software provides communication tools that allow you to send real-time updates, answer queries promptly, and maintain a strong rapport with your clients. We understand the importance of a cohesive tech ecosystem. Our software is designed for seamless integration with your existing tools, including accounting software, CRM systems, and payment gateways, ensuring a smooth flow of information across your operations. Making informed decisions requires accurate data analysis. Our software's reporting and analytics features provide you with valuable insights into booking trends, customer preferences, and financial performance, helping you strategize for growth. We acknowledge that your business is on a journey of growth. Our best b2b travel booking software is designed to scale alongside your expansion, accommodating increased bookings and evolving operational demands.
In what ways does the chosen software enhance the overall customer experience for those booking tours?
The chosen tour operator software goes above and beyond to enhance the overall customer experience for those booking tours. At Adivaha, we believe that a seamless and enjoyable booking process is the foundation of customer satisfaction. Here's how our software achieves this:
User-Friendly Booking Interface: Our online booking software offers an intuitive and user-friendly booking interface that guides customers through the booking process. With clear and organized steps, customers can easily select their desired tours, choose dates, and customize their itineraries.
Real-Time Availability: Nothing frustrates customers more than finding out that their preferred tour or activity is unavailable. Our software provides real-time availability updates, ensuring that customers only see options that are open for booking.
Personalized Itineraries: Every traveler has unique preferences and interests. Our software allows tour operators to create personalized itineraries based on customer preferences, offering a tailored experience that resonates with their desires.
Instant Confirmation: Customers appreciate instant gratification. Our best tour booking software enables immediate booking confirmation, giving customers the assurance that their reservation is secured without delays.
Secure Payment Processing: Building trust through secure transactions is crucial. Our software integrates reliable payment gateways, ensuring that customers' financial information is handled securely, and instilling confidence in the booking process.
Real-Time Updates: Customers value transparency and timely updates. Our software facilitates real-time communication, allowing tour operators to send updates on booking details, changes in itinerary, and any relevant information.
How can the chosen software contribute to improving the efficiency of booking management and itinerary customization?
At Adivaha, we take pride in offering tour operator software that significantly enhances the efficiency of booking management and itinerary customization. Our tour operator booking software is meticulously designed to streamline these critical aspects of your travel business operations. Our software automates various stages of the booking process, reducing manual data entry and potential errors. From capturing customer details to processing payments, automation ensures a seamless flow of information. Managing availability across multiple tours can be challenging. Our software offers real-time updates on tour availability, preventing overbookings and ensuring accurate scheduling. Crafting personalized itineraries is made easy with our software's customizable travel website templates. You can create tailor-made itineraries by adding or modifying activities, accommodations, and other details, catering to individual customer preferences. Our software features an integrated calendar that provides a visual overview of bookings and schedules. This enables your team to manage resources effectively and avoid scheduling conflicts. Our software's intuitive interface includes drag-and-drop functionality for itinerary customization. This empowers your team to rearrange activities, adjust timings, and create seamless experiences for your customers. To expedite itinerary customization, our software allows you to save and reuse templates. This feature accelerates the process of creating consistent and attractive itineraries for different tours. Our software facilitates collaboration among team members involved in booking management and itinerary customization. Multiple users can work on itineraries simultaneously, enhancing teamwork and reducing turnaround time. Mistakes can happen, and revisions may be necessary. Our software includes a revision history feature, allowing you to track changes made to itineraries and revert to previous versions if needed.
What potential challenges might arise during the integration process of software tour operators?
At Adivaha, we understand that the integration of new travel agency software can introduce certain challenges to your business operations. However, our experience and expertise in providing seamless solutions can help you navigate these challenges effectively. Here are some potential challenges that might arise during the integration process and how our software addresses them:
Data Migration Complexity: Migrating existing data to the new software can be complex. Adivaha®'s software offers data migration tools and expert support to ensure a smooth transition, preserving your valuable customer information, booking history, and other essential data.
Learning Curve for Staff: Adapting to new travel technology software can take time and training. Adivaha®'s user-friendly interface and training resources simplify the learning curve, allowing your staff to quickly grasp the software's functionalities and maximize its benefits.
Integration with Existing Systems: Integrating new software with your current tools and systems might be challenging. Adivaha®'s software is designed with integration capabilities, allowing seamless connectivity with third-party applications, such as accounting software and CRM systems.
Customization Alignment: Ensuring that the new software aligns with your unique business processes and needs is crucial. Adivaha®'s software offers customizable features that can be tailored to match your specific requirements, ensuring a smooth fit.
Workflow Disruptions: Transitioning to new software can disrupt existing workflows. Adivaha®'s implementation team works closely with you to plan the integration process strategically, minimizing disruptions and downtime.
Data Security Concerns: Protecting sensitive customer and business data is paramount. Adivaha®'s software incorporates robust security measures, including data encryption and access controls, to ensure the safety of your information.
Technical Support Availability: Having access to reliable technical support is essential during the integration phase. Adivaha provides dedicated support to address any issues, answer questions, and guide you through the integration process.
Cost Management: Managing the costs associated with software integration is crucial for budgeting. We offer transparent pricing models and help you understand the long-term value that the software brings to your business.
By partnering with Adivaha, you're choosing a travel portal solutions provider that anticipates and mitigates potential integration challenges. Our aim is to ensure a smooth and successful transition to new tour operator software, enabling your business to reap the benefits of enhanced efficiency, customer satisfaction, and growth.
What competitive advantages can the right tour operator software provide in a rapidly changing travel industry?
Being the first to offer new and exciting travel experiences can give you a competitive edge. Adivaha®'s software expedites the creation and launch of new tours, helping you capitalize on emerging opportunities faster. Adivaha®'s software enhances your ability to position your offerings uniquely in the market. Customizable itineraries, innovative features, and exceptional customer service contribute to a stronger market presence. In a rapidly evolving digital landscape, reaching customers through various channels is essential. Adivaha®'s software can integrate with online travel agencies (OTAs) and other distribution platforms, expanding your reach to a wider audience. Effective communication is key in a changing industry. Our software ensures real-time communication with customers, enabling you to provide updates, address concerns, and maintain a strong connection. Controlling costs without compromising quality is essential. Adivaha®'s software optimizes resource allocation, reduces manual efforts, and minimizes operational inefficiencies, contributing to cost-effective operations.
In conclusion
Choosing the right travel crm software requires a thorough evaluation of your business needs, scalability, integration capabilities, user-friendliness, mobile accessibility, reporting, and customer experience features. By carefully considering these aspects and exploring reliable providers like Adivaha, you can make an informed decision that empowers your travel business to thrive in a dynamic and technology-driven industry.
Our Comprehensive List of Services
adivaha® is a one-stop-shop for all your travel website needs. We offer a multitude of services that empower you to become a market leader. Contact us for more info.
Have Questions?
The Internet is a huge resource, but
if your question requires particular expertise.
Keep Refreshing your customers - Who doesn't want his site to stand out from crowd? adivaha® gives you multiple options for home pages, headers, colors etc. Which can easily be managed from admin via shortcodes and settings. The theme supports almost all the big players in this market ie, WEGO, Travelpayouts, Agoda, Booking, Expedia etc.
Frequently Asked Questions
Below are some of the questions asked by visitors. Do visit our adivaha® Digest for more such questions. Don't hesitate to ask us if you have any questions
What all GDS and Providers are connected in the platform?

27

views

1

answers

0

votes