Build your own Travel Brand!
Ready to go-LIVE travel solutions that helps your travel agency to sell a range of travel services pretty instantly. adivaha® travel solutions make sure you have no boundation over your imagination, you can do everything online, without the need for any technical knowledge or design skills. Easy Backoffice, extensive reporting with integrated Funds Management System. Upload funds easily and instantly through Netbanking, Debit Card, Credit Card. The best part is, we do offer customizations in case you believe it will boost your business!
Create Your Own Custom Tour Packages With a WordPress Plugin
Discover the effortless way to design personalized tour packages using a tour WordPress plugin. Craft unique itineraries, efficiently manage bookings, and provide seamless online reservations to elevate your travel business.
With the travel portal development of technology, designing unique travel itineraries has become easier and more effective. We'll look at how to use a tour plugin WordPress to create and provide your own unique tour packages in this article.
Uncovering the Benefits of Crafting Customized Tour Packages
At Adivaha, being a service provider, we recognize the significance of understanding the benefits that custom tour packages bring to travel agencies. In this article, we aim to shed light on the untapped potential that lies within personalized travel experiences. By delving into the importance of catering to unique traveler preferences and the advantages of offering customized itineraries, we will highlight how embracing customization can revolutionize your travel business.
The Importance of Personalized Travel Experiences:

In a world where travelers seek authentic and meaningful journeys, personalized travel experiences have become paramount. Custom tour packages allow travel agencies to go beyond cookie-cutter itineraries, providing tailor-made adventures that resonate with individual travelers. By understanding their specific preferences, interests, and aspirations, agencies can curate unforgettable experiences that leave a lasting impact on travelers, fostering loyalty and positive reviews.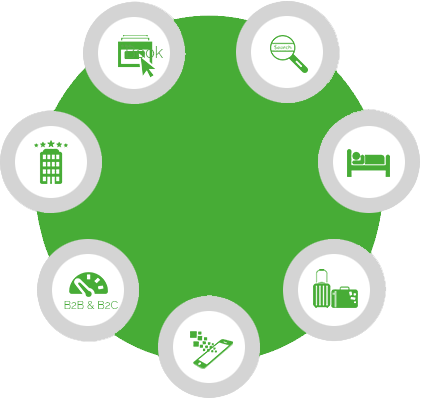 Custom Tour Packages with a WordPress Plugin
Catering to Unique Traveler Preferences:

Every traveler has their own set of preferences, ranging from specific destinations and activities to preferred travel styles and budgets. Custom tour packages wordpress plugin offer the flexibility to cater to these diverse preferences, ensuring that each traveler's desires are met. By customizing itineraries to align with these unique preferences, travel agencies can create a personalized journey that fulfills travelers' dreams, resulting in enhanced satisfaction and a higher likelihood of repeat business.

The Advantages of Offering Customized Itineraries:

Travel agents acquire a business advantage by providing personalized itineraries. Agencies can set themselves apart from competitors with standardized products by creating tour packages that are specifically tailored to the demands of tourists. Custom trip packages allow travel technology companies to demonstrate their knowledge, originality, and capacity for crafting extraordinary experiences. This distinct selling proposition draws discerning tourists who yearn for unusual adventures, resulting in an increase in reservations and a strong reputation in the market.

Enhancing Customer Engagement and Satisfaction:

Custom tour packages provide an opportunity for increased customer engagement throughout the travel planning process. By involving travelers in itinerary design and decision-making, agencies create a sense of ownership and collaboration. This collaborative approach fosters a deeper connection with customers, leading to higher satisfaction levels and long-term loyalty. Satisfied customers become brand advocates, referring friends and family to the agency and amplifying its reach.
Choosing the Right tour booking tour plugin WordPress for Tour Package Creation
When exploring different WordPress plugins, it's essential to carefully evaluate the features and functionalities they offer. Look for key features such as itinerary creation, booking management, payment integration, customizable templates, and compatibility with your existing systems. Consider whether the WordPress travel agency plugin provides an intuitive user interface and offers scalability to accommodate future growth.
Key Considerations in Selecting a Suitable Plugin for Your Needs:
To ensure the chosen WordPress travel booking plugin aligns with your requirements, consider the following factors:
Customization Options: Determine if the plugin allows you to personalize tour packages to reflect your branding and style.
Integration Capabilities: Check if the plugin seamlessly integrates with other essential tools such as CRM systems, payment gateways, and booking engines.
Support and Updates: Assess the level of support the plugin developer provides and their track record of releasing timely updates to ensure compatibility with the latest travel agency plugin WordPress version.
User Reviews and Ratings: Take into account the experiences of other users by reading reviews and ratings for each plugin, as this can offer insights into its performance, reliability, and user satisfaction.
Examples of Popular WordPress Plugins for Creating Custom Tour Packages
WP Travel:
WP Travel and tour WordPress plugin provides a comprehensive set of features for creating custom tour packages. It offers a user-friendly interface and intuitive controls, making it accessible for both beginners and experienced users.
Key features include:
Itinerary Creation: With WP Travel, you can easily create engaging and detailed tour itineraries, allowing you to showcase the unique experiences and destinations offered in your packages.
Flexible Pricing Options: The plugin enables you to set flexible pricing structures, including fixed prices, tiered pricing based on group sizes, seasonal rates, or any other pricing model that suits your business needs.
Booking Management: WP Travel simplifies the management of tour bookings by providing a centralized system. You can efficiently track bookings, view customer details, manage availability, and handle cancellations or modifications.
Customization Capabilities: The plugin offers customization options, allowing you to tailor the appearance and branding of your tour package pages to align with your agency's visual identity and travel website designing.
WP Tour Package:
WP Tour Package is another popular b2b WordPress plugin designed specifically for creating and managing custom tour packages. It boasts a user-friendly interface and a range of features tailored to meet the needs of travel agencies.
Key features include:
Seamless Design and Management: WP Tour Package simplifies the process of designing and managing custom tour packages. It provides a straightforward interface that allows you to create engaging itineraries, customize package details, and easily make updates as needed.
Booking Functionality and Payment Integration: The plugin offers built-in booking functionality, enabling customers to reserve their desired tour packages directly from your travel portal website. It integrates with popular payment gateways, facilitating secure and convenient online transactions.
Flexibility in Customization: WP Tour Package provides customization options, allowing you to adjust the appearance of tour package pages to align with your branding. You can customize templates, colors, fonts, and other visual elements to create a cohesive and personalized user experience.
WP Simple Booking Calendar:
WP Simple Booking Calendar is a WordPress plugin ideal for online travel agencies that require availability management for their custom tour packages. It simplifies the process of setting up booking calendars and integrates seamlessly with tour package pages. Key features include:
Key features include:
Easy Setup of Booking Calendars: The plugin enables you to set up booking calendars effortlessly, displaying availability for different tour packages. This helps customers identify open dates and make informed booking decisions.
Integration with Tour Package Pages: WP Simple Booking Calendar seamlessly integrates with your tour package pages, allowing visitors to view real-time availability and make reservations directly from the package pages.
User-Friendly Interface: The plugin offers a user-friendly interface, making it simple to manage availability, block dates, and handle bookings. It ensures smooth availability management without the need for complex configurations.
Woo Commerce Bookings:
Woo Commerce Bookings is a powerful WordPress plugin that leverages the capabilities of Woo Commerce to provide extensive booking management features. It is particularly suitable for agencies offering custom tour packages along with additional products or travel technology services.
Key features include:
Comprehensive Booking Management: Woo Commerce Bookings allows you to manage bookings efficiently. It provides features such as real-time availability updates, booking notifications, and calendar-based bookings, enabling seamless management of reservations.
Integration with Woo Commerce: As a Woo Commerce extension, this plugin seamlessly integrates with the popular e-commerce platform. This integration provides additional benefits such as inventory management, product variations, and robust payment gateway options.
Flexibility and Scalability: Woo Commerce Bookings offers flexibility in configuring various booking options, including customizable time slots, capacity management, and resource allocation. This makes it suitable for businesses with complex tour package offerings or those looking for future scalability.
These plugins mentioned: WP Travel, WP Tour Package, WP Simple Booking Calendar, and Woo Commerce Bookings - provide an array of features and capabilities to cater to the different needs of travel agencies seeking to create custom tour packages. By considering their specific functionalities, you can choose the plugin that aligns best with your business requirements and enhances your ability to deliver exceptional travel experiences.
Setting Up and Configuring the WordPress Plugin
By properly setting up and configuring the plugin, you ensure that it functions as intended and delivers the desired features and functionalities. This includes enabling key capabilities such as itinerary creation, booking management, and payment integration, which are crucial for creating and managing custom tour packages effectively. Configuring the plugin allows you to tailor it to your specific business needs. You can set general preferences, customize currencies, and select payment gateways that align with your target audience's preferences. By customizing the plugin's appearance, you create a seamless and visually appealing experience for your customers, reinforcing your brand identity and enhancing the overall user experience. Proper setup and configuration of the plugin streamline your tour package creation process and make operations more efficient. By defining default settings, specifying currencies, and integrating payment gateways, you eliminate the need for manual intervention in repetitive tasks, reducing errors and saving time. This ensures a smooth workflow, allowing you to focus on delivering exceptional customer service. Properly setting up and configuring the plugin lays a foundation for scalability and adaptability. As your online travel business grows, you can easily expand your tour package offerings, integrate new functionalities, and accommodate changing market demands. By ensuring the plugin is configured correctly from the start, you minimize the need for extensive modifications in the future, saving time and effort.
Our Comprehensive List of Services
adivaha® is a one-stop-shop for all your travel website needs. We offer a multitude of services that empower you to become a market leader. Contact us for more info.
Have Questions?
The Internet is a huge resource, but
if your question requires particular expertise.
Keep Refreshing your customers - Who doesn't want his site to stand out from crowd? adivaha® gives you multiple options for home pages, headers, colors etc. Which can easily be managed from admin via shortcodes and settings. The theme supports almost all the big players in this market ie, WEGO, Travelpayouts, Agoda, Booking, Expedia etc.
Frequently Asked Questions
Below are some of the questions asked by visitors. Do visit our adivaha® Digest for more such questions. Don't hesitate to ask us if you have any questions
I am setting up this plugin for my client's website, I tried registering and received the account activation email, but …

9

views

0

answers

0

votes