Build your own Travel Brand!
Ready to go-LIVE travel solutions that helps your travel agency to sell a range of travel services pretty instantly. adivaha® travel solutions make sure you have no boundation over your imagination, you can do everything online, without the need for any technical knowledge or design skills. Easy Backoffice, extensive reporting with integrated Funds Management System. Upload funds easily and instantly through Netbanking, Debit Card, Credit Card. The best part is, we do offer customizations in case you believe it will boost your business!
A Beginner's Guide to Tour Plugin WordPress
Welcome to the plugin tour WordPress! You've arrived at the correct place if you're wanting to add compelling tours and engaging experiences to your website. In this article, we'll walk you through the finest tour WordPress plugin and provide you with a beginner's introduction to its features, advantages, and limitations.
Discover the power of Tour Booking Plugin WordPress with our comprehensive beginner's guide. Learn how to create captivating tours, engage your visitors, and enhance your website's user experience.
Best Tour Booking Plugin Wordpress for Beginners:
At Adivaha, we believe in providing our clients with top-tier tools to enhance their websites. WordPress Travel Booking Plugin stands out as the go-to solution due to its unmatched features and benefits. With its user-friendly interface and powerful functionalities, even beginners can effortlessly design captivating tours without the need for coding expertise. This plugin is the epitome of versatility, offering endless possibilities to showcase travel destinations, highlight product features, or simply guide users through your content.
We understand the importance of maintaining consistent branding across your best travel website. With Tour Plugin WordPress, customizing your tours is a breeze. Choose from a selection of pre-designed templates or let your creativity shine by building a tour from scratch. Customize colors, fonts, icons, and styles to ensure your tours seamlessly integrate with your website's aesthetics.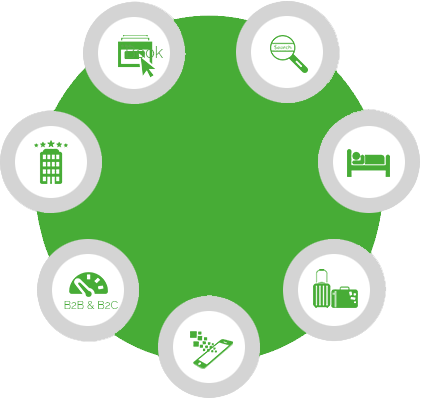 Guide to Tour Plugin Integration in WordPress
No matter your goal, WordPress Tour Plugin offers a range of tour types to cater to your specific requirements. Whether it's step-by-step guided tours, self-guided exploration, or product showcases, our plugin has got you covered. Define tour steps, set triggers, and configure tour behavior with ease, creating a seamless user experience that keeps your visitors engaged and delighted. In today's mobile-driven world, a responsive website is essential. Tour Plugin WordPress ensures that your tours look and function flawlessly on all devices, be it desktops, tablets, or smartphones. With our plugin, you can deliver a seamless and consistent user experience to visitors regardless of their preferred platform.
The Best Tour Plugin in WordPress:
As a third-party service provider dedicated to enhancing websites, we have thoroughly evaluated various tour plugins available for b2b website WordPress. We can safely propose WP Tour Pro as the top tour plugin for WordPress after rigorous testing and user feedback. Even for beginners, creating tours is simple using WP Tour Pro's user-friendly interface. Without any coding experience, you can create compelling tours using its simple drag-and-drop builder. To effectively engage your audience, you may quickly design interactive hotspots, tooltips, and multimedia components. WP Tour Pro can provide you with guided tours that take you through each step, self-directed exploration, or product presentations. This plugin offers a number of tour options, each completely customizable to meet your unique requirements. You may easily showcase any element of your travel portal website, make tours for popular holiday destinations, or emphasize the benefits of your products.
With WP Tour Pro, you have complete control over your tour's appearance. Tailor your tours to match your website's branding by customizing colors, fonts, icons, and styles. Choose from a wide range of pre-designed templates or unleash your creativity by building tours from scratch to ensure seamless integration with your website's aesthetics.
Features and Benefits of Tour Plugin WordPress:
Interactive Tour Creation: With WP Tour Plugin, you gain access to a powerful and intuitive platform that enables you to effortlessly create interactive tours. The plugin's drag-and-drop builder allows you to add hotspot markers, tooltips, and multimedia content such as images, videos, and audio. By presenting information in this visually appealing and engaging manner, you can capture your audience's attention and keep them hooked throughout the tour.
Customizable Designs: WP Tour Plugin offers a high degree of customization, allowing you to tailor your tours to match your website's branding and aesthetics. Choose from a variety of pre-designed templates to kick-start your tour creation process, or let your creativity run wild and build a tour from scratch. From colors and fonts to icons and styles, you have the freedom to craft tours that seamlessly blend with the overall look and feel of your custom website.
Multiple Tour Types: No matter the purpose of your tour, WP Tour Plugin offers a wide range of tour types to cater to your specific needs. Whether it's step-by-step guided tours, self-guided exploration experiences, or product showcases, the plugin has you covered. Define tour steps, set triggers for pop-ups or other interactions, and configure tour behavior according to your unique requirements. This versatility allows you to effectively guide your visitors and deliver tailored experiences that resonate with them.
Responsive and Mobile-Friendly: In today's digital landscape, catering to mobile users is crucial for a successful wordpress travel website. WP Tour Plugin ensures that your tours look stunning and function flawlessly across all devices, including desktops, tablets, and smartphones. This responsive design guarantees a seamless and consistent user experience, regardless of the device your visitors are using. With mobile-friendliness in place, you can reach a wider audience and provide a satisfying tour experience to all users.
Advantages of Tour Plugin WordPress:
Enhanced User Engagement: Interactive tours are a potent tool to captivate your website visitors. By incorporating WP Tour Plugin's interactive features, you can offer engaging and immersive experiences that hold your audience's attention. Increased user engagement leads to longer visit durations and reduced bounce rates, ultimately positively impacting your website's overall performance.
Simplified Information Delivery: Complex concepts or a vast amount of content on your website can be overwhelming for users to navigate. Tour b2b Plugin WordPress simplifies information delivery through its step-by-step format. By breaking down information into manageable chunks and guiding users through the tour, you make it easier for them to understand your offerings and find what they're looking for. This streamlined approach enhances the overall user experience and reduces the learning curve, particularly for new visitors.
Disadvantages of Tour Plugin WordPress:
Learning Curve: While WP Tour Plugin offers a user-friendly interface, mastering all its features may require some time and effort, especially for beginners. To unleash the full potential of the plugin, users might need to invest additional resources in understanding its functionalities. However, with proper documentation and support, users can quickly grasp the intricacies of the plugin and create impressive tours.
Compatibility Issues: Depending on your website's theme and other installed plugins, there is a possibility of compatibility issues arising. It's crucial to test the tour plugin wordpress thoroughly and ensure it functions smoothly with your existing setup.
Conclusion
Tour Plugin WordPress, especially WP Tour Plugin, provides an excellent solution for creating captivating tours and delivering immersive experiences on your website. With its wide range of features, customization options, and responsive travel website designing, this plugin empowers you to engage your audience and leave a lasting impression. While there may be a learning curve and potential compatibility issues, the advantages of enhanced user engagement and simplified information delivery outweigh the disadvantages. So, embark on this exciting journey with b2b WordPress Plugin and unlock the true potential of your website's interactive tours.
Our Comprehensive List of Services
adivaha® is a one-stop-shop for all your travel website needs. We offer a multitude of services that empower you to become a market leader. Contact us for more info.
Have Questions?
The Internet is a huge resource, but
if your question requires particular expertise.
Keep Refreshing your customers - Who doesn't want his site to stand out from crowd? adivaha® gives you multiple options for home pages, headers, colors etc. Which can easily be managed from admin via shortcodes and settings. The theme supports almost all the big players in this market ie, WEGO, Travelpayouts, Agoda, Booking, Expedia etc.
Frequently Asked Questions
Below are some of the questions asked by visitors. Do visit our adivaha® Digest for more such questions. Don't hesitate to ask us if you have any questions
What all GDS and Providers are connected in the platform?

27

views

1

answers

0

votes