Build your own Travel Brand!
Ready to go-LIVE travel solutions that helps your travel agency to sell a range of travel services pretty instantly. adivaha® travel solutions make sure you have no boundation over your imagination, you can do everything online, without the need for any technical knowledge or design skills. Easy Backoffice, extensive reporting with integrated Funds Management System. Upload funds easily and instantly through Netbanking, Debit Card, Credit Card. The best part is, we do offer customizations in case you believe it will boost your business!
Creating Online Travel Experiences with WordPress Tour Plugins
Discover seamless travel experiences with travel booking WordPress plugin! Create captivating tour pages, manage bookings, and offer secure payment options directly on your website. Unleash the potential of your travel business today!
Welcome to the fascinating world of WordPress tour plugins for online tour experiences! You've come to the correct place if you want to build a captivating travel website that enables users to safely and simply book their vacations. This article will demonstrate how to use your tour WordPress plugin to enhance the awesomeness of your travel website. We'll also go through the advantages of these plugins and how to build up your free WordPress travel agency and tour booking website. Let's get begun!
What are Online Travel Experiences with WordPress Tour Operator Plugins?
Online travel experiences with WordPress Tour Plugin encompass the process of displaying and selling travel technology services or experiences directly on a WordPress-powered website. These tour booking plugins provide an intuitive platform for travel businesses to showcase their offerings and allow customers to book and pay for their desired tours with ease. From city tours and adventure trips to culinary experiences and wildlife safaris, WordPress tour plugins empower online travel agencies and enthusiasts to connect with their target audience efficiently.
These WordPress tour plugins enable tour operators, travel technology companies, and enthusiasts to successfully connect with their target market. They may streamline the entire booking process by using these plugins, giving potential clients a simple and smooth experience. The days of laborious and drawn-out booking processes are over. Travelers may quickly schedule and pay for their preferred travels with WordPress tour plugins, which makes organizing a trip a breeze.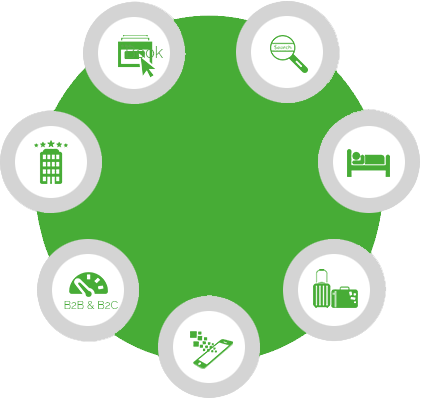 Experiences with WordPress Tour Plugins
How does it Work?
Creating online travel experiences with WordPress tour plugins is a seamless and user-friendly process. To begin, you'll need to select a suitable travel agency plugin WordPress that fits your unique requirements and complements your website's needs. Once you've chosen the right plugin, simply install and activate it on your WordPress-powered website. The plugin empowers you to create individual tour pages, each showcasing detailed information, captivating images, pricing, availability, and other essential details. Tailoring the tour pages to your liking is a breeze, allowing you to present your travel offerings in an attractive and informative manner.
Now comes the exciting part for your potential customers. As visitors explore your travel portal website, they can browse through the various tour options available. When they find a tour that sparks their interest and fits their travel desires, they can easily proceed to the booking and payment system. The plugin seamlessly integrates a booking functionality into your website, ensuring that customers can hassle-free secure their spots for the chosen tour. With the availability of secure online payment gateways, customers can make payments with confidence, knowing their personal information is protected.
Ultimately, the process of creating online travel experiences with WordPress Tour Plugin ensures that your website becomes a captivating platform for travelers to explore and book their dream tours. By offering a smooth and efficient booking and payment system, you enhance the overall customer experience, making their journey from discovery to booking a delightful one.
How to Create a Travel Website on WordPress?
Choose a Hosting Provider: To kick-start your travel website journey, begin by selecting a reliable hosting provider that aligns with your website's specific needs and budget. Look for one that offers excellent speed, reliable uptime, and top-notch customer support.
Install WordPress: Most hosting providers make the process a breeze by offering one-click WordPress installations. This means you can set up your website quickly and hassle-free, even if you're not a tech-savvy person.
Choose a Theme: Now comes the fun part! Explore a wide range of travel-oriented themes available on WordPress or third-party marketplaces. Take your time to browse through various options and select a theme that not only complements your brand identity but also provides the functionality you require to showcase your travel experiences in the best light.
Install Essential Plugins: Enhance your website's capabilities and performance by installing essential plugins. These include security plugins to protect your website from potential threats, SEO optimization tools to improve your website's visibility in search engines, and, of course, a WordPress tour plugin to showcase your travel offerings and manage bookings seamlessly.
Can You Make a Booking System on WordPress? Its Features and Functions:
Absolutely! With the right WordPress tour plugin, you can easily integrate a robust booking system into your wordpress travel website. These plugins offer a range of features and functions, including:
Tour Management: Effortlessly add, edit, and manage your listings from your WordPress dashboard.
Customization: Customize the appearance of your tour pages to match your brand's identity, ensuring a seamless user experience.
Booking Calendar: Display tour availability using an intuitive booking calendar that customers can refer to while making reservations.
Pricing and Payment Options: Set tour prices, offer discounts, and accept payments through various online payment gateways securely.
Customer Reviews: Showcase customer reviews and testimonials to build trust and credibility with potential travelers.
The Benefit of Online Travel Experiences with WordPress Tour Plugins:
Creating online travel experiences with the tour booking plugin WordPress brings a multitude of benefits that enhance your travel business in significant ways:
Enhanced User Experience: A key advantage of using WordPress tour plugins is the creation of a well-designed and user-friendly interface. These plugins provide an intuitive platform that allows customers to easily navigate through your website and explore the array of travel experiences you offer. With seamless access to detailed information, captivating visuals, and hassle-free booking options, potential customers can make informed decisions and find the perfect tour that matches their preferences.
Direct Booking and Payments: The integration of a booking system directly on your website is a game-changer for both you and your customers. By incorporating this feature through WordPress tour plugins, you remove the need for customers to navigate to external booking platform wordpress, streamlining the entire booking process. This direct approach simplifies and expedites reservations, encouraging customers to secure their spots swiftly and conveniently.
Increased Revenue: Embracing an online booking software platform through WordPress tour plugins can significantly boost your revenue potential. By providing customers with an easy-to-use platform for browsing, selecting, and booking tours, you open up your services to a broader audience. Additionally, the convenience of online booking fosters spontaneous decisions, encouraging travelers to book instantly. This accessibility and flexibility contribute to higher booking rates and increased revenue for your travel business.
Brand Visibility: An aesthetically pleasing and visually engaging website showcasing your travel experiences can leave a lasting impression on potential customers. With WordPress tour plugins, you have the creative freedom to design your website in a manner that highlights your brand identity and showcases your unique offerings. As a result, your brand visibility and recognition improve, establishing your travel agency as a reputable and trustworthy choice for adventure seekers and travelers.
What is the Role of Adivaha in Creating Online Travel Experiences with WordPress Tour Plugins?
Adivaha is a leading third-party service provider that specializes in offering travel technology software solutions to travel agencies and businesses. We play a crucial role in creating online travel experiences with WordPress tour plugins by providing cutting-edge travel API integration, booking engines, and advanced features to enhance website functionality.
As an esteemed partner, Adivaha assists businesses in seamlessly integrating WordPress tour plugins with their existing systems, creating captivating travel websites, and offering a smooth booking experience for their customers. Our expertise in travel technology ensures that your website is equipped with the latest industry features, thereby elevating your online travel experiences to new heights.
Conclusion:
Thus, creating online travel experiences with tour plugin wordpress opens up a world of opportunities for travel businesses to connect with their audience and generate bookings directly through their websites. By leveraging the power of WordPress and tour plugins, you can showcase your travel offerings in an engaging manner and provide a seamless booking process for customers. Whether you're a white label travel agency, tour operator, or passionate traveler, this combination of technology empowers you to unlock the full potential of your travel business. Partnering with a reputable service provider like Adivaha can further enhance your website's capabilities, ensuring your online travel experiences are nothing short of exceptional. So, embark on this journey with WordPress tour plugins, and let your travel experiences take flight!
Our Comprehensive List of Services
adivaha® is a one-stop-shop for all your travel website needs. We offer a multitude of services that empower you to become a market leader. Contact us for more info.
Have Questions?
The Internet is a huge resource, but
if your question requires particular expertise.
Keep Refreshing your customers - Who doesn't want his site to stand out from crowd? adivaha® gives you multiple options for home pages, headers, colors etc. Which can easily be managed from admin via shortcodes and settings. The theme supports almost all the big players in this market ie, WEGO, Travelpayouts, Agoda, Booking, Expedia etc.
Frequently Asked Questions
Below are some of the questions asked by visitors. Do visit our adivaha® Digest for more such questions. Don't hesitate to ask us if you have any questions
What all GDS and Providers are connected in the platform?

36

views

1

answers

0

votes