Build your own Travel Brand!
Ready to go-LIVE travel solutions that helps your travel agency to sell a range of travel services pretty instantly. adivaha® travel solutions make sure you have no boundation over your imagination, you can do everything online, without the need for any technical knowledge or design skills. Easy Backoffice, extensive reporting with integrated Funds Management System. Upload funds easily and instantly through Netbanking, Debit Card, Credit Card. The best part is, we do offer customizations in case you believe it will boost your business!
How to Find the Right Travel CRM Software For You
Travel and tourism is one dynamic sector that continues to evolve day by day while strengthening our country's economic stability. Any business organization that can identify the growth potential and opportunities of the industry, can look forward to the achievement of huge profit margins.
Among the vast ocean of choices and opportunities that could be resourceful; providing Travel Portal Developers services can be considered as an amazing option that stands out from the rest. adivaha® is an established travel service provider actively operating in the industry with over ten thousand satisfied clients from various parts of the world. We help upcoming travel businesses to grow and expand in their field of operations that will escalate the demand for their services and build a firm foundation that paves the way for future achievements. Our customer relations don't just end with the delivery of our services. Every service that we offer is a stepping stone to building a consistent customer relationship. We have been offering a whole lot of services to travel businesses which help them in boosting sales on various online social platforms. Global distribution systems, application programming interfaces, vacation package systems, customer relationship management systems, tour booking systems, online reservation platforms and Travel Booking Engine are some of the major digital services that we offer to the emerging travel businesses and tour operators in the tourism industry. Customer satisfaction is one of the long-standing USPs that upholds the name and quality of our services in the sector. An effective and efficient marketing strategy can be the building blocks for a trusted online travel service provider. In order to wash out the competition from other rivalling travel consultancies, maintaining a unique and influential selling factor is vital. Our team at adivaha® guides our customers in crafting a well designed by Travel Website Designers, which will open eyes to a new market opportunity that is going to skyrocket business operations and revolutionise the field of online marketing.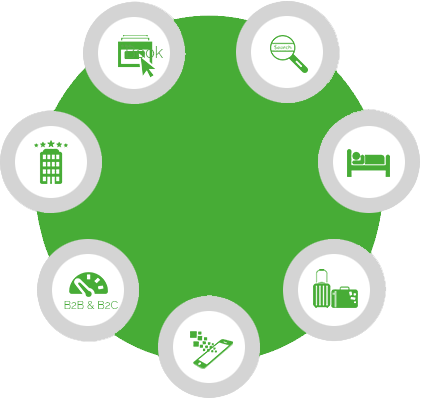 Guide to Finding the Perfect Travel CRM Software
Irrespective of experience or the scale of business, we will help you in designing and developing a stellar business platform from scratch. A Travel CRM Software or a travel CRM system is one such application that showcases a great deal of user-friendly and customer beneficial elements which will boost sales for the business enterprise and channel customer satisfaction. These systems have been designed with the intention of benefiting both the newly sprouted travel business and also the wider community of travel partners and customers. Our customer relationship management systems are created to offer an easier, healthy and user-friendly forum to our customers; each with their personal choices, necessities and demands. Customer satisfaction is a significant element of business strategy and the principle factor that acts as a differentiator among business competitors in the industry. Needless to say, the level of customer satisfaction has powerful effects on an organization. There may be numerous factors that a growing online travel api business entity looks forward to while considering a management system that allows them to effortlessly interact with clients and manage them to ensures smooth running of business operations and undertakings daily.
The basic interests, necessities, concerns, feedback, reviews, suggestions and complaints expressed by a customer are crucial factors that have to be taken into consideration while developing a management system that caters to their needs on a social platform. There may be countless factors that affect a fundamental relationship between an organization and its customer. Aspects such as, an easier chain of communication, availability of suitable travel packages and concerns regarding a particular service can all be taken care without much hassle if there exists a healthy customer relationship management system. Building a trusted and satisfied client base is no plain sailing feat that can be achieved within a short span of time. Considering a client's personal interest and providing services with respect to the standards expected to be maintained in the industry can be the vital key for an evolving travel business consultant. Offering considerable, cost-efficient, and user-friendly management systems is what strikes an interest in our customers from various parts of the world. Years of customer satisfaction, quality of service and trust has proven to be the structural backbone that still fuels enthusiasm in our organization. A travel customer relationship management Travel Agency Software or a travel CRM system is an innovative online digital travel portal that is designed and developed with the sole intention of serving growing travel businesses, tour operators, partners and general customers in the travel and tourism industry. The application software is the latest, out of the box management system supported by the newest cutting edge technology available in the open market. Travel CRM systems and softwares are developed focusing on the current necessities, demands and drawbacks of the travel trend that has been constantly topping the charts when it comes to tourism. Our services are intended to be an applicable and user-friendly source of management system that needs immediate attention on online social platforms. Simplifying communications, enhancing customer relationships and maintaining a healthy chain of interaction between operators and clients is the number one priority of our relationship management system without question. The easier it becomes to interact and build customer relationships, the more frequent communication becomes between clients and organizations. Travel consultancies and tour operators are expected to mould healthy relations as communication can be described as the vital key that drives the business forward and boosts sales for the enterprise in the sector. The online Travel Portal Developer that we have developed, help our clients to identify what their customers are looking for, in terms of services. Better interaction between the two parties is sure to escalate the level of understanding and contentment with any given business scenario. As a result of the followed actions, an appropriate outcome will be produced which will be beneficial and profitable for both the consultant as well as the customer. Special care has been taken to include properties which can be utilized by any kind of customer needing any kind of business necessity, regardless of their ethnicity or background. The travel customer relationship management software for TCRM system that we offer, is designed and developed in such a manner that it is easily customisable according to the specific choices, personal interests and concerns put forward by the customers.
The system can be modified and programmed in a way that best suits the profile of our clients while upholding to the necessities and desires showcased by them with respect to the standards expected to be maintained in the industry. Keeping the processes and programs simple means more effective interaction between the travel consultant and the customer when it comes to different services and packages. Our applications are created to make communicative sessions easier and user-friendly to the customers as well as tour operators and travel businesses growing with the dynamic trends and tastes within the industry. These systems can be utilised by any type of client or travel consultant, regardless of the ethnicity, culture, experience, professionalism or any kind of entrepreneurial background that they may possess. The travel digital portals we have designed will help consultants to operate freely to keep their customers informed and updated regarding the available travel plans, packages and services. Companies will be able to undertake follow-up actions that will improve after-sales relationships for both the parties included in the service. Customers will always be on the edge and informed about the ongoing trends and travel tastes showcased by the industry, which travel consultants and tour operators can take advantage of. We are moving along a particular phase of time that witnesses innovative technological advancements daily. Our online digital travel portal development ompany are constructed on the firm foundation of current technology and modernized software development applications. No matter what the market situation is, our team at adivaha® always tops the chart when it comes to advanced travel business services. Our customer relationship management systems will also enable travel businesses to collect and store information regarding other competing travel business consultants and tour operators in the tourism sector. This is one key element that will prove to help maintain an updated source of information about the existing market rivalries, which will empower the possibilities and advantages of a business consultant over others. Travel agents can record data related to other firms, employees and services with the help of our stellar quality application software. The systems that we offer will allow upcoming travel businesses to serve new customers while maintaining healthy customer relationships with existing and older clients who were already served and satisfied. This will ultimately lead to the company gaining control over a huge client base located in various parts of the globe, each with their specific necessities in terms of services. The number one factor to be taken care while designing and developing such interactive social systems is the safety and security of both the application itself and also the personal information and identity of customers of the business consultant. Protecting the information and identity of a company's customers is the number one priority when we develop such systems with respect to your orders.
It is our responsibility to produce safe and secure client management and relationship system that will shield the data and identification of both the travel consultant as well as their respective client. This action will undoubtedly be the root cause behind establishing a trusted and satisfied client base that looks forward to further utilizing the services provided by tour operators in the field of travel and tourism. Doing so will enable the consultant to sustain healthy interactive sessions with customers from various parts of the world. We design each Travel CRM Software after closely identifying the essentials and demands expressed by our clients so that we can craft the software in a way that it reflects the profile of the company and upholds to its strategies and business operations in the open market. No compromises are made during the Travel app Development processes of our systems, as the satisfaction and security of our customers is what we aim to achieve in any business situation. Customers are offered a user-friendly, application programming interface which ensures easy operation and management of the system. Simple, easily interactive and operable software is the long-standing USP that has worked wonders for us; enabling us to grow our services to international standards. We have become a globally recognizable service provider in the field of travel and tourism, as the result of our huge, trusted and gratified client base in the industry. We closely monitor the functioning and performance of our software and systems constantly to keep improving our services while moving along with the new diverse trends and changes in the respective field of tourism and software travel portal development company in india. Our services cover all kinds of travel necessities and demands that may be experienced by our customers daily. The services offered by our team at adivaha® doesn't come to an end after the cycle of development and delivery. We undertake follow-up actions in order to evaluate and monitor the working of these systems; and how beneficial they have turned out to be for our customers while dealing with clients from various parts of the world. Striking an interest in clients and having them stick on to the idea is no easy task for any service provider. This is where Adivaha's online digital portals can help you in your day to day business ventures. The 1970's witnessed the era of independent mainframe solutions which were used to digitalize records to implement faster searches and save storage spaces. By the mid-1980s database marketing took form to revolutionize the way businesses saw customer relationship management. Business consultants started to interact individually with clients in order to attain better knowledge of the chain of communication between the two parties. Later the ACT was launched; which was the first communication management system. To produce such CRMs, organizations had to spend on huge monetary investments, to employ a workforce and purchase overpriced hardware and software. However, businesses and customers started noticing the beneficial aspect of the latest digital advancements that would enable them to have actual interactive sessions that proved to be rewarding and resourceful.
The term customer relationship management came into being in 1995. Technological innovations resulted in the formation of online CRM systems which opened doors to a whole new world of digital portals and opportunities. As the concept flourished and made progress, we took advantage of the growth potential that lay concealed within the new capabilities of the CRM system. Now we have fresh user-friendly interfaces in software that are supported by the latest technology available in the market. Currently, CRM software programs are crafted to develop enhanced customer profiles across distinct social platforms. The technology allows enterprises to channel innovative marketing and communication strategies that will grow business opportunities and escalate profit margins in the coming years concerning the dynamic nature of the travel and tourism industry worldwide. Our team at adivaha® has been busy creating travel customer relationship management systems in a way that they offer a better quality of customer orientation and service when it comes to dealing with an international client base across the globe. It is vital to strengthen and preserve the standard of operations to represent the level of professionalism in the travel and tourism industry. TCRM software allows users to establish a healthy and consistent service platform on social networks which will ensure an increase in the number of sales and revenue margins of the organization. These systems are the most appropriate way to pool in more number of potential buyers and clients looking forward to availing your Travel API Integration services. It is much more convenient and easy to bring in attention if there exists a great chain of communication; which is exactly what the TCRM system aims to do. This means higher chances of increasing sales, eventually leading to improved marginal revenues and profits for the travel consultant. Marketing can be considered to be the backbone of any sound business enterprise. Without accurate steps taken to market services on social platforms, achieving yearly targets and overcoming challenges can be stressful for officials in the firm. Customer relationship management software allows companies to simplify their marketing strategies effectively and efficiently that will benefit the organization's sustainability and growth potential in the coming years. This ultimately paves the way to more sales and client numbers that help in bringing more revenue and goodwill to travel businesses in the industry. Our online digital portals will channel the formulation of organized customer info and contact data which will present a systematic collection of vital information sources to the company. This beneficial factor is going to make business transactions, general activities and work environments easy for the operators. As an outcome, the consultant will have more resourceful time to attend to new customers while sustaining a successful communicative bond with old business partners and consumers. Travel CRM systems further benefit the operator by evaluating sales processes and reports in a business contract.
Our software can track progress, access and monitor transactions and also suggest necessary steps that will turn out to be a guiding factor in the association with a particular customer. It also possesses the advanced ability to produce sales reports after carefully monitoring progress on business undertakings. Any enterprise conducting business daily is sure to encounter numerous challenges, obligations and stressful working conditions when it comes to achieving targets and objectives. Travel customer relationship management system helps the firm to make administrative tasks more resourceful, efficient and almost effortless. As a result, the management officials have more time on their hands to concentrate on areas and departments demanding immediate attention and care in the company. It can be said without a doubt that we have designed services with the primary intention of simplifying customer relationships and saving a whole lot of time and effort for our dear customers. We are in a current state of technological travel portal development where each and everything is created to save time and workloads for human resources worldwide. Our online digital services will enable travel consultants in the industry to focus more on other practical business scenarios and manage numerous tasks and clients at the same given time. An organization conducting business in the travel and tourism industry is expected to grow on a huge scale if it is approachable internationally. adivaha's Travel API Integration India services and systems are without a question; globally accessible by anyone irrespective of business backgrounds. This is why our services gain global recognition from reputed organizations scattered across various parts of the world. We develop software and online digital portals that speak out loud and clear about the quality of services we offer and the industry standards that we treasure. Travel CRM software allow travel consultancies to identify the customers that make use of their services, plans and packages on a regular basis. As a result, operators are able to offer more to such customers further channelling the establishment of an amazingly interactive chain of communication between the two parties. On the other hand, companies can spot the downfalls in the graphs in case of irregular or unsatisfied group of customers. The assistance systems and software that we prepare, focus on increasing customer interaction and engagement while undertaking business activities and availing services. It is equally important to ensure the involvement and active participation of customers in a business deal to bring out the exact result which is wanted and desired by both the involved group of individuals. Taking all these facts and figures into consideration, our customers can look forward to an ambitious future in building an international client base with the guided assistance from our highly responsive and capable travel customer relationship management systems and software. We consider the growth and success of our customers as our own in the travel and tourism industry and will continue to offer the best of our services to our trusted partners and associates for years to come.
Our Comprehensive List of Services
adivaha® is a one-stop-shop for all your travel website needs. We offer a multitude of services that empower you to become a market leader. Contact us for more info.
Have Questions?
The Internet is a huge resource, but
if your question requires particular expertise.
Keep Refreshing your customers - Who doesn't want his site to stand out from crowd? adivaha® gives you multiple options for home pages, headers, colors etc. Which can easily be managed from admin via shortcodes and settings. The theme supports almost all the big players in this market ie, WEGO, Travelpayouts, Agoda, Booking, Expedia etc.
Frequently Asked Questions
Below are some of the questions asked by visitors. Do visit our adivaha® Digest for more such questions. Don't hesitate to ask us if you have any questions
What all GDS and Providers are connected in the platform?

27

views

1

answers

0

votes