Build your own Travel Brand!
Ready to go-LIVE travel solutions that helps your travel agency to sell a range of travel services pretty instantly. adivaha® travel solutions make sure you have no boundation over your imagination, you can do everything online, without the need for any technical knowledge or design skills. Easy Backoffice, extensive reporting with integrated Funds Management System. Upload funds easily and instantly through Netbanking, Debit Card, Credit Card. The best part is, we do offer customizations in case you believe it will boost your business!
How to Choose the Best Travel Agency Booking Software
Discover the ultimate guide to finding the ideal online travel agency booking software for your business. Explore essential features, key considerations, and a spotlight on Adivaha - your partner in elevating travel portal solutions.
Thriving in today's dynamic travel landscape demands flawless organization, smooth automation, and exceptional customer service. This is precisely where Travel Agency Booking Software comes into play, transforming the way travel enterprises handle bookings, optimize operations, and elevate customer journeys. Within this all-inclusive guide, we'll lead you through the pivotal elements of picking the finest online booking software, finely tuned to your agency's requirements, propelling your business toward unprecedented success. When selecting the best Travel Agency Booking Software, a range of questions might arise to ensure you're making an informed decision that aligns with your agency's needs and goals.
Does the travel agency booking system software offer the necessary booking options for our travel services?
This question is pivotal when evaluating Travel Agency Booking Software. Ensuring that the software supports the full spectrum of booking options you offer is essential for a seamless customer experience and efficient agency operations. The software's ability to accommodate a wide array of travel technology services, from flights and accommodations to tours and packages, is crucial. Look for a solution that allows you to tailor the booking process to align with your agency's unique offerings. This customization ensures that customers can easily book the exact services they desire, reflecting your agency's specialization. A comprehensive software should provide the flexibility to handle diverse booking types. Whether your agency deals with individual, group, or corporate bookings, the software should seamlessly cater to these different scenarios. This adaptability streamlines your operations and enhances the booking experience for all customers. If your agency specializes in niche travel services like adventure trips or luxury getaways, it's essential that the travel software supports these specialized offerings. The software should allow you to showcase and sell these unique experiences effectively, ensuring that customers with specific preferences are well-catered to.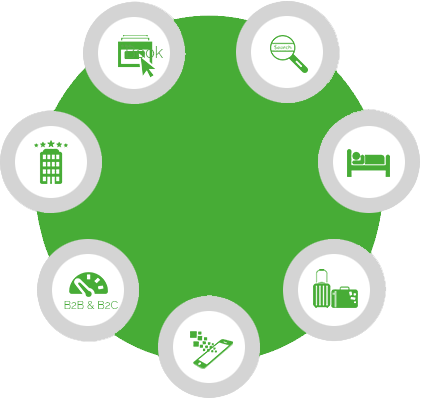 Find the Best Travel Agency Booking Software
The ability to create dynamic packages by bundling various travel portal development services is a valuable feature. This empowers your agency to craft personalized itineraries that cater to specific customer preferences. Additionally, the software should enable customers to easily add extras such as airport transfers or room upgrades during the booking process. Preventing booking conflicts and ensuring accurate availability is paramount. The software should provide real-time updates on the availability of services. This ensures that customers and agents are always informed about the latest status, reducing the risk of overbooking and enhancing customer satisfaction.
Key Considerations When Choosing Travel Agency Booking Software:
User-Friendly Interface and Design: The software's interface should be intuitive and easy to navigate, ensuring your staff can quickly grasp its functionalities. A clutter-free design leads to higher productivity and fewer training hours.
Diverse Booking Options: Look for software that allows you to offer a wide range of travel services, from flights and accommodations to tours and packages. This versatility caters to diverse customer demands.
Integration Capabilities: Seamless integration with other tools and platforms is crucial. Ensure the software can sync with your best travel website, payment gateways, and third-party systems to avoid operational hiccups.
Real-Time Availability Updates: To eliminate booking conflicts, the software must provide real-time updates on room and service availability. This feature prevents overbooking and customer dissatisfaction.
Mobile Compatibility: With travel agents often on the move, having mobile-responsive booking software enables them to manage reservations and respond to inquiries anytime, anywhere.
Robust Reporting and Analytics: Data-driven insights fuel better decision-making. The software should offer comprehensive reporting features that help you analyze sales trends, customer preferences, and agent performance.
Selecting the Optimal Travel Agency Booking Software:
Define Your Agency's Requirements: Begin by gaining a comprehensive understanding of your agency's size, scope, and specialization. Identify the types of travel services you offer, whether it's flights, accommodations, tours, packages, or more. Determine your target audience and their preferences to lay the groundwork for your software selection.
Identify Essential Features: Compile a list of critical features that your agency requires. Ensure the software offers a user-friendly interface, customizable branding options, real-time availability updates, integration capabilities with your website and payment gateways, and support for multiple languages and currencies. Consider additional features such as reporting and analytics tools to aid decision-making.
Research and Compare Options: Explore different software providers in the market. Read reviews, seek recommendations from industry peers, and request demos or trial periods to experience the software firsthand. Pay attention to how well each option aligns with your feature requirements and agency's unique needs.
Evaluate Scalability: Envision the growth trajectory of your agency and assess whether the software can accommodate increased booking volumes and expanding services. Choose software that can seamlessly scale to match your agency's evolving demands without compromising performance.
Integration and Compatibility: Check the software's compatibility with your existing systems and tools. Ensure it integrates smoothly with your website's travel booking engine, payment gateways, and any other third-party platforms you use. This integration minimizes disruptions and enhances operational efficiency.
Assess Support and Training: Investigate the quality of customer support offered by each software provider. Inquire about available training resources for your team to effectively use the software. Opt for providers that offer responsive support channels and thorough training materials.
Cost vs. Value Analysis: Compare the pricing structures of different software options. Calculate the total cost of ownership, including setup fees, transaction charges, and ongoing subscription costs. Weigh these costs against the value the software brings to your agency's operations.
Security and Compliance: Prioritize data security and regulatory compliance. Inquire about the software's security measures, data encryption practices, and adherence to industry regulations such as GDPR. Choose a solution that safeguards customer data and maintains trust.
User Feedback and Reputation: Seek feedback from colleagues or professionals in the travel technology company who have experience with various software options. Explore case studies or success stories to understand how the software has benefited other agencies and led to improved operations.
Consider Adivaha: As a notable contender in the realm of b2b travel agency software, explore Adivaha's unique offerings. Assess how Adivaha's customization options, global inventory, and real-time connectivity align with your agency's goals. Examine its commitment to innovation and industry leadership as a testament to its value.
Benefits of Choosing the Best Travel Agency Booking Software
Opting for the finest Travel Agency Booking Software brings forth a plethora of advantages that seamlessly elevate your agency's operations and customer interactions. Here, we delve into the compelling benefits that unfold when you choose the cream of the crop:
Streamlined Operations and Efficiency: The best travel technology software acts as a digital conductor, orchestrating your agency's booking processes with precision. Automation reduces manual tasks, freeing up your staff to focus on high-value activities, ultimately enhancing overall operational efficiency.
Enhanced Customer Experience: From seamless bookings to real-time updates on availability, the software transforms customer interactions. Clients experience a smoother journey, fostering satisfaction and building trust in your agency's services.
Customized Brand Experience: The pinnacle of software offers customization that transcends visuals. It encapsulates your brand's essence, from colors to communication, ensuring every touchpoint echoes your agency's identity.
Real-Time Connectivity and Updates: Real-time availability updates become the norm, eradicating overbooking woes. Agents and customers are always in the know, culminating in seamless reservations and happier clientele.
Data-Driven Insights: Unlocking the treasure trove of data analytics, the software equips you with actionable insights. These insights, garnered from comprehensive reporting, illuminate trends, allowing you to refine strategies and services.
Scalability and Growth Support: The best software grows with you. As your agency expands, the software seamlessly scales to accommodate heightened booking volumes, ensuring you're prepared for the next stage of success.
Global Connectivity and Accessibility: With support for multiple languages and currencies, the software opens doors to a global clientele. It bridges language barriers and facilitates bookings from diverse corners of the world.
Risk Mitigation and Security: Robust security measures and compliance protocols shield customer data, fostering trust. The software's commitment to data protection safeguards against breaches, ensuring your agency's reputation remains intact.
Innovative Edge and Industry Leadership: Choosing the best travel software aligns you with innovation. Leading software providers continuously update and introduce new features, ensuring your agency remains at the forefront of industry trends.
Time and Cost Savings: Automation, streamlined processes, and efficient management lead to notable time and cost savings. This translates to increased productivity and improved profitability for your agency.
Support and Assistance: A hallmark of the finest software is exemplary customer support. Responsive assistance ensures you're never alone in navigating the software's functionalities, troubleshooting, and harnessing its full potential.
In Conclusion:
Choosing the best travel agency software is pivotal to your business's success. Prioritize a user-friendly interface, integration capabilities, and comprehensive reporting. As you navigate the options, consider Adivaha®'s exceptional offerings that can elevate your travel solutions and help you soar to greater heights in the competitive travel industry. Your journey to operational excellence starts with the right booking software, and Adivaha is here to guide you every step of the way.
Our Comprehensive List of Services
adivaha® is a one-stop-shop for all your travel website needs. We offer a multitude of services that empower you to become a market leader. Contact us for more info.
Have Questions?
The Internet is a huge resource, but
if your question requires particular expertise.
Keep Refreshing your customers - Who doesn't want his site to stand out from crowd? adivaha® gives you multiple options for home pages, headers, colors etc. Which can easily be managed from admin via shortcodes and settings. The theme supports almost all the big players in this market ie, WEGO, Travelpayouts, Agoda, Booking, Expedia etc.
Frequently Asked Questions
Below are some of the questions asked by visitors. Do visit our adivaha® Digest for more such questions. Don't hesitate to ask us if you have any questions
I am setting up this plugin for my client's website, I tried registering and received the account activation email, but …

21

views

1

answers

0

votes