Build your own Travel Brand!
Ready to go-LIVE travel solutions that helps your travel agency to sell a range of travel services pretty instantly. adivaha® travel solutions make sure you have no boundation over your imagination, you can do everything online, without the need for any technical knowledge or design skills. Easy Backoffice, extensive reporting with integrated Funds Management System. Upload funds easily and instantly through Netbanking, Debit Card, Credit Card. The best part is, we do offer customizations in case you believe it will boost your business!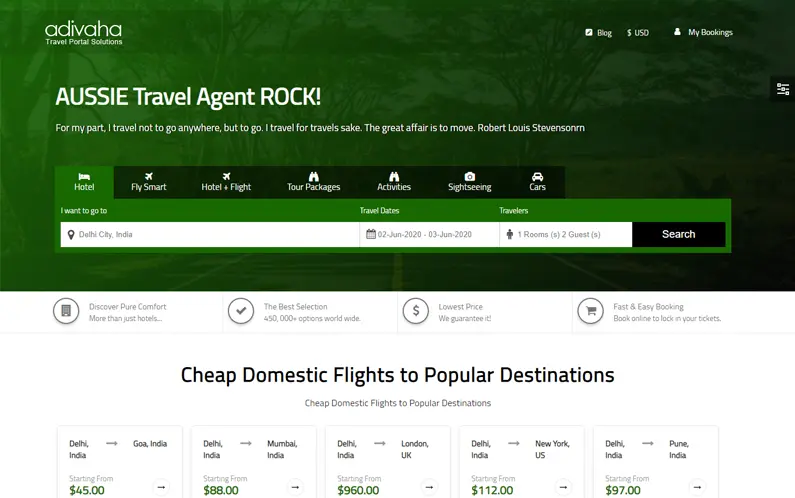 How to Choose the Best Travel Agency Booking Software
adivaha® is a travel solutions company and our primary goal is to help travel agencies conquer the world of the internet. Providing services over the World Wide Web is not only advantageous but is also a necessity in this world full of smartphones. Now, everything is available just a click away, so people don't prefer going to offices and spending hours just to book tickets.
We at adivaha® took the responsibility to help travel agencies to get a digital identity. We offer the most advanced software solutions to travel agencies of all sizes and budgets. To take care of all your online business needs the team of adivaha® works day and night at creating a booking software that is the best in the market.
adivaha® can help your travel agency reach new heights with its travel agency app booking software that automates the ticket booking process, travel itineraries, payments, business operations, and invoice management. Our portals are specially designed to empower the travel and tourism industry to make a profitable business. They have an easy to use interface which can be used by anyone without any special skills. Further, they allow people and agents across the globe to purchase flight tickets and book hotels.
We keep the overall layout of our booking portals simple but that doesn't mean that it lacks power, it can enhance your business and reduce the overall expenditure conveniently. Our team of experts continuously work to keep the software up to date. Moreover, Adivaha's new-age software can further help travelling agencies to boost customer service.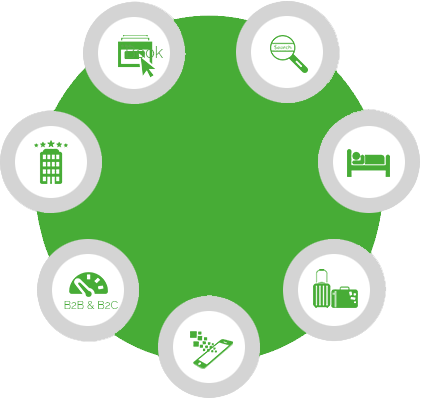 Find the Best Travel Agency Booking Software
Adivaha's Key Features
Complicated jobs can only be solved using well-thought-out techniques. adivaha® just does that, it offers smooth travel-related services to the clients. adivaha® provides you with a travel API and XML that can easily be integrated with any websites. The software provided by us will help you grow in the travel industry. Our XML API helps you with managing the reservations and accomplishing an online booking without any human involvement, that too at a very low cost. Apart from XML, our travel API proves to be an important asset while you remodel the business solution for cruise lines, railways, airline companies, car rental companies, hotels, corporates.
It is highly possible that your travel API provider might not be providing you with the best competitive pricing. Free Travel APIs are very tempting but they overcharge their prices. There are many other problems with Free APIs, like the difficulties faced in API integration and the lack of properly attached documentation. Free APIs providers generally don't help during the tbo api integration process. Some don't even have proper documentation. This can cause you more time in the development phase and will ultimately delay your website launch. It can even require an expert to integrate the APIs. Eventually, you will start to lose more than what you had planned to save in the first place.
But even before choosing a vendor, one must be sure that the company understands the client's needs. B2C, B2B, or B2B2C are the services that must be provided by the company's Online Portal. But some companies opt for cookie-cutter solutions. This is why your company must clearly understand your business plan. One must ensure that the vendor is not looking for a quick buck, in turn, ruining your business.
As opposed to Free APIs, we offer freedom. As a business, you want to grow. Every business wants to maximize its profit, given a certain amount of investment. Adhivaha, as a good replacement for free APIs, come in the picture. We understand your budget constraints and your needs. We have the best hotel booking software solutions for your most difficult problems. We have the best customer service too. All of this provided to you in an affordable deal.
Furthermore, Adivaha's travel API and XML are very powerful tools at your disposal with which you can do wonders in your business. adivaha® has multiple Travel API if you are thinking about a full-fledged booking engine, and we can also work with any third-party API. Although every best travel technology company has unique requirements, so making them all stick together is highly problematic and not feasible. However, Adivaha's travel API can work equally well with any XML supplier. So, travel agent portals built by us will facilitate customers to search and book travel-related products from a long list of integrated suppliers. Clients will further be able to do the following things: find and book suitable busses, railways, flights, hotels, etc.
That's not all, once you select Adivaha, you receive lifelong customer support along with the best Travel api integration presents out there. You just have to buy a domain and hosting, after that it will be our responsibility to create a new portal for you and to maintain it.
adivaha® highly respects and looks after the travel agents that wish to become a part of our esteemed group. We have an extensive network of tour operator software, so there is always a huge demand from customers for booking hotels, affordable flights, and many more. We handle all of this with a simple yet effective selling option i.e. Travel Agent Portals. They offer a wide variety of features but are easy to use. The best portals make sure that customers get the best value for their money. They further ensure that clients enjoy every second of their time spend while searching for a vacation package. These websites act as a self-standing agent to make life easier for actual travel agents. They handle every important aspect of a customer's trip from flights, to boarding, and returning to home. The best booking software provides high-quality destinations at an affordable price. They give features to compare the prices of flights, hotels, guides, and many more.
Nobody can deny the fact that it's a big challenge to ensure customers' journeys and vacations are memorable. To make it memorable everything should be according to their choice. So, our booking system has the facility to sort out choices as per your preference. The facility to transfer, car rentals, bus booking, travel insurance, etc is a must for customers. A travel agent website is good but you also need a mobile application which makes the booking process even more convenient. They should have an easy to navigate interface which makes the whole booking process a lot easier. A good application will also provide a solution to every problem that a user might face, it will include tutorials to guide users through every step of the booking step. It should be equally helpful to the users whether they are looking for an international vacation or a local one. There are several other properties of a good travelling related mobile application like it should be informative, easy to use, and the most important of them all is that it should reflect affordable prices.
But, all of the booking portals and mobile applications available in the market are not that good, some are not user friendly while some don't have enough variety.
We took it as our responsibility to facilitate booking agents and customers with an online service that will not only be cost-effective but will also be trustworthy. However, it will be a continuous process to turn every offline travelling agency into an online service. The portals and applications that we have designed to date provide you with a wide variety of packages to choose from.
Even though it is very difficult to choose a perfect place for vacations, a perfect travel agency software helps you in dwarfing the complexities of choosing a location. It can tell you some important insights about the place your customer is thinking about visiting.
adivaha® has taken giant steps in the online travelling business by providing travel agencies with software that enables them to personalize your travels packages. If we talk about the traditional way of booking that involves a travel agent and tour operator. Then, even, the roles of travel agents and tour operators are often misunderstood and people don't know what the difference between them is. Tour operator is the one that operates your trip and puts various pieces of your trips together including hotels, meals, guides, and transportation. Travel agents are responsible for selling packages from various tour operators to the general public based on their choices. Tour operators mainly focus on a collection of set destinations while Travel Agent can be an expert in a range of destinations. The latter helps the clients narrow down the list to a few destinations based on their budget, interests, and method of third party travel theme. After a destination is shortlisted the travel agent will work directly with the tour operator to make sure everything is as per the client's choice and provide them with the fees.
However, the introduction of the internet has given users an option to book tour packages directly with the tour operators. Therefore, the role of a middleman like a travel agent is reducing day by day. Now, most operators talk directly with the clients and sell their packages. But the travel agents want to stay in the game so they are trying to bring their businesses online with web portals.
A travel agency booking software or a travel agent portal is an online retail platform that provides travel-related services to its users. These services range from hotel booking, flight booking to holiday packages. It is specially designed to facilitate travel agents and it acts as an agent itself selling various holiday packages, travels related services on the behalf of the travel agent. Everything shown on the portal of a travel agent will not be his; however, he acquires it from a provider only after the customer wants that package. It has various other functionalities too, but the most important functionality is to reduce the work of the agent. With that, it should also be easy to use, since people of all age groups from young to old will be using it. So, an agent's online portal is one of its important gems for which he spends a lot of money.
However, there are various travel agent booking software present in the market, so finding the absolute best software for your business can be a herculean task. It is quite obvious that every travel agent wants the best sabre gds software for his business and this software must have all advanced features. Moreover, the software should be easy to use and can help in maximizing the profits, but comes at an affordable price. adivaha® provides you with all of that; it is the leading travel service provider not only in India but all across the globe. It doesn't matter if you are new in the travel industry or you are a long-term agent, adivaha® has something to offer to you.
The portals built by adivaha® are one of the most hi-tech and affordable solutions in the market. Not only industry veterans can use our tools to maximize their profits but agents that have just started their business will also be able to earn a decent income with our portals. It provides new agents with an opportunity to use the existing frameworks, instead of creating new technologies. This way new agents won't start their business from ground zero, they will be able to start immediately and that too with a solid foundation and support of Adivaha's experienced team.
Adhivaha has a long professional relationship with top tour operators, so our booking sabre gds system will help you make the maximum commission, which otherwise would take years if you are working on your own. That's not all, new agents will be able to earn money from the first week with our platform. We further enable agents to start their travel agency without entering their personal space and using a portal created by adivaha® will only work wonders for you. We have a wide net of distributors which is spread all across the globe. Moreover, adivaha® provides you with great customer support which is available 24x7, specially dedicated to queries related to travel agents.
We also understand that different customers have different needs and a business traveller usually needs a whole package of services for his stay and journey. So, it is necessary to provide something extras including accommodations, flights and adding transportation facilities such as renting cars, travel insurance, and transfers. Adhivaha's online booking portal has a perfect blend of all the previously mentioned features. It also provides you with a variety of options like travel insurance, car API, and transfers. It also gives an option to create a personalized schedule and users can choose from a long list of hotels and b2b marketplace theme.
Nowadays everybody with or without the knowledge of new technology knows about automation and self-support. Moreover, it has become a necessity for travel agents, since they don't want to waste their time to understand the basics and doing everything on their own. Automation is the need of the hour. adivaha® provides you with a completely automated software, which allows users to take advantage of self-booking tools.
Adivaha's travel booking services provide you with an impressively low-cost website integrated with Travel XML APIs, that can help you stand apart from the competition. It is one of the most affordable services present in the market which allows users and travel agents to integrate APIs from third travelling agencies. If you have Adivaha's plugin, then you can use any affiliate available in the market, as it supports them all. adivaha® services are not just affordable but it also gives you a feature to update your website as you grow. This feature is added by keeping in mind the future needs, as it may be possible that you would like to change the affiliate without losing your website.
adivaha® treats every customer equally and tries to satisfy each requirement while designing their software. Our team is an experienced team with talent from all across India with the primary goal of satisfying customers. Each member of our team has decades of experience and is a specialist in designing travel portals and other software. Moreover, we pay extra attention to testing our products so our clients won't have to hassle with the software and they can use it directly without any hardship.
Our travel agency booking software allows travel agents to book flights, hotels holiday packages, cars, and other services online. The improved relationship between both travel agencies and airlines is what was kept in mind while creating the system. the system.
Conclusion
Travel agent booking software is made for online bookings and makes the travel booking process less complicated. People can easily make reservations for their desired places; all they need is access to the internet and smartphones. This not only saves their time but also makes the process of vacations booking effortless.
adivaha® focuses on providing you with the best travel-related solution. It specializes in the field of technology by offering the most advanced travel agency software solutions for travel agencies of all sizes. It helps the travel agencies to connect with multiple inventory vendors by providing topmost GDS integrations, millions of tour and hotel packages, and many more travel-related services.
Companies and travel agencies who show their faith in us, experience a perfect blend of multi-featured software and corresponding services which are designed specifically for the client, with a goal of the business-oriented travel portal solution.
Facilities provided by adivaha® to their customers are of unmatched quality and some of the highlights of booking systems are given below:
Several kinds of reservations including hotel bookings, air tickets, cars on rent, travel packages, and cruise booking.
Comparison of hotel rooms before booking can easily be done online with the help of hotel booking software which has been designed for these specific purposes.
Error-free reservation ambience provided by the booking engines or software.
The efficiency of these systems is because of the integration of perfect API codes which reduces the manual tasks and need less management.
Our travel agent booking software is designed in such a way that it helps to fulfil every single requirement made by each travel agency. Modifications are done as per the needs of our customers. This work would have not been possible without our specialists who are trained and have a tremendous amount of experience in Information Technology and software development. They put in their sincere efforts and skills in developing the software. Every module is tested individually before the launch.
Moreover, Adivaha's booking portals are dynamic and can be scaled up in the future. If a new kind of automation or technology is invented, we have a robust basic design that can be easily integrated into every portal created by us. We have already used automation while designing our software, so the changes in products, prices, packages, and users will automatically be detected by our system and it will keep up with the requirements.
To experience our booking system services, contact us, and get your customized travel portal as per your requirements.
Currently, we are based in Delhi and we have been providing the best travel portal development for some time. Our only motto is to fulfil our client's wishes. We have a wide spectrum of options depending on your requirements. All of them are flexible solutions, as you can integrate as many APIs as per your need. Moreover, transparency is also important for us. Live demo will be shown to you where you can check all of our services in real-time.
Let adivaha® be of service, not only it will help your business grow quickly but that too at very low cost.
Our Comprehensive List of Services
adivaha® is a one-stop-shop for all your travel website needs. We offer a multitude of services that empower you to become a market leader. Contact us for more info.
Have Questions?
The Internet is a huge resource, but
if your question requires particular expertise.
Keep Refreshing your customers - Who doesn't want his site to stand out from crowd? adivaha® gives you multiple options for home pages, headers, colors etc. Which can easily be managed from admin via shortcodes and settings. The theme supports almost all the big players in this market ie, WEGO, Travelpayouts, Agoda, Booking, Expedia etc.
Contact
Have something unique in mind? Drop a message.
Estimated reply time: 3-5 Working Days