Build your own Travel Brand!
Ready to go-LIVE travel solutions that helps your travel agency to sell a range of travel services pretty instantly. adivaha® travel solutions make sure you have no boundation over your imagination, you can do everything online, without the need for any technical knowledge or design skills. Easy Backoffice, extensive reporting with integrated Funds Management System. Upload funds easily and instantly through Netbanking, Debit Card, Credit Card. The best part is, we do offer customizations in case you believe it will boost your business!
Get Started With a Travel Agency WordPress Website Today!
Are you looking to expand your travel agency's reach? Start your online venture now with a Travel Agency WordPress Website and explore endless possibilities in the world of travel. Embark on your journey towards success in the travel industry with a Travel Agency WordPress Website. Get started today and attract travelers worldwide with our step-by-step guide and expert tips.
What is Travel Agency WordPress website?
Why choose our Travel Agency WordPress Website? Well, we understand the unique needs of travel businesses, and that's why we've crafted this theme with a myriad of beneficial features. From an integrated online booking system that facilitates smooth reservations to captivating destination showcases that entice visitors, we've thoughtfully included everything you need to excel in the travel industry.
With our Travel Agency WordPress Website, you can save both time and money, getting your website up and running in no time. Embrace customization at its finest – tailor your site's appearance to align perfectly with your brand, creating an unforgettable visual experience for your visitors. You may easily enter the digital world with the help of the feature-rich and user-friendly WordPress travel Website. Even if you lack technical knowledge, you can easily customize and administer your website using its user-friendly interface.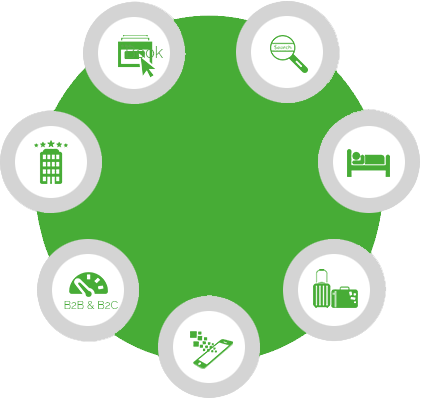 Guide to Started with a Travel Agency WordPress site
How to Get Started with a Travel Agency WordPress Website:
Creating a Travel Agency WordPress Website involves a series of important steps to ensure a successful and user-friendly online platform. Let's dive deeper into each of these steps:
Choose a Domain and Hosting:
Selecting a domain name that aligns with your brand and represents your travel agency is crucial. The domain is the web address that visitors will use to find your best travel website. Choose something memorable, relevant, and easy to spell. Once you've decided on a domain name, you need reliable hosting services to store your website's files and data. Opt for a hosting provider that offers good server performance and support to ensure your website runs smoothly and with minimal downtime.
Install WordPress:
After acquiring your domain and hosting, it's time to install WordPress, the content management system that will power your travel portal website. Installing WordPress is generally a straightforward process. Most hosting providers offer one-click installations through their control panel, making it easy for even beginners to set up their websites. Alternatively, if you prefer more control, you can manually install WordPress using FTP (File Transfer Protocol).
Select a Theme:
Once WordPress is installed, it's time to choose a Travel Agency WordPress theme that fits your needs. These themes are specifically designed to cater to travel operators and travel technology companies. Look for a theme that resonates with your brand image, provides the functionality you require, and offers an intuitive user interface for visitors. Many themes come with built-in features such as online booking systems, responsive design, and attractive layouts that showcase your destinations effectively.
Customize Your Website:
To make your Custom travel website stand out and reflect your unique brand identity, personalize it with your logo, brand colors, and captivating images of the destinations you offer. Creating relevant pages, such as home, about us, destinations, services, and contact, is essential for providing visitors with the information they need to engage with your travel agency.
Install Necessary Plugins:
Enhance the functionality of your travel website by installing essential plugins that add valuable features. Booking systems allow customers to book tours, hotels, flights, and other travel services directly from your website. Contact forms make it easy for visitors to get in touch with you, while SEO tools help improve your website's visibility in search engine results, attracting more potential customers.
Features and Functions of a Travel Agency WordPress Website:
The Travel Agency WordPress Website comes equipped with an array of compelling features and functions tailored specifically for travel operators. Let's explore each of these functionalities in detail:
Online Booking System: The online booking system is a crucial feature that empowers your website visitors to book tours, hotels, flights, and other travel technology services directly from your website. This user-friendly booking process provides a seamless experience, making it convenient for potential customers to plan and confirm their travel arrangements on the spot. By offering a reliable and efficient booking system, you enhance customer satisfaction and increase the likelihood of securing more bookings for your travel agency.
Destinations Showcase: Captivate the imaginations of potential travelers with stunning destinations showcase on your travel website development. By displaying high-quality images, detailed descriptions, and interactive maps of various travel hotspots, you entice visitors to explore the wonders of different locations. This feature provides travelers with a glimpse of the experiences and adventures they can embark on, inspiring them to choose your travel agency to fulfill their wanderlust dreams.
Customer Reviews and Testimonials: Building trust and credibility is paramount in the travel industry. Featuring genuine customer reviews and testimonials on your website showcases the positive experiences of past travelers. Potential customers value the opinions of fellow travelers, and positive feedback acts as social proof, encouraging them to make bookings with confidence. Displaying authentic reviews helps establish your travel agency's reliability and quality of service, attracting more customers to choose your offerings.
Travel Blogs: An integrated blog section on your travel agency wordPress plugin provides a platform to share valuable travel tips, itineraries, and industry-related news. This engaging content not only keeps your audience informed and entertained but also establishes your authority in the travel domain. Offering helpful insights and insider knowledge positions your travel agency as a go-to source for reliable information, fostering a sense of trust among potential travelers.
Social Media Integration: In today's social media-driven world, integrating social media buttons and feeds on your website is a must. By doing so, you encourage visitors to share your content with their networks, expanding your online presence organically. Social media integration facilitates seamless communication with your audience and creates opportunities for travelers to interact with your brand on various platforms. This interactive approach strengthens your brand's visibility and fosters lasting relationships with your customers.
How Adivaha Can Help in Getting Started with a Travel Agency WordPress Website:
Adivaha is a leading third-party service provider that specializes in assisting online travel agencies in establishing a robust online presence using WordPress. We offer a comprehensive suite of services tailored to the travel industry, making it easier for travel agencies to create stunning and functional websites.
Adivaha provides an array of travel-specific WordPress themes that cater to various niches within the industry, ensuring a perfect fit for your business. We offer expert guidance in selecting and integrating essential plugins to enhance your website's functionality, such as online booking system wordpress and payment gateways. Our team of professionals helps customize your website to match your brand identity and unique requirements, providing a truly distinct online presence. Adivaha offers round-the-clock support and maintenance services, ensuring that your website operates smoothly at all times.
Conclusion
A Travel Agency Website templates WordPress is a game-changer for travel operators and companies looking to expand their reach and offer seamless online booking services. With its user-friendly interface, cost-effectiveness, and customizable features, it is an excellent choice for establishing a strong online presence in the competitive travel industry. And with the support and expertise of a third-party service provider like Adivaha, getting started with a travel agency WordPress website has never been easier.
Our Comprehensive List of Services
adivaha® is a one-stop-shop for all your travel website needs. We offer a multitude of services that empower you to become a market leader. Contact us for more info.
Have Questions?
The Internet is a huge resource, but
if your question requires particular expertise.
Keep Refreshing your customers - Who doesn't want his site to stand out from crowd? adivaha® gives you multiple options for home pages, headers, colors etc. Which can easily be managed from admin via shortcodes and settings. The theme supports almost all the big players in this market ie, WEGO, Travelpayouts, Agoda, Booking, Expedia etc.
Frequently Asked Questions
Below are some of the questions asked by visitors. Do visit our adivaha® Digest for more such questions. Don't hesitate to ask us if you have any questions
I am setting up this plugin for my client's website, I tried registering and received the account activation email, but …

17

views

1

answers

0

votes