Build your own Travel Brand!
Ready to go-LIVE travel solutions that helps your travel agency to sell a range of travel services pretty instantly. adivaha® travel solutions make sure you have no boundation over your imagination, you can do everything online, without the need for any technical knowledge or design skills. Easy Backoffice, extensive reporting with integrated Funds Management System. Upload funds easily and instantly through Netbanking, Debit Card, Credit Card. The best part is, we do offer customizations in case you believe it will boost your business!
Create a Professional Travel Business With These WordPress theme
Ready to take your travel business to the next level? Revolutionize your business with the magic of Travel WordPress themes. Discover how to effortlessly showcase your offerings, provide a seamless user experience, and establish a brand that customers will love.
In today's digital era, having a strong online presence is crucial for businesses, especially in the travel industry. A professional travel business demands a visually appealing and user-friendly website that can engage potential customers effectively. Best travel theme WordPress free are a popular choice for building such websites due to their flexibility, ease of use, and robust features. In this article, we will explore how you can create a professional travel business using WordPress themes, highlighting their key features and functions.
Understanding the Importance of WordPress Themes for Travel Businesses:
Being a third-party Service Provider, we understand the critical role that an appealing and functional website plays in the success of travel businesses. In today's competitive digital landscape, having a strong online presence is no longer a luxury but a necessity. b2b website WordPress themes offer a powerful and flexible platform that empowers travel businesses to captivate their target audience, showcase their services, and drive bookings.
With our vast experience in catering to travel industry clients, we have witnessed firsthand how a well-designed WordPress theme can transform a travel business. It enables businesses to create a visually engaging website that reflects the essence of their brand and entices potential customers to explore further. The user-friendly nature of b2b WordPress themes free ensures that even non-technical users can easily manage and update their websites without any hassle.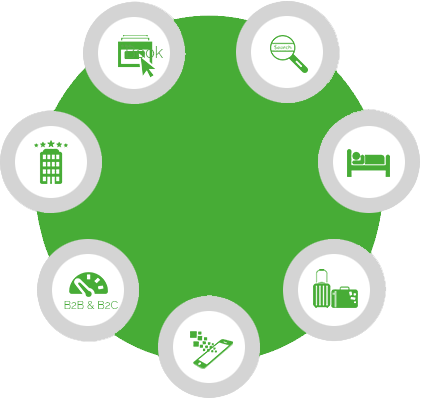 Stunning Travel Business with These WordPress Themes
Factors to Consider When Selecting a WordPress Theme for a Travel Business:
Selecting the right WordPress theme for your travel business is a critical decision that can significantly impact your online success. As a leading online travel service provider in the travel industry, we emphasize the importance of considering the following factors:
Responsive Design: Ensure that the WordPress theme you choose is fully responsive, offering seamless performance across various devices. A mobile-friendly website is essential for providing a superior user experience to travelers on the go.
Customization Options: Look for themes that provide ample customization options to tailor your website according to your brand identity. This allows you to stand out from competitors and create a unique online presence.
Integrated Booking Systems: A professional best travel website should have integrated booking and reservation management systems. Choose a theme that seamlessly integrates with booking engines and APIs to streamline the booking process for your customers.
SEO Friendliness: Optimize your website for search engines by selecting a theme that follows SEO best practices. This ensures better visibility in search engine results, driving organic traffic to your travel business.
Visual Appeal: Visual elements such as sliders, galleries, and videos can significantly enhance the attractiveness of your travel portal website. Choose a theme that supports these features to showcase your travel offerings effectively.
Top WordPress Themes for Professional Travel Businesses
At Adivaha, we have carefully curated a selection of top-notch WordPress travel themes, catering specifically to the needs of travel businesses. Whether you're a tour operator, travel agency, or adventure travel provider, we have the perfect theme to complement your offerings.
Our themes come with built-in functionalities, such as interactive maps, tour itineraries, customer reviews, and social media integration, ensuring your website is equipped with all the tools necessary to attract and engage potential customers.
Let our expert team assist you in choosing the right b2b WordPress theme for your travel business. We are committed to providing you with the best solutions, empowering you to create a compelling online presence that drives bookings and establishes your brand as a trusted name in the travel industry. Elevate your travel business to new heights with our top-notch WordPress themes and unparalleled support.
Key Features of Professional Travel WordPress Themes
We take immense pride in presenting the key features of our professional travel WordPress themes, meticulously designed to elevate your travel business to new heights. Each feature has been thoughtfully crafted to provide you with an exceptional online presence that captivates your audience and drives success in the competitive travel industry.
Responsive Design for Mobile Optimization:

In today's mobile-first world, having a website that adapts seamlessly to various devices is crucial. Our travel WordPress themes boast responsive travel website designing, ensuring that your website looks stunning and functions flawlessly on smartphones, tablets, and desktops. With mobile optimization at the core, you can provide travelers with an immersive and user-friendly experience, no matter where they access your site.

Customization Options and Flexibility:

We understand that every travel business has unique branding requirements. Our b2b WordPress themes offer extensive customization options, granting you the creative freedom to tailor your website's appearance to align perfectly with your brand identity. From choosing color schemes to selecting fonts and layouts, you can effortlessly create a website that is distinctly yours, setting your travel business apart from the competition.

Search Engine Optimization (SEO) Friendliness:

Visibility on search engines is essential for attracting organic traffic to your travel business. Our travel WordPress themes are developed following SEO best practices, empowering your website to rank higher in search engine results. This increased visibility enables potential travelers to discover your offerings organically, boosting your brand's reach and credibility.

Social Media Integration for Wider Reach:

Leverage the power of social media with our travel b2b theme WordPress, which seamlessly integrate social media platforms into your website. This integration allows travelers to share their experiences, reviews, and bookings with their networks, effectively amplifying your brand's visibility and fostering a community of engaged travelers.
Adivaha®'s Role in Creating a Professional Travel Business With WordPress Themes
As a leading third-party service provider, Adivaha takes pride in being a one-stop destination for all your travel business needs. From travel website development to integrations, mobile apps, and beyond, we are dedicated to supporting your journey toward establishing a successful travel brand. Choose from our extensive collection of handpicked travel WordPress themes, carefully curated to cater to various niches within the travel industry. Each theme boasts captivating designs, mobile responsiveness, and essential features to ensure your website stands out and leaves a lasting impression on potential travelers.
We understand that every travel business is unique, and your website should reflect your brand identity. Our expert team offers customization services, tailoring your chosen WordPress theme to align perfectly with your business requirements. From branding elements to functional enhancements, we ensure your website represents your vision. Streamline your booking process with our seamless integration of booking engines and APIs into your WordPress travel Website.
With our expertise in travel technology software, we ensure that your customers can easily book their dream vacations directly from your website, enhancing user experience and boosting conversion rates. At Adivaha, we understand the significance of strong supplier connections for your online travel business. Our integrations with leading travel suppliers ensure you have access to a wide range of travel offerings and real-time availability, providing your customers with a comprehensive selection of options. We stand by your side even after your website is launched. Our dedicated technical support team is available round the clock to assist you with any queries, technical issues, or maintenance requirements. With Adivaha, you can rest assured that your travel business will run smoothly and efficiently.
Conclusion:
When building your travel business website with WordPress themes, considering Adivaha would be a smart choice to benefit from their expertise in travel-related solutions. With Adivaha®'s support, your journey to success in the travel industry will be smoother and more rewarding than ever before. Embrace the power of best b2b WordPress themes and Adivaha to create a remarkable travel business that leaves a lasting impression on your customers.
Our Comprehensive List of Services
adivaha® is a one-stop-shop for all your travel website needs. We offer a multitude of services that empower you to become a market leader. Contact us for more info.
Have Questions?
The Internet is a huge resource, but
if your question requires particular expertise.
Keep Refreshing your customers - Who doesn't want his site to stand out from crowd? adivaha® gives you multiple options for home pages, headers, colors etc. Which can easily be managed from admin via shortcodes and settings. The theme supports almost all the big players in this market ie, WEGO, Travelpayouts, Agoda, Booking, Expedia etc.
Frequently Asked Questions
Below are some of the questions asked by visitors. Do visit our adivaha® Digest for more such questions. Don't hesitate to ask us if you have any questions
Hello team, can you tell me if I can connect several APIs in one platform or website?

32

views

1

answers

0

votes