Build your own Travel Brand!
Ready to go-LIVE travel solutions that helps your travel agency to sell a range of travel services pretty instantly. adivaha® travel solutions make sure you have no boundation over your imagination, you can do everything online, without the need for any technical knowledge or design skills. Easy Backoffice, extensive reporting with integrated Funds Management System. Upload funds easily and instantly through Netbanking, Debit Card, Credit Card. The best part is, we do offer customizations in case you believe it will boost your business!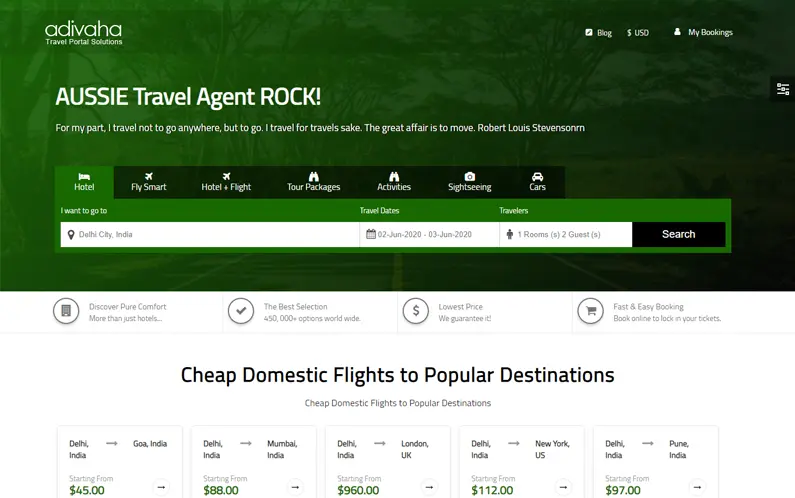 Finding the Right Travel API Provider for Your Project in India
In recent years, with the growth of search engines and OTAs, people expect information at their fingertips whenever and wherever they want. If you don't have the information people are looking for, they'll instantly switch to someone else who does. The various advantages and improvements in the quality of life that the Internet has brought have managed to take us into the digital age, an era in which the entire world is perfectly connected. For this reason, the most valuable resource today is perhaps information, the control of which provides entities with certain advantages that any other source cannot match.
Therefore, several technology companies are now trying to make this process as efficient as possible. When a company has multiple overlapping software, services can become unmanageable, and operations can run inefficiently. Implementing an API allows organizations to consolidate these processes and simplify data sharing across their enterprise.
Therefore, several technology companies are now trying to make this process as efficient as possible. When a company has multiple overlapping software, services can become unmanageable, and operations can run inefficiently. Implementing an API allows organizations to consolidate these processes and simplify data sharing across their enterprise.
Learning the Travel API can help business owners determine how implementing this operating system will improve their performance. Adivaha is the best technology company and one of India's best travel APIs providers. Here we will learn about the features of the best Travel API provider in India. Let's start now!
What Is The API?
The term "API" is becoming very relevant in the current scenario of technology companies, and entrepreneurs must understand the exact meaning of this term to incorporate it into their products and services. The API, or Application Programming Interface, allows different companies to link software components together without the need to modify the source code. In other words, APIs allow different data streams to be connected so that products can share certain features or functionality.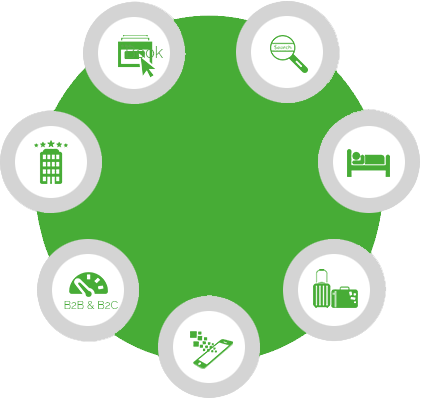 The Perfect Travel API for Your Indian Project
Returning to the data results, customers tend to book all necessary services from a single platform as it maximizes efficiency. Let's now think about a client who tries to book a hotel and then a taxi service to that hotel: Does the hotel provider offer taxi services in addition to its primary service, or does it make more sense to link another company that offers a taxi service directly on your booking website so that customers can directly use that service? This is the central problem assertion that Uber was trying to address back in 2014 when they made their show "Request a Trip accessible for other companies to incorporate into their system.
Integrating this feature allows users to make reservations for an Uber from any other service with the integrated service. This gave each company an advantage over competitors who had not integrated the service. The year 2021 saw Uber's innovative new service had been an integral part of all the related platforms.
At Adivaha, we better understand the API and how it can improve modern business. Let's look at some of the benefits of API and how modern businesses implement it to their advantage.
The use of APIs allows companies not only to interconnect processes but also to develop additional programs as needed. With proper documentation, the APIs help developers quickly build applications related to system functionality rather than having to create a script from scratch. Instead, they can use the platform to determine what operations are required for systems and implement the functions in the API design.
APIs can make maintenance of services more efficient through interconnecting systems and removing redundant tasks, allowing the operation to be run efficiently. APIs also allow flexibility in data communication and formatting. For instance, if the users request information via an API however, the information is encoded in Java it will be able to enable JavaScript translation. This extracts the encoding from the server of a third party and converts it into a form that the provider is able to process.
Implementing an API rather than traditional point-to-point integration offers business and software developers several advantages. Among which-
Automated Operations
Complete Integration
System Personalization
Quick Software Development
Widely Scope of Functions
Easy Adaptation
Efficient Data Management
Reasons Businesses Need an API provider Platform.
Companies struggling to manage multiple API solutions should consider implementing an API integration platform to improve the functionality of existing systems.
An Application Programming Interface (API) acts as a behind-the-scenes messenger that connects multiple systems to meet the business user's demand. For example, with API integration, companies can connect their various systems that manage financial operations, allowing users to access all sales, inventory levels, orders, and billing data on a single interface.
This data management solution is also helpful for external processes, such as transferring payment data during an e-commerce transaction. In this case, the API passes the customer information to a verification service and returns the confirmation notice to the buyer.
The incredible functionality provided by API integration is undoubtedly responsible for the recent rise in popularity. As more and more API integration systems are created, and more API integration systems are introduced, there is a growing demand to manage APIs. API management. API integration platforms permit an increased communication scale across multiple APIs and their associated subsystems.
The platform provides an efficient method to connect various applications and exchange data, which allows managers to expand the range of business.
What is the travel API provider for?
The opportunities for bees are endless. Any company that uses more than one software or solution can benefit from API management due to its extensive functionality. For example, if a business wants to link their social media pages, such as Twitter, LinkedIn, Facebook, or Instagram, to their website, there is an API option. If a manager wants to implement a translator in their systems to expand the client's and client reaches, there is also an API for this purpose.
Many web APIs meet specific business needs, including Representational State Transfer, Simple Object Access Protocol, Internal APIs, and Partner APIs. While this solution can adapt to almost any function, most companies typically use APIs to simplify day-to-day operations within their business. Commands to access information between client and Web or Public API follow the Hypertext Transfer Protocol. This protocol is the basis of all client-server information exchanges using the Internet.
Advantages of API
In addition to improving the customer experience, one of the most significant benefits of integrating APIs into an existing system is the significant cost savings compared to alternative solutions. Companies can take advantage of multiple APIs without making significant changes to their current platform, allowing them to scale their businesses effectively. Here are some of the benefits that APIs can provide businesses in a modern context:
Automation: A company can fully automate most of its processes by integrating various APIs. This significantly reduces the labor required to carry out the company's various processes, thus reducing overall operating costs.
Application: APIs can be integrated with various ways depending on the company's needs and requirements, thus making the provision of services and scope more flexible.
Scope: As mentioned above, integrating various APIs can significantly increase the scope of any business by making more services available to the end user, thus improving their experience.
Information: The modern business scenario is governed by information. By integrating multiple APIs into a company's system, the company can intrusively collect data from multiple sources accurately and without discrepancies. This allows for smoother operation and better long-term decision-making.
Efficiency: To continually improve your services, you must be highly efficient in delivering your services. By automating various systems, APIs can make the entire process more efficient, thus boosting the customer experience.
Integration: APIs allow the embedding of content from various sources, thus ensuring smooth content delivery and an integrated user experience.
Personalization: The products and services that companies offer must be personalized according to the needs and desires of the target market. Integrating various APIs into the existing mix allows a company to deliver an extraordinarily intuitive and personalized experience to its customers.
Adaptation:When addressing any target market's different needs and wants, it is essential to consider the trends driving customer choice and need. So, the demands and desires of an audience will shift as time passes, and focusing on the different products and services can be tedious. APIs can help a business make those changes quickly and safely by allowing content from various sources to be integrated into existing content, allowing the business to adapt over time.
Innovation: Innovation is the key to success; therefore, companies must constantly seek innovation to drive change in any industry. By allowing the integration of various services, APIs constantly drive innovation in a modern context.
Now that we understand the advantages that the API provides to modern businesses and developers let's look at how different APIs are providing some competitive advantage over other competitors in the travel and hospitality industry.
Why are APIs important for business?
An API is, therefore, software that can be used by other software to communicate with other software or hardware through protocols, routines, and tools.
APIs simplify software design and architecture, add flexibility and security, and allow for scalability and maintenance over time. APIs are important today because they are used by almost all digital sites and applications and physical devices. Therefore, we can better understand the foundations of the tools we use daily for work and leisure.
Knowing the basic functioning of the API is applicable regardless of one's job role, both to communicate with development and technical team members and to experiment and automate repetitive activities through simple automation.
Management of Travel API provider
Adivaha is a leading technology company for India's travel and tourism industry, providing the best technology solutions to both travel providers and agencies (online and offline). API management is the management of application programming interfaces (APIs), often using scalable enterprise software to create, publish, secure, monitor, and analyze APIs. API Management allows enterprises or developers who publish or use an API to monitor the life cycle of the interface and ensure that the API delivers the performance it was designed for.
A successful API management platform drives the business goals: to provide API-based services and, simultaneously, enable internal and external developers to quickly and easily adopt and integrate them into their applications. Managing a successful API program can quickly become quite complex, but it can be simplified by focusing first on the three "Ss": scalability, security, and support.
Scalability

When the API program is adopted and successful, performance can be hit when backend systems struggle to keep up with demand. An API management solution can alleviate this by providing edge caching for data that doesn't change frequently. In addition, it places traffic limits for individual developers and developers grouped by type.

Competitive commissions

You will have a competitive commission/price for every order placed. The more orders you place on your sites, the better your commission.

A dedicated team

You will have a dedicated account manager and technical support team ready to help you with any questions related to the use of our tools.

Flexibility

You can modify the appearance of this highly flexible tool. Include your brand and modify the style to suit your needs.

Safety

API provider security begins with developers and system architects who must make an effort to identify data in the system that is security sensitive or contains privately identifiable information. Strict controls should be implemented to ensure that only approved personnel can access that data at all times. Still, a parallel process is needed that makes it easy for developers to request and gain access to the data they need to carry out the work assigned. API authentication is usually done with API codes which are a fast and reliable way to guarantee identity. However, API codes are only one step in an overall API security plan.

Support

Good API providers can help provide a positive developer experience through various means, including interactive documentation, integrated static documentation, essential self-service registration, and developer-specific reporting. The developer experience spans the entire development lifecycle using user APIs. It begins with good documentation and discovery of services; it continues to application and registration process and is completed when the developer ceases to utilize the API. The tools need to be used together with well-designed processes in order to ensure success.
The Role of Travel API provider In Modern Travel
The travel and hospitality industry is one of the major industries operating in the service sector, providing an essential service to modern society. Therefore, companies operating in this sector must constantly be aware of the different trends and factors influencing customer behavior to target their products and services effectively. Inventory and price are two of the most important factors driving customer choice. Therefore companies that can offer better products or services at competitive prices will always attract more audiences.
To scale efficiently in today's global market, service or business must collaborate with multiple vendors to provide the most effective pricing and listings, thus improving customer experience. APIs are a great way to do this by integrating different features into your current system without changing the code source and thus opening new possibilities. Do you wish to show the weather on your application? Incorporate your Accuweather API in your app and gain instant access to your entire data, allowing your customers to make informed decisions about booking in light of the forecast for weather.
Are you looking to display the weather forecast in your app? Incorporate the Accuweather API in your application, and you immediately gain access to your complete information, allowing your customers to make educated booking decisions in light of the forecast for the weather. Do you wish to show the weather on your application? Incorporate Accuweather API Accuweather API with your application and gain instant access to all your information that allows your customers to make informed booking choices according to the forecast weather.
However, working with multiple vendors who constantly feed data into your system can be extremely tedious and can lead to inconsistencies. If you're an online travel agency or supplier that works with multiple companies, you understand the difficulty of consolidating data from multiple sources and eliminating inconsistencies. In the hospitality and travel industry, one of the main challenges today is mapping hotels and rooms and adequately recording the different attributes of hotels and rooms, and displaying them properly and correctly on the appropriate platform. A wrong display of duplicate listings can result in huge losses for companies due to damage control and loss of brand image and equity.
To solve this problem, we at Adivaha have developed Mapping, an intuitive API that makes collecting data from multiple sources extremely efficient. If you work with multiple vendors, our Mapping can instantly eliminate duplicate listings to offer the best possible inventory to your customers.
Conclusion
In short, we can say that all those implementations or solutions that help us in our daily work, whether to solve problems, execute functions or save time and money, are necessary and beneficial for us. We can affirm that there are APIS everywhere even though we cannot identify them. We often identify them, but we are unaware of what they are.
APIs are an essential component of the current developer ecosystem. After spending some time researching them, you can use APIs to expand the potential of the company or application. Also, a travel business can be much easier if API solutions and the right technology are used. However, Adivaha is the best Travel API provider in India, improving how companies do business and how they think about moving their business forward.
Our Comprehensive List of Services
adivaha® is a one-stop-shop for all your travel website needs. We offer a multitude of services that empower you to become a market leader. Contact us for more info.
Have Questions?
The Internet is a huge resource, but
if your question requires particular expertise.
Keep Refreshing your customers - Who doesn't want his site to stand out from crowd? adivaha® gives you multiple options for home pages, headers, colors etc. Which can easily be managed from admin via shortcodes and settings. The theme supports almost all the big players in this market ie, WEGO, Travelpayouts, Agoda, Booking, Expedia etc.
Contact
Have something unique in mind? Drop a message.
Estimated reply time: 3-5 Working Days