Build your own Travel Brand!
Ready to go-LIVE travel solutions that helps your travel agency to sell a range of travel services pretty instantly. adivaha® travel solutions make sure you have no boundation over your imagination, you can do everything online, without the need for any technical knowledge or design skills. Easy Backoffice, extensive reporting with integrated Funds Management System. Upload funds easily and instantly through Netbanking, Debit Card, Credit Card. The best part is, we do offer customizations in case you believe it will boost your business!
How to Choose the Perfect Travel Booking Theme for WordPress
Ready to create an unforgettable online booking experience? Our guide reveals essential tips for selecting the right Travel wordpress booking theme. Embrace responsive design, advanced search options, and seamless payment gateways for success.
A Travel Tour Wordpress Theme is a powerful tool that empowers online travel agencies, tour operators, and other travel-related businesses to create stunning and functional websites without the need for extensive coding or design knowledge. In this article, we will explore the various aspects to consider when choosing the perfect Travel Booking WordPress Theme to elevate your travel business to new heights.
Assess Your Business Needs and Goals
At our esteemed service as a leading third-party service provider, we understand that choosing the perfect Travel Booking Theme for WordPress is a critical step in establishing a strong online presence for your travel business. Our expert team is here to guide you through the process, ensuring that you make the most informed decision that aligns with your unique business needs and objectives.
Our first step in helping you select the ideal travel tour booking WordPress theme starts with a comprehensive analysis of your travel business requirements. We take the time to understand the essence of your travel technology services, the scope of your offerings, and the distinct features that set you apart from competitors. This in-depth understanding allows us to recommend a theme that complements your business model, ensuring that your website resonates with your target audience and offers a seamless booking experience.
Our tailored approach extends to identifying your target audience and niche within the travel industry. Whether you cater to adventure seekers, luxury travelers, or family vacationers, we recognize the significance of appealing to your specific audience. With this knowledge, we can recommend a Travel Booking Theme that not only showcases your offerings but also captures the attention of your target market, driving more qualified leads to your website.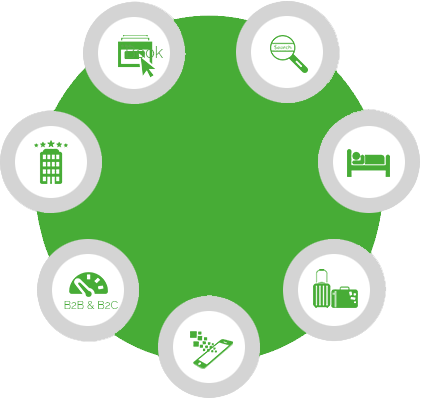 Find the Perfect Travel Booking Theme for WordPress
As a service provider committed to your success, we believe in looking beyond the immediate future. Our dedicated team works closely with you to establish short-term and long-term goals for your online travel business. By understanding your aspirations and desired growth trajectory, we can assist you in selecting a theme that not only meets your current needs but also scales with your business over time. This foresight ensures that your website remains relevant and functional as your travel business expands and evolves.
Understanding Essential Features and Functionality
At Adivaha, we recognize the critical role of a seamless Travel Booking Experience in driving the success of your travel business. Our team of experts is dedicated to helping you understand the essential features and functionality that go into creating an exceptional booking platform wordpress for your customers.
Real-time availability and booking options: Our top-notch Travel Booking Theme for WordPress ensures that your customers can access the real-time availability of travel options directly from your website. With dynamic and up-to-date information, travelers can make informed decisions and secure bookings without delay. This feature enhances customer satisfaction and minimizes the risk of double bookings or outdated information.
User-friendly booking process: With our carefully crafted theme, we put user experience at the forefront of your travel website designing. The booking process is intuitively designed, guiding customers through each step with ease. From selecting travel dates to choosing accommodations or tour packages, our seamless booking process streamlines the journey for your customers, fostering a positive and stress-free booking experience.
Secure payment gateways: Safety and security are paramount when it comes to online transactions. Our Travel Booking Theme integrates trusted and secure payment gateways to safeguard sensitive customer data during the payment process. By providing multiple payment options, including credit cards, PayPal, and other reliable methods, we assure your customers of a secure and convenient payment experience, building trust and credibility for your travel business.
Adivaha®'s Significance in the WordPress Travel Theme Realm
As a leading third-party service provider, Adivaha offers a cutting-edge Travel Booking Theme for WordPress that meets all the essential criteria for a successful best travel website. With a team of skilled developers and designers, Adivaha provides themes that are tailored to the unique needs of travel businesses. Adivaha®'s Travel Booking Theme can seamlessly integrate with your existing WordPress website, empowering you to harness the full potential of a feature-rich travel booking platform without disrupting your current setup. With Adivaha, you gain access to comprehensive customization options that allow you to personalize the theme according to your brand identity. Stand out from your competitors and create a visually striking website that captures your audience's attention. Adivaha®'s theme boasts a robust and user-friendly booking engine, enabling your customers to explore various travel options and make secure bookings without any hassle. The real-time availability feature ensures accuracy and helps boost customer satisfaction. Partnering with Adivaha ensures that you receive continuous technical support to address any issues or queries promptly. Their dedicated support team is available 24/7, ensuring that your travel booking website wordpress operates smoothly at all times.
Conclusion:
Choosing the perfect online Booking wordpress theme for WordPress is a critical step in establishing a strong online presence for your travel business. By understanding the essential functions, benefits, and necessary features, you can make an informed decision. With Adivaha as your trusted third-party service provider, you can elevate your travel business to new heights, providing your customers with an unforgettable booking experience while boosting your revenue and brand reputation.
Our Comprehensive List of Services
adivaha® is a one-stop-shop for all your travel website needs. We offer a multitude of services that empower you to become a market leader. Contact us for more info.
Have Questions?
The Internet is a huge resource, but
if your question requires particular expertise.
Keep Refreshing your customers - Who doesn't want his site to stand out from crowd? adivaha® gives you multiple options for home pages, headers, colors etc. Which can easily be managed from admin via shortcodes and settings. The theme supports almost all the big players in this market ie, WEGO, Travelpayouts, Agoda, Booking, Expedia etc.
Frequently Asked Questions
Below are some of the questions asked by visitors. Do visit our adivaha® Digest for more such questions. Don't hesitate to ask us if you have any questions
I am setting up this plugin for my client's website, I tried registering and received the account activation email, but …

18

views

1

answers

0

votes