Build your own Travel Brand!
Ready to go-LIVE travel solutions that helps your travel agency to sell a range of travel services pretty instantly. adivaha® travel solutions make sure you have no boundation over your imagination, you can do everything online, without the need for any technical knowledge or design skills. Easy Backoffice, extensive reporting with integrated Funds Management System. Upload funds easily and instantly through Netbanking, Debit Card, Credit Card. The best part is, we do offer customizations in case you believe it will boost your business!
Choosing the Right Travel Portal Designer For Your Business
Today the new digital media could allow us without great effort to propose the attractions and services of our territory by presenting them even above the real potential, but this would not be the right way to conquer and retain our target customers.
For this reason, Travel Portal's Designers must be an online transposition of what the tourist will face in reality when he is on-site in the area. And to do this, it is essential that before arriving at the construction of a Travel app Development worthy of the name, there was at the base preparatory work, able to create and consolidate over time a territorial network that involves all stakeholders in the construction of an integrated and organized tourism product.
What are Travel Portal Designers?
The Travel Portal Developer usually acts as a travel agent, takes no responsibility for services booked, and helps you find your vacation. The Portal Designers are also referred to as vacation search engines or comparison portals. Just like the classic travel agency, online travel agencies have access to so-called "published GDS tariffs" and charge a service fee to cover their costs. Here, too, the main task is to compare, advice, and mediate. Although even the live chats and telephone hotlines cannot quite keep up with the customer service of the conventional travel agency.
A travel portal can also be colloquially referred to as a Travel Agency Software. You can appear in the form of a classic travel agency but are of course also well represented on the Internet. This travel designer offers package tours that consist of at least two main travel services. Usually, this package consists of a flight and accommodation.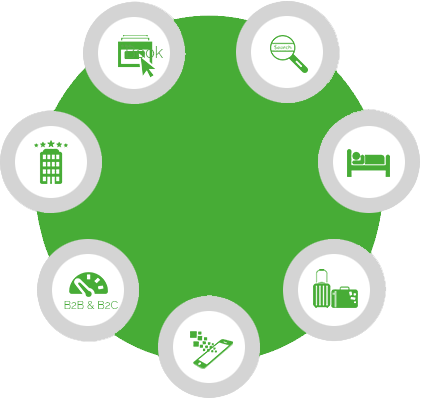 The Right Software For Your Travel Portal Design
The travel designers purchase services such as accommodation, hospitality, and transportation for the customer in order to be able to offer a total service. The travel portal development designers calculate the total price and bear responsibility for the implementation of all services in his name.
Purpose of Tourist Portals Designers
A destination portal should have two main functions:
Inform and "convince" the potential visitor
Act as a territorial marketing tool
Through the Travel CRM Software Designers, the tourist should be supported and guided towards his travel choice. Obtain complete information on attractions, events offered from operators. And experiences that can be done on-site, ready to guide him with simple tools that lead you with just a few clicks at the end of the booking process. The portal designers must also be a means by which to retain the tourist even after the trip, a means to strengthen the image and the brand of the destination. A tool to implement territorial marketing actions, to support tour operators in promoting their offers. Able to position and sell the destination on the market.
Today, travelers have an enormous amount of information directly on their Smartphone, through which they can plan and organize their trip in detail. This is why in the current scenario, a territory that wants to present itself as a tourist portal designer cannot ignore itself becoming a tourist product. Finding its identity and promoting itself through a brand and an effective online presence equipped with all the trappings to meet the needs of digital tourism.
The Travel API Integration is the instrument designed to do this, a gateway through which the visitor can discover the tourist offer of the area and its attractions, guided by interesting and well-constructed contents.
In some cases, the destinations are limited to creating a simple institutional and purely informational white label travel website. This does not respond in any way to the needs of the modern tourist and which does not allow him to interact with the territory. Today it is unthinkable to do territorial marketing without the support of well-made tourism portal designers since the internet is the main source. Through which potential visitors seek information and expect to be able to organize their vacation without necessarily going to an agency or a travel consultant.
It can be said that even the smallest tour needs a well-built online presence, without which, we could safely say that it does not exist for the tourist market.
The characteristics of well-built Travel Portal Developers designers:
Clear identification of the provider with name, legal form, address, contact details, and commercial register number.
Understandable and comprehensible booking processes.
Complete transparency about the total price.
Complete and understandable terms and conditions.
Encrypted data transmission.
Package tour with the security certificate.
Various secure payment options are available.
Always be updated with news and events taking place in the area.
Encourage and facilitate the booking and direct or indirect sale of the tourist product.
Provide for a broad, well-built, and targeted offer.
Guarantee the distribution of information to visitors and tourists.
Automatic price comparisons (you can easily filter out the cheapest offer in your holiday search).
Reviews and photos of other vacationers.
Simple and time-independent booking from home.
They are very helpful when planning a spontaneous vacation, as the Travel Booking Engine API process is usually quick and easy.
The possibility of exchanging ideas with other vacationers in the forum.
In the case of tourism, it can be seen that this sector alone moves almost half of the entire ecommerce. The online sale and promotion of tourism products and travel technology services are constantly increasing. This is nothing new, tourism is today one of the most digital-oriented sectors. 
What distinguishes good travel portal System?
Scope of offer

A decisive quality feature of a Travel API Integration is the scope of the offer. When comparing and testing, it quickly becomes apparent that the scope of the offer differs greatly from the comparison portals. Of course, this criterion has more priority for an experienced globetrotter than for a habitual vacationer. The following applies to you as a customer: if you cannot find your dream destination on the white label travel portal, just take a look at the next comparison portal designers.

User-friendliness

Here the view is cast on the website per se. Is the page clear? Can you get all the information you need without any problems? Is the page structured in a logical and structured way? Do the information generation and booking process run smoothly? Most online online travel api Designers understand how to make a website user-friendly. What is criticized is missing features or comments such as Wifi, sea view, quiet location, etc.

Customer service

Customer service is the be-all and end-all of a travel technology company. No matter how user-friendly a website is, no matter how inexpensive it may be, and no matter how extensive it is. But if you don't get constructive help with questions or problems, everything else is free. In general, the following applies to Travel Business Portal B2B: the telephone service is a lot better than the email service.

Prices

The low price of an offer remains one of the most important arguments on the list of quality features. The same hotel usually costs the same on different portals designers. Differences in price come about through the individual hotel selection of the various providers. There can be a price difference of up to 40% here. So try out several different travel portal development company and always compare the prices.
Conclusion
Travel Booking Engine and travel search engines are in vogue and not without reason. They are convenient, informative, and can be used independently of time and place. Regardless of whether you are planning a vacation in any country or at the other end of the world, the Travel Portal Designers will filter out your dream vacation.
Check the seriousness of the best travel api provider, compare all offers, and see what people say who have already consumed this offer. If you use all of these options properly, you can be sure that your vacation will meet your expectations. What then remains to be done: drive off, switch off, and enjoy.
Our Comprehensive List of Services
adivaha® is a one-stop-shop for all your travel website needs. We offer a multitude of services that empower you to become a market leader. Contact us for more info.
Have Questions?
The Internet is a huge resource, but
if your question requires particular expertise.
Keep Refreshing your customers - Who doesn't want his site to stand out from crowd? adivaha® gives you multiple options for home pages, headers, colors etc. Which can easily be managed from admin via shortcodes and settings. The theme supports almost all the big players in this market ie, WEGO, Travelpayouts, Agoda, Booking, Expedia etc.
Frequently Asked Questions
Below are some of the questions asked by visitors. Do visit our adivaha® Digest for more such questions. Don't hesitate to ask us if you have any questions
I am setting up this plugin for my client's website, I tried registering and received the account activation email, but …

21

views

1

answers

0

votes