Build your own Travel Brand!
Ready to go-LIVE travel solutions that helps your travel agency to sell a range of travel services pretty instantly. adivaha® travel solutions make sure you have no boundation over your imagination, you can do everything online, without the need for any technical knowledge or design skills. Easy Backoffice, extensive reporting with integrated Funds Management System. Upload funds easily and instantly through Netbanking, Debit Card, Credit Card. The best part is, we do offer customizations in case you believe it will boost your business!
Travel Portal Software
The presence of a website alone will not be enough to make your travel portal software successful. To captivate potential customers, an online travel agency software should have a visually appealing design, a user-friendly interface, and advanced features to make travel planning easier.
Due to your customers' limited time, gaining their attention and ensuring they book through your Website becomes more difficult.
85% of travelers booked their travel through mobile devices in 2018, 36% preferred websites with personalized information based on past purchases, and 57% preferred websites with customized content.
Importance of Travel Portal Software
Through online travel portals, travel agents can improve visibility and sell their products and travel technology services across the internet. Every tour operator and travel agency needs travel agency software to maintain their travel portal.
Are you wondering how to start your travel website? With this platform, you can create your B2B or B2C travel website and integrate Customer Relationship Management and bus, flight, hotel, and car booking solutions.
With it, you won't have to worry about anything since it provides end-to-end international travel portal website services. You can rely on them for all your travel software needs, including accounting software for travel agents, API integration, and user-friendly travel software.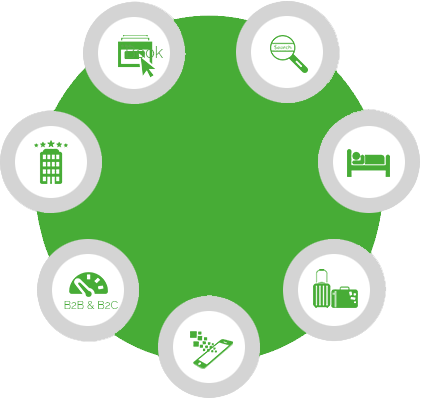 Travel Portal Software | Streamline Bookings & More
Additionally, customers can receive customized solutions according to their business needs. To obtain a consultation service, you need to contact professionals specializing in the travel industry and their website developers.
Our portal software is the best option for booking flights and hotels globally, and it does so at the lowest possible cost. Our web-based travel portal has a more robust and complete online booking engines, specifically designed for agencies and travel industries.
Integration of the travel portal allows for easy bookings in hotels, flights, or travel packages. Integrating the travel portal API into your travel website allows us to instantly respond to dynamic holiday package/hotel/car data.
Our portal software allows you to access all products and holiday functions from your Website. Data centers connected to the internet can deliver reliable data feeds to your applications. We create and implement software that allows airlines to sell their products through both direct and indirect channels.
Portal software for travel portals includes data from major airlines as well as low-cost and hybrid airlines. Our travel technology software helps your business increase revenue while automating processes and reducing the time and effort needed to complete a flight booking.
Our travel portal is a great way to make more money and be more efficient in the rapidly growing travel industry. Our goal is to offer first-class, customized portal services for travel. Customers will benefit from our proven portal development methods that are both affordable and realistic. Our solution allows you to provide customers with all information on your Website and allow them to make a decision quickly.
Travel Portal software interface and technology infrastructure provide a strong platform for travel distribution. We can tailor the travel booking engine to meet the needs of each client. Our system can be tailored to your brand, and we provide all support needed to integrate your Website with the API. We strive to offer a new level of service and are always on the cutting edge of technology by providing the best solution to the travel industry.
Our portal makes it easy for travel agents, tour operators, and web portals consolidators to sell, handle and collaborate with B2C clients, B2B partners, and suppliers. Our team includes web developers, testers, and designers who will design and develop the best travel portal for you. This will give you an edge over your competitors.
Multiple connections and APIs are supported according to your business model. We provide the best access possible to wide-ranging content and the most desired offers through a single API connection. We offer a world-class solution that will allow you to keep up with modern travel trends and help you offer your customers the best prices on hotels, flights, and travel packages.
Travelers' changing tastes and preferences
The travel industry has undergone a significant change in preferences in recent years. In the past, generations such as Baby Boomers and Gen Xers did not prioritize traveling. It is more likely that if they traveled at all, it would be to historical and religious sites rich in heritage and culture.
Before the advent of the internet, the older generation considered traveling a retirement activity.
We are now in the present day. In the digital age, travel is part and parcel of life for the younger generations - the millennials and digital natives. People are taking more impulse trips than ever, increasing by 150%.
Traveling alone has increased dramatically over the past few decades. An Adventure Travel survey found that nearly 80% of millennial travelers would travel solo. People are also increasingly willing to spend more on unique and customized travel experiences.
This is all good news for the owners of travel and tourism websites. You will likely convert a sale if you provide travelers with information tailored to their needs at the right time. To achieve this goal, your travel website should have every component designed to deliver the right information at the right time.
Getting there isn't as easy as it sounds. Which features are necessary for a successful travel website? Are you wondering how to nail user experience and interface to make a sale? Here are a few best practices for building the perfect travel website development for reaching out to and connecting with your target audience, regardless of what magic formula works for you. Let's begin.
A Responsive, Mobile Friendly Design
Mobile-friendly or mobile-first websites are the future; if you don't have one, you're losing out on a large portion of your market. A report on Mobile Travel Trends 2022 indicates that 61% of users will not return to a site if they have difficulties loading it on their mobile devices.
The mobile site of their preferred brand may be too slow for 40% of users, causing them to migrate to their competitor's Website. There is no way to ignore these numbers. In light of these statistics, you should consider building a mobile-friendly, responsive travel website to provide your customers with an optimized booking experience.
Clean, Easy-to-Use, and User-friendly Search Forms
A travel website's heart is its meta search engine. Most travelers researching travel destinations online have no specific location in mind. Instead, they scan every option that appeals to them.
Therefore, you must make sure your search engine is dynamic, as that is one of the most important features of your travel website.
When you keep it simple, the travel search is easy. The search feature should also include other filters your target audience will likely use to answer the questions "when" and "where."
You should, for instance, include "type of vacation" as a field in the search form if you cater to adventurous travelers. This filter allows travelers to find specific destinations that can be used for water sports, hiking, and adventure activities.
If you're designing a search feature on your Website, keep these good practices in mind:
Geo Location – Provide an enhanced user experience by automatically identifying the customer's starting point and currency. Because of this feature, your Website users won't have to enter their home location whenever they research a destination.
Advanced Search – Create an advanced search button for your WordPress travel website instead of confusing the search button with a lot of fields. A basic search button will include the destination, travel dates, and the number of travelers. The advanced search button allows filtering based on travel type, accommodation style, etc.
Clean Yet Complete Search Results
A key element of a travel and tour website is the search results. An unorganized search results page can negatively impact your entire user experience. Your travel and tour website must display clean and clutter-free search results.
However, it must also provide travelers with the necessary information to quickly compare results and select the most suitable option.
You should hire an expert WordPress developer to design your travel website. Using user data, an experienced web designer can identify features that users will find valuable.
Travelers typically compare hotels based on distance from the city center/subway, for instance. A complimentary breakfast is also available at the hotel, as is free Wi-Fi in the rooms.
Make sure your website designer highlights these features in the search results. Designing search results according to these best practices:
Sticky Search Bar – Keeping the search bar at the top of the screen allows users to refine search results quickly.
Photo Previews – Most travelers prefer to view photos without leaving the search results page of the hotel/destination they are looking for.
Personalization – Use cookies to display results similar to those from previous bookings. A machine learning tool can also be used to generate personalized recommendations based on a user's preferences and demographics.
Be Transparent
A survey indicates that nearly 53% of users abandon their travel searches when given the total price, including taxes and other charges, at the end of the process. You must disclose all fees and miscellaneous expenses at each step if you want to reduce the shopping cart abandonment rates.
You can win your potential customer's trust and loyalty by making your travel website transparent:
Mention the inclusions and exclusions – Make sure the hotelier mentions if they offer free Wi-Fi and breakfast. Additionally, if the hotelier charges additional, such as resort fees, taxes, or other charges, make sure you know them beforehand. Communicating clearly with your users will help you build a strong relationship.
Be Comprehensive and provide Complete Information – Make sure you clearly state if the booking fee is refundable up to a certain date and then non-refundable after that. Don't spring any surprises on the user when they check out; be transparent with all additional charges.
Include Social Proof and Third-Party Reviews
According to a survey, nearly 96% of travelers read reviews before making a travel reservation. Undoubtedly, reviews are the lifeblood of the travel and tourism industry. Thus, your travel website should include unbiased reviews from users.
For your Website, here are some suggestions for including reviews and testimonials:
Include trusted Third-Party Reviews – To give your visitors access to genuine reviews, ask your website design company to integrate reviews from third parties.
Include Video – Video reviews are an excellent way to stand out from the competition on your travel website. To encourage users to submit video reviews, give them small incentives, such as loyalty points and free breakfast on their next stay.
In-built App Translator
It requires some effort to implement, but you can add it to your travel agency software as one of the most useful and innovative features. Translating apps such as Google Translate and translate allow travelers to look up languages in a variety of languages.
Real-time voice translation is available in several languages, as well as the written text. To make your travel app look high-end, software development companies for online travel agencies often put these features in.
Reviews & Ratings
Reviews are one of the reasons why people prefer to read them before booking a hotel or vacation, as they can determine what to expect ahead of time. It increases public awareness of the issue and hotels' efforts to provide the best services possible. Having such features makes a travel app look more professional.
Emergency Services
Every one of us knows that an emergency can strike anytime and anywhere. What if your users could rely on one safety measure? A feature allows you to find the closest hospital, ambulance, or emergency number. Giving your users a unique travel app experience can help build trust.
Amazing Benefits of a Travel Portal
It is a time of transformation for the travel industry. To compete in a global market, you must adopt the latest technologies. You will access opportunities aligned with your business growth plans via an online travel portal.
The COVID-19 pandemic & rapidly changing consumer demands leave companies with no choice but to evolve.
Consolidation of travel inventory and pricing through one point of access
A real-time view of inventory, rates, availability, and details reduces the overall execution time.
Cost-effective order processing
You can connect to thousands of hotels, cars, and other important travel content around the globe. Our software allows you to integrate third-party GDS/ Wholesaler inventory/ Feeds into your booking engine. To fully understand your business, we will meet with you and discuss your needs. We will then recommend the best travel portal solution for you.
With the help of travel portal developers, we offer a completely customizable service that allows you to deliver a world-class travel booking experience to your clients. It's easy to add and enhance your existing travel offerings by using an even wider range.
We provide an end-to-end service that connects you to innovative solutions. Our goal is to ensure your flight booking and hotel reservation system works round-the-clock and helps your clients with no hassle or problems.
For a secure booking process, we have developed an end-to-end travel portal.
A travel portal solution caters to the following segments. Travel processes are more secure and smoother when XML, GDS, and APIs work with flight booking portals, hotel booking engine, travel agents, and bus booking portals. Various information, such as inventory, availability, and pricing, can be tracked.
Hotel Booking
Globally recognized apps that provide real-time availability of rooms, prices per night, and hotel inventory information. It facilitates the booking of rooms both for B2B and B2C customers.
Flight Booking
Offers real-time availability, pricing, and inventory information.
Cruise Booking
Travel booking options for B2C and B2B users across global destinations.
Bus/Car/Train Booking
Users can choose commute options in cities across the country based on geolocation preferences.
Travel Agent/Tour Operator Software
Saves professionals' time and creates beautiful client proposals for them.
You need a website to succeed in the travel business. All your users will first come into contact with it. It would help if you made the best first impression possible.
Along with the five elements listed above, you should include high-quality images, reduce loading times, adopt a mobile-first approach, and improve the overall user experience.
Building a custom travel website with high conversion rates cannot be accomplished in one go. Optimization of the site requires repeated testing and A/B testing. Additionally, you must ensure that your site has an intuitive and familiar UX/UI so users can easily navigate it.
It is evident that designing a best travel website is quite complicated, and you cannot make any mistakes. The best way to hit your conversion goals and stay ahead of your competition is to hire an expert travel website design company.
Bottom line
Travel portal software incorporating the latest features will help you stay on top of the competition. As well as enhancing customer retention, it also improves conversion rates. An experienced company that has curated successful travel portals can be a good option for you.
A successful online travel agency business requires a reliable travel portal development company. A trustworthy customer-client relationship can develop by outsourcing and connecting better with your customer.
A few reputable companies provide innovative travel portal development services. A web and mobile app development company can provide you with both services. Consider evaluating and understanding your business before hiring a development company.
Our Comprehensive List of Services
adivaha® is a one-stop-shop for all your travel website needs. We offer a multitude of services that empower you to become a market leader. Contact us for more info.
Have Questions?
The Internet is a huge resource, but
if your question requires particular expertise.
Keep Refreshing your customers - Who doesn't want his site to stand out from crowd? adivaha® gives you multiple options for home pages, headers, colors etc. Which can easily be managed from admin via shortcodes and settings. The theme supports almost all the big players in this market ie, WEGO, Travelpayouts, Agoda, Booking, Expedia etc.
Frequently Asked Questions
Below are some of the questions asked by visitors. Do visit our adivaha® Digest for more such questions. Don't hesitate to ask us if you have any questions
What all GDS and Providers are connected in the platform?

36

views

1

answers

0

votes