Build your own Travel Brand!
Ready to go-LIVE travel solutions that helps your travel agency to sell a range of travel services pretty instantly. adivaha® travel solutions make sure you have no boundation over your imagination, you can do everything online, without the need for any technical knowledge or design skills. Easy Backoffice, extensive reporting with integrated Funds Management System. Upload funds easily and instantly through Netbanking, Debit Card, Credit Card. The best part is, we do offer customizations in case you believe it will boost your business!
Exploring the Benefits of the travel Technology industry in India
Technology has completely revolutionized the way people plan, book, and experience their travels. It helps to provide an opportunity to leverage technological advancements, improve efficiency, enhance the customer experience, and tap into a growing market. By embracing travel technology company, businesses can stay competitive, drive growth, and contribute to the overall development of India's travel and tourism sector.
The Expanding Market:
India's travel and tourism industry has witnessed remarkable growth in recent years. Domestically, more individuals are venturing out to explore different regions within the country, thanks to improved transportation infrastructure, increased connectivity, and government initiatives promoting domestic tourism. This surge in domestic tourism has fueled the demand for travel technology solutions, including online booking platforms, travel apps, and destination information portals.
Simultaneously, outbound travel from India has seen a significant rise, with more Indians traveling abroad for leisure, business, education, and medical purposes. This trend has created ample opportunities for travel technology companies to cater to the needs of outbound travelers, offering services such as visa assistance, travel insurance, itinerary planning, and language translation. The rapid growth of internet penetration in India has played a pivotal role in the expansion of the travel technology market. Increasing access to smartphones and affordable data plans has empowered individuals to search for travel information, compare prices, and make online bookings. This digital penetration has opened up new avenues for top travel technology companies to engage with consumers and provide their services online. Recognizing the immense potential of the travel and tourism industry as a driver of economic growth, the Indian government has implemented several initiatives to promote the sector. These include the development of tourism infrastructure, easing of visa restrictions, and launching campaigns to showcase the country's diverse attractions. Government support has created a favorable environment for the growth of the travel technology industry, providing businesses with the necessary impetus to thrive.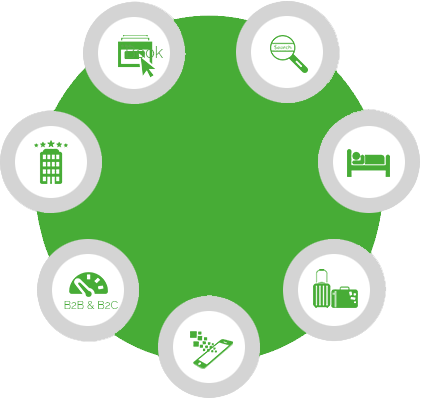 Travel Industry: Exploring the Benefits of Technology in India
Increased Efficiency
The travel technology sector is in a constant state of evolution, driven by emerging technologies and innovations. Artificial intelligence (AI), machine learning (ML), virtual reality (VR), and blockchain are being integrated into travel solutions to enhance customer experiences, automate processes, and ensure secure transactions. The adoption of these technologies presents significant growth opportunities for tech-savvy travel companies in the Indian market. By leveraging AI and ML, businesses can personalize travel recommendations, automate customer service, and optimize pricing strategies. VR technology allows travelers to experience destinations virtually, helping them make informed decisions. Blockchain technology ensures secure and transparent transactions, instilling trust in the travel ecosystem. To capitalize on the burgeoning market, travel technology companies are actively seeking collaborations and partnerships with various stakeholders. These collaborations extend to airlines, hotels, travel agencies, and government tourism bodies. By forging strategic alliances, companies can expand their reach, offer comprehensive travel portal solution, and cater to the evolving needs of travelers. Such partnerships enable seamless integration of services, simplifying the booking process and enhancing the overall travel experience.
Digital transformation
Digital transformation is changing how travel companies serve their customers. By using technology like data analytics, artificial intelligence, and machine learning, businesses can understand what customers want. This helps them offer personalized recommendations and travel technology services, making customers happier and more loyal. Digital technology also makes things easier behind the scenes. For example, online bookings and automated ticketing systems save time and reduce mistakes. This lets travel companies handle more customers, use resources better, and improve overall performance. Mobile apps have made a big difference too. With smartphones so common, travel businesses have created apps that let customers do things themselves. You can check in online, get real-time flight updates, manage your itinerary, and even get instant help. This saves time for both travelers and customer service staff. Digital transformation also lets travel companies gather and use lots of data. They can analyze customer behavior, market trends, and performance to make better decisions. This helps with things like planning marketing campaigns, managing revenue, and growing the business. Automation is another important part of digital transformation. Tasks that used to take a long time, like entering data or processing invoices, can now be done automatically. Artificial intelligence also helps with customer interactions. Chatbots and virtual assistants provide quick support and give personalized recommendations. With more digital technology, it's important to keep data safe and secure. Travel companies need to protect customer information, financial transactions, and important data. They use things like encryption, secure payment systems, and follow data protection rules. Collaboration is key in the travel industry. Travel technology companies work together with hotels, airlines, and others to offer better services. By joining forces, they can provide complete travel solutions that benefit customers. Digital transformation is making travel easier and more enjoyable for everyone involved. It's changing how companies operate and helping them give customers what they want.
Enhanced Customer Experience
In today's digital world, travel companies are using technology to make your travel experience even better and more personalized. They use advanced tools like artificial intelligence and machine learning to understand your preferences and behaviors. This helps them customize their offerings just for you, give you recommendations, and provide personalized services. The goal is to make you happy and keep you coming back for more. Technology not only benefits you as a customer but also makes things smoother for travel companies. They have streamlined their operations by using technology for tasks like online booking, automated ticketing systems, and digital documents. This means faster and more efficient service for you. With improved processes, travel companies can handle more customers, use their resources effectively, and perform better overall. Mobile applications are another way technology enhances your travel technology software experience. With user-friendly travel apps on your smartphone, you have more control over your trip. You can check in online, get real-time flight updates, manage your itinerary, and receive instant customer support. These self-service options save you time and give you more freedom and convenience. Data plays a crucial role in improving your experience. Travel companies collect and analyze a lot of data to understand customer behavior, market trends, and how they can serve you better. This helps them make informed decisions, plan targeted marketing campaigns, manage prices, and offer you a more personalized and satisfying experience. Automation is also important in enhancing your experience. Travel companies use technology to automate repetitive tasks, like data entry and invoice processing. This allows their staff to focus on providing you with personalized service. They also use chatbots or virtual assistants to respond to your needs quickly and offer you personalized recommendations. While technology brings many benefits, your data security and privacy are a top priority for travel companies. They take strong measures to protect your personal information, financial transactions, and other sensitive data. They use encryption techniques, secure payment gateways, and follow data protection regulations to keep your information safe. Collaboration is key in the travel software industry's effort to enhance your experience. Travel technology companies work together with hotels, airlines, and other industry partners to offer you comprehensive travel solutions. By collaborating, they ensure a seamless travel experience for you from start to finish.
Business Growth and Competitiveness
In today's competitive world, businesses need to grow and stay ahead of the competition. Technology plays a crucial role in achieving these goals. By embracing technology, businesses can expand their reach, attract more customers, and increase their chances of success. Travel portal development provides powerful tools for marketing and promotion. Through digital advertising, social media campaigns, and personalized emails, businesses can target specific audiences and attract the right customers. This targeted approach helps businesses grow and thrive. Streamlining operational processes is another way technology fuels business growth. By automating tasks like managing bookings, reservations, and invoices, businesses save time and resources. This efficiency allows them to handle more transactions, allocate resources effectively, and deliver better service to customers. Exceptional customer service is a key factor in staying competitive. With technology, businesses can utilize customer relationship management (CRM) systems and communication tools to respond quickly to customer inquiries and provide personalized assistance. This builds customer loyalty and sets businesses apart from their competitors. Adopting innovative technologies gives businesses a competitive edge. By embracing solutions like artificial intelligence, machine learning, and virtual reality, businesses can offer unique experiences that attract customers and differentiate them from others in the market. Access to valuable data and analytics is essential for making informed decisions. Technology enables businesses to gather insights into customer preferences, market trends, and performance metrics. This information guides strategic decision-making, allowing businesses to adapt, target new markets, and grow with confidence. Collaboration is key to success in today's business landscape. By partnering with other industry stakeholders, businesses can offer comprehensive travel portal development solution and create a positive impact. Collaboration fuels growth and helps businesses stay competitive in the market. By harnessing the power of technology, businesses can achieve growth, stay competitive, and thrive in today's dynamic business environment.
Our Comprehensive List of Services
adivaha® is a one-stop-shop for all your travel website needs. We offer a multitude of services that empower you to become a market leader. Contact us for more info.
Have Questions?
The Internet is a huge resource, but
if your question requires particular expertise.
Keep Refreshing your customers - Who doesn't want his site to stand out from crowd? adivaha® gives you multiple options for home pages, headers, colors etc. Which can easily be managed from admin via shortcodes and settings. The theme supports almost all the big players in this market ie, WEGO, Travelpayouts, Agoda, Booking, Expedia etc.
Frequently Asked Questions
Below are some of the questions asked by visitors. Do visit our adivaha® Digest for more such questions. Don't hesitate to ask us if you have any questions
What all GDS and Providers are connected in the platform?

27

views

1

answers

0

votes