Build your own Travel Brand!
Ready to go-LIVE travel solutions that helps your travel agency to sell a range of travel services pretty instantly. adivaha® travel solutions make sure you have no boundation over your imagination, you can do everything online, without the need for any technical knowledge or design skills. Easy Backoffice, extensive reporting with integrated Funds Management System. Upload funds easily and instantly through Netbanking, Debit Card, Credit Card. The best part is, we do offer customizations in case you believe it will boost your business!
Pick the best travel technology solution for Your Organization
Explore thousands of online travel content, itineraries, thematic holidays, and honeymoons organized by destination, duration, period, and type. And then, after being inspired and informed, you can contact an expert who, for free, transforms the idea into a personalized journey.
The power of travel portal development and digital combined with the competence and safety that only the human factor can give: this travel portal solution is the new way of organizing trips according to the latest needs, which renews its website, making it a real travel portal at the service of travelers in which to organize holidays tailored together with specialists.
The importance of the best travel solution
The ideal journey takes shape from simply searching for a destination or the activities that can be done while traveling. For those with vague ideas, a guided tour is also available: by type of participants, duration, period, or by a specific theme: romantic weekends, slow tourism, honeymoons, sustainable, solo, gourmet, cultural trips, and many others.
At Adivaha, we offer a range of solutions to protect customers and assist them before and "during the trip, with fully customizable formulas and with our handy app always to have all the documents, the travel program, and a direct line with us. Offering the highest level of tranquility and safety is what sets us apart, and it is an aspect that has become indispensable for travelers of the new normal.
We offer online flight booking software in which any agent, customer, or Enterpriser can make Booking of flights, Booking and Hotel Booking, Car Booking Bus bookings, and Vacation Package bookings. We offer various travel portals, such as the B2C travel portal and B2B Travel Portal. A tour portal solution includes a variety that provides APIs that can be integrated to provide travel technology services like Flight, hotels, Cars, buses, etc.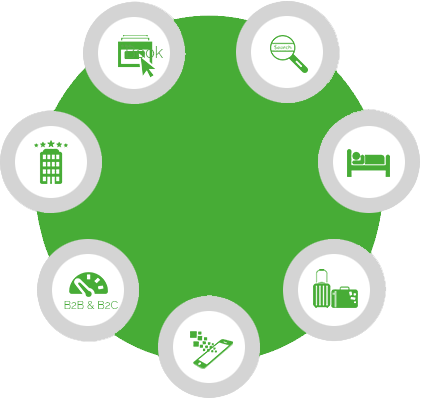 Travel Technology Solution for Your Organization
Traveling is an integral aspect of our lives as it is crucial to our everyday demands. Today we would like everything to be comp consultants in only a few clicks. This is feasible by creating a travel portal website or an application. Adivaha team has a wealth of experience in Travel Technology and IT. It enables us to develop high-quality travel software to meet your tour portal solution needs. Our designs for travel websites consider the needs of corporate agents, travel agents, start-up travel agencies, and Tour Operators. Adivaha Technologies is an ideal choice for those who wish to expand the size of their tours and travel business by developing a travel website. Our team can provide flexibility, profitability, and affordable online travel agency software. Our company offers a vast range of travel technology services.
Our tour portal solution includes multiple supplier integration. It is a user-friendly and user-friendly platform for online travel agents. We have a team of experts to create travel technology solution for your business. Our booking system is directly linked to the Major GDS, the top LCC, and full-service domestic airlines, where the information is downloaded and the outcome is displayed. Customers can search the segments, select the desired option from the results list, and create a PNR upon payment via Payment Gateway.
Our main goal is to provide the finest portal solution to the worldwide travel industry. Clients with Flight Bookings, Hotel Bookings, car bookings, Bus Bookings, and Tour Package Bookings. Adivaha team is committed to meeting our client's demands. Travel Portal software is integrated with the most popular LCC and GDS Systems. The Flight APIs function as a mediator between the Airline Reservation System and what is actually what the customers see through your online travel website.
We have a tour portal solution integrated with the various number of Hotel Suppliers API, from where customers can access the lowest price Hotel Bookings. Agents and customers can make cancellation requests via their account on the Travel Portal so that the cancellation requests are immediately sent to the provider via the API integration. Agents or customers receive notification via email or SMS when bookings are successful or Cancellation Requests. Our tour portal solution API comprises more than a thousand hotel suppliers integrated across the globe. Tour portal solution offers a platform for any user to reserve any Hotel World Wide. Customers can reserve according to their requirements through Hotel Booking.
An incredible way to grow your business with the leader in Travel Technology
Adivaha Technologies provides a real-time booking system. In the tour portal system, customers can search for seats by choosing the locations and departures and applying filters to obtain the desired results. When using the tour portal, customers can make a reservation or cancel their booking from their panel. When they make a booking by tour portal, the customer can select various seats and also for groups. Users can search for the car to find the location they want and choose the best location based on the seating capacity. Paying for the car via the integration of a payment processor.
Tour portal development is essential for Tour Operators to generate package-related inquiries. Customers can look up the itinerary, package inclusions terms, exclusions, and terms and conditions of packages. Users can check available package options for particular destinations.
Adivaha Technologies provides the best tour portal solutions. Online travel portals are vital to increasing the size of travel agencies Travel Agency and for a constant increase in profit margin. Today people are increasingly buying services on the internet. Online presence is necessary with an online booking engine with enough features to accommodate many customers.
With the travel portal solutions, you can receive Travel Development for services booking and custom-designed web development. Tourism and travel industry-related software for the travel and tourism industry.
It is a fact the fact travel portal development services is an important tool to improve your business. It is regarded as one of the essential features of the travel industry. If you're looking to expand your business using this method, it's the best option to go to and grow your business.
The travel portal website provides excellent branding possibilities with minimal maintenance and enhanced exposure for various products. With many years of great experience, Adivaha Technologies provides us with significant-high-quality web designs coupled with Travel Portal Development System booking engines. The business and its customers are treated equally to create the best possible results. Travel Portal attracts numerous Travel Agencies to start their journey and launch their Travel Website, offering them the opportunity to make huge income.
Features of Tour Portal Solution
Customer Management
Agent Management
Staff Management
Lead Management
Finance Management
Referral and Cashback
SMS and Email Marketing
Task Management
Multiple payment options or Online Payment Gateway
Reports Management
Marketing Management
Management of APIs or suppliers
Website Management
Currency Converter
Customer Feedback
Customer Wallet
Customer Dashboard or Login
EMAIL and SMS Reminder
Complete Travel Guide
Real-time Booking and Cancellation
Strong and Easy Mid Office
User-friendly UI
Attractive Design
Responsive and Simple
Global inventory
Multi Services
Mobile Application
Coupon Management
Security Management
HR Management
Mark-up and Discounts
Customizable Packages
Tour and Holiday Packages System
AI-Based System auto Suggestion
Whether you're a major travel agency or small travel operator, you must find ways for your clients to locate your business. Developing a custom travel website to promote your tourism company lets your customers easily find your business. Nowadays, people mostly conduct their work online.
Amazing Solution for Business Travelers
Infinite choice

The testers evaluated the travel varies based on ten different booking models or travel requests for package tours. The number of bookable hotels for two people based on the desired criteria was determined for five of the booking models, and at least one option should be available for five other trips. In addition, the general availability of other travel products, such as ocean cruises or the booking of holiday apartments and houses, was also included in the analysis.

So if you don't find what you're looking for on the travel portal at the beginning of your holiday search, you should try your luck on other portals - the chances are not bad of finding a travel offer that meets your expectations in the end.

Business Travel Solutions Faster and Affordable

With its professional travel team and international service network, the tour portal solution provides speed, convenience, and savings to corporate and travel business needs. With the infrastructure, it offers more than a thousand contracted hotels and affordable flight ticket options in many countries. Our efficient team is always available for your corporate and business travel needs.

Adivaha brings many conveniences in corporate travel and business travel. Thanks to fast travel planning, travels are quickly planned with self-reservation without email or telephone traffic with agencies. The determined travel rules resolve internal approval processes quickly and smoothly.

With the online tour portal solution system, instant online reports can be created, the compliance of the processes with the travel policy can be checked, and cost management can be done. With budget control, travel expenses are optimized. With the seamless audit process, corporate travel portal can be planned by company policy, and processes can be controlled online with daily, weekly, or monthly reports.

The advantages of the tour portal solution do not end there. It provides VIP service upon request, allows the entire process to be followed easily with its travel specialist, and does not leave its customers alone in emergencies with its operations specialist. Airplane package tours, fair tours, private indoor leisure group tours, individual and personalized tours, and special seat agreements with all airlines are the main services of the tour portal solution.

Guaranteed Solutions to Tourism Agencies

It stands out, especially with the services it offers to outgoing online travel agencies. Tour portal solution provides service mainly as destination management. It only produces solutions for tourism agencies. It does not compromise on quality and reliable service understanding.

Within the scope of air package tours, the tour portal solution offers its clients the opportunity to sell advantageous tour packages without risk, with the group and individual packages prepared too many destinations worldwide. It produces lower-cost ground services and special solutions with special price agreements and airline hotel contracts.

Individual vacation planning

In terms of user-friendliness, most travel portals made a good impression. The booking process was solved well with almost all providers: All important information about the trip and booked services were summarized transparently in an overview. All travel portals also offer corona protection, for example, in the form of bookable travel insurance, which provides for the event that the holiday trip cannot be started due to illness.

The search results could always be sorted by price and customer reviews, less often by hotel category. The presentation of the results was mostly flawless. However, the testers missed the option for three portals to create a customer account to manage their trips online. Search options for specific characteristics such as quiet location or air conditioning were also unavailable in most portals examined.

Disastrous availability of customer service

In the customer service check, the travel portals were assessed according to which contact options they made available to interested parties and customers and how competently they responded by email to specific questions from the testers.

Finding the email address or contact form on the best travel website sometimes caused difficulties: only half of the portals made it easy for the users. The next hurdle was the actual availability of customer service. Only a third of all inquiries were answered within four days. The test customers often only received the sobering answer that they could not take care of their request at the moment. In a catastrophic situation, when you consider that a reliable service is needed right now, for example, to cancel a trip that has become impossible due to the pandemic - one can only hope that at least the most critical inquiries will be answered.

Very good customer service

In the customer service check, the travel portals were assessed according to which contact options they made available to interested parties and customers and how competently they reacted to specific questions from the testers on the phone. Pleasing: the customer service was usually easy to reach and available on weekends. You could also contact the portal by email or contact form.

Our offer at a glance

We have automated our process for travel and supply an efficient distribution. Maintaining excellent relations with our customers, we offer an adaptable and simple-to-use customer-management system. With the travel portal created through developed technologies, you access an array of travel options, including flights, hotels, vehicles and buses, holidays, holiday packages, and other tour and travel options with a perplexing array of activities and events in various places. Your customers will be livelier when you offer every travel service and product with just a few clicks and modern travel technology software for your travel portal.

Our tour portal solution gives your customers the best service at their fingertips with an advanced Travel Mobile Application to ensure their travel experiences are easy and unforgettable. A great travel plan will include booking flight tickets, car rentals Bus Tickets, Bookings, and many other services from the tour portal solution.

Adivaha Technologies provides a powerful travel management program that can manage and control processes of Email as well as SMS electronic marketing. This travel portal software can handle the process quickly and easily. Based on the latest advancements in technology for travel, Travel CRM can complete large tasks faster and with less hassle. Marketing tools built into the system and fully integrated workflows and procedures are the essentials that offer travel portals.

Flexible booking

You can book with us conveniently by phone, email, corporate travel self-booking tool, or app. And no matter which channel you choose, your stored preferences and guidelines are taken into account with every booking.

Simplified administration

All settings and full control are in just one tool. From travel guidelines and preferences to reporting, you can manage and optimize your business trips with just a few clicks from our online tool. Your account manager will support you.

Safe travel

To keep travelers safe, you can see exactly where they are on a map in the online tool. So if something should happen, you can react and act quickly. In addition, our travel experts are available around the clock to help with emergencies and strikes.

Fast billing

We advance all costs for you. In the end, you only pay us, making bookkeeping easier. Upon request, you will receive a clear collective invoice and can also choose from various payment methods. Thanks to our dashboards, you never lose track of your finances.
Conclusion
Adivaha travel Technology Company has established a solid name in developing and designing a complete end-to-end mobile and web application solution for the tourism and travel industry. The latest technology in this travel portal has brought about better and more efficient ideas. Our Travel Portal Solution can be used with simplicity and ease. The competition has increased due to attracting more customers and driving more customers to a custom website. Due to the competition, online travel booking has earned an advantage that provides higher quality services for customers.
Our Comprehensive List of Services
adivaha® is a one-stop-shop for all your travel website needs. We offer a multitude of services that empower you to become a market leader. Contact us for more info.
Have Questions?
The Internet is a huge resource, but
if your question requires particular expertise.
Keep Refreshing your customers - Who doesn't want his site to stand out from crowd? adivaha® gives you multiple options for home pages, headers, colors etc. Which can easily be managed from admin via shortcodes and settings. The theme supports almost all the big players in this market ie, WEGO, Travelpayouts, Agoda, Booking, Expedia etc.
Frequently Asked Questions
Below are some of the questions asked by visitors. Do visit our adivaha® Digest for more such questions. Don't hesitate to ask us if you have any questions
Hello team, can you tell me if I can connect several APIs in one platform or website?

20

views

1

answers

0

votes