Build your own Travel Brand!
Ready to go-LIVE travel solutions that helps your travel agency to sell a range of travel services pretty instantly. adivaha® travel solutions make sure you have no boundation over your imagination, you can do everything online, without the need for any technical knowledge or design skills. Easy Backoffice, extensive reporting with integrated Funds Management System. Upload funds easily and instantly through Netbanking, Debit Card, Credit Card. The best part is, we do offer customizations in case you believe it will boost your business!
Travelpayout Theme – Create the Perfect Website for YOUR Business
What are the alternatives when you need a website for your business? Using HTML, CSS, and PHP you can develop something very personal and optimized. But it also takes a long time and you will have to write the code yourself or have someone who can compile it - it can be a very expensive option.
You will discover:
What are the Travelpayout Wordpress theme and their benefits?
The differences between the popular theme and it
The costs and features of the Travelpayout theme 
If you want to build a website faster, but don't have the time, the skills, and a lot of money to invest, you probably want to use a Content Management System (CMS). The most popular one also recommended for the Affiliate Program is travel plugin for wordpress.Thanks to WordPress themes specially designed and optimized for affiliate marketing, a beginner can quickly set up a professional affiliate website, with the ability to quickly include products from different networks on their website.
What is a Travelpayout theme?
There are thousands of different themes on travel company wordpress theme, created by developers via the WordPress website. Travelpayout theme is specifically designed to create and manage sites of this type, allowing owners to easily include products from the Amazon site or other affiliate networks.This Travelpayout theme has interfaces with Amazon and other partner programs, allowing you to automatically import product data, keeping product images, and pricing up to date.
Travelpayout theme has all the functions you need within a single, specially designed theme. Plugins from a regular travel booking wordpress site can be used to integrate products into affiliate websites, but often these only offer few features.You will have to use many plugins to get the desired result, while a Travelpayout theme contains everything you need inside. Too many plugins are not a good idea.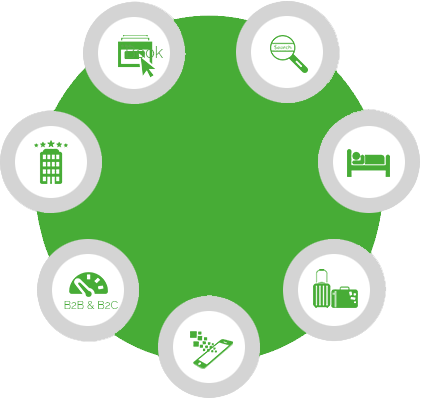 Travel Website with the Travelpayouts WordPress Theme
Using too many plugins at the same time can negatively affect the speed and security of your WordPress website. A slow website is not well seen by users and Google may punish it with bad ranking.It is also worth noting that since the various bus booking plugin wordpress are provided by different developers when used together, there may be conflicts in how they work and appear on the screen.
What does a WordPress Travelpayout theme have to be able to do?
So much for the theory of affiliate marketing, but what does a Travelpayout theme for travelpayout wordpress plugin have to be able to do? The spaces provided for advertising banners are of course important for Travelpayout themes. Many themes have pre-installed advertising spaces into which only the appropriate affiliate link has to be copied and pasted from the network. We've picked out a sample theme from Theme forest that has already integrated such placeholders for banners. Just click on the picture and you get to the theme:
The term landing page is often used in connection with affiliate marketing. But what exactly is that supposed to be and what properties must Travelpayout theme has here. A landing page is a sales page on the Travelpayout theme in which a certain product, often also eBooks, wp travel engine plugin, or online courses, is advertised.
 So this is not an information portal, but an introduction page that deals exclusively with a product or service. A Travelpayout travel booking theme wordpress for landing pages should be easy to use and quick to set up. Because the developers usually focus on the product offered and do not have the time to familiarize themselves with a complicated theme. With just a few clicks it is possible to adapt backgrounds, logos, colors, and fonts.
How the Travelpayout theme program works?
The Travelpayout theme program works simply: you place links, banners, or search forms of travel services and get up to 70% of Travelpayout income for attracted clients.
Sales accounting is tracked through markers and indicators. Sales are counted if the user uses the service within 30 - 180 days. The timing depends on the specific travel service; the marker is assigned to the user in the browser through a cookie.
Customizable theme with different layout settings and the Customer for colors, etc. Custom CSS options
Interfaces for the different affiliation networks: Amazon, affiliate, eBay, 
Product management overview with WordPress Post Type and many product taxonomies and properties.
Based on the bootstrap framework
Easier Page Builder for better content presentation
The extensive product evaluation system
Link to social networks without additional plugins
Shortcode for product presentation, tabs, buttons, alerts, price comparison, and much more
Widget for product presentation
Customizable product filter as a widget or page construction element
Direct support for many well-known WordPress plugins including Yoast SEO, WP All Import, and many more
Customizable CSS, Layout Settings and Customizer
WooCommerce support
Visual Composer support
Price Comparison Table Builder
Several shortcode available
AJAX search (auto-completion) of available content
Product evaluation system
Many widgets included
Two levels of categories available for products • Numerous predefined banners
Shortcode for buttons, tooltips, price comparison, and more
Links to social networks without additional plugins
Many page templates included (glossary, page archive, sidebar, blog, contact form, etc.)
Who is the Wordpress Travelpayout theme for?
Travelpayout theme is suitable for webmasters, bloggers, travelers, and anyone who occasionally flies by plane. There are no special requirements for participation in this theming system. Access to partner tools is available after registration in the theme.The main difference between the Travelpayout theme and other affiliate themes is that members can use it for personal purposes to get discounts when buying plane tickets, booking hotels, taking out insurance, etc.
Travelpayout theme member makes money by providing links to travel services on his website or blog, as well as through personal use for his own purposes.For example, a secretary who books trips by car, train, airplane, hotel accommodation, etc. for the management can earn a reward for the brought client from each woocommerce travel booking.
Also, partner tools for this theme are suitable for conferences and events. The Travelpayout theme can offer participants and guests services for travel booking plugin wordpress hotels, plane or train tickets, taxis, or transfer. Also, the TPA theme system will help for personal purposes: the family will save the vacation budget when booking accommodation, tickets, and insurance.
Travel agents
By connecting to Travelpayout, you can increase the number of travel booking theme wordpress services and services, as well as offer customers more non-standard travel solutions. With the TPA theme, you can receive a commission  Even from low-cost airlines that do not work directly with agencies.
Travel sites
For the owners of websites, forums, or major woocommerce travel booking plugin portals, participation in a Travelpayout Wordpress theme can bring a good income. By registering, you will be able to offer the best travel services. Developers and webmasters
Personalized search form settings, White Label, and API provisioning will help create a unique service for travelers and tourists. With your service, the Travelpayout theme system will be possible to search for offers at low prices, which will allow you to book cheap tickets and hotels.
SEO specialists and traffic affiliates
We recommend professionals to attract traffic to pay attention to the book your travel theme free download services market. Traffic attraction in the segment "tourism and travel" is not as popular as product Travelpayout theme programs. The niche is practically not "overheated". The TPA theme commission is the highest among the travel partnerships.
Conclusion:
When choosing the right affiliate theme, consider all the advantages and disadvantages. For novice bloggers, support and documentation are important criteria, as all topics are very complex and good documentation (especially via video) can help you get familiar much faster. Page load times and source code cleanliness are also very important. Likewise, never lose sight of the costs of running, maintaining, and updating a theme over the long term as your business grows.
Our Comprehensive List of Services
adivaha® is a one-stop-shop for all your travel website needs. We offer a multitude of services that empower you to become a market leader. Contact us for more info.
Have Questions?
The Internet is a huge resource, but
if your question requires particular expertise.
Keep Refreshing your customers - Who doesn't want his site to stand out from crowd? adivaha® gives you multiple options for home pages, headers, colors etc. Which can easily be managed from admin via shortcodes and settings. The theme supports almost all the big players in this market ie, WEGO, Travelpayouts, Agoda, Booking, Expedia etc.
Frequently Asked Questions
Below are some of the questions asked by visitors. Do visit our adivaha® Digest for more such questions. Don't hesitate to ask us if you have any questions
I am setting up this plugin for my client's website, I tried registering and received the account activation email, but …

9

views

0

answers

0

votes