Build your own Travel Brand!
Ready to go-LIVE travel solutions that helps your travel agency to sell a range of travel services pretty instantly. adivaha® travel solutions make sure you have no boundation over your imagination, you can do everything online, without the need for any technical knowledge or design skills. Easy Backoffice, extensive reporting with integrated Funds Management System. Upload funds easily and instantly through Netbanking, Debit Card, Credit Card. The best part is, we do offer customizations in case you believe it will boost your business!
Booking.com Wordpress Plugin
By investing in technology developments to make travel more comfortable, Booking.com has connected millions of travelers with memorable experiences. Also, as one of the world's largest new online travel marketplace with a solid brand and entrepreneurs of all sizes, the adivaha® team offers Booking.com Wordpress plugin for accommodations around the world.
Booking.com plugin is available in 43 languages, with a total of more than 28 million accommodation options, including millions of homes, apartments, and other exotic accommodations, so wherever you go or what you want to do. Booking.com plugin makes it easy. And there is a customer service team available to help 24 hours a day.
What is the Booking.com plugin?
Booking and appointment management is the lifeblood of any business that serves many clients, businesses such as health and fitness centers, beauty salons and even consulting firms. Booking a room with a crack is sure to create a bad wish. If this happens a second time, it could result in customers losing and/or glowing fewer checks. Problems and errors in booking can be avoided by making the process more error-free, more reliable, and easier.
Easier said than this, right? Not really.
Booking.com plugin is a WordPress booking plugin that offers you the error-free, reliable, and simple solution you need; even when you sleep All of these comprehensive software booking solutions support: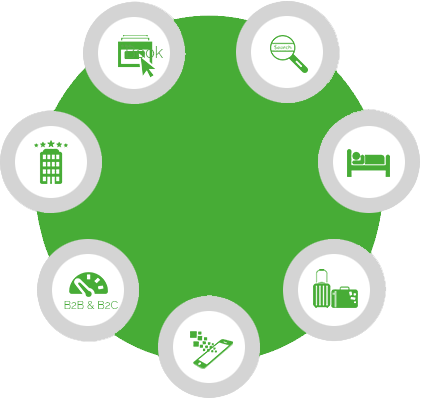 Booking.com Wordpress Plugin
Many employees and clients, regardless of their working days, holidays, and working hours.
Various services and service types.
Single or multiple business locations.
A graphical representation of the key performance indicators of a business.
And more (see the feature list).
Booking.com plugin also allows you to create booking forms with defined times and durations. It is versatile and can accommodate all kinds of planning needs, such as events, doctor's appointments, personal training sessions, and more.This plugin integrates with Apple calendar and Google calendar, so you can keep your schedules tidy with ease. It pairs perfectly with various email marketing platforms so you can engage customers and send important updates about your services.This Booking.com plugin helps you build a solid appointment scheduling system with an elegant, calendar-based interface. In addition to scheduling services such as haircuts or house cleaning, the Booking.com plugin can display availability, which makes it suitable for accommodations and equipment rentals.
Presenting the Booking.com plugin, the automatic booking.com wordpress plugin.
Booking.com plugin users will tell you about when this booking management tool appeared. Tools to create and manage your business appointments 24/7 without fail. Want to see how it works? This is the customer's view of the plugin in action. Not only is this WordPress booking plugin able to do these nice things for you. But it does not require any technical expertise to install, set up, and use. Take a look at the example on the back and see for yourself.Since the Booking.com plugin is 100% automatic, you don't have to worry about making and managing your own bookings or hiring someone to do it for you. Do your customers by yourself and during the day or night. All you have to do is view the appointments that have been made, set up your calendar, and check with your business team. All from one platform.
You can delete sticky notes, hasty whiteboard messages. (Which is likely to be deleted) and must smooth attendee meetings when you put this Automatic reservation management system flawlessly.You can use credit for actions like it's a smooth booking system because of the Booking.com Plugin's easy-to-use interface and great user experience it has. Always appreciated.
Best Booking.com plugin Benefits
You pay a one-time fee and it's very affordable. Of course, it's better than hiring a salaried or hourly employee, assigning someone to handle your bookings part-time. As the Booking.com Plugin's fees are very low, your ROI is almost instant. You can devote the time saved to better serving your customers. Or, you could spend time Booking.com plugin helping you find other ways that might benefit your business. All your clients know that their requests for bookings and appointments are professionally resolved and taken care of.
You'll look more professional. Satisfied customers when making appointments quickly, smoothly and hassle-free, and keep your business running modern, efficient, and professional.You'll be more organized and in control. Booking.com Wordpress Plugin's a lot easier to stay well organized and under control when everything you need is in one place and ready to go. Looking for a piece of paper that provides a time and place for an appointment or a long-standing note of paper will become history when the Booking.com plugin took charge.Once your appointments are managed automatically, you will have full control, which puts you in a better position to maximize your productivity and money flow.
Booking.com wordpress Plugin main features
Some of these popular features have a few in common. Each of them is designed to make your job easier by simplifying what could become a complex, cumbersome, and error-free process. You'll appreciate the ability to choose colors and fonts to make the Booking.com Plugin's UI match your brand's theme and style.
Search Wizard: 

This WordPress appointment plugin feature allows you to view appointments based on service, employee, or time. And you can use the same criteria when scheduling appointments.

Tracking and Reporting:  

You can track and view your core business, finance, and conversion-related KPIs on the Dashboard, and choose from multiple workflow management options from the calendar view or the list view of the setup plugin. WordPress time.

Catalog View:  

This Booking.com Plugin's handy feature allows you to create a catalog of services or deals along with your booking form using a shortcode and filling in the required text and images.

Employee Management:  

With the feature of the WordPress scheduling plugin, you can store employee contact, schedule, and performance data in your WordPress database and manage and configure personnel work schedules. Can do multiple positions.

Group Appointment Bookings:  

Booking.com plugin supports group bookings including group capacity information and sends appointments, follow-ups, and special event reminders by email.

Payments:  

Booking.com plugin integrates payments with your business through two popular online systems, PayPal and Tab.
Recently added WordPress Booking.com plugin additional features.
Adopting one or more of the newly added features can generate a high ROI by the time you record the mistakes you will avoid and increase the satisfaction of your customers and clients.
Two-way Google Calendar synchronization allows Booking.com plugin employee Google calendar appointments to be synced, and the exact time period will not be available for bookings in Booking.com plugin if the employee has some events created during that time in Google Calendar and when the appointment is created in Booking.com plugin, it will automatically appear in the employee's Google Calendar.
Reminders of next-day appointments for employees.
When there is no price for the service, the price calculation is hidden.
Employees can edit their personal details and schedule their work, days off, and breaks if the administrator has enabled this feature.
WooCommerce integration means you can manage your orders through the WooCommerce payment provider.
Conclusion:
If you're significant about making your travel business look more professional, you can start by setting down a perfect action and permit the Booking.com plugin to make a booking. Your automated booking system would be a great place to start.
This WordPress plugin provides services that you don't need, especially when you are running a customer-focused business and needing to have your booking activity fully under control. Booking.com Wordpress plugin is easy to install and easy to use as well. It has a nearly flat learning curve and can be easily customized to suit your business model.
Our Comprehensive List of Services
adivaha® is a one-stop-shop for all your travel website needs. We offer a multitude of services that empower you to become a market leader. Contact us for more info.
Have Questions?
The Internet is a huge resource, but
if your question requires particular expertise.
Keep Refreshing your customers - Who doesn't want his site to stand out from crowd? adivaha® gives you multiple options for home pages, headers, colors etc. Which can easily be managed from admin via shortcodes and settings. The theme supports almost all the big players in this market ie, WEGO, Travelpayouts, Agoda, Booking, Expedia etc.
Frequently Asked Questions
Below are some of the questions asked by visitors. Do visit our adivaha® Digest for more such questions. Don't hesitate to ask us if you have any questions
Hello team, can you tell me if I can connect several APIs in one platform or website?

32

views

1

answers

0

votes