Build your own Travel Brand!
Ready to go-LIVE travel solutions that helps your travel agency to sell a range of travel services pretty instantly. adivaha® travel solutions make sure you have no boundation over your imagination, you can do everything online, without the need for any technical knowledge or design skills. Easy Backoffice, extensive reporting with integrated Funds Management System. Upload funds easily and instantly through Netbanking, Debit Card, Credit Card. The best part is, we do offer customizations in case you believe it will boost your business!
Creating the Perfect Travel Agency Website: A Step-By-Step Guide
Empower your travel business with an exceptional website - our step-by-step guide guarantees success. Learn the tricks of the trade, implement advanced features, and stay ahead with Adivaha®'s revolutionary solutions!
A Perfect and Best Travel Agency Website is a powerful tool that serves as the online face of your travel business, leaving a lasting impression on potential customers and driving conversions. It should be visually appealing, user-friendly, and equipped with essential features to cater to travelers' needs. In this guide, we will walk you through the step-by-step process of building an exceptional travel agency website that will set you apart from the competition and enhance your brand's online presence.
What makes your travel agency stand out from the competition?
At our esteemed third-party service, we believe that defining your travel agency's Unique Value Proposition (UVP) is paramount to standing out in the fiercely competitive travel industry. Crafting a compelling UVP not only sets the stage for your brand differentiation but also helps to effectively showcase your expertise and specialization, addressing the pain points of your target audience in the process.
What sets your travel agency software apart from the rest? Identifying and articulating your UVP is the key to answering this question with conviction. Our team of experts understands the intricacies of the travel market and can assist you in formulating a unique and compelling UVP that resonates with your target audience. We understand that showcasing your expertise and specialization is crucial in building trust and credibility among potential customers. Our experts can help you highlight your agency's unique strengths, whether it's your extensive knowledge about niche travel destinations, unmatched customer service, or exclusive partnerships with renowned travel providers.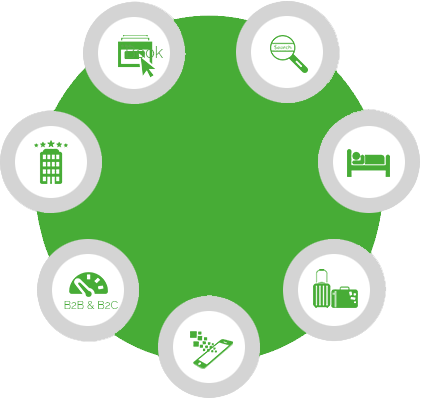 Building Your Dream Travel Agency Website
By effectively communicating these aspects, your website will exude confidence, making it clear to your audience why they should choose your agency over others. Addressing the pain points of your target audience through your UVP is a powerful strategy to win their loyalty. Our team can assist you in identifying the common pain points faced by travelers, such as complex booking processes, uncertainty about the best travel website options, or safety concerns. By integrating solutions that directly address these pain points into your website, you can position your agency as the go-to choice for hassle-free, reliable, and secure travel experiences.
What factors should you consider when selecting a domain name?
As a trusted third-party service provider, we understand that choosing the right domain name and hosting is critical to establishing a strong online presence for your travel agency booking software. Our experts are well-versed in the intricacies of domain selection and hosting solutions, and we are here to guide you every step of the way.
When it comes to selecting a domain name, several factors should be carefully considered to ensure it represents your brand effectively and resonates with your target audience. Our team can assist you in brainstorming domain name ideas that are easy to remember, relevant to your travel agency's offerings, and reflect your brand identity. We will conduct thorough research to check domain availability, and we can advise you on selecting the best domain extension for your business, be it .com, .travel, or others, to enhance credibility and accessibility.
Reliable and fast hosting is vital to ensuring a seamless user experience on your travel portal software. Slow-loading pages and downtime can turn potential customers away, impacting your business's reputation and revenue. Our hosting solutions are carefully curated to offer robust infrastructure and superior performance. We provide scalable hosting packages tailored to your website's specific needs, accommodating fluctuations in traffic and ensuring smooth functioning even during peak periods. Our experts monitor server performance regularly to maintain optimal uptime and responsiveness for your visitors.
Protecting user data is not only a legal and ethical obligation but also crucial for maintaining customer confidence in your travel agency. Our team is well-versed in data protection regulations, and we ensure that your website complies with relevant laws to avoid potential liabilities and penalties. By integrating robust security measures, we create a safe environment for your customers to make bookings and share personal information, fostering trust and loyalty.
Partnering with us for domain selection, hosting, and security travel portal solutions, you can rest assured that your travel agency website will be in expert hands. We take pride in delivering high-quality services that not only establish a strong online presence for your business but also prioritize user experience, security, and reliability. With our guidance and expertise, you can focus on what matters most – growing your travel agency and providing exceptional experiences to your valued customers.
Crafting Engaging and Informative Content:
To create engaging travel itineraries and destination guides, our experts conduct in-depth research to curate unique and immersive experiences. We focus on highlighting the hidden gems, local attractions, and insider tips that differentiate your agency's offerings. Our content is structured logically, with clear timelines and detailed descriptions, catering to different types of travelers, from adventurers to families seeking relaxation. Building trust is crucial in the travel industry. We strategically embed customer testimonials and reviews throughout your custom travel website, showcasing the positive experiences of satisfied travelers. Genuine feedback from real customers adds credibility to your agency, reassuring potential clients of your reliability and service quality.
Implementing a User-Friendly Booking System:
Features for Seamless User Experience: Our online travel booking system incorporates user-friendly features such as an intuitive search and filter option, real-time availability updates, and secure payment gateways. We offer a user account option for easy booking management and personalized recommendations.
Minimizing Friction in the Booking Process: We streamline the booking process by reducing the number of steps required for reservations. Our system allows for guest checkouts and saves user information for future bookings, reducing repetitive data entry.
Third-Party Integrations: Our booking system seamlessly integrates with popular third-party platforms, including airline carriers, hotels, and payment gateways. These integrations enhance the range of travel technology services offered on your website and increase efficiency in managing bookings.
Ensuring Website Security and Privacy Compliance
At our third-party service, we take website security and privacy compliance very seriously. We understand that safeguarding customer information is of utmost importance in building trust and confidence among users. Therefore, we implement a robust set of security measures to protect sensitive customer data and ensure compliance with relevant data privacy regulations. To protect sensitive customer information, we employ advanced encryption protocols, secure socket layers (SSL), and firewalls. SSL certificates encrypt data during transmission between the user's browser and the website's server, preventing unauthorized access and ensuring confidentiality. By using strong encryption methods, we safeguard critical information such as personal details, payment data, and login credentials from potential cyber threats.
Our dedicated team stays vigilant against potential cyber threats and employs proactive security solutions to fortify your website's defenses. Regular security audits, vulnerability assessments, and penetration testing help identify and address potential weaknesses in the website's infrastructure. We use state-of-the-art firewall protection to monitor incoming and outgoing traffic, blocking suspicious activities and potential attacks.
Additionally, our security experts keep the travel technology software and plugins up-to-date to ensure that any known vulnerabilities are patched promptly. This proactive approach minimizes the risk of security breaches and data compromises, safeguarding both your customers and your travel agency's reputation.
How can you improve your website's visibility on search engine result pages?
To enhance your travel technology company website's visibility on SERPs, we employ a multifaceted approach. Our team conducts thorough keyword research to identify the most relevant and high-traffic keywords in the travel software industry. By incorporating these keywords strategically into your website's content, Meta tags, and titles, we increase the likelihood of your website ranking higher for relevant search queries. We also focus on creating high-quality, informative, and engaging content that satisfies user intent. By offering valuable and comprehensive travel information, we attract organic traffic and encourage users to spend more time on your website, signaling search engines that your content is valuable and authoritative.
Our SEO experts follow best practices for incorporating relevant keywords and Meta tags throughout your website. We ensure that your primary keywords are naturally integrated into the page titles, Meta descriptions, and headings, providing search engines with a clear understanding of your content's focus. However, we avoid keyword stuffing, which can be detrimental to SEO. Instead, we focus on providing value to users, structuring content logically, and incorporating relevant synonyms and related terms to cover a broader range of search queries.
Conclusion:
Building the perfect travel agency website is a multi-faceted process that demands careful planning, engaging content, intuitive design, and reliable functionality. By implementing the strategies and best practices outlined in this guide, your travel agency can create a custom website that captivates potential customers and inspires them to embark on unforgettable journeys with your business. And with Adivaha as your travel technology solution partner, you can unlock the full potential of your website, providing your customers with an unparalleled travel booking experience. Remember, a well-crafted website is the gateway to your success in the competitive world of travel, and we are here to help you achieve it.
Our Comprehensive List of Services
adivaha® is a one-stop-shop for all your travel website needs. We offer a multitude of services that empower you to become a market leader. Contact us for more info.
Have Questions?
The Internet is a huge resource, but
if your question requires particular expertise.
Keep Refreshing your customers - Who doesn't want his site to stand out from crowd? adivaha® gives you multiple options for home pages, headers, colors etc. Which can easily be managed from admin via shortcodes and settings. The theme supports almost all the big players in this market ie, WEGO, Travelpayouts, Agoda, Booking, Expedia etc.
Frequently Asked Questions
Below are some of the questions asked by visitors. Do visit our adivaha® Digest for more such questions. Don't hesitate to ask us if you have any questions
I am setting up this plugin for my client's website, I tried registering and received the account activation email, but …

21

views

1

answers

0

votes