Build your own Travel Brand!
Ready to go-LIVE travel solutions that helps your travel agency to sell a range of travel services pretty instantly. adivaha® travel solutions make sure you have no boundation over your imagination, you can do everything online, without the need for any technical knowledge or design skills. Easy Backoffice, extensive reporting with integrated Funds Management System. Upload funds easily and instantly through Netbanking, Debit Card, Credit Card. The best part is, we do offer customizations in case you believe it will boost your business!
How to Implement a White-Label Hotel Booking System?
Need to set up a white-label hotel booking system? We'll show you how to go digital and save your guests time, money, and effort. Check out our guide now! If you are looking to implement a white-label hotel booking system that can provide your guests with an easy, secure, and convenient way to book your rooms, then this guide is for you. With the right tools and strategies, you can make the booking process faster and easier for everyone involved — including yourself!
Choose a White-Label Hotel Booking System
Choosing the right white-label hotel booking system for your property can be a daunting task. Fortunately, there are many options out there, so you should take the time to research what each one offers and make your decision based on the features that best match your needs. Some important things to look for include user-friendliness, security, integrations with other systems (e.g., payment processing), customer support, responsiveness in mobile devices, and pricing structure. Make sure to compare multiple providers before deciding on the best solution for your business.
Integrate Your Branding and Identity into Your System
Once you have chosen the right white-label hotel booking system for your needs, make sure to integrate your branding into the user interface. You can add your logo, customize page colors, fonts, and layouts, as well as add unique content that sets your travel portal apart from others. This way guests will be able to recognize your brand when they access their online account and make their bookings.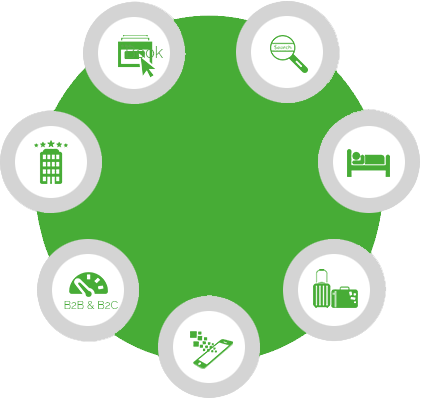 Guide: Implementing a White-Label Hotel Booking System
Create an Attractive Interface and User Experience
A great user interface and an effortless user experience are important when selecting a hotel booking system. The interface should be easy to navigate, allow users to find what they're looking for quickly, and give them the ability to customize their stay. It should also look visually appealing in order to inspire confidence among potential customers. Additionally, pay attention to potential integrations that can make your service more attractive (e.g., social media reviews or payment options). And of course, ensure the website is optimized for mobile devices so that people can access the service from any device.
Intuitive APIs or Integrations to Automate Processes
One of the benefits of white-label hotel booking systems is automated processes, thanks to APIs and integrations. Connectivity options can allow you to automate key functions like reservation scheduling, guest check-in/out, and payment processing. Intuitive APIs or integrations also allow you to provide information such as analytics of sales and room occupancy with just a few clicks
Set Up Your Forms, Payment Options, and Scheduling
Once you decide on your white-label hotel booking system, it is time to take care of the technical part. This involves setting up forms and payment options and configuring the entire system to fit your needs. Be sure to add trusted payment methods for guests and ensure their data is encrypted and stored according to industry compliance standards. Additionally, pay attention to the scheduling process so that customers can easily find available rooms and check in/out smoothly.
Select the right booking system
Choosing the best white-label hotel booking system is essential to ensuring a great customer experience. Carefully evaluate each plan you consider and make sure its features meet your business needs. It is important to research different services and compare the costs of each one before making your final decision. Make sure you take into account ease of use, scalability, integration between systems, tracking and reporting capabilities, as well as the availability of support when assessing available options.
Establish Automated Communications and Support Services for Guests
Providing guests with automated notifications and customer support makes their experience more enjoyable and efficient. Setting up automated emails helps guests keep track of their bookings, check availability, and ask questions if needed. Additionally, make use of a chat bot if possible to answer common questions quickly and ensure someone is available to assist customers if they face any problems while using your booking system.
Monitor Performance and Process Improvement to Optimize the Experience
Establishing analytics to monitor the performance of your white-label hotel booking system is key to staying on top of customer needs. Collect and analyze reports to identify any areas that need improvement in terms of processes or customer experience. Ensure customers can access your system easily and quickly, or opt for a template if needed. Take customer feedback into account when creating new features and optimizing existing ones and don't forget to A/B test different solutions before rolling them out.
Optimize Coverage Through Multiple Language Support & SEO Tools
A white-label hotel booking system can help the organization gain access to a global market by providing multilingual website support. This allows customers in different regions and countries to book rooms in real-time, in their language with an attractive design. Additionally, SEO tools such as meta tags and image alt text can be configured through these hotel management systems as they have adequate search engine optimization capabilities. With this, organizations can boost their organic visibility among search engines and users.
Our Comprehensive List of Services
adivaha® is a one-stop-shop for all your travel website needs. We offer a multitude of services that empower you to become a market leader. Contact us for more info.
Have Questions?
The Internet is a huge resource, but
if your question requires particular expertise.
Keep Refreshing your customers - Who doesn't want his site to stand out from crowd? adivaha® gives you multiple options for home pages, headers, colors etc. Which can easily be managed from admin via shortcodes and settings. The theme supports almost all the big players in this market ie, WEGO, Travelpayouts, Agoda, Booking, Expedia etc.
Frequently Asked Questions
Below are some of the questions asked by visitors. Do visit our adivaha® Digest for more such questions. Don't hesitate to ask us if you have any questions
What all GDS and Providers are connected in the platform?

36

views

1

answers

0

votes