Build your own Travel Brand!
Ready to go-LIVE travel solutions that helps your travel agency to sell a range of travel services pretty instantly. adivaha® travel solutions make sure you have no boundation over your imagination, you can do everything online, without the need for any technical knowledge or design skills. Easy Backoffice, extensive reporting with integrated Funds Management System. Upload funds easily and instantly through Netbanking, Debit Card, Credit Card. The best part is, we do offer customizations in case you believe it will boost your business!
WordPress adivaha® B2B Combo Package
When we want to set up an online store we are faced with the arduous task of having to decide between the different systems that exist. To develop the online marketing actions that will lead our online store to success, we will need a fast and efficient platform that has the necessary functionalities to carry out the activity, an additional system to expand them or that has enough customization tools.
For this reason, it is very important to previously analyze what our needs are and thus be able to choose the ideal package. If we have a sufficient budget, the best thing to do is to hire a professional or a design company to develop a custom-made platform for us. However, this may be something we are not eligible for. For this, there is a system that we can choose which is very economical. This is Wordpress B2B Combo Package.
What is Wordpress adivaha® B2B Combo Package?
Within the world of digital business, companies can offer their products or services to the end customer, knowing in those cases B2B businesses. It may be the case that the clients of these businesses are other businesses or companies, in which case we would be talking about adivaha® B2B Combo Package. Before going further into the matter, it is necessary to say that every Internet business should either establish a strategy or hire a digital strategy agency to carry out a market study and make the necessary recommendations when leaping to the online world.
As mentioned above, the main objective of an adivaha® B2B Combo business is to sell to professionals and from there the answer to the question, is selling to professionals like a B2B online store? It is done with great care. We have come across online stores that used the same interface and functionality to go to the end customer as to professional customers, simply forcing to mark the type of customer when making the purchase and they said that this is already a B2B combo ... well ... yes because it sells to professionals but not really because the needs of a professional-client go much further.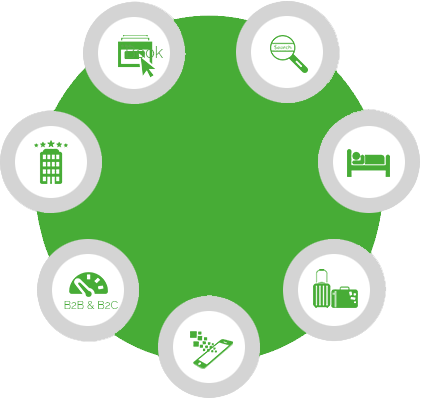 WordPress adivaha® B2B Combo Package
This adivaha® B2B Combo is of great power, quality, and stability. No matter what our technical needs are, surely Wordpress B2B Combo Package will meet them. Their main differences lie in the design. On the one hand, WooCommerce, that is, WordPress has a large number of systems. But it is not as customizable as Wordpress adivaha® B2B Combo Package, which is a platform designed exclusively for the online store.
The choice of a package or another is a decision of great importance, as it will influence the pace and effectiveness of the project development. We must choose a system that we know how to handle and with which we feel comfortable, as we will spend a lot of time managing it. A certain system may offer us hundreds of options, however, we must be aware that we will only really use the most necessary ones since we must not overload our online store with unnecessary options that may confuse the user.
adivaha® B2B Combo Package Features
Possibility of searching the products: 

Not in a normal store too? Yes, but in this Combo Package aimed at professionals, we have to take into account that the search engine must allow searching through the reference or the EAN since professional clients search differently. Generally, they know what product they are going to buy, and what they least want is to waste time browsing the web until they find the product. So the search engine must be concise and simple and offer the possibility of searching for other fields beyond the name of the product.

Catalog privacy: 

This best Wordpress adivaha® B2B Combo should have the ability to hide all or part of the catalog and leave it only visible to identified users previously approved by the store administrator. This will depend on the commercial strategy. But it can be useful when it comes to positioning products that serve as a claim for attracting potential customers or for them to see a sample of what is offered if they register.

Registration validation:  

Registered users (companies) must be approved by the Wordpress adivaha® B2B Combo system administrator after correctly validating the tax data of the registered customer.

Possibility of showing different rates:  

adivaha® B2B Combo Package must offer us the possibility of hiding prices from users who are not identified and who have chosen to be public. In the private area, there should be the possibility of showing different prices depending on the client that has been logged in. Since within professional clients, we may have different types of clients. Pricing granularity should be from the entire store, through a specific category, and down to the product level.

Budget request:   

For those public products, there should be the possibility of requesting a budget, for two reasons; In adivaha® B2B Combo Package will have the possibility of attracting new clients and we will increase the time spent on the website. 

Simple navigation through the products: 

You need to have the products displayed only. Keep in mind those customers of a B2B need to add products to the shopping cart in an agile way that is why it is necessary to be able to add several products at once. As well as to quickly choose the quantity and attributes of the products. 

Establish minimum orders:  

It is necessary that we can establish the minimum order by type of client, both by quantities and by amount.

Different payment methods: 

Generally, transactions between professionals are not like those made by a final customer in the adivaha® B2B Combo Package. Payment by POS is not the most common in a B2B system. So other methods such as bank transfer check or virtual wallets must be used.

Integration: 

It is highly recommended that there is a connection with the company's to carry out inventory management and have it correctly synchronized with the warehouse and other active business units, such as an offline system and B2B Combo Package.

Integration with CRM:  

The integration of customers with the company's CRM is also highly recommended to keep a unified control of the orders made by customers.

Invoice management:  

It is necessary that invoices can be managed, so, in adivaha® B2B Combo Package it can be managed perfectly, for example when creating corrective invoices or invoices with the equivalence surcharge.
There are multiple technical solutions in Wordpress adivaha® B2B Combo Package, to set up e-commerce for professional clients. The ones that appear here are not all, but some of the most generalists. It is always advisable to do an analysis of the current competition on the Internet and a good digital business strategy because both the business model and the growth perspective and scalability of the business will make us decide between one and the other.
Conclusion:
Adivaha B2B Combo Package. It is not in itself a platform but a WordPress that allows this system to acquire the features and options of an online store platform. The fact of being integrated with WordPress means that we do not even need a marketing agency to manage it for us. But we can manage this platform ourselves with little knowledge. WordPress has numerous very easy-to-use functions intended for WooCommerce to offer the most laypeople the possibility of managing their own electronic commerce
Also, adivaha® B2B Combo Package a system, with which we have everything essential at our fingertips. As if all this were not enough, adivaha® B2B Combo Package has almost no errors, being one of the most reliable platforms that we can choose for our digital marketing project. Finally, it is straightforward to use, and the fact of using the Wordpress adivaha® B2B Combo Package allows us to easily add a blog or a site to our project without having to work on different platforms.
Our Comprehensive List of Services
adivaha® is a one-stop-shop for all your travel website needs. We offer a multitude of services that empower you to become a market leader. Contact us for more info.
Have Questions?
The Internet is a huge resource, but
if your question requires particular expertise.
Keep Refreshing your customers - Who doesn't want his site to stand out from crowd? adivaha® gives you multiple options for home pages, headers, colors etc. Which can easily be managed from admin via shortcodes and settings. The theme supports almost all the big players in this market ie, WEGO, Travelpayouts, Agoda, Booking, Expedia etc.
Frequently Asked Questions
Below are some of the questions asked by visitors. Do visit our adivaha® Digest for more such questions. Don't hesitate to ask us if you have any questions
I am setting up this plugin for my client's website, I tried registering and received the account activation email, but …

21

views

1

answers

0

votes