Build your own Travel Brand!
Ready to go-LIVE travel solutions that helps your travel agency to sell a range of travel services pretty instantly. adivaha® travel solutions make sure you have no boundation over your imagination, you can do everything online, without the need for any technical knowledge or design skills. Easy Backoffice, extensive reporting with integrated Funds Management System. Upload funds easily and instantly through Netbanking, Debit Card, Credit Card. The best part is, we do offer customizations in case you believe it will boost your business!
How to Use WordPress API Integration Plugins to Make Your site
Looking to enhance your WordPress site? API Integration WordPress Plugins hold the key! Unleash their potential and optimize your site like never before.
Wordpress plugins for API integration have revolutionized the way websites are built and managed. With the growing popularity of WordPress as a versatile content management system (CMS), businesses and individuals are increasingly seeking ways to integrate various functionalities and third-party services seamlessly into their WordPress sites. In this article, we will explore the functions, benefits, and how Adivaha, can assist in making the most of b2b WordPress Plugin for your site.
Understanding API integration WordPress plugin:
WordPress API Integration Plugins are specialized add-ons that facilitate the seamless integration of third-party services and functionalities with your WordPress site. They act as bridges, establishing a smooth communication channel between your website and various external systems, such as social media platforms, payment gateways, email marketing services, and more.
These plugins operate on the foundation of APIs (Application Programming Interfaces), which enable different software systems to interact and exchange data. By utilizing best travel APIs, WordPress API Integration Plugins allow your site to fetch, send, and synchronize data with external services, enriching your website's capabilities and enhancing user experiences.
How do they work?
The functionality of WordPress travel API Integration Plugins revolves around the concept of endpoints and requests. Each third-party service typically exposes a set of API endpoints – URLs that correspond to specific functionalities or data. Through the integration plugin, your WordPress site can send requests to these endpoints, asking for specific information or triggering actions on the external service.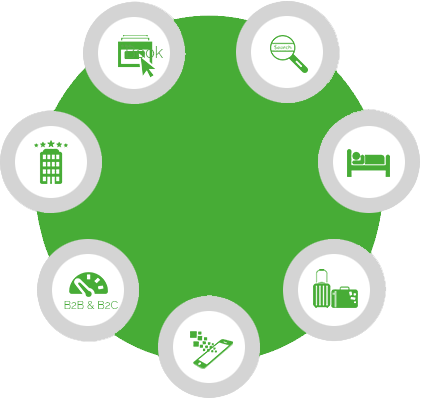 Creative Ways to Use WordPress API Integration Plugins
For instance, with a social media integration plugin, your website can retrieve and display live feeds from your social media accounts. Similarly, a payment gateway integration plugin enables secure online transactions, with requests being sent to the payment service's API to process payments.
Types of API integration plugin WordPress available:
The versatility of WordPress API Integration Plugins means that there are a wide variety of options available to suit different website needs. Some common types of API Integration Plugins include:
Social Media Integration: Connect your site with popular social media platforms to display feeds, share content, and enhance engagement.
Payment Gateway Integration: Enable secure and smooth online transactions by integrating payment gateways into your WordPress site.
Email Marketing Integration: Automate email campaigns and lead generation by connecting with email marketing services.
CRM Integration: Seamlessly synchronize customer data and interactions with Customer Relationship Management systems.
E-commerce Platform Integration: Integrate your online store with e-commerce platforms to manage products, inventory, and orders efficiently.
Functions of Wordpress Plugin for API Integration:
At Adivaha, we take pride in offering state-of-the-art WordPress API Integration Plugins that empower your website with unparalleled functionality and seamless user experiences. Our plugins are meticulously designed to cater to the following essential functions:
●Extending functionality with external services: Our API Integration Plugins act as the catalyst that allows your WordPress site to tap into the vast ecosystem of external travel technology services and applications. By integrating these services directly into your website, you can offer an array of new features and functionalities to your users, enhancing their overall experience. Whether it's integrating social media feeds to keep your audience engaged, providing real-time analytics through external tools, or incorporating advanced e-commerce functionalities, our plugins ensure that your site stays ahead of the competition.
●Automating processes for seamless user experience: Time is of the essence in today's fast-paced digital world. Our API Integration Plugins are engineered to automate crucial processes and tasks, ensuring a smooth and efficient user experience. By automating repetitive actions, such as form submissions, user registrations, or content updates, you can free up valuable resources and focus on creating meaningful interactions with your audience. This enhanced efficiency not only saves time but also leaves a lasting impression on your site visitors, encouraging them to return for more.
●Enhancing data synchronization and communication: Effective data synchronization and communication are vital for the success of any travel portal website. Our API Integration Plugins facilitate seamless data exchange between your WordPress site and external services, ensuring real-time updates and accurate information display. Whether it's synchronizing customer data with your CRM system, keeping your inventory up-to-date with your e-commerce platform, or integrating email marketing services for personalized campaigns, our plugins guarantee a synchronized and cohesive user experience.
Benefits of Using WordPress API Integration Plugins:
Increased site functionality without custom coding:
Gone are the days of complex and time-consuming custom coding to add new features to your website. With our API Integration Plugins, you can effortlessly extend your site's capabilities without the need for extensive development work. By simply integrating external services and functionalities through travel APIs, you can provide your users with a range of exciting features, from live social media feeds and interactive maps to powerful e-commerce tools. Embrace the versatility of our plugins and elevate your site's functionality to new heights.
Time and cost savings in development:
Our API Integration Plugins are designed with efficiency in mind, ensuring significant time and cost savings during the development process. Instead of building complex functionalities from scratch, our plugins enable rapid integration with third-party services, accelerating your travel website development timeline. This efficient approach not only reduces costs but also allows you to focus on other essential aspects of your business, ensuring a swift and successful launch of your WordPress site.
Streamlined workflows and improved efficiency:
Seamless integration of external services directly into your WordPress site leads to optimized workflows and improved overall efficiency. Our API Integration Plugins automate essential processes, such as data synchronization, content updates, and user interactions, streamlining your site's operations. By eliminating manual tasks, you can redirect your resources towards strategic endeavors, enhancing productivity, and maximizing your online travel business potential.
Enriched user experience and engagement:
User experience is paramount in today's competitive digital landscape. Our API Integration Plugins play a pivotal role in creating an enriched user journey, keeping visitors engaged and coming back for more. By incorporating dynamic functionalities like live social media feeds, real-time notifications, personalized email campaigns, and seamless payment gateways, your users will enjoy an unparalleled experience, fostering loyalty and brand advocacy.
How to Use WordPress API Integration Plugins to Make Your Site:
At Adivaha, we are committed to guiding you through the seamless utilization of WordPress API Integration Plugins to create a feature-rich and dynamic best travel website. Our step-by-step approach empowers you to harness the full potential of these plugins, ensuring your site stands out in the digital realm. Let's delve into the essential steps to make the most of our API Integration Plugins:
Identifying the right API Integration Plugin for your needs: Selecting the perfect API Integration Plugin is the first crucial step towards enhancing your b2b plugin WordPress. At Adivaha, we offer a wide range of plugins catering to various functionalities, including social media integration, payment gateways, CRM connections, and more. Our experts will assist you in assessing your site's requirements and choosing the ideal plugin that aligns with your business objectives.
Installing and configuring the plugin on your WordPress site: Once you've chosen the suitable API Integration Plugin, our seamless installation process ensures hassle-free integration into your plugin api WordPress site. Our user-friendly interface and comprehensive documentation provide clear instructions for smooth plugin setup. Should you encounter any challenges during installation, our dedicated support team is available to assist you every step of the way.
Authenticating and obtaining API keys from third-party services: To establish a secure connection between your WordPress site and the external service, API keys play a vital role. Our experts will guide you in authenticating your site with the third-party service and obtaining the necessary API keys. With these keys in place, your WordPress travel website gains access to the external service's functionalities, allowing seamless data exchange and interaction.
Implementing API endpoints and handling requests: With the API Integration Plugin set up and API keys in hand, it's time to implement the required API endpoints. These endpoints act as gateways, enabling your site to send and receive data from the external travel api integration service. Our team of skilled developers will ensure that the integration is executed flawlessly, guaranteeing smooth data synchronization and seamless communication between your site and the external service.
Customizing the integration as per your site's requirements: At Adivaha, we understand that each website is unique, and a one-size-fits-all approach does not suffice. Our customization options allow you to tailor the integration to match your site's specific requirements. Whether it's adjusting the appearance of social media feeds, fine-tuning payment gateway settings, or incorporating personalized data fields, our experts will work closely with you to create a tailored integration that aligns perfectly with your site's brand and vision.
Conclusion:
Adivaha, with its expertise in API integration, can be your trusted partner in unlocking the full potential of your WordPress site, ensuring that you stay ahead in the competitive digital landscape. By leveraging these plugins, you can tap into the vast ecosystem of third-party services and create a seamless user experience that sets your site apart. Embrace the power of WordPress API Integration Plugins and take your custom website to new heights with Adivaha®'s seamless support and tailored solutions.
Our Comprehensive List of Services
adivaha® is a one-stop-shop for all your travel website needs. We offer a multitude of services that empower you to become a market leader. Contact us for more info.
Have Questions?
The Internet is a huge resource, but
if your question requires particular expertise.
Keep Refreshing your customers - Who doesn't want his site to stand out from crowd? adivaha® gives you multiple options for home pages, headers, colors etc. Which can easily be managed from admin via shortcodes and settings. The theme supports almost all the big players in this market ie, WEGO, Travelpayouts, Agoda, Booking, Expedia etc.
Frequently Asked Questions
Below are some of the questions asked by visitors. Do visit our adivaha® Digest for more such questions. Don't hesitate to ask us if you have any questions
What all GDS and Providers are connected in the platform?

36

views

1

answers

0

votes