Build your own Travel Brand!
Ready to go-LIVE travel solutions that helps your travel agency to sell a range of travel services pretty instantly. adivaha® travel solutions make sure you have no boundation over your imagination, you can do everything online, without the need for any technical knowledge or design skills. Easy Backoffice, extensive reporting with integrated Funds Management System. Upload funds easily and instantly through Netbanking, Debit Card, Credit Card. The best part is, we do offer customizations in case you believe it will boost your business!
WordPress B2B Homestays Marketplace
Today, in most of the world's Internet businesses, we see the tendency of many businesses to the marketplace model. This is the main reason why this type of store was not established to eliminate intermediaries but to increase the profits of suppliers and consumers. Online stores that have a high level of planning and planning ability to detect the weakness of current markets did not lag behind this issue and launched this style in their business. 
Did you know that a Homestay or a business that makes a house as a small hotel or a place to stay for tourists both in and outside the country has grown rapidly? According to experts, Homestay are considered to be one of the fastest growing sectors, judging from the global private accommodation sector market. So, here today we will introduce the best Homestay system and that is WordPress B2B Homestay Marketplace.
What is WordPress B2B Homestays Marketplace?
WordPress B2B Homestay, it is a form of tourism that allows a traveler to rent a room from a local family in a family setting. Initially, it was a form of accommodation encouraged for students wishing to acquire language skills and familiarize themselves with the local way of life, during a language stay. Today some countries encourage this type of reception to develop the tourist industry. This type of accommodation is now a significant income gain for families.
B2B Homestay Marketplace is considered to bring in profits and now more than 60 million tourists around the world are connected to accommodation providers online. There are many benefits if we try to do a Homestay business. In addition to getting profit, opening a Homestay can provide economic, social and cultural benefits for the local community and can be a sustainable business until old age.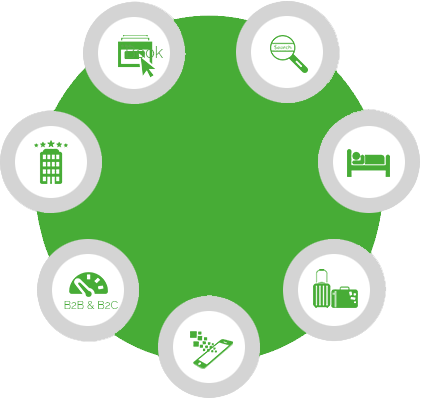 WordPress B2B Homestays Marketplace
adivaha® is one of the pioneers in India of these WordPress B2B Homestay Marketplace immersions. The agency has forged links with inhabitants met during exploration missions. They were convinced to open their homes and their hearts to foreign travelers. To do this, adivaha® supports these inhabitants in development work respecting the harmony of the landscape and the local architecture.
Above all, the adivaha® agency has set up immersion packages allowing travelers to discover and learn about crafts, work in the fields and local culture with its best WordPress B2B Homestay system. This system allows residents to keep their traditional profession and pass on their know-how to travelers.
B2B Homestay allows guests to live like locals and experience local life. They can immerse themselves in local customs and traditions, practice a foreign language and spend time with people representative of the region.  Thanks to the knowledge of their host, they deviate from the traditional tourist circuit. WordPress B2B Homestay accommodation is an economical alternative accommodation.
It is ideally suited to independent travelers and tourists who want to experience the community and culture of the region they are visiting. People on weekends in the city looking for budget accommodation and people going to an event. Our hosts all have their own interests and passions and guests may find a host who shares similar interests to theirs, further enhancing the B2B Homestay Marketplace experience.
Advantages of B2B Homestay Marketplace:
WordPress B2B Homestay is an online Homestay system capable of putting those who have availability of accommodation, rooms or entire apartments in contact with those who want to book those accommodations. 
On the website it is possible to publish advertisements that make these properties directly available for booking. 
B2B Homestay site today it is possible to find thousands of ads to stay overnight in every corner of India and so on. 
B2B Homestay Marketplaces are relying more and more on the platform with the owners, or those who create an ad, who offer entire apartments and who manage dozens of "rooms".
In B2B Homestay you have found your ideal vacation home, contact the owner or the agency. After checking prices and availability, make the online payment in total safety ".
It goes without saying that B2B Homestay Marketplace takes advantage of the features that have made this system world famous.
Guaranteed and certified payments, therefore, for the vast majority of travelers it is much more important than paying a few less. 
In principle, every host family is looking for a mature and responsible pair whom they can entrust their children to without hesitation.
Flexibility it is often more than just difficult to always plan everything well with children - you never know whether something might have to be changed at short notice. You should therefore be able to react flexibly.
Multilingualism - at least in the basics make sure you can have a simple conversation with your host family. Most host families know that it is not always easy for pairs from abroad to speak a foreign language, especially at the beginning of a pair period.
The reservation features of the WordPress B2B Homestays Marketplace are intended simply to help customers determine the availability of travel goods and services. And to make legitimate reservations, without any other purpose. You also permit that all information provided by you or members of your household while using this system is correct. Precise and without limitation, and without false and fraudulent reservation. 
The criteria for WordPress B2B Homestay accommodation
A welcome still reserved by the family who still lives there, a guarantee of conviviality and a physical presence.
A family from the region, who knows the local customs perfectly and who will be able to provide you with valuable knowledge. 
Accommodation is based on the lasting family structure, such as an outbuilding. This must respect the original architecture of the first building. 
A limited number of travelers, between one to ten at most, guaranteeing better interaction with the host.
A variety of experiences offered by the family to ensure a successful authentic experience. The traveler should not consider the accommodation as a place dedicated solely to sleeping. 
The accommodation of travelers should only constitute additional income for the family. 
B2B Homestay Marketplace increases job opportunities, so local people who live can raise their standard of living and are suitable for public-private investment, In addition, the Homestay business would be very helpful for tourism facilities in a country through ecotourism, rural tourism and cultural tourism.
Staying at a B2B Homestay can solve accommodation problems for ecotourism, rural tourism. And cultural tourism where tourists can live in a family atmosphere and close to the destination tourist attractions," he added. So, starting a Homestay business with WordPress B2B Homestay Marketplace is very efficient in reducing poverty among people in remote areas by generating income by renting out their homes that are designed to be as comfortable as possible and open up new job opportunities for them.
Conclusion:
WordPress B2B Homestay has clear guidelines in place to help our users promote our core values. We want our guests to have complete trust in us, assuring them that we will always act correctly and with integrity. Consequently, we ask our members to write reviews that are honest, clear and trustworthy.
Being transparent in everything WordPress B2B Homestay does is an essential part of our mission.  B2B Homestay basic position is not to correct, modify or delete reviews written by our guests.  All reviews written by guests express their personal opinion and not that of WordPress B2B Homestays Marketplace. We do not endorse any opinions expressed by members of our community in their reviews.
Our Comprehensive List of Services
adivaha® is a one-stop-shop for all your travel website needs. We offer a multitude of services that empower you to become a market leader. Contact us for more info.
Have Questions?
The Internet is a huge resource, but
if your question requires particular expertise.
Keep Refreshing your customers - Who doesn't want his site to stand out from crowd? adivaha® gives you multiple options for home pages, headers, colors etc. Which can easily be managed from admin via shortcodes and settings. The theme supports almost all the big players in this market ie, WEGO, Travelpayouts, Agoda, Booking, Expedia etc.
Frequently Asked Questions
Below are some of the questions asked by visitors. Do visit our adivaha® Digest for more such questions. Don't hesitate to ask us if you have any questions
I am setting up this plugin for my client's website, I tried registering and received the account activation email, but …

9

views

0

answers

0

votes