Build your own Travel Brand!
Ready to go-LIVE travel solutions that helps your travel agency to sell a range of travel services pretty instantly. adivaha® travel solutions make sure you have no boundation over your imagination, you can do everything online, without the need for any technical knowledge or design skills. Easy Backoffice, extensive reporting with integrated Funds Management System. Upload funds easily and instantly through Netbanking, Debit Card, Credit Card. The best part is, we do offer customizations in case you believe it will boost your business!
Wordpress B2B Travel Portal Script PHP
In the case of tourism, it can be seen that this sector alone moves almost half of the entire e-commerce. The online sale and promotion of tourism products and services are constantly increasing, this is nothing new, tourism is today one of the most digital-oriented sectors. With double growth compared to other sectors and with a significant growth progression expected.
The tourist portal is the instrument designed to do this, a gateway through which the visitor can discover the tourist offer of the area and its attractions, guided by interesting and well-constructed contents.Right now Wordpress B2B Travel Portal Script PHP Solutions is dedicated to designing travel portals with the help of modern and cutting-edge technologies with additional features like no other. These travel portals and other similar products designed by these solutions prove to be a boon to various budding companies aiming to step into the virtual world and make it big. Therefore at this time, it is not only a travel and tourism company in all respects. 
What is Wordpress B2B Travel Portal?
The B2B Travel Portal solution of adivaha® is what every travel company is looking for in their business. Cloud Service, Web, and mobile app Development Company, adivaha® is one of the most reputable companies that help build competitive applications. This company offers efficient ways to boost your business by using a compatible application.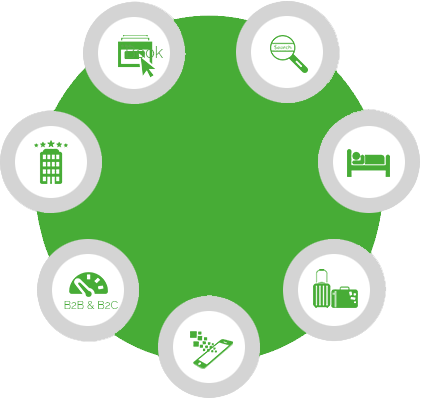 Wordpress B2B Travel Portal Script PHP
This Wordpress B2B Script PHP solutions aim to be part of the league of these travel giants through their franchise models. They want to enhance economic and social development along with self-sufficiency as a brand, for all types of travel companies internationally, infusing the blood of technology into the veins of Travel & Tourism through the progression of the system and the availability of users through their constant technology innovation and superior gradations. The B2B Travel Portal attempts to raise budding companies to a level so that they can compete with their peers around the world in the future. 
Why B2B Travel Portal?
Global wholesale prices
Access to over 12 million net airfares for domestic and international travel
Customer-centric approach
Professional and highly experienced team
Dedicated customer relationship
Lots of Consolidator content around the world
Accessible leadership
Travel with over years of combined experience in helping online travel agents grow
Access Wordpress B2B Travel Portal Script PHP best rates and content seamlessly with the option to create your own custom search, booking, and e-ticketing capabilities
Wordpress B2B Tourist portal provides travel agencies and travelers with the most complete, clear, and reliable content so that any trip, no matter how simple, becomes an unforgettable experience from the moment of planning to the return home.
It promotes unlimited tourism development!!!
These are the services that it offers you, with which you can plan your next experience from start to finish.
100% Personalizable

Tell us about your expectations and requirements for your trip. It will work together to customize your package and thus fulfill all that you expect to have a memorable trip.

Local experts

When you plan with it, you have the security of dealing with local experts who can perfectly understand your needs and know how to help you meet them.

There are no hidden fees

In this Wordpress, B2B Travel Portal has not any hidden extra costs. All trips include a travel permit, accommodation, and food. There are no surprises with hidden costs or fees that have not been reported at the time of providing our advice.

24-hour service

During your trip, it will be available 24 hours a day via WhatsApp or the communication medium of your choice such as Instagram, Facebook, Skype, etc., to provide you with the necessary support.

Direct contact with airlines

B2B Travel Portal Script PHP has the ability to provide you with complete and detailed information on each trip, including the luggage list, thanks to the direct contact we have with the airlines worldwide.

Appropriate guide for each destination

Only experts of travel portals like it can offer you a detailed guide to airports, restaurants, train, etc., where you are the one who adjusts the cost according to the comfort and elegance in which you want to be.
With its tremendous inertia and efficiency in bringing a project to fruition, keeping it on-site, off-site, online, and so on ever since. Travel Portal Script PHP solutions have a promising future. The solution enjoys an excellent reputation in the market and also a strong demand as they are known to be masters in customizing products according to their customers' needs and supplies. The system has successfully designed the automation of different organizations and related operations with the best of their inputs. The business model, procedural functions, cost analysis, supplier selection.
Advantages and benefits of Wordpress B2B Travel Portal .
Wordpress B2B Travel Portal is an online system for B2B and B2C. It offers a wide range of essential features to its customers in one place. These features include:
Booking of airline tickets with national and international airlines.
Air charter booking in case you are looking forward to receiving exclusive travel and destination packages.
Reservation for the car in case you need a rental of your choice in the desired location to roam the city.
Reservation of accommodation with national and international hotels.
Listed below are some of the benefits of developing the Wordpress travel portal for B2B companies in India:
On the B2B online booking engine, the registration process is free.
These portals are fast and easy to use. They come with a spontaneous interface and complete modules.
This B2B portal is highly flexible and offers a solid platform.
The B2B online travel portal script PHP was found to be very effective in generating quick sales.
These portals allow buyers to find service providers and service providers who locate potential customers in a single destination.
Online systems for B2B companies enable them to take advantage of several services including websites, credit reports, featured products, trade show catalogs, and promotions, etc.
People choose Travel Portal PHP solutions for various reasons, such as offering the best rate and best commissions across the travel industry. It provides a comprehensive solution for all travel-related problems with extensive experience in the development of the portal of the trip.
This software is integrated into PHP Script, which will retrieve data from major service providers of flights, buses, trains, hotels, car rentals, and vacation packages. This feature will provide a variety of rates and options for customers to choose from.In addition to that, it will provide agents with an online account management service, where they can deposit their money and receive commissions from service providers.
It will provide online payment functionality for customers so they can make online payments for tickets. After booking your tickets they will receive your ticket confirmation and travel details via SMS.In addition to all this, it has also integrated Google maps, which will help the customer to locate their hotels, vacation spots, and tourist attractions nearby.It is an effective tool for travel agents looking to expand their business and earn more profits, as well as increase their customer base.
Conclusion:
Wordpress B2B Travel Portal Script PHP helps travel companies leverage technology to reduce operating costs and enrich the traveler experience… Travel portals act as a one-stop-shop for travelers to plan their vacations, flights, and accommodations… Plus, the travel agency needs to have a solid online travel portal capable of capturing the interests of travelers. Most importantly, the development of the B2B travel portal is connecting multiple flights and hotel providers through the Wordpress B2B Travel Portal terminal and universal PHP Script that allows users to compare and compare prices and other offers...
Now we hope you have a clear idea of ​​the B2B travel portal system development...
Our Comprehensive List of Services
adivaha® is a one-stop-shop for all your travel website needs. We offer a multitude of services that empower you to become a market leader. Contact us for more info.
Have Questions?
The Internet is a huge resource, but
if your question requires particular expertise.
Keep Refreshing your customers - Who doesn't want his site to stand out from crowd? adivaha® gives you multiple options for home pages, headers, colors etc. Which can easily be managed from admin via shortcodes and settings. The theme supports almost all the big players in this market ie, WEGO, Travelpayouts, Agoda, Booking, Expedia etc.
Frequently Asked Questions
Below are some of the questions asked by visitors. Do visit our adivaha® Digest for more such questions. Don't hesitate to ask us if you have any questions