Build your own Travel Brand!
Ready to go-LIVE travel solutions that helps your travel agency to sell a range of travel services pretty instantly. adivaha® travel solutions make sure you have no boundation over your imagination, you can do everything online, without the need for any technical knowledge or design skills. Easy Backoffice, extensive reporting with integrated Funds Management System. Upload funds easily and instantly through Netbanking, Debit Card, Credit Card. The best part is, we do offer customizations in case you believe it will boost your business!
Integrating The Expedia API and XML Web App into Your Wordpress
From integrations with online travel agencies that will expand your product range to additional services that will enrich your services, we add value and flexibility to your travel business with the best options of Wordpress integrated Expedia API XML web Application.
You can expand your product range in minutes by choosing the best Wordpress API XML web Application integrations of Expedia, as well as integrations developed specifically for your brand with innovative solutions such as special integration, cross-selling, dynamic packaging.
What is XML integration with a travel wholesaler?
An API XML web Application integration with Expedia is a technological tool used to connect in real-time with tour operators, tourism wholesale agencies, airlines, hotel chains, and other providers of tourism products. With this connection, wholesalers' products can be offered in a single search engine from your website with total freedom to customize and make it usable and simple for the end customer.An XML interface with Expedia for example, allows us to know in real-time the availability and rates to book hotels, activities, and transfers of this tour operator.
The advantage that API XML integration offers us concerning other distribution systems is that using XML we have the possibility of editing the contents and descriptions of the offers. It also allows us to decide the final price of the product, always respecting the minimum price imposed by the tour operator, yes. Thus, it is possible to extend the profit margin on the sale, but, be careful, without going overboard because it may be that if we raise the price too much we will find ourselves out of the market.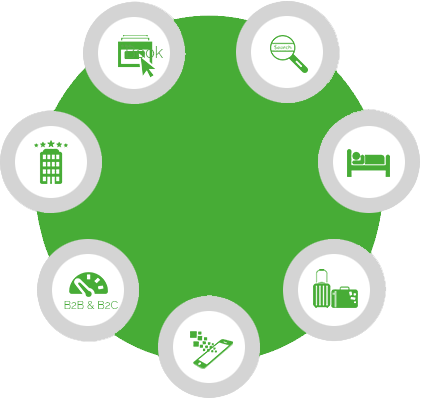 Wordpress integrated Expedia API XML web Application
Like a showcase, with API XML web Application integration we have a free hand for the design and presentation of the product. Another advantage offered by the Expedia API XML web Application interface is the possibility of combining products from different suppliers or wholesalers. This in other words is known as cross-selling, this means that from your online travel agency you can sell, for example, a vacation package that includes flight + hotel + leisure activities + transfers.
How to integrate an Expedia API XML service?
Specific development and programming are needed which can be carried out by software providers for this purpose. Expedia is a specialist in the development of API XML web Application integrations for the tourism sector. Depending on the tourism products that you want to offer, you will need to develop API XML integrations with some tour operators or others.
Expedia offers integrations to travel agencies so that they connect with the most competent wholesalers. However, it is possible to develop the API XML service with any wholesaler that has this service if it is of special interest to you. But the development of this technology is as complex as its result is practical, so it takes time and money.
The Wordpress integrated Expedia API XML web Application in travel agencies today is the most dynamic, transparent, and efficient way to offer quality tourism products with the guarantee offered by the large tourist distribution groups.
What do you need for a Wordpress integrated Expedia API XML? First of all, you need a web page to channel all the requests that your clients will make and appropriate software that has enough capacity to meet your demands. It is what we call a booking engine. The more powerful this booking engine is the better for your interests if what you are willing to do is sell tour packages to end customers.
There is an expensive solution and a cheap solution. The expensive solution is to hire a programmer and have him make a custom reservation system for you. In addition to being very expensive, you will always be "tied" to this programmer and you will have to call him for any changes you need to make since you are not a computer scientist.
The cheap option and the one that most online travel agencies, physical travel agencies, and reservation systems are choosing is to hire the services of agencies specialized in Wordpress integrated API XML web Application that also offer all kinds of services to create a website that is also oriented to positioning. When we say positioning we speak of "working" the web so that the products they sell appear as high as possible in the Google search results. Although there are other search engines, we refer to Google because in India and in many neighboring countries, it is the one that accounts for 97 percent of the searches that users make on the Internet.
Characteristics of Wordpress API XML web Application
Here we know about some advantages of this Wordpress integrated Expedia API XML system.
Eliminate the cost/time of custom system development 

We connect Expedia API XML web Application and the most popular brokers and banks in India and the world, to ensure the greatest product availability and ease of payment.

B2B and B2C mode

With the best Wordpress API XML web Application system, you can work on a B2B model or offer your agencies a B2C model. Ask about the pricing scheme for B2C.

Integrated mobile version 

Today most of the operations and inquiries are made using a mobile device. This integrated Expedia API XML system already has a mobile interface ready for you to sell more.

Reduction of operating costs

With this system you offer a virtual executive 24/7 to quote and reserve your products online and in real-time, thus allowing you to focus on the relationship with your customers.

Accountancy and Finance

Move your reservations to your cloud accounting and finance application get mutual reports.

Customer relations management

Turn your guests' e-commerce actions into opportunities with popular CRM applications.

Marketing

Increase your sales by integrating with travel marketplaces 

Social media

Make reservations on your Facebook page; highlight your products on Google.

Statistics

Observe all the movements of your visitors, optimize your website

Other Vehicles

Increase your sales with additional features such as email newsletters, SMS, and Browser notifications.

Advanced Mobile and Web Applications

Modern interfaces, strong infrastructures

Marketplaces and E-commerce

Simple solutions to complex structures

Sales reports

Access the history of operations filtered by client, Broker, amount, or date, facilitating the analysis of the information and the planning of your finances.

Quick access to promotions

Easily publish promotions that you can use on your page, emails, and social networks. As easy as copy and paste.

Flexibility 

Add Brokers and banks according to the needs of your agency immediately.An Expedia API XML web Application service is a system that allows a digital device to connect with another, to share certain information using the Internet as a medium. In an API XML web Application Service, Web technologies such as HTTP, originally designed for human-machine communication, are used for machine-machine communication, more specifically to transfer device-interpretable files in XML formats.
In practice, a Wordpress API XML web Application service provides a web interface with objects linked to a database server. Which are used by another web server, or by another application, which provides an interface to the end-user?Another common practice is to offer the end-user a combination, where an API XML web Application server or application consumes information from several web services on different machines and compiles the content in a single interface.
Conclusion:
Wordpress integrated Expedia API XML web Applications are suitable for traditional travel agencies, online travel agencies, or reservation systems.  We have also explained that there are specialist API XML integration providers that offer multiple services, including search engine optimization services, and that they are much cheaper than creating a custom Wordpress API XML integration.
Our Comprehensive List of Services
adivaha® is a one-stop-shop for all your travel website needs. We offer a multitude of services that empower you to become a market leader. Contact us for more info.
Have Questions?
The Internet is a huge resource, but
if your question requires particular expertise.
Keep Refreshing your customers - Who doesn't want his site to stand out from crowd? adivaha® gives you multiple options for home pages, headers, colors etc. Which can easily be managed from admin via shortcodes and settings. The theme supports almost all the big players in this market ie, WEGO, Travelpayouts, Agoda, Booking, Expedia etc.
Frequently Asked Questions
Below are some of the questions asked by visitors. Do visit our adivaha® Digest for more such questions. Don't hesitate to ask us if you have any questions
What all GDS and Providers are connected in the platform?

27

views

1

answers

0

votes