Build your own Travel Brand!
Ready to go-LIVE travel solutions that helps your travel agency to sell a range of travel services pretty instantly. adivaha® travel solutions make sure you have no boundation over your imagination, you can do everything online, without the need for any technical knowledge or design skills. Easy Backoffice, extensive reporting with integrated Funds Management System. Upload funds easily and instantly through Netbanking, Debit Card, Credit Card. The best part is, we do offer customizations in case you believe it will boost your business!
Expert Guide: How to Choose Travel API Plugins for WordPress
Looking to add custom travel API plugins to your WordPress website? This expert guide provides you with the tips and resources you need to make an informed decision.
Have you decided to add custom travel API plugins to your WordPress website? Choosing the right plugin for your needs can be a tricky process, but it doesn't have to be. With this expert guide, you'll find all the tips and resources you need to make an informed decision.
Select a Travel API Provider
Before you can choose a travel API plugin for WordPress, you must first select a travel API provider. There are many providers available, each offering different features and packages, so make sure to research your options and find the one that best fits your needs. Consider the pricing structure and any additional services offered, such as flight or best hotel booking site capabilities. Different travel API providers offer different features and functionality. It's essential to evaluate your business needs and ensure that the API provider you select offers the features and functionality you require, such as real-time data updates, booking capabilities, and flexible pricing options. Consider the cost and pricing structure of the travel API provider, including any subscription fees, or other costs. Look for a provider that offers a transparent pricing structure and offers flexibility in pricing options based on your usage. Additionally, read user reviews and cross-check with other websites to ensure you're selecting the right provider for you.
Research WordPress Plugins for Your Preferred API Provider
Once you've chosen an API provider, the next step is to find WordPress plugins that enable users to integrate their solutions into your website. Do a search for "travel API WordPress plugin" and research the top results. Some plugins may offer integration with multiple APIs, while others may be designed for specific API providers. Be sure to double-check that each plugin is compatible with the version of WordPress you are running and that it supports the features of the travel API provider you have chosen.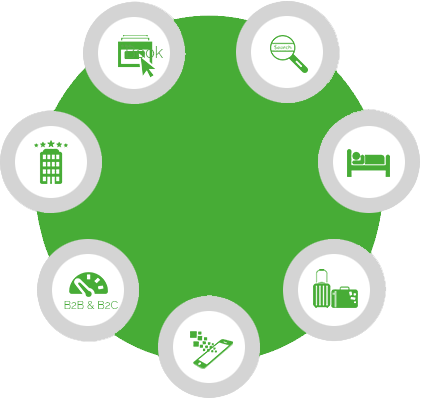 Expedia API Example
Check Registration Requirements and Costs
Make sure to also investigate registration requirements and associated costs of each wordpress booking plugin you are considering. Depending on the solution, developers may have to sign up for a partner program—sometimes for free, but often for a fee. Though these fees often make sense from the provider's point of view, keep in mind that they could lead to higher costs for your customers. Consider if any extra registrations or membership fees are necessary before settling on a specific plugin.
Consider the Features You Need
Choose a plugin based on the features that integrate best with your website and provide the most value. Some popular features you may want to consider include customizable search forms, live visual calendars, price comparison information, itinerary management features, and international payment options. Examine how these features can help smooth out the customer experience while ensuring that your website builder offers all of the necessary navigation tools for customers. The travel API plugin real-time data updates to ensure that you have access to the latest information, such as flight delays or cancellations, hotel availability, and pricing. The travel API plugin provider should offer excellent customer support to help you in case of any issues or queries. The support should be available 24/7 through multiple channels, such as email, phone, and chat.
Compare Price Points and Look for Integrations
When researching potential travel API plugins for your making a wordpress website, compare the pricing points and look for integrations. Select a plugin that is cost-effective, especially if you are working with a tight budget. Look for a provider that offers a transparent pricing structure and provides good value for money based on your specific business needs. Consider the subscription fees, transaction fees, and any other costs associated with using the API, and evaluate the pricing structure against your expected usage. Ensure that the travel API provider offers accurate and reliable data, as this is critical for your business operations. Look for providers that offer data quality guarantees and have a reputation for providing high-quality data . Additionally, make sure that the plugin integrates seamlessly with third-party services such as payment gateways, customer booking systems, or language translators. This will help ensure that customers can easily book space on your site and will make managing payments effortless.
Our Comprehensive List of Services
adivaha® is a one-stop-shop for all your travel website needs. We offer a multitude of services that empower you to become a market leader. Contact us for more info.
Have Questions?
The Internet is a huge resource, but
if your question requires particular expertise.
Keep Refreshing your customers - Who doesn't want his site to stand out from crowd? adivaha® gives you multiple options for home pages, headers, colors etc. Which can easily be managed from admin via shortcodes and settings. The theme supports almost all the big players in this market ie, WEGO, Travelpayouts, Agoda, Booking, Expedia etc.
Frequently Asked Questions
Below are some of the questions asked by visitors. Do visit our adivaha® Digest for more such questions. Don't hesitate to ask us if you have any questions
What all GDS and Providers are connected in the platform?

27

views

1

answers

0

votes