Build your own Travel Brand!
Ready to go-LIVE travel solutions that helps your travel agency to sell a range of travel services pretty instantly. adivaha® travel solutions make sure you have no boundation over your imagination, you can do everything online, without the need for any technical knowledge or design skills. Easy Backoffice, extensive reporting with integrated Funds Management System. Upload funds easily and instantly through Netbanking, Debit Card, Credit Card. The best part is, we do offer customizations in case you believe it will boost your business!
Creating a B2B-White-Label-Portal Without Breaking the Bank
B2B White label Travel Portal solution has been a game-changer for many online travel businesses. This product has been a quite lucrative proposition. B2B White label services are cost-effective, time-saving, user-friendly, and responsive. It is the solution to many anxieties when starting an online business, right from scratch. B2b white label platform has had a great impact on the travel industry.
Travelling industry is one of the fastest-growing industries for many years now. It is essential for you to be integrated with all the possible services under the same roof with an easy managing service. That is where the role of B2B White label solution comes in.
What is White-Label Solution?
A travelpayouts white label legally permits you to place your brand name on commodities or services that someone else has created, for a nominal fee. White labelling allows you to offer products and services without having to spend the time and money on designing and developing them yourself. It is used extensively throughout most industries, from retail store account management systems, medical billing industry to corporate business solutions. In many cases building a customized solution from scratch in an attempt to meet the specifications of your business could be time-consuming or a setup towards failure.
Why prefer B2B White-Label over doing a fresh code?
This is the first question that will pop up in mind will be, "Why should I go for a B2B white label, why can't we start it like any other travel business from scratch? Well, there are several reasons, which will counter this question and explain why it is really important to take off the business travel booking tool with an already built system.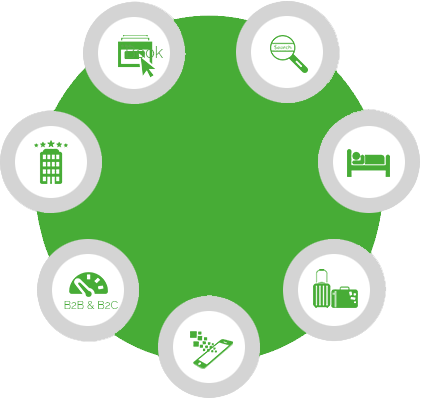 Guide to Creating a B2B White Label Portal
It is time taking job
Creating a system from scratch, integrating and making the tools to run, is quite a time taking work. Especially, travel services like airline booking api, tour management, reservations and price management is a hectic job. As a business owner, a person has to diversify his thoughts into many aspects of the business, the maintenance of all these aspects becomes quite frustrating. Eventually, there are two options left at their disposal to overcome such a situation. Either to hire an expensive technical team to overview and develop a system according to the services or use an already built system as a B2B white label or b2c white label travel portal, depending on the needs.
Travel portals work in real-time
A travel white label portal needs to be updated of the changing market prices, restaurants, hotels and flights fares changing continuously, so there is a strong need for a system that automates the continuously changing situations and updates the travel portal website with the latest trends.
Creating a database is not easy-peasy
A B2B best white label travel portal comes with a database of information that would otherwise be difficult and time-consuming to collect manually. A fully functional updated database of global corporate travel portal constitutes an optimum strategy to kick start travel business.
B2B white label is customizable
A B2B White Label Travel Portal solution is customizable and this system can be adopted by anyone, whether it is a travel agency, tour operators or a startup in the travel industry, this system benefits all of them.
Completely Developed program
A B2B white label travel service is a completely developed program that does not need further improvement and it is already working for many other users. It is reliable and ensures the smooth running of the travel business portal b2b.
Cost-Efficient
These travel business solutions are cost-efficient and it even helps you to reduce the operation cost in the long run. A good B2B white label service entails all the services on a single platform and charges a fraction amount of the total expenditure cost on combined services.
B2B White Label service creators know the Pros and Cons
This type of travel solution is not only compatible with travel-related businesses but it also provides ease of use to the customers. We know all about the difficulties that a travel business faces, we have gained knowledge over the years by collecting feedback from businesses and users alike. The travel website API and integrations are modified to favour the customers in the best possible way.
Secure and User-friendly
The B2B white label system is designed to attract customers by providing them ease in carrying out their travel operations. It is integrated with hotel booking system api, tour packages selection and many other features. These features are user friendly and built by the service provider by employing trial and error method. A foolproof method within the supervision of experts is required to kick start a travel business.
Easy to Integrate with other software

A successful B2B white label service also offers numerous APIs and third party integration programs that enable you to connect to the supplier of your choice.
Cheaper Technical Support
This type of system is already being used by multiple agencies, which means, the vendor will have to sort/fix out any issues that may raise down the road anyway. As a business, you donot have to invest in a technical team for such technical aspects. This way you save alot in the long run.
Our Comprehensive List of Services
adivaha® is a one-stop-shop for all your travel website needs. We offer a multitude of services that empower you to become a market leader. Contact us for more info.
Have Questions?
The Internet is a huge resource, but
if your question requires particular expertise.
Keep Refreshing your customers - Who doesn't want his site to stand out from crowd? adivaha® gives you multiple options for home pages, headers, colors etc. Which can easily be managed from admin via shortcodes and settings. The theme supports almost all the big players in this market ie, WEGO, Travelpayouts, Agoda, Booking, Expedia etc.
Frequently Asked Questions
Below are some of the questions asked by visitors. Do visit our adivaha® Digest for more such questions. Don't hesitate to ask us if you have any questions
Hello team, can you tell me if I can connect several APIs in one platform or website?

20

views

1

answers

0

votes