Build your own Travel Brand!
Pre-built travel solutions that helps your travel agency to sell a range of travel products pretty instantly - from hotels to flights to holidays and buses that too through the choice of your supplier. adivaha® travel solutions make sure you have no boundation over your imagination, you can do everything online and in one place, without the need for any technical knowledge or design skills. Easy Backoffice, extensive reporting with integrated Funds Management System. Upload funds easily and instantly through Netbanking, Debit Card, Credit Card. The best part is, we do offer customizations in case you believe it will boost your business!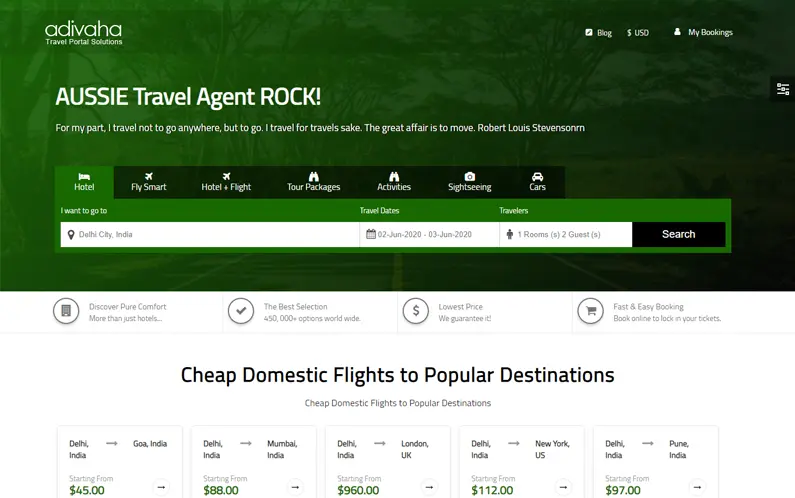 B2C White Label Travel Portal
If you are somehow related to the travelling, airline, or hotel industry, B2C whitelabel travel portal may not be something new to you. The B2C white label travel portal has been the choice for travel agents so far and is considered one of the best in the industry.
B2C stands for business to consumer, and the meaning states it all. It aims to provide products or services directly to the consumer itself, reducing the gap in between and helping better communication between the seller and consumer. The B2C travel portal is one such example of that. This portal has helped the travel industry grow by providing features to the users that had never been seen or used before. B2C travel software is a booking site portal that has emerged as a blessing for those working in the travel industry. It essentially is a travel booking portal that allows travel agencies to sell tour packages or hotels, flight tickets, transport, and a lot of travel products and services. It not only has reduced the burden of searching these flights, hotels, transportation services online on their websites, or having to contact them for every reservation on travel agencies but has paved new paths of doing business by improving the infrastructure of the market as a whole.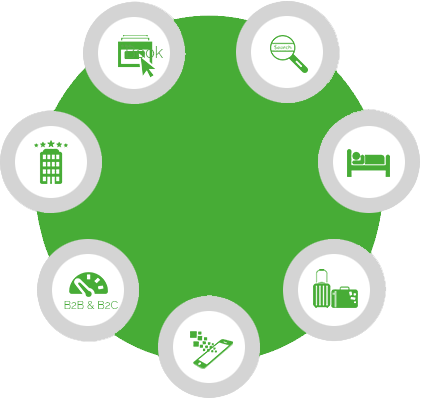 B2C White Label Travel Portal
While having B2C White Label Travel Portal is a breeze for a travel agency, integrating it with your business to make it work could be a hell of a time and money gobbling job. While one cannot incorporate the B2C travel engine by himself as it is a skilful task and requires professionals to do so, getting it done by experts can cost a fortune. A lot of companies provide these services, but either it is too expensive or does not provide all the features that the user wants. That is where adivaha® Travel portal solutions come into play. adivaha® Travel portal solution gives you the best integration of the white label portal to your website so that your website looks no less than a travel portal itself. It would allow your website to run like a professional travel portal that includes all the services you need to provide your customers, including flights, hotels, transportation, and more. We provide outstanding integration of the travel portal to your website because that will help your business succeed rapidly. Not only the white-label portal, but adivaha® travel portal solutions is a place where you will find answers to all your travel technologies problems. We not only help you integrate B2C travel system, but also online travel agency software. adivaha® travel portal solutions have helped more than 10,000 customers by providing them with their travel technologies needs, which returns in higher sales, more customers, and, ultimately, improved revenue numbers.
White label travel solution has become a necessity if you want to grow your business internationally today. We not only help you by improving your sales figures but help you by removing hurdles in your workflow and make it more efficient and streamlined. An efficient process assures that your business will grow at a fast pace always. B2C travel software is renowned worldwide in improving efficiency as it is effortless, easy to understand, and easy to use the software. The interface is as easy as it gets for a white label travel portal because of which the learning curve to use it is relatively easy. adivaha® travel portal solutions not only give you access to the B2C travel portal but also empowers you by offering you amenities like booking offers, tour packages, and a lot more. It reduces your time and effort in creating offers by yourself to catch the attention of more customers. Not only this, but it also created special last time offers, or booking specials which creates more hype and results in more bookings. When you choose adivaha® for your travel integration, you get the best possible results and facilities. Not only this, but it also provides the safest payment options to make sure that every transaction conducted is anonymous. adivaha® travel solution delivers you the best and easiest reservations for hotels and flights. We, with our highly expert team, have laid out the perfect set of tools in the Whitelabel travel portal so that the booking procedure becomes faster, easier and smoother for both our clients and the end consumer. Every customer visiting your website will not be confused, being surrounded by a lot of options. Things will be made simple yet effective. And this effectiveness in the booking process will reflect in your sales numbers every quarter because a more straightforward interface gives the user a great experience, and this will result in a returning and loyal customer base.
We will integrate the white Label travel to your website in such a way that your website will have access to real-time flight and hotel booking, and a single click will book all the travel amenities that the customer needs. This real-time access to flights is one of the key factors why our customers stay with us. The portal we provide gives you the best deals and packages. Our connections with multiple travel product services make sure that we get precise information on availability and rates. Most importantly, it also ensures that you get the best packages across the board on your website so that you stand out from the competition. Because providing the customer what is already available in the market will not lead your business anywhere. You have to stand out, ensure what others are not able to, give the value to your customers that others are not offering.
Most importantly, make the customer's experience up to the mark. It will ensure whenever they think of booking flights, hotels, or any travel product, they choose no one else but you. Meaning you will be superior to your competitors. And your win is what matters to us. That is why we do what we do. Our goal is to help travel businesses around the world by providing them with the best software, which allows them to succeed and improve sales. This rapidity in the process will increase your website's usability. It will make your site more popular among users and will enhance your website traffic. This modernized approach towards improving the user experience is what has made the travel portal the best choice in the industry. This travel portal is all you need, and we make sure that you make the best out of it.
adivaha® travel portal solutions provide the best interface for not only your website but also the agents working under you. We know that providing the best interface for the customer or the website's user may improve their experience. But a lacklustre interface for the people who are in charge also affects performance in the wrong way. The agents must not have a hard time figuring out what to click to do something. A bad or hard to learn interface will lead to a lot of mistakes by the agents. It will have a severe learning curve, and it will take a lot of time to get used to that interface. This wasted time can become an advantage to your competitors, and we surely do not want that to happen. A lousy and hard to learn interface not only affects the performance but also turns down the morale of your agents, and we know that. That is why the integration of the travel engine that we give to you is simplified, to the point, and is a charm to use. Your agents will not get confused searching for an easy option in the menu, helping them make better use of their time and dealing with the customers more efficiently. A lousy and hard to learn interface not only affects the performance but also turns down the morale of your agents, and we know that.
We not only provide travel solution but also access to the GDS system if you need it. We are experts in creating extensions for better efficiency if your business. We have a lot of API integrations available for your benefit. We provide GDS API integration to your website so that you get access to the market leaders in GDS systems like Amadeus GDS, Sabre GDS API. These GDS system integration to your site will not only help you scale your business better but also have a global reach. Amadeus GDS has been popular in the travel industry for providing the best Distribution system for airlines and hotels, and you getting access to that can be a blessing for your business. Integrating GDS to your site will enable you to get secure connectivity, real-time pricing, multiple channels for distribution of services, and auto updation of contents. We offer flexibility according to your choices. We not only provide you with these industry-leading API's, but we also help startups by providing them with private-branded portals with best travel API. Our costs are very competitive, and you surely will get value for the money when you choose us.
Not only access to GDS API or B2c White Label Travel Portal, but we also offer access to a lot of other accessible API and plugins to your business. We offer these API in a lot of technologies ranging from WordPress, XML API to other privately owned plugins. We have Expedia Wordpress plugin, Wordpress Travelport plugin, Wordpress Amadeus plugin, Sabre XML API plugin, Wordpress Hotelbeds plugin, Wordpress Kiwi flights plugin, Travelstart flight booking plugin, Booking.com hotels widget and a lot more. The variety we provide to our customers is incomparable, and it is the best you can get. Not only this, but our flexibility will also give you the best plugin for your travel technology needs.
We not only help you by giving you the best integration of the required API, but we help make your website look good too. A good platform combined with a bad interface is a recipe for disaster in terms of user experience. As a lousy platform can ruin your business, an ugly interface of the website can cause losses too. There are a lot of free themes available in the market that many people use, but the integration of those with plugins is terrible. The reason being these themes are made for a general website. The designer of these themes does not keep in mind various plugins, tools, or API that the owner might need for his website. That is why when you choose these themes and integrate it with travel API and online travel portal, and you get a terrible looking website. Not only that, but you are also left with a site that has poor optimization and is as slow as it can get. Not only this, if the theme provider makes the theme according to those API and plugins, they eventually don't catch up with updates of the later. That means if you get a website theme that is correctly working right now with all your plugins, tools, and API, it may not work when these API, widgets, etc. are updated. A ruined interface takes a massive hit in user experience.
Some users may stick to your website, but it will not happen for long. These small things are often ignored by travel agencies, and eventually, this becomes the reason why they fail even after using the latest technologies. We at adivaha® Travel Portal solutions know the value of this issue, and that is the reason why we provide WordPress themes that will fit best for your website. As a travel technology development company, no one knows better than us the issues most of the WordPress themes have. That is why we offer several Wordpress themes to our users, which are created, keeping in mind about a lot of things. In our Wordpress themes, we provide an excellent and intuitive user interface, proper integration of all the API, tools, widgets with your website. Our WordPress themes offer the best combination of these APIs and widgets, and the performance of the site that you get is simply amazing. Your website will load faster when you choose a theme from us. We, along with the best integration, offer themes that are a charm to look at and use. Our themes have a refreshing design. Our themes look modern and will make your website not only look good but load faster along with remarkable optimization. We give you a lot of options to choose from, whether its colours, headers. We offer customization according to your needs, and you will get the look of your website that you have always wanted. Our themes are highly appreciated by our users. These themes have given a modern look to the website of many businesses and have helped them grow their business to be ahead of their competition. The praises we get for our themes never end, and we continue to make them even better by refreshing them and making them more and more optimized.
adivaha® has helped a lot of businesses by providing cost-effective theme integration of APIs, tools, travel portal to a lot of customers. It has created the growth of confidence amongst many people, resulting in many startups emerging to be successful businesses. Now, you don't have to be a money-spinner to start a new business in the travel industry. Our cost-efficient services have helped many fresh minds make what they want to. We have helped many people become entrepreneurs, and we work harder every day to continue to do that. We have provided users with the power of the latest technology that has helped many companies grow in the travel sector. We have been the one place that gives it all and at a feasible cost. We value your time, and that is why we also offer 5 minutes integration kit which for any existing website. We strive to make our customer experience better by giving them the best service and value for money. Our happy consumer base praises us all across the globe for our quality services and products that we have provided them. We have always strived for the best and will always do the same. Your travel technology requirement is our priority, and we work to ensure that it is fulfilled no matter how much hard work we have to put in. Our clients appreciate the dedication that we put in our work, and that is why we have earned their trust. We have clients in every continent in the world. We have clients based in South Africa, Indonesia, Malaysia, Singapore, Iran, UAE, Germany, the USA, Canada, and a lot more countries, and our client base is expanding expeditiously across the globe. We at adivaha® Travel portal solutions welcome you with open hands, and we assure you that we will be along with you at every step to your business's success.
Our Services
adivaha® is a one-stop-shop for all your travel website needs. We offer a multitude of services that empower you to become a market leader. Contact us for more info.
Have Questions?
The Internet is a huge resource, but
if your question requires particular expertise.
Keep Refreshing your customers - Who doesn't want his site to stand out from crowd? adivaha® gives you multiple options for home pages, headers, colors etc. Which can easily be managed from admin via shortcodes and settings. The theme supports almost all the big players in this market ie, WEGO, Travelpayouts, Agoda, Booking, Expedia etc.
Contact
Have something unique in mind? Drop a message.
Estimated reply time: 3-5 Working Days