Build your own Travel Brand!
Ready to go-LIVE travel solutions that helps your travel agency to sell a range of travel services pretty instantly. adivaha® travel solutions make sure you have no boundation over your imagination, you can do everything online, without the need for any technical knowledge or design skills. Easy Backoffice, extensive reporting with integrated Funds Management System. Upload funds easily and instantly through Netbanking, Debit Card, Credit Card. The best part is, we do offer customizations in case you believe it will boost your business!
How to Create a Powerful B2C White Label Travel Portal
With this guide, you can create an amazing B2C white label travel portal and customize it according to your needs. Find out how to start your journey with these helpful tips!
Building a powerful B2C White Label Portal is an exciting challenge. With this guide, you can map out your journey to success by learning how to leverage existing tools, create eye-catching designs, and use data and analytics to personalize experiences.
Analyze Your Tour and Travel Business Needs.
Before you start building a portal, take time to understand the unique needs of your tour and travel business. Consider the types of tours and services you offer, then determine ways to make them more attractive to customers. Think about how you can use customer data, analytics, and other tools to personalize your travels and create memorable experiences that keep people coming back—this way you'll ensure success on both sides of your business. Define your business objectives, such as increasing revenue, expanding your customer base, improving customer satisfaction, or reducing costs. Your tours and travels website business needs should align with these objectives. Understand your customers' needs and preferences, such as their preferred travel destinations, types of tours or activities, and budget constraints. This can help you tailor your tour and travel packages to meet their specific needs. Develop a marketing strategy to promote your tour and travel business, such as advertising, social media, email marketing, or partnerships with other travel related businesses. Determine your financial requirements, such as funding for marketing, technology, staffing, and other operational expenses. This can help you create a budget and allocate resources effectively. Understand the compliance requirements of your tour and travel business, such as licensing and permits, insurance, and other legal and regulatory requirements.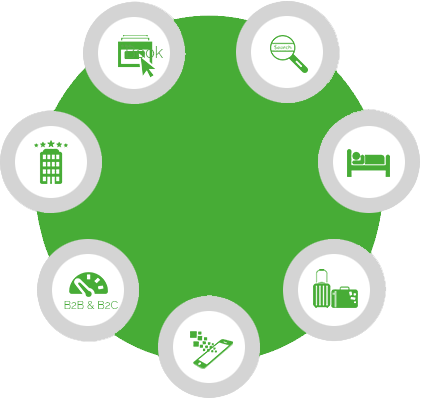 Creating Your Own B2C White Label Travel Portal
Design a Scaleable Architecture for Your Core Features and Platforms
When creating your best white label travel portal, it's important to ensure that the overall architecture is designed for scalability. The next step is to define the architecture goals, such as performance, availability, scalability, security, and cost-effectiveness. The choice of technologies is critical to the success of a scalable architecture. The selected technologies should be capable of scaling horizontally, meaning they can handle increasing loads by adding more resources such as servers, without sacrificing performance. Caching is a technique used to store frequently accessed data in memory to reduce the load on the database. Caching can be implemented at various levels, including the application layer, web server layer, and database layer. As your business grows in popularity, you will want to be able to add additional features, platforms, and services with minimal disruption. A resilient architecture should be designed to handle the failure of individual components without affecting the overall system. This can be achieved through techniques such as redundancy, failover, and disaster recovery. Consider making use of microservices and service-oriented architecture (SOA) to build out a modular and secure infrastructure; this allows you to create new travel technology services quickly while also protecting existing ones. Think through how you can easily add new integrations while preserving system stability—and don't skimp on resources or expertise!
Integrate Advanced Features
An effective B2C & B2B white label travel portal needs not only provides customers with a wide variety of options but also delivers on those selections with advanced features. integrating advanced features into an application requires a structured approach that includes identifying the features, assessing feasibility, selecting appropriate tools and technologies, developing an integration plan, testing and validating, and continuous monitoring and improvement. The first step is to identify the advanced features that will be integrated into the application. These could include machine learning, artificial intelligence, natural language processing, computer vision, and other advanced technologies. Based on the identified features and the feasibility assessment, select appropriate tools and technologies to integrate these advanced features into the application. This could include using open-source libraries, and travelport API, or leveraging third party services that provide these capabilities. Once the advanced features have been integrated into the application, test and validate their functionality. This includes both functional and non-functional testing to ensure that the features work as expected and do not negatively impact the application's performance. Furthermore, the introduction of loyalty programs and cash-backs deliver incentives that increase user engagement and help retain them in the long run. Continuous monitoring of the advanced features is crucial to identify any issues and optimize their performance. This includes collecting and analyzing metrics, logging, and user feedback. Based on the feedback, make necessary improvements to the advanced features.
Select Advanced Technologies and APIs to Enhance User Experience
As your white label travel portal is tailored to provide the best customer experience, it's important to select the right technologies and APIs. Features such as booking verification, payment gateway, airline ticket management system, loyalty programs, and caching mechanisms should all be considered when setting up your B2C white-label travel portal. AI (Artificial intelligence) and ML (machine learning) can be used to personalize user experiences and make them more intuitive. For example, chatbots powered by AI can provide personalized recommendations and responses based on a user's past behavior. APIs can be used to integrate different systems and services to create a more cohesive user experience. For example, integrating a payment gateway API into an e-commerce site can provide a seamless checkout experience for users. NLP can be used to enable more natural and conversational interactions with users, such as voice assistants and chatbots. This can help ensure that end users have a seamless experience regardless of device or platform and are able to easily complete transactions without unnecessary interruption.
Explore Open-Source and Licensing Options for Your Portal
When setting up your B2C white label travel portal, it's important to understand the various open-source and licensing options available. Depending on your needs, there are free or paid solutions from several different vendors that may work for you. Be sure to review each of them in detail before making any commitments, as there may be features that are specific to your particular business requirements. There are many open-source frameworks available for building portals, such as Drupal, Joomla, WordPress, and Magento. These frameworks can provide a solid foundation for building a portal and are often highly customizable. When using open-source software, it's important to consider the level of community support available. Popular open-source projects often have large communities of contributors and users who can provide support, documentation, and resources. There are different types of licenses that online travel agency software can be distributed under, including open source licenses, commercial licenses, and proprietary licenses. Open-source licenses, such as the GNU General Public License (GPL) and the MIT License, allow users to modify and distribute the travel technology software freely, while commercial and proprietary licenses typically require payment and may restrict modification and distribution. With the right selection, you can set up a portal that meets all of your current needs—and is ready for future expansion.
Our Comprehensive List of Services
adivaha® is a one-stop-shop for all your travel website needs. We offer a multitude of services that empower you to become a market leader. Contact us for more info.
Have Questions?
The Internet is a huge resource, but
if your question requires particular expertise.
Keep Refreshing your customers - Who doesn't want his site to stand out from crowd? adivaha® gives you multiple options for home pages, headers, colors etc. Which can easily be managed from admin via shortcodes and settings. The theme supports almost all the big players in this market ie, WEGO, Travelpayouts, Agoda, Booking, Expedia etc.
Frequently Asked Questions
Below are some of the questions asked by visitors. Do visit our adivaha® Digest for more such questions. Don't hesitate to ask us if you have any questions