Build your own Travel Brand!
Ready to go-LIVE travel solutions that helps your travel agency to sell a range of travel services pretty instantly. adivaha® travel solutions make sure you have no boundation over your imagination, you can do everything online, without the need for any technical knowledge or design skills. Easy Backoffice, extensive reporting with integrated Funds Management System. Upload funds easily and instantly through Netbanking, Debit Card, Credit Card. The best part is, we do offer customizations in case you believe it will boost your business!
What Is a Booking API and How It Can Help Your Business
Web pages and their user experience are changing. The trend, according to experts, is the integration of media and supports to achieve a more social, personalized, interactive, open, automated, and mobile web experience. This is possible thanks to developing applications, widgets, and booking APIs.
The Adivaha development team is constantly working to enhance the ease of integration and customization of our application for companies and professionals from all sectors. For this reason, we have created a booking engine wordpress API PHP so that developers and programmers can synchronize other Agendas, Reservations, and Online Appointment management software in a very comfortable and straightforward way.
But what is a booking API?
APIs, or application programming interfaces, refer to the set of commands, functions. And computer protocols that make communication between two software possible. Allowing programmers to use predefined functions of one of them to interact with others.
In other words, APIs allow developers to use specific functionalities of certain programs using already created pieces of code (API). So, for example, if you need to include a chatbot on your hotel's website, you don't have to develop it: you insert it through an API.
Why Travel Booking API?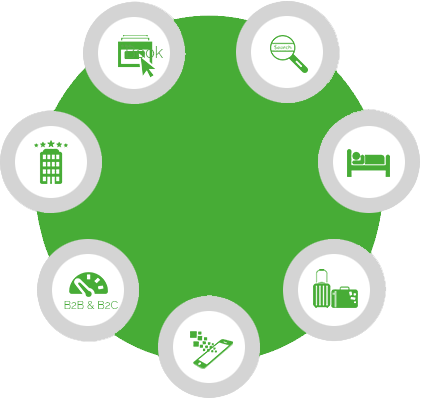 Learn What a Booking API Has to Offer
Booking API is a web service contributing online functionality of searching and flight booking api provider in india hotels. These booking APIs manage rates, availability, and an assortment of accommodations, allowing you to offer clients with best options for their perfect stay in a particular city. The transaction will be processed via your travel portal and various payment gateway integrations to improve customer engagement.
A Booking Integration API PHP is a web-based service that inspires hospitality and tourism organizations to gather data and advice on the number of available rooms and prices.
Booking PHP API is the technical term for Booking API. The best travel api provider booking functionality manages availability, rates, and a variety of other advice variables. These features a grant offering customers the best options for an ideal staying place at their coveted destination.
Booking API was developed on travel agents' existing travel portal based on their desire and get hotel data from global hotel suppliers to clarify the hotel search and booking process to deliver the best customer involvement. To build the Best Booking Experience, deliver a large inventory with the best aspect accommodation at a competitive price.
Adivaha Travel Technology Company contributes booking API integration services to global travel companies. We integrate the booking APIs from all the wholesalers, aggregators, and hotel API providers to build best-in-class B2C / B2B / Corporate flight ticket api booking portals and online travel booking engines.
Our booking engine online allows guests to book rooms directly on their hotel's site. Online booking of tours also provides total Digital Marketing Services for Hotels and Resorts to boost traffic to their site. Our services guarantee the highest sales from room reservations with low marketing costs. Our services assist in creating an impressive image for your hotel's image on the internet and increase visibility and a lot of satisfaction for Transactions that result in fewer inventory items that are not sold due to more significant online revenue and profits.
Create a Travel Website with booking API features.
Hotels come with various rooms, facilities, pictures, and amenities with global time. Our Developer provides you with the most effective Hotel API that provides live hotel rates, availability, and reports on hotel cancellations and bookings.
Through this integration of Hotel API, the travel agent obtains complete hotel data. Including hotel information like hotel name, address, latitude, longitude, prices for hotel rooms, amenities, room facilities and more from hotel providers worldwide. These APIs for booking allow best travel sites agents to make direct hotel reservations via an online booking platform. They also provide features for booking hotels and hotel searches for customers by the price, star categories and reviews.
The booking API has been created bearing in minds the challenges that small- and medium-sized best travel agency agents face when selecting hotels for their customers. Not only should the interface be conven, but all the advice, including pricing and availability, must be presented in real-time.
What Does Booking API Software Do?
The most common customers of booking websites remain the most significant business customers - the booking of tours and best travel tech companies hotels, hotel reservations and property rental. In addition, the hospitality sector. And its unique online booking platforms were specifically designed for these sectors. The API PHP booking system can cover and support all booking businesses and is typically divided into two categories concerning the volume of bookings.
Small to medium-sized businesses. They require only a small staff to run the online hotel booking api free system and can accommodate a small amount of monthly group or individual reservations for classes and training. It also includes "by appointment only" services like clinics and medical labs.
For large enterprises. These are designed for high-volume bookings and monthly reservations like hotels, airlines, and other travel, transportation, and accommodation services.
While all-in-one booking PHP platforms can handle all kinds of business or volume, there are also scalable solutions to fit your particular booking requirement and budget. Regardless, booking software is there to simplify, automate, and expedite the flight booking api process for you and your customers, including getting customer details, updating booking information, ensuring fast and secure payment, calendar and scheduling, and many others.
How Does Booking API Work?
The good thing about Booking API and reservation systems is that they can be integrated or embedded into your website or social media page without any complicated installation. A customer visits your business site or Facebook page, chooses the service or activity they would like to book, and is taken to a page to fill out a booking form which you can set and customize beforehand to gather any information you need. This completes the first part.
The second is when the customer makes a payment through the payment gateway, which transfers the money to you. The software for best flight booking api is designed to secure electronic payment processing. All transaction data, as well as customer data, are securely stored in a cloud-based content management system, which is usually secured with encryption as well as SSL security protocol. It is accessible only via the login and password.
The process could take only several minutes for bookings made the first time and less time for repeat bookings as the required information is already filled in, recorded, and saved. Since the system is a web-based service, customers can book their appointments on smartphones. The system will notify you of any information changes and schedule and display the changes in real-time on an online calendar that you and your customer can access. You'll be informed immediately, whether via text or email, regarding any changes or changes. You'll also be reminded of any scheduled time or appointment.
How do APIs contribute to a booking?
Thanks to the hotel booking api provider APIs, you can integrate -in a single system or application- different software that ensures the proper functioning of all your hotel operations—connecting them to share -in real-time- vital information to optimize operations.
For example, it is possible to link together the reservation management system, PMS, CMS, CRM, accounting system, or maintenance software -among others. And manage all the information from the same application, receiving the data in an app from monitoring on your smartphone.
This way, you can manage your hotel efficiently, keep track of all processes and create better revenue management strategies. In addition, you reduce dependence on other technology partners.
In the end, all this leads to:
More efficient processes in hotel operations.
Greater agility.
Costs reduction.
Greater personalization in contact with the guest.
To a specific user, provide the correct data at the right time.
Reduction of response times in loading data on an interface.
Automation of processes within applications.
Possibilities to innovate.
Booking engines are a great example of using APIs on a best hotel api provider page. Through a simple integration through a specific code, you could put an element on your site that lets customers know. In real-time, the availability of rooms as well as the cost they charge, as well as the best way to book the rooms they want. You may also accept and process payment online from clients.
In both instances you can improve the experience for customers by reducing the booking and payment process, eliminating the necessity to contact a customer service representative to confirm availability, or use other payment methods or other methods.
Imagine that your hotel wants to take part in the much-needed digital transformation. If so you'll have a variety of APIs to create a high-quality experience for customers and to improve your business processes.
What advantages does the Booking API have?
The Booking API makes it easy for developers and programmers to focus on customizing their project's online booking and appointment process since they do not have to develop the entire online calendar management system or the slot search algorithms from scratch. The beginning. This allows them to extend the functionalities of their applications and portals with the minimum possible effort, manage any aspect of the application from another system or different application, create their mobile applications or vertical portals with integrated Booking online reservations, and synchronize other management software. Booking and prior appointment online.
Thanks to this open innovation, the flexibility and customization of booking to adapt to online reservation and appointment processes in any sector: health, beauty, sports, hospitality, leisure, etc., remains one of the essential advantages of our application.
To help you, we have classified the "essential characteristics" that you must take into account when choosing an online reservation system:
Search Availability in Real-Time

Guests can run a Hotel Availability Search, and your website will communicate to the Booking API Server, which will show results based on Search Criteria. The Booking API defines the available room(s) in the selected destination or from a specific best hotel api. The results will be shown as a property list that can be refined for a more scientific outcome at the guest's disposal.

One of the main advantages of having a reservation API PHP solution is that the client does not have to ask questions and wait for answers and does not have to work each request manually. Clients must have at their disposal, and visibly, all the dates and be able to reserve. If there is no availability for the selected date, it must be blocked in real-time without even the slightest effort on your part.

Different currencies and languages

Most leisure activity organizers also want to reach an international audience. Therefore, it is essential that the possibility is offered, at least in English and in the best of cases in the mother tongue, to make reservations and payments in the language and currency of the client. In addition, there is a risk that the client makes the reservation through the competition for not understanding what or how to reserve in the publication language. Ideally, the online reservation system recognizes the language and currency used via the client's IP address.

Secure Payment Processing

The sensitive information entered on the site for transactions that have been completed will be transmitted carefully via Booking.com API servers for processing and securing the reservation. Booking API will approve the status of the reservation, and the customer is notified on the spot by email or post or other approved method of communication.

It is a simple and secure online payment method, which is why more and more users worldwide use it. Implementing it shows that you value the security and privacy of your customers and that makes you earn their trust. You also have the certainty that you will receive online payments from your customers directly and reliably. For this reason, PayPal is essential in any self-respecting online reservation system.

Smart Calendar

A clear and intelligent booking or availability calendar shows the user at a glance an overview of all bookings, capacity, and billing for the desired periods. To avoid wasting work, the booking calendar should be able to sync with widely used digital calendars, such as Outlook or Gmail.

Complete Booking API Integration

Your site will provide a convenient, satisfying booking experience for customers through Booking API Integration. People searching for bookings can sort their search results by specific destinations and hotels, and the auto-generated data will benefit from delivering the most effective outcome. The results are based on locations, airports, landmarks, and Hotels with Filtering.

Auto-Suggestions for Easy Searches

Customers will be controlled in their search for hotels by reducing the number of cities, airports, landmarks, and direct hotel options. Auto-Suggestions are planned to be a standard feature to facilitate the booking process.

Booking Process

The system provides an all-inclusive booking process that makes completing the selection process for hundreds of hotels easier—the system guides and documents the user's process, starting by presenting results from previous searches.

Create Destination Landing Pages

SEO also referred to as the term "Search Engine Optimization," is the process of promoting trustworthy websites that follow research-based guidelines that allow them to the top of the search results. Websites with appropriately designed destination landing pages aid in SEO and improve conversion rates for your Pay-Per-Click and email-based marketing campaign.

Telephone and online support for the reservation software

Sooner or later, the software we use gives some problems, and we need the manufacturer's help. In those moments, nothing is more frustrating than not receiving the support that is expected of him and even what he promised us. In that sense, a troubleshooting database is often sufficient, in which a solution can be found quickly and autonomously to problems related to reservations or capacity.

Automated emails make it easy to manage users.

Sending standardized and regular emails, such as reservation confirmations, reservation reminders, cancellations, etc., requires excessive time. It is a cumbersome and exhausting task that, without a doubt, we should leave in the hands of a reservation system. For example, a customer should receive a reservation confirmation immediately after making it online. This way, the client is confident that the reservation has been carried out. However, the reservation system should not only send confirmation emails to its customers but also offer the option for you to receive the information.

Management of reservations through a mobile phone or tablet

Traders don't sit in front of a computer all day but often manage their business on the go via their smartphone or tablet. Therefore, the online reservation system must be decentralized and work in the "cloud." This not only accesses from anywhere in the world but also anodic updates and maintenance.

Integration of marketing platforms

When choosing a booking solution, you should check that it integrates different marketing platforms. These reservation portals increase your visibility in the face of potential clients, and in the best cases, you will get a few reservations. At this point, the important thing is that the management software automatically and immediately synchronizes these reservations. This way, you will control quotas, dates, and prices.

Secure capital management

To simplify your day-to-day work, at least the first nine points mentioned must be met. The most important thing is that the company that offers the solution is entirely reliable since it will be in charge of safely storing your data and the capital produced. Your money must be safe in case of insolvency, for example.
Conclusion
The Booking APIs empower Connectivity Partners to send and retrieve data for properties listed on the booking. They can manage room opportunities, reservations, prices, and many other things using their systems. This booking API PHP system offers an incredible propound of luxurious stays with an admirably diverse and most extensive accommodation portfolio.
Adivaha is a leading travel technology company with intelligent experience and ability in Booking API consulting, development, and integration for Hotel API for travel management agencies. Our developers have years of experience developing or integrating the white label system into a website. Therefore, you can comfortably enjoy smooth continuity in your travel booking business once the website gets delivered.
Our Comprehensive List of Services
adivaha® is a one-stop-shop for all your travel website needs. We offer a multitude of services that empower you to become a market leader. Contact us for more info.
Have Questions?
The Internet is a huge resource, but
if your question requires particular expertise.
Keep Refreshing your customers - Who doesn't want his site to stand out from crowd? adivaha® gives you multiple options for home pages, headers, colors etc. Which can easily be managed from admin via shortcodes and settings. The theme supports almost all the big players in this market ie, WEGO, Travelpayouts, Agoda, Booking, Expedia etc.
Frequently Asked Questions
Below are some of the questions asked by visitors. Do visit our adivaha® Digest for more such questions. Don't hesitate to ask us if you have any questions
Hello team, can you tell me if I can connect several APIs in one platform or website?

20

views

1

answers

0

votes