Build your own Travel Brand!
Ready to go-LIVE travel solutions that helps your travel agency to sell a range of travel services pretty instantly. adivaha® travel solutions make sure you have no boundation over your imagination, you can do everything online, without the need for any technical knowledge or design skills. Easy Backoffice, extensive reporting with integrated Funds Management System. Upload funds easily and instantly through Netbanking, Debit Card, Credit Card. The best part is, we do offer customizations in case you believe it will boost your business!
Implementing a Bus-CRS for Superior Customer Experience
In this modern world where we can do almost everything online, you need to be sure that your business has e-commerce capabilities. For tours and activities, this means providing a crs official website that offers your customers the ease of booking your product when they are on it.
But, to have an effective flight booking api integration service on your website, you need to consider a few features of bus CRS to ensure that you offer potential customers the best possible service. Here are aspects that are essential when booking online...
What Is CRS system of Bus?
We also provide:
A real-time bus booking engine.
Bus booking system.
An online bus booking system integration services for travel agencies.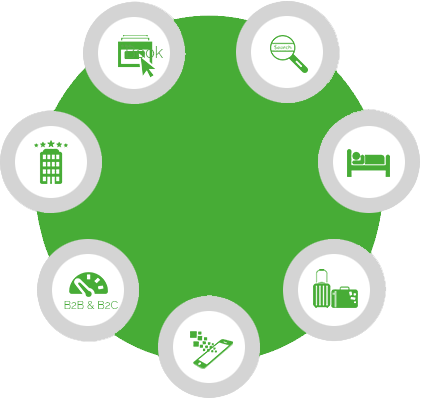 Use Bus-CRS for Customer Experience Improvement
Bus Reservation System allows you to manage reservations, and corporate travel portal details, schedule routes, set seat availability, etc. Online CRS is a web-based application that works within a centralized network that allows visitors to check seat availability, buy tickets, pay online, cancel their tickets and make inquiries that need an instant and quick response. It's built to manage and computerize the traditional database, ticket booking, and bus tracking. It will maintain all user details, bus details, reservation details, and booking details, making travel easy.
CRS systems are incomplete without having a bus reservation system apart from flights, hotels, and cars. Increasing online bus booking, many bus suppliers have started consolidating the global data for bus seat availability. Our Bus suppliers offer their content through APIs and XMLs to increase their global partners. Our Bus suppliers empower travel agents to allow their customers and sub-agents to book bus tickets directly from their online booking system.
CRS system building an innovative & robust road transport network ecosystem. CRS stands for Central Reservations System. It is computerized sabre reservation system software used to maintain the hotel information, room inventory, and rates, to manage the reservation and process.
A CRS provides hotel room rates and availability for distribution channels such as the GDS, IBE, OTA, 3rd party websites, etc. We are the most vertically integrated and the largest end-to-end technology platform that provides a solution to enable, aggregate, distribute, and e-retail bus tickets worldwide. Our product ranges from feature-rich ERP platforms for bus & logistics providers to supply & distribution platforms for OTAs, travel agents, affiliates, and corporate to ecommerce platforms for end consumers.
CRS system provides innovative technology to simplify and optimize your road hotel engine corporate travel business and help you connect with other travel players in one complete platform. You can digitally fulfill all your inventory management needs as a bus operator. Such as creating a trip, scheduling a trip, managing the financials, human resources & buses allocated to trips, etc.
Bus travel has gained a very eminent position in traveling within the country. The bus reservation system has become essential to travel technology and travel portal development initiatives. corporate booking tools for travel portal development companies are working towards developing a bus reservation system and mobile apps, which are user-friendly for travelers and a source of revenue generation for travel management companies.
CRS system responsive bus car rental booking software system with mobile apps is specially customized for travel management companies, destination management companies, travel aggregators, B2B B2C travel agencies, and tour operators to cater to global customers. The bus reservation system comprises an online bus booking software designed to generate an automated system for ticketing purchases, with the help of an online booking system that would be easy to use.
An online bus reservation system for your website would help easily manage reservations, ticket availability, and client data using your online bus reservation service. The customized features that a travel management company can add to a bus reservation system include:
Route scheduling.
Displaying the data regarding the availability of the seats.
The seat map to passengers.
The traveler has the option to choose their seat from the map.
This Bus reservation system helps schedule the bus route easily with features like start, stop, and end destinations. The Adivaha bus reservation system comes with the option of translating the script into multiple languages. It could be achieved by implementing a multi-language bar in the front-end, which helps easily switch the language. One of the essential features of the bus reservation software is the generation of daily, weekly, monthly, and yearly reports.
Why an Online Bus Reservation System is Essential for Intercity Bus Operators?
Online bus booking software increases bookings by offering better performance, valuable value additions, and a less complex booking process. This software also provides inflight reservations and allows commissionable reservations with the help of the travel agency system. Bus companies have multiple distribution channels, brand divisions, and multi-division strategies. They want a system that provides web-based interfaces to their end customers, B2B agents, and employee-managed reservations with an XML gateway to distribute their inventory to OTAs and aggregators.
A web-based bus reservation system provides customers and B2B agents with an easy-to-use interface for online reservations and check-in, allowing them to select travel dates, pick up tickets, choose route options, select their preferred seat, and finally make the payment online.
The bus booking.com api integration engine is flexible enough to allow you to integrate into both your existing website and a new one, allowing your travellers to enjoy speed and accessibility on your website with real-time availability, instant confirmation, and email coupons. It easily handles passengers, cargo, mail, packages, and vehicles, as well as those operators that offer lodging and restaurant services on board.
There is even a location tracking module available in the mobility solution that allows passengers to track the real-time location of the bus and provides drivers with their app. Through this, they can send alerts to passengers and confirm their reservations when boarding using a QR code.
From time to time, passengers, particularly those traveling long distances, prefer the additional amenities and services that a bus service operator can offer. Longer distance travel can be tedious. Coaches that offer comfortable seats, ample legroom, and entertainment can make a long journey much smoother and more enjoyable.
Good intercity bus booking system software allows operators to set up amenities and add-ons in the system and be booked online. Allowing ancillary services to be booked online can help bus companies maximize revenue and provide a superior passenger experience.
Benefits of CRS
Thanks to the good communication and excellent relationship with bus companies worldwide, our ticket reservation system are full of features that different companies need to manage reservations and inventory correctly. Some are adjusted to local peculiarities related to geography and legislation. Others reflect innovative ways to improve customer service by operators.
The complete list of features and requirements for reservation systems is long and extensive, which makes choosing the right ones and the ones we need a big challenge.
Real-time CRS sales management

The passenger transport industry is one of the shallow margins, which forces us, if we want to be successful, not to waste any potential clients, we cannot afford that luxury.

For this reason, it is essential to have tools that allow us to see and analyze our available seats in real time within our extensive network of sales channels, whether it is an online channel such as an OTA or a driver who has arrived at an intermediate station and starts selling tickets on board to customers who currently need the service.

Advanced rate management

Prices vary greatly depending on your transportation company's type of long-distance service. Our experience indicates that medium or large companies, especially the main ones in each region, tend to diversify their operations between long-distance, international, shuttle, and transportation services. For these companies, having a reservation system that offers specific rate models for the business's operational requirements is crucial.

Whether it is capable of offering dynamic prices for competitive intercity operations or serial access for transfer services, a modern reservation service must have the capacity to support these scenarios so that the operating company can offer a total experience to its passengers through all its operations.

To make it simple, let's name some examples of rate management:

Prices are based on demand and time until departure
Discount for groups
Round trip discounts
Competitive prices within our network of contacts
Flexible rules for fees
Versatile, periodic, and serial products

Advanced CRS inventory management

Space management depends on the company's business model; for example, a Shuttle service usually does not need this type of management, but a real-time inventory management system is mandatory for long-distance service.

Assuming that the transport company can plan and harmonize its fleet in advance, it would be highly recommended to offer passengers the option of choosing a seat within the entire route without compromising availability in each segment. This way, we maximize utilization of our seats and earnings per Km.

Modern CRS tools for digital marketing

A reservation system is a valuable data source that the bus company can use for marketing strategies. Without appropriate marketing tools, a bus company does not exist for passengers who carry out operations via the Internet. A long-distance transport company must be present in the most important digital channels to be found quickly and easily by potential clients who do everything via these means.

The reservation system toolbox must include at least tools for social networks, campaigns, email marketing, and loyalty programs. These are characteristics of a well-done reservation system that every bus company must take advantage of to strengthen or improve its position in the market. In future articles, we will explain this fascinating topic in more detail.

Self-service

In most markets of the modern world, having fewer employees means greater cost efficiency. For this reason, the more passengers can manage details related to the trip by them, the fewer employees the company will need in its service and support center to the client.

Additionally, directing our customers to self-service will increase satisfaction since they can manage travel details whenever they want without needing extra help. In this way, we all win. Using functionalities for self-service demands great care and attention. Otherwise, it will only create confusion, and in the worst case, it will increase the work of customer service.

Multimodal CRS bus interconnectivity

It should no longer surprise us that with the arrival of the digital age in the passenger transport industry, concepts like MaaS will force long-distance carriers to think or reconsider options outside their service network. Today's customers expect the service provider to be able to present solutions for whatever needs arise.

On the one hand, this requires companies to provide access to their inventory to be interconnected with other service providers in external multimodal search engines. However, for those that lead the market, it means that they have to have the ability to combine external inventories within their reservation system, creating multi-journeys and multiple tickets that take into account combinations of algorithms always to present the best option.

CRS Ability to analyze the market

We understand that as developers of our reservation system, we should not put too much effort into creating custom reporting tools within our platform. We should focus on collecting data in a well-structured and fragmented format for use by BI tools dedicated to this work.

Given that the data handled by reservation systems in this industry is highly relative and varied, it is advisable to avoid temporary solutions of the moment for the structuring of our database, avoid things like the classic "let's take advantage of this field for comments," this only It will generate disorder and in the worst case, wrong results for decision making.

Updated documentation for integrations via API

We cannot live apart from the world; whether you are a person or a transport company, we are social beings and need to interact with the rest of the world. The same has to happen with your reservation system. To offer the best experience, a sales and reservation system must be able to integrate with external systems, either to offer available places to resellers or to integrate with other systems for the proper functioning of the business, such as a fleet manager, ERP, social average, etc.

To avoid excessive complexity and inconvenience, the correct way to deal with this issue would be to use a well-structured database schema accompanied by a service-oriented architecture and, obviously, precise and clear documentation of our API.

Information about the passenger in real time

A modern sales and reservation system is not only intended to sell; it must also know how to manage the entire customer experience during their trip. This includes the ability to see the location of the bus at any given time and receive notifications if it deviates from the agreed schedule. This data must be available to the customer via the website or app.

The system must also offer information on road works and other planned and unplanned changes. A current client is not going to accept being blind.

Check-in on board by CRS system

This may sound strange to some and completely normal to others, depending on where it operates, but there are still markets where the passenger has to go to the bus station or agency to receive or confirm the ticket they bought online.

An updated reservation system would have to allow the driver to accept electronic tickets with a purchase period as short as possible. Ideally, the passenger can arrive at the station 10 minutes before and buy the numbered ticket from his mobile phone. Once the bus arrives, the driver is informed about this last-minute passenger, boarding without any problem.

This functionality is essential considering the current and growing trend of on-demand transport and its effect on passengers' expectations to be picked up close to their location.

It is not crazy to say that bus companies are currently adding more options for pick-ups and drop-offs according to demand, where the bus stops only if the passenger purchases the ticket in advance. For this, the driver will need real-time data on the changes.

A CRS supplier system with a product in constant development

The previous points will not have value if your technology provider does not keep the product in constant evolution and development so as not to be stopped in time and become a limited and outdated system in a few years.

Although it is not a rule, this makes solutions created outside by companies that work with renowned clients very competitive. The best example is what happened in the airline industry, where custom-made reservation systems ceased to exist long ago good time.
Final thoughts
This CRS bus system is user-friendly, fast, easy to use, and structured to the specific needs of an independent car rental aggregator agency at affordable prices. Our sophisticated car booking software has multiple functionalities that help you save money in operating costs, improve productivity, offer smooth flow in online booking procedures, etc., which will raise your business revenue.
Adivaha provides end-to-end solutions, including bus central reservation software with robust business and customer management functions, cutting-edge hardware for fleet management, and the latest mobile apps to empower your business vision. Our robust and innovative bus reservation software solutions support tour operators worldwide, delivering high-quality reservation systems that help both global and independent businesses to maximize revenue and drive sales.
We provide global bus CRS reservation systems with CRS solutions and services encompassing the spectrum of the bus and travel api integration industry. We successfully implemented leading bus technology to its clients for over a decade. We provide global bus CRS reservation management systems with solutions and services encompassing the spectrum of the bus and travel industry.
Our Comprehensive List of Services
adivaha® is a one-stop-shop for all your travel website needs. We offer a multitude of services that empower you to become a market leader. Contact us for more info.
Have Questions?
The Internet is a huge resource, but
if your question requires particular expertise.
Keep Refreshing your customers - Who doesn't want his site to stand out from crowd? adivaha® gives you multiple options for home pages, headers, colors etc. Which can easily be managed from admin via shortcodes and settings. The theme supports almost all the big players in this market ie, WEGO, Travelpayouts, Agoda, Booking, Expedia etc.
Frequently Asked Questions
Below are some of the questions asked by visitors. Do visit our adivaha® Digest for more such questions. Don't hesitate to ask us if you have any questions