Build your own Travel Brand!
Ready to go-LIVE travel solutions that helps your travel agency to sell a range of travel services pretty instantly. adivaha® travel solutions make sure you have no boundation over your imagination, you can do everything online, without the need for any technical knowledge or design skills. Easy Backoffice, extensive reporting with integrated Funds Management System. Upload funds easily and instantly through Netbanking, Debit Card, Credit Card. The best part is, we do offer customizations in case you believe it will boost your business!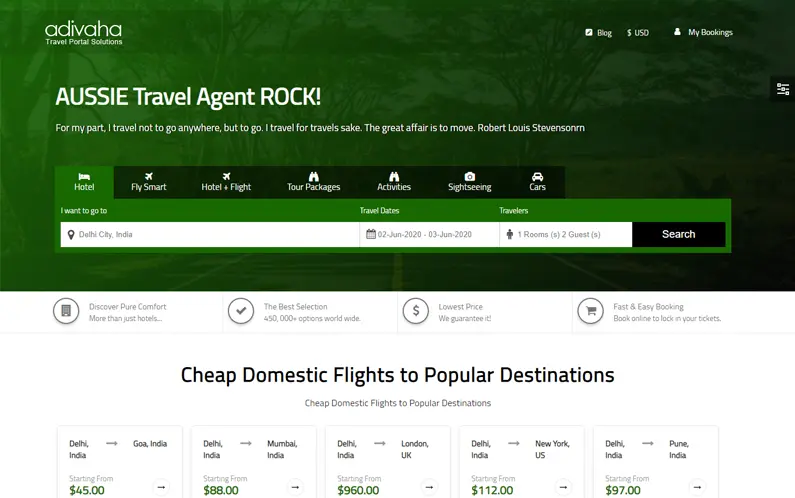 A Comprehensive Guide to GDS Travel Booking System
For a few decades, the world of travel technology has evolved by leaps and bounds, which has caused various industries to get involved with tools that facilitate their activities and tasks. Tourism is not the exception, as software has also been developed to provide solutions for service providers, tourists, and travelers.
Here, we will talk about the GDS travel booking system in-depth about these technological implements in tourism, how they emerged, their main objectives, and how they have evolved.
What is the tourism GDS?
What began as a tool used only by airlines to manage their reservations has become essential in almost all areas of the tourism industry. The GDS is a set of software that allows hotels, travel agencies, and airlines to access each user's reservations and travel itineraries in real-time. Likewise, it acts as a 'search engine' for the latter because through the GDS, they can choose between several routes and plan them more easily, thanks to the complete databases of services they host.
The Global Distribution Systems are computer systems operated by travel agencies, hotels, airlines, and bus lines, among other tourist entities, allowing interconnection between companies to distribute the different tourism products and services offered in real-time.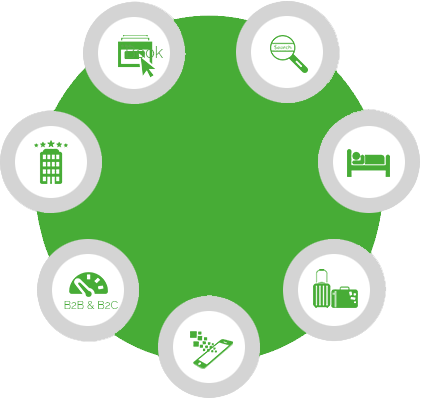 Your Go-To Guide for the GDS Travel Booking System
It takes care of the reservations tourists request from different tourism companies, making them accessible immediately and giving the option of making last-minute modifications. Make decisions about their journeys faster and more safely while monitoring their following travel plans and also storing massive databases.
The GDS constitutes another great invention of technology capable of optimizing and making the lives of tourists and suppliers much more accessible. Of course, these must be used strategically and by experts in the field, and who better to implement them than you?
How does a GDS work?
Generally, a GDS works in the following way: a travel agency offers services such as hotel nights, online flight booking, or car rental to the end customer, but it is not the owner of these services. It only acts as an intermediary. Here begins the work of a GDS. This system allows the travel agent to visualize all the services available at the moment to offer them to their client.
It is essential to mention that travel agencies aren't the only ones responsible for managing these systems as hotels as well as airline, trains, and car rental companies, as well as other companies, manage GDSs, which allow them to sell to the customer and manage the whole reservation directly.
Why and how did the GDS come about?
The Global Distribution System (GDS) is a computer-based reservation system that permits travel agents to book hotels and travel services for their customers. Four distribution channels form the GDS. The idea for these projects was sparked by the airlines that required an automated system that would simplify their tasks, and could effectively manage reservations.
There are a myriad of GDSs, with some being more well-known and innovative than others. It's worth noting that smaller businesses have chosen to design their software based on the needs specific to each one and with the aim of reducing the cost of their software, as a premium system is often more costly.
This is due to the recent rise in the popularity of travel agencies (OTAs) and has led many hoteliers to believe they have to attempt to 'beef the OTAs. Although changes in how people book and the growth of OTAs cannot be denied, it doesn't mean that it eliminates the obsolete GDS. As a travel representation firm with a long history of experience in the field, we can assure you that GDS is an excellent option with various advantages. However, it's not going away anytime shortly. Here's why:
A steady, consistent annual growth
GDS manufacturing continues to increase yearly by 5% to 10% across the globe. A few years ago, GDS direct bookings grew 60% more quickly. Similar to travel agencies, they are a growing, decisive factor in the industry of hotels. As a viable revenue source that is a viable revenue source, the GDS is experiencing steady annual growth and isn't going anywhere anytime quickly.
More corporate bookers
Many big companies utilize the GDS to control travel expenses. It's which a great way to draw more corporate travelers is. The GDS lets all expenses be recorded, making it simple and easy for businesses to schedule hotel reservations on behalf of their workers.
Corporate guests are the ideal clients since they typically use additional hotel amenities, including the spa or restaurant, and increase spending per room. There is a growing trend for corporate bookers to add more nights to their 'leisure stay. In addition, the agencies can obtain lower fixed rates through RFP-based corporate rate programs, and the GDS system can be an ideal solution for all the parties involved. For more details on how GDS can assist you in obtaining more significant corporate business, take the following article on the importance of RFPs in boosting the size of your company's GDS Company.'
Worldwide exposure
If you're seeking to expand internationally, then look no further. There's no better way to extend your property's coverage than via the GDS. Most leisure and business travel to India through the GDS and bookings from other countries.
The GDS system is an essential source of income for hotels.
Questions about whether or not the GDS is losing importance for its role as a distribution channel are usually caused by misunderstandings about how the GDS does and the way it operates. However, these misconceptions, more often than not, cause hotels not to maximize a vital chance to boost their bottom-line profit. This is especially true when you are looking to grow corporate revenue, as GDS is a significant source of corporate business. GDS is a massive corporate booking platform.
At Adivaha, we offer high-quality distribution representation, marketing, and consulting services to more than thousands of hotels across over 100 countries. We're experts in booking GDS distribution services to help members get more reservations.
GDS are Keys to Tourism Marketing
The GDS are computerized systems used mainly by travel agencies, hotels, or airline booking system. They allow them to access real-time user reservations and other services such as transport tickets, excursions, insurance, etc.
Originally these projects arose within the framework of airlines that needed a computerized system to manage reservations efficiently. With the arrival of the Internet, it has been possible to make all reservations immediate and offer comprehensive tourism packages. Thanks to this interconnected software that hosts massive databases, users have more facilities when choosing trips and planning routes since they usually integrate several services.
The GDS is the future of Tourism.
The Digital age has revolutionized our way of sharing and obtaining information. As we have seen, the GDS has revolutionized the travel services industry. What initially only served to manage flight reservations has been able to integrate many more features in real-time. Databases are beginning to lay the foundations for the digital future. It is not surprising that many other sectors take the GDS model and apply it to other sales areas to make our day-to-day life more manageable.
The principal function of the global distribution platform is to aid agents in finding hotels that match the criteria. It's a business-to-business platform that companies use to be aware of the latest information regarding the availability of accommodations for travelers, like hotel rooms, and to market the rooms to those who plan to travel api provider. The system serves as an access point for a range of travel agents and agencies to get precise information on reservations for travel and prices.
The airline industry was searching for a way to automate the travel reservation and booking process for travel agents to more efficiently access information about flight schedules, fares, and seat availability. Before this system, travel agents had to refer to lists of airline fares published annually in a book of tariffs each time a customer wanted to book a trip.
The Benefits of Using the Global Distribution System
The primary purpose of the global distribution system in the hospitality industry is to help travel agents/agencies find hotel rooms that match their needs. It is a business-to-business system that travel agencies use to obtain real-time availability of rooms and other travel arrangements and make them available to their customers. As a hotel, if you are not in demand enough from travelers, it may be a good idea to sign up for a GDS.
Agents can see hotels' current rates and inventory through the GDS even if the GDS does not have inventory. It's merely a window into the hotel's systems, providing available room prices, restrictions, and rates. When a travel agency makes reservations for accommodation in the GDS, the GDS sends the reservation details to the hotel's system and eliminates the room from the hotel's inventory. The agent doesn't need to contact anyone in the hotel, and reservation agents are not required to input any information manually.
Let's understand in a little more detail about the benefits of global distribution system in the hospitality industry can help your hospitality business.
Increase in bookings
Even today, many companies use travel agents to arrange accommodation for their employees rather than outsourcing this task to someone in-house. Over millions of active travel agents use the global distribution system to make reservations. Thus, hotels have an extensive network of recurring customers by registering with the GDS.
The opportunity to lighten the hotel staff
Besides the exposure hotels enjoy, the global distribution system in the hospitality industry also facilitates bookings. The system has real-time access to the hotel's reservation system, instantly notifying the hotel when an agent books a room. He removes this entry from the hotel's room inventory. A hotel can take advantage of this opportunity to lighten its staff or deploy them where they can create more value.
A less expensive alternative to marketing
However, hotels have to pay a membership fee to open an account with a hotel distribution system, but that's a lot less than what a hotel chain may have to pay in marketing to grow their numbers. Reservations. Also, as we mentioned earlier, with GDS, you get a lot of repeat business customers. It's an added benefit.
For More Bookings, Increased Access to Travel Agents
Many companies depend on travel agents to accommodate their staff rather than employing staff members to handle individual employee reservations. Over a million travel portal agents are now using the global distribution system to locate and make hotel reservations online.
More Efficient Booking Process
In addition to the increased exposure to more customers at once in making room reservations, these systems help alleviate some administrative burdens on hotel staff in booking room reservations. The instant access to bookings online means that hotels are notified after a reservation is complete instead of having to accept them manually. This means that a hotel does not have to increase its reservation intake staff to receive additional reservations.
Improved visibility of the room inventory
GDS lets you connect too many travel agents worldwide and with two-way, real-time connectivity to the global distribution systems. There's no better way to effectively advertise your brand's image in the new market segment of tourism.
Connect your hotel with the essential GDS quickly and easily.
While you can connect directly with the essential GDSs of the field on your own, it's lengthy and time-consuming and can be a bit complex and costly. Every GDS comes with different charges and prerequisites to connect. Using GDS developed by Adivaha, you'll not have to deal with the frustration of connecting to each platform and can join your hotel with the important GDS without having to pay separate fees. You'll be working with Saber, Travelport, Amadeus, and many others in just a few minutes!
No manual data entry.
GDS by Adivaha is fully integrated into your management system for hotels and a Central Reservation System. If you get an inquiry, all the reservation channels and hotel management software will be upgraded. There is no need to fret or be concerned about manually updating your availability data.
Worldwide Connection
Connecting with the world's top global distribution networks your brand can connect with people who would have otherwise not known about your hotel. This is particularly true for business travelers, who frequently utilize worldwide distribution systems to book corporate travel arrangements.
GDS is among the most efficient ways to access new markets.
Reporting tools that aid decision-making GDS booking system specializes in extensive reports that offer insights into your revenues and transactions. If you receive this crucial information, organized and compiled, you can make better decisions in just a few minutes. Furthermore, it lets you simplify your operations and increase your customer base around the globe. GDS is integrated with Adivaha's other technologies. Make sure you're eligible for GDS now, and you'll soon see an increase in traveler traffic and bookings from travelers worldwide.
Bundling Options for Other Travel Needs
Another benefit of utilizing an international distribution system for hotel reservations is that travel agencies can bundle discounts on travel packages for the same travel. For example, they can book a hotel room, flight, rental car, or other ground transportation from the same system. This makes it more likely that a travel agent or customer will select a hotel included in a bundling option.
Less Expensive than Marketing
Although an initial cost is involved in establishing an international distribution system for hotels, it is likely to be lower than the hotel chain has to spend on marketing to witness the same booking rise, instead of the cost and time required to create an entirely new marketing strategy.
Integration with Property-Management Systems
In addition, there are many leading distribution systems capable of full integration with the property management system, which aids in managing the day-to-day operational requirements of the hotel. Complete integration with PMS means that hotels can automate tasks in making room reservations without managing separate elements. For instance, the cleaning schedule, availability of staff in the present, availability and booking details, calendars for events along with supply levels. Channel management systems transmit real-time information through the property management systems of the hotel distribution system to ensure that the most up-to-date information on rates and availability of rooms is accessible to travel agents.
Conclusion
In addition to saving time, the GDS allows travel agents to access reservation systems for a world of travel providers. Today, you can book not only airfare and hotels through the GDS but also rental cars, cruises, train tickets, and excursions. For a travel agent booking a vacation package that could include all of the above, you can complete reservations in just a few clicks rather than calling each provider individually.
The GDS travel booking system offers massive marketing power for hotels, airlines, and the like. Before the GDS became popular, hotels would have to go to great lengths to be seen by travel agents. The GDS effectively democratized this process, with chain hotels gaining the same visibility in the GDS as independent hotels. The GDS also gives hotels access to new guest segments.  Such as corporate travelers through companies, who might not be likely to book directly? While hotels must pay a booking fee to use the GDS, that fee is typically less than the average OTA commission.
Our Comprehensive List of Services
adivaha® is a one-stop-shop for all your travel website needs. We offer a multitude of services that empower you to become a market leader. Contact us for more info.
Have Questions?
The Internet is a huge resource, but
if your question requires particular expertise.
Keep Refreshing your customers - Who doesn't want his site to stand out from crowd? adivaha® gives you multiple options for home pages, headers, colors etc. Which can easily be managed from admin via shortcodes and settings. The theme supports almost all the big players in this market ie, WEGO, Travelpayouts, Agoda, Booking, Expedia etc.
Frequently Asked Questions
Below are some of the questions asked by visitors. Do visit our adivaha® Digest for more such questions. Don't hesitate to ask us if you have any questions
Do you have cruising ? And if not can we create our own(fake) package itineraries so we can insert cruise …

23

views

1

answers

0

votes
Contact
Have something unique in mind? Drop a message.
Estimated reply time: 3-5 Working Days