Build your own Travel Brand!
Ready to go-LIVE travel solutions that helps your travel agency to sell a range of travel services pretty instantly. adivaha® travel solutions make sure you have no boundation over your imagination, you can do everything online, without the need for any technical knowledge or design skills. Easy Backoffice, extensive reporting with integrated Funds Management System. Upload funds easily and instantly through Netbanking, Debit Card, Credit Card. The best part is, we do offer customizations in case you believe it will boost your business!
GDS-Integration Services - What You Need to Know Before You Start
The GDS are well known in the world of tourism, many people and professionals are still not clear about the function of these systems and the advantages their implementation brings us in our hotel businesses. The Global Distribution Systems are computer systems operated by travel agencies, hotels, airlines, bus lines, and other tourist entities. They allow interconnection between companies to distribute the different tourism in real-time products and services they offer.
It manages the reservations that travelers request from different tourist companies. It offered the possibility of making last-minute changes, choosing or planning their routes more quickly and safely, monitoring their next arrivals, and storing large databases.
What is the importance of Amadeus API?
Amadeus API software is a computer program that manages and provides information to facilitate flight reservations. Several airlines from Europe, famous worldwide, came together to find the company that gave rise to this tool.
In this article, we will see what GDS Integration Services are, how they work, and the benefits of implementing them even when direct booking is increasingly present.
What is the GDS integration, and how do they work?
The GDS is a network of computerized systems, a connected network of reservation information used by airlines and travel agencies. The objective is to have real-time information about airline ticket reservations, hotel room reservations, car rentals, and train, bus, cruise, or even insurance reservations.
Therefore, the way GDS works is the interconnection of information in real-time; this information is offered through servers where tourism professionals connect to offer their clients the best prices and rates for service.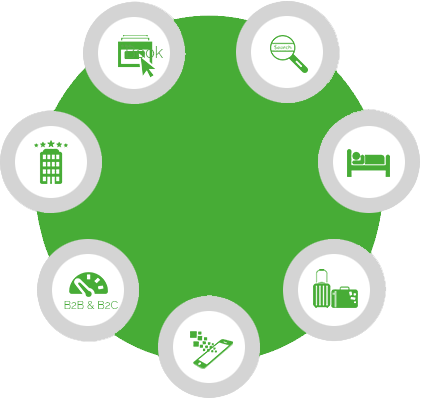 GDS-Integration Services Explained
In general terms the way GDS integration in general terms, GDS integration functions as follows an agency for travel offers services like hotel nights and flights. As well as car rental services to the client, however it's not the provider of these services. It serves as an intermediary. The process of integrating these services begins with GDS. GDS. The system lets the travel agent see all the available services in the present time and offer the client. When a customer decides to purchase the details are immediately delivered to the car Rental Company, hotel airline or airline. For the service requested.
In addition, this network gives us information on all the services, prices, and dates of all the operators that are connected. Thus becoming an essential tool for tourism businesses such as travel agencies. Thus, when a hotel works with a GDS, it can offer its rooms to all the agents connected to that GDS. In addition, they will see the available rooms, the different rates, or the available dates.
Therefore, working with a GDS significantly increases hotel companies' visibility in the tourism market since it will reach many travel agencies. Around the world, therefore, a large market will be opened. And even new market segments where the hotel global business travel agents might not be present. We could conclude that the GDS has become a critical and even essential technology for the distribution strategy of the various tourist agents.
It is worth mentioning that travel agencies are not the only ones to manage these systems since hotels, airlines, trains, and car rental companies, among others, also manage GDS that allow them to sell directly to the traveler and monitor the entire reservation.
Why and how did the GDS come about?
There are a myriad of GDSs some are more well-known and more avant-garde than others. It is worthwhile to mention that small businesses have chosen to design their own software. According to the specific needs of each of them, with the primary purpose of reducing some costs since paying for an avant-garde system can be much more expensive.
The GDS is not a new technology; although much progress has been made since its inception and its way of working has been perfected, the GDS emerged in the 60s and 70s. The airlines began to work with these systems to optimize airline ticket reservations. In this way, they could simplify work and better manage reservations. These initiatives were born out of the airlines that needed an automated system that would simplify their operations, and could efficiently manage reservations.
The importance of GDS Integration
GDS is the best technology of all reservation and distribution systems for online travel agents and companies worldwide. Initially aimed at improving the airline reservation system, but now GDSs are widely used to book hotels, airline flights, train and bus tickets, cars, cruises, and insurance. The gds api integration for flights and hotels allows your travel company to access a wide range of online sales channels and travel products, improving your online sales strategy.
The GDS offers tremendous marketing power for hotels, airlines, and the like. Before the GDS became popular, hotels had to undertake massive marketing efforts to be seen by travel agents. The GDS has effectively democratized this process, with hotels in the chain getting the same exposure on the GDS as independent hotels. The GDS also gives hotels access to new guest segments. Although hotels have to pay a fee per hotel booking engine api to use the GDS, that fee is often less than the average OTA fee.
Live inventory control.
Easy connectivity
Prices in real-time
Automatic content update
Multiple channels of distribution and use.
The GDSs are computerized reservation systems used mainly by airlines and travel agencies that allow them to access real-time the reservation of flights, hotel rooms, and car rentals as primary services. But also offer other additional services such as cruises, tickets, trains, insurance, etc.
These systems were born as a technological solution for aviation. Among its most outstanding functionalities and advantages, we find:
They make available to hundreds of thousands of agencies worldwide the possibility of selling plane tickets, hotel rooms, car rental, train tickets, cruises, etc.
They allow comparing prices and availability of different service providers to acquire the one that best suits the traveler's needs.
They process a large number of electronic transactions in seconds, which allows them to access the product that is for sale quickly.
They offer multimedia content and complementary information on the destination, such as weather, type of currency, and distance between places
They offer their product to different online agencies, which expands the sales possibilities of suppliers in other points of sale different from traditional travel agencies.
The objective of these systems is to provide greater reach and connectivity to service providers, such as hotels. If an establishment joins the four main GDSs.
In addition to saving time, the gds integration allows travel agents to tap into booking systems for a world of travel providers. Today you can book not only air tickets and hotels through the GDS but also rental cars, cruises, rail tickets, and tours. A travel agent booking a vacation package that might include all of the above can complete their bookings in just a few clicks instead of calling every supplier.
The future of distribution worldwide
In 2006 Internet book volume exceeded GDS reservations for the first time. Because of the rising popularity of online hotel booking api provider channels and the demise of traditional travel companies. Do you think the GDS still has a role to play in the age of online bookings that allow travelers to book directly through the hotel or airline? The GDS can benefit many situations, particularly for travel agencies and corporate businesses. Airlines continue to distribute the inventory they have to their OTAs using the GDS. Corporate travel managers still use the GDS to search for corporate fares. With all the technological advancement in the travel industry, the old GDS technology is being challenged by various reservation systems.
With a long history of operation, a massive number of travel agents, and a vast user base, the sabre gds api could be an excellent option to enhance your hotel's distribution and marketing strategy. However, the GDS does not necessarily offer value to every hotel; if you're thinking about how to utilize the GDS or the reasons to include it in your distribution plan, it is essential to weigh the advantages and disadvantages of your hotel.
Why Integration with GDS?
In this digital time which has revolutionized the way we share and collect information, GDS software has revolutionized the travel agency industry. And its appearance has caused it to go a step further, and what in principle only served to manage airline reservations could include many other benefits in real-time.
Connecting Global Distribution Systems (GDS), such as Amadeus, Saber, Sirena, Travel Port, Galileo, and Nemo. Travel, etc., is a new technological solution for tour operators who want to add the sale of regular flights to their services and create dynamic packages "own ground" + "regular flight. As well as provide your customers with the current price of the package immediately before hotel booking api integration the tour
Solution features
The hotel search api for flight options in GDS and the calculation of the cost of the order, taking into account the flights found, takes place online, without requiring the initial creation of flights and prices. For each flight option, an additional payment or discount on the cost of the tour is calculated.
The client can access various filters for selecting flights on the tour booking page.
The client is shown information about the availability of baggage, the possibility of returning a ticket, and airline transportation rules.
The ticket will be automatically booked in GDS when the order is saved in the SAMO-Tour PC. Confirming the application, a time limit for paying for the flight will be automatically prescribed, and the minimum prepayment amount will be indicated.
In case of non-payment of the application, the reservation in GDS for flights will be canceled automatically.
The ticket is issued automatically after the full payment or prepayment of the order. Links to electronic itinerary receipts will be automatically added to the application.
Flexible system for setting up tours to work with GDS flights
Solution Benefits
A significant reduction in labor costs for forming a tourist product on regular flights.
The possibility of expanding the range of destinations without additional costs.
All scheduled flights are available in your online search so that you can satisfy even the most non-standard requests.
Thanks to new integration technologies, up-to-date information on the availability and cost of tickets are always available.
They are available and accessible systems in real-time with a 99.9% success rate.
Wide range of providers of various services and the possibility of buying at the moment
They process a large amount of data in seconds at consumers' service.
Its use makes available information from thousands of agencies around the world.
It allows you to compare prices and the availability of different services.
It allows the integration of visual and audiovisual content or additional information about the destination places.
Updated, automated, and efficient software.
They allow customers to be informed electronically of the status of their order.
How Does GDS Integration Play an Important Role in the Travel Industry?
Travel is the most significant factor in a country's GDP, which makes it highly competitive. GDS connects travel agencies with major GDSs worldwide, including Amadeus, Sabre, Worldspan, Galileo, etc. GDS is a critical player in travel as it has changed the entire view of the travel industry. Global distribution systems function as booking platforms for online travel agencies.
At Adivaha, We provide the finest GDS integration solutions that bring excellent satisfaction to numerous clients within the field of tourism. We offer a GDS ota api integration solution, an intuitive platform to help travel agencies manage their reservations.
At Adivaha, we offer GDS integration services and provide an online system suitable for B2C or B2B clients to give clients access to world-class content from any device. We have developed a platform that is compatible with any device. Through the years of our service, we have integrated our many customers. Our GDS software lets travel service providers add their information to GDS and allows travel agencies to use it to book reservations. This setup is in the best interest of all the parties involved with the setup.
Whether you're a company, service supplier business, or travel agency customer, GDS connectivity benefits everyone. Free flight booking api flights, cars, hotel accommodations, and holiday packages are accessible today. We can conclude we use GDS (Global distribution system), an online database that holds all the information about hotels, airlines, car rental companies, and travel agencies. When our client has integrated GDS into their reservations system, it aids in retrieving real-time information from GDS.
In the end, it helps build trust with customers and ensures that they will continue to use your products and services. Adivaha is a renowned travel and tourism development company. Working with a team of skilled developers, we create a GDS that integrates booking systems that can be used for cruises, hotels, flights and trains, buses, trains, and more. We provide advice throughout the process to offline and online travel agencies, suppliers/aggregators and distributors, holiday package providers, etc.
GDS api integration guide has made it easier to manage operations and large GDSs. It is worthwhile to mention that GDS is a promising option as a provider channel for hotels, airlines, cars, hotels, and vacation packages. We believe that providing an automatic B2C Travel Booking Portal and a B2B Travel Booking Portal using the GDS solution requires complete knowledge of the customer's business, requirements, and issues.
Integration with GDS is a Key to Tourism Marketing
The GDS are computerized systems used mainly by travel agencies, hotels, or airlines. They allow them to access real-time user reservations and other additional services such as transport tickets, excursions, insurance, etc.
Originally these projects arose within the framework of airlines that needed a computerized system to manage reservations efficiently. With the arrival of the Internet, it has been possible to make all reservations immediate and offer comprehensive tourism packages. Thanks to this related software that hosts massive databases, users have more facilities when choosing trips and planning routes since they usually integrate several services.
Successful Expansion of Your Business Globally
GDS is an automated network that connects travel booking engine agencies and companies to Suppliers/aggregators for flights, hotels, vehicle rental, holiday packages, etc. GDS keeps several suppliers' up-to-date information, allowing travel agents to offer up-to-date information to their clients.
This Integration system offers a centralized reservation system for online travel companies. It allows travel agencies to access services from various suppliers, including airlines, hotels, and car rental companies, all on one platform. With a single GDS integration, online travel agents can expand their businesses by reaching out to an even larger audience.
As a leading company for integration, Adivaha has years of expertise in integrating services of hotels, airlines, and car rental companies, as well as cruise, bus, and payment gateways, SMS gateways, and more. Adivaha's is home to an entire team of developers to provide outstanding integration solutions for all major GDSs, including Amadeus, Sabre, Galileo, and Worldspan.
Our happy customers are proof of our proficiency in integration. At Adivaha, we offer entirely functional solutions for our numerous customers. We provide a variety of GDS integration services in addition to GDS reservations. We offer a variety of solutions in GDS Software Development.
Our Comprehensive List of Services
adivaha® is a one-stop-shop for all your travel website needs. We offer a multitude of services that empower you to become a market leader. Contact us for more info.
Have Questions?
The Internet is a huge resource, but
if your question requires particular expertise.
Keep Refreshing your customers - Who doesn't want his site to stand out from crowd? adivaha® gives you multiple options for home pages, headers, colors etc. Which can easily be managed from admin via shortcodes and settings. The theme supports almost all the big players in this market ie, WEGO, Travelpayouts, Agoda, Booking, Expedia etc.
Frequently Asked Questions
Below are some of the questions asked by visitors. Do visit our adivaha® Digest for more such questions. Don't hesitate to ask us if you have any questions
hello team, I want to know the cost of hiring your services. could you please provide full-fledged information regarding this?

29

views

1

answers

0

votes