Build your own Travel Brand!
Ready to go-LIVE travel solutions that helps your travel agency to sell a range of travel services pretty instantly. adivaha® travel solutions make sure you have no boundation over your imagination, you can do everything online, without the need for any technical knowledge or design skills. Easy Backoffice, extensive reporting with integrated Funds Management System. Upload funds easily and instantly through Netbanking, Debit Card, Credit Card. The best part is, we do offer customizations in case you believe it will boost your business!
What is GDS Integration and How Does it Work?
adivaha® a Travel Technology Company is one of the highly professional and experienced modern travel agencies. We dream of offering you an innovative future with advanced technology because former traditional procedures don't hold much value in today's world. Your satisfaction is our priority. We digitized our business with revolutionary ideas and excellent services.
Along with the excellence in performance, we are stepping ahead to provide you with the integration of best API solutions and software's to keep you connected with us. Our goal is to make our customers proud of our dedicated work, high-quality achievements and exciting service deals. adivaha® is offering you the best cloud base technology for online bookings of flights, hotel search api rooms, and all your required necessities concerned with business trips.
You can get our services using different platforms including our mobile app or through our professional website. Our offered features consist of multilingual support, credit deposits, hotel booking api free india, reporting, SMS gateway, fare caching, business intelligence reports, direct contracts, transactional reports, redistribution API, and multi-scale channels that allow you to increase your revenues and help you in extending your digital ideas.
What is GDS Software
GDS stands for the Global Distribution System. GDS is the junction point that is accessed globally for digital & online reservations. All travel concerned booking e.g., airline seats, car rental, hotel room booking, travel sites, vacation packages or travel agents hiring is controlled by the GDS Integration. A site visitor can book hotel rooms and purchase tickets from airline companies. GDS software handles three main sectors of travel booking, i.e., airline ticket, hotel, and car reservations. Our most attractive features include the GDS system, software, booking solutions and guide for global travel agencies. adivaha® is working for a long time to integrate with the world's top offered GDS' like Sabre GDS, Amadeus GDS, Travelport GDS, etc.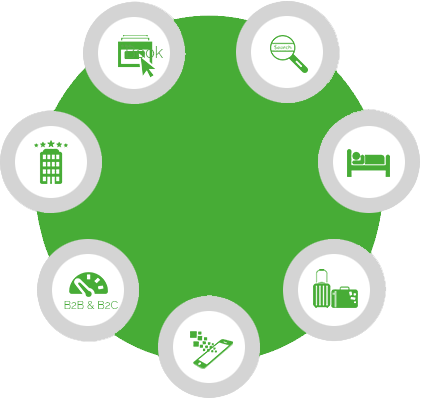 Overview: What is GDS and How Does it Work?
We are among the top list of experienced integration partners of GDS. With our API integration services, travel agents become capable to work on an eye-catching level by using the travel information and discounted rates. adivaha® allows the travel agent to work on B2B and B2C strategies while using the admin module. It assists the travel agents in managing and booking flights, holidays, vacation reservations and car rentals. GDS is popular among corporate travel agents and helps them to run their own business i.e. linked to our travel agency indirectly.
The online booking engines success depends on its inventory type and cost details that may vary by booking class. You can access the top inventory by using the GDS systems that will provide you with the best dealing offers. adivaha® has earned their name in the travel industry with their best offering GDS solutions and quick customer response. Our creative and emerging user-friendly web designs have gained popularity among our customers. Our dedication and expertise in global distribution systems including Galileo, Travelport, Amadeus, Worldspan, etc. show our highly-ranked skills. By adding the facility of the admin module, we smooth the ways for travel agents to use B2B/B2C for booking of hotels, air tickets, or car rental services. Besides, GDS software also helps the airline companies in booking daily flights, holidays, business trips, or vacation planning. Apart from all that, we are growing by giving appropriate and exact solutions to travel departments and their workers. Additional features of our GDS Integration provide access to data to visit agents, customers, and travel agencies. By using this data, you can compare the rates, free flight booking api schedule, services, and inventory details that can help you to choose the best option for your trip during the online booking of a ticket.
Our software is filling the gaps between the global travel industries by introducing the centralized services of airlines, hotel api provider, etc. bookings. GDS software is responsible for all the online transactions between vendors and travel agents and has proved itself to be one of the most potent tools for travelling groups. adivaha® has made Real-time updates in the distribution system, and our GDS is offering worldwide travelling offers, pricing details, flight data, car rental availability, reservation details about hotel bookings and much more with the advanced technology of today's era. No doubt, the Global distribution system is bridging the gap for travel guides and uplifting many online web-based travel companies and their services.
If we talk about today's economy, the travelling business needs some boost to contribute to the world economy. In this fast-moving world, adivaha® allows you to grow your travel venture in such a costly domain with your competent strategies and our effective solutions. We have highly qualified experts that have laid a strong foundation of distributed technology system for different business opportunities. Our high performance and developed travel software consist of advanced technology, quick responses, easy-to-understand solutions, and booking guides that direct the targeted market. It makes us feel better and proud that we are up-to-date with the latest technology and respond to specific demands within a short period. The vision of adivaha® is to compete for pre-existing travel agencies with its efficient quality of work and to introduce the most innovative plans, technology, and creative designs for the global travel industry. Our in-depth knowledge and particular practice are assisting the customers in accepting the globally changed requirement of the travel market.
How to download GDS software?
The global distribution system was originally designed by airlines to facilitate the travel agents in checking the prices, schedules, booking of flights globally. But now, it has transformed into a worldwide accessible reservation system used by all global airlines that post their latest travel offers & deals for travel agents and customers. A vast amount of travel agents are using GDS software these days to book their flight reservations and hotel bookings.
Like many other travel agencies, adivaha® provides you with a GDS Integration software that assists you in marketing decisions and plans for the best assessment. GDS software is easy to install and run. Through this software, you can set up your inventory that will be accessible to all travel agents globally. It would help them in bookings and business reservations. Every GDS has a distinct listing procedure, so when you list the reservation details, the time required and list format can be different depending upon the concerned GDS.
Popular GDS software in Industry
Apollo software
Amadeus Software
Travelport GDS
Abacus GDS software
Galileo software
WorldSpan GDS
Sabre GDS etc.
Amadeus Services
The world tourism industry has many top integrations. Amadeus is considered to be one of them. Amadeus integration makes it possible for agents to serve their travellers and make their business flourishing. GDS also helps travel agents in revenue generation and business management. We are trying to provide the best experience to travellers and agents by giving them all available commissions, deals, and offers on their bookings. According to a survey, Amadeus GDS integration is used in more than 190 countries by giving high-quality reservation results and solutions. We also offer ota api integration of third party travel agencies for airlines and the remaining Industry on a more significant level.
Amadeus GDS hotel api integration consists of a large number of inventory items that allow the travel agents to grow their business with efficient work. It benefits both the leading agents and local starters. This technology is widely prevalent among commercial agents and helps in the development of a profitable market. adivaha® API integration works by SOAP/XML message. Such combinations can help to consolidate the booking services and make it cost-effective. Amadeus integration is highly recommended for those travel agents who need precise and exact information about bookings and reservations.
Travelport GDS Services
A leading tool of the tourism industry is Travelport that offers many API integrations, as we have discussed above. Their main feature and critical service for travel agents are all-in-one offers. It helps the companies to arrange instant business tours for customers and serve them at the eleventh hour at reasonable prices. It has all access to airline inventory to list the scheduling details of flights. Along with airlines, hotel reservation inventory of worldwide guesthouses is accessible through Travelport API integration. In short, we offer everything you like about travelling, so come and join us.
Galileo Services
Galileo GDS is famous for its inventories. It is renowned all over the world and used widely. Travelport developed it as a computer reservation system (CRS) to reserve air tickets, hotels, and cars, etc. All price list from inventory is easily accessible by Galileo software that allows the travel agents to compare the scheduler, pricing, and services of all business agencies to decide accurately. Galileo worth its innovative design and technology to service its client efficiently. Mostly travel agents before Galileo software because of it's up to dated inventory. Web services offered by Galileo are also beneficial to increase revenues. It helps the travel agent to grow their business gradually and service the customer with its quick response. The overall performance of Galileo hotel booking api integration is worth-observing.
Worldspan GDS Services
In providing travel solutions to the travel industry, Travelport has consolidated its foothold. Web commerce has become the top market for customers, agencies, and travel agents. WorldSpan allows you to run your business by offering deals to your customers. Using this API integration, you can define your modern trends, advanced technology-related features, and global travel agency travelling market rules. adivaha® GDS software plays an essential role in providing access to airlines, hotel reservations, or car rental services inventory.
adivaha® services his visitor by giving the best global distribution system integrated with many platforms like WorldSpan that permit travel agents to work as a leader in the market and enjoy the fruitful results of innovative costs and products of travel agencies of the global world. Our website and software interact with travellers to promote online shopping and encourage related revenues. The tourism department of now-a-day has become dependent on such a GDS system to check the availability of seats, rooms, or other travel goods. Exciting features, discounts, commissions, and best possible rates are at your service through adivaha® WorldSpan GDS api integration guide.
Sabre Services
adivaha® Sabre gds api integration is specifically worth for flight reservations. It helps the agents and customers to find and book the corresponding airline, hotel, or other travel information. Sabre integration helps the leading agents to run their business effectively and precisely. Because of a large number of applicants or travel agents, competition has become very high. Sometimes it becomes tough to decide for the right reservation. For such scenarios, Sabre API integration allows the business organizations to access the large online sales that help in generating revenues by enhancing sales method. Sabre is mainly a database of airline reservations. Almost all the worldwide bookings are registered on the Sabre distribution system.
Search and book facilities help the travel agent by providing specific solutions. The core database of this integration is accessible with XML gds integration services. It links the travel agents with travellers that shows that more than 0.4 million airlines and 0.1 million hotels are registered by sabre integration. The best and surprising feature of this distribution system is that this integration is dealing with booking transactions of one million per minute.
Abacus and Apollo GDS software
Abacus is one of the most experienced and older GDS tools, serving travel agencies since 1988. It emerges from the Asia Pacific region with its Global distribution system and computerized reservations system. Abacus GDS also accompanied by XML, gds api integration, and GDS systems in our offers. Along with Abacus, Apollo is the most demanding distribution system globally by travel agencies, corporations, and websites. Another innovative feature that Apollo offers was to update the inventory list instantly in real-time. With this facility, it would be possible for managers to quickly see the updates in prices, rate lists, and offers. adivaha® suggested Abacus & Apollo integration is gaining the interest of the travel industry and becoming popular day by day.
Importance of GDS Software
We sustain the competitive market with our innovations and emerging ideas to lead you globally in a better way. Global Distribution System(GDS) centralized the task of travel agents for airline booking, hotel reservations for business personals to serve them best. Every factor of a business trip is covered by GDS software. As you all know, every individual has their taste and demands regarding their travel journey, so running a hospitality business is not that easy. You have to be sure about the needs of your customers before looking for some offers. In earlier days, travel agents have to explore each company's website separately to collect the flight details. Still, with the availability of our advanced GDS system, no one has to do its homework. All you want is to open the GDS software, compare the inventory items, and select which best suits your customer. Our services and products are dealing with massive front-ends to enjoy their business and travels.
GDS Software exciting Features
GDS is now at your service with amazing features such as:
Single User interface: You can access all in one with interacting a single interface of GDS software or a concerned website to enjoy your demands.
27/7 Availability: In this emerged the 21stCentury, we want every service 24/7, either food order, online banking transaction, reservation services, etc. Our GDS software integration makes it possible for travel agents to serve their clients 24/7 without any delay.
Content Mapper: adivaha® gives to a chance to move ahead in the travel industry by getting our GDS software and enjoy the fantastic content mapper tool. By using this mapper, you can quickly get real-time updated content and, as a result, increase your sales.
Online Distribution Strategy: We catch new market shares by offering innovative ideas to our online distribution methods along with attractive inventory enlisting.
Market Access: GDS allows you to promote your travel agency or hotel on the internet because it is centralized and widely use software by every travel agent of the world.
 Low Maintenance: Only minor maintenance is needed with the GDS system because it automatically copied all data related from the Computerized Reservation System (CRS) about hotels, travel companies, or car rental to its server.
Distribution Network: Due to the availability of GDS, it allows travelling agents to get rid of the traditional booking system and provide exposure to themselves by introducing exciting offers and deals by using GDS software. So it makes our life quick & easy. 
All-About-GDS-Program
adivaha® proves it dedicated efforts towards web-commerce reservations of hotels, flights, or car rental. Lucrative business strategies are acquired through the GDS system. For the grooming of the travel industry, GDS plays a back-bone role that allows accessing the airlines' inventory and all travel-related data. You can compare all the reservation details to choose the best fit option for your customers. Travel has also become possible on a single click, and it shows our interest in our customer satisfaction. So come and join us to enjoy your travel management.
Frequently Asked Questions
Below are some of the questions asked by visitors. Do visit our adivaha® Digest for more such questions. Don't hesitate to ask us if you have any questions
a. What security measures are in place to protect sensitive customer data? b. Does the API comply with data protection …

6

views

0

answers

0

votes

hello team, I want to know the cost of hiring your services. could you please provide full-fledged information regarding this?

29

views

1

answers

0

votes

Hi, my adivaha plugin api not working properly some day properly work but few days i have not seen my website …

32

views

1

answers

0

votes

hii team, Can you tell me what is the limit of your API usage?

52

views

1

answers

0

votes

Dear support team, Does Adivaha platform support Viator API?

58

views

1

answers

0

votes

can you build for me website to sell ticket form our Amadeus and already we have arc

46

views

1

answers

0

votes

Your Travon Theme doesnt come with the multiple flight search botton. how can this be fixed. also whats the cost …

57

views

1

answers

0

votes

Dear support team, I am thinking of initiating a travel business online, could you suggest to me some of the …

56

views

1

answers

0

votes

How can we registered and get access to the whitelabelled platform for our website.

90

views

1

answers

0

votes

Hello support team, Can you enlighten me about the travel agent-friendly features and benefits your B2B portal offers? Thanks.

63

views

1

answers

0

votes
Our Comprehensive List of Services
adivaha® is a one-stop-shop for all your travel website needs. We offer a multitude of services that empower you to become a market leader. Contact us for more info.
Have Questions?
The Internet is a huge resource, but
if your question requires particular expertise.
Keep Refreshing your customers - Who doesn't want his site to stand out from crowd? adivaha® gives you multiple options for home pages, headers, colors etc. Which can easily be managed from admin via shortcodes and settings. The theme supports almost all the big players in this market ie, WEGO, Travelpayouts, Agoda, Booking, Expedia etc.
Frequently Asked Questions
Below are some of the questions asked by visitors. Do visit our adivaha® Digest for more such questions. Don't hesitate to ask us if you have any questions
a. What security measures are in place to protect sensitive customer data? b. Does the API comply with data protection …

6

views

0

answers

0

votes

hello team, I want to know the cost of hiring your services. could you please provide full-fledged information regarding this?

29

views

1

answers

0

votes

Hi, my adivaha plugin api not working properly some day properly work but few days i have not seen my website …

32

views

1

answers

0

votes

hii team, Can you tell me what is the limit of your API usage?

52

views

1

answers

0

votes

Dear support team, Does Adivaha platform support Viator API?

58

views

1

answers

0

votes

can you build for me website to sell ticket form our Amadeus and already we have arc

46

views

1

answers

0

votes

Your Travon Theme doesnt come with the multiple flight search botton. how can this be fixed. also whats the cost …

57

views

1

answers

0

votes

Dear support team, I am thinking of initiating a travel business online, could you suggest to me some of the …

56

views

1

answers

0

votes

How can we registered and get access to the whitelabelled platform for our website.

90

views

1

answers

0

votes

Hello support team, Can you enlighten me about the travel agent-friendly features and benefits your B2B portal offers? Thanks.

63

views

1

answers

0

votes