Build your own Travel Brand!
Ready to go-LIVE travel solutions that helps your travel agency to sell a range of travel services pretty instantly. adivaha® travel solutions make sure you have no boundation over your imagination, you can do everything online, without the need for any technical knowledge or design skills. Easy Backoffice, extensive reporting with integrated Funds Management System. Upload funds easily and instantly through Netbanking, Debit Card, Credit Card. The best part is, we do offer customizations in case you believe it will boost your business!
Streamline Your Hotel Booking with a Joomla API Integration
An open API is a programming interface available to the public that provides developers with access to a dedicated software program or web service. APIs are a set of requirements that govern how a program communicates and interacts with another program.
APIs can also allow developers to access some of the internal functions of an application, although this is not usually the case for web APIs.It doesn't happen. In its simplest form, an sabre api integration allows a piece of software to communicate with another piece of software, either inside a single computer or through a mechanism provided by the operating system or through an internal or external TCP. Many APIs were introduced by organizations to access HTTP. APIs may be used by developers within the organization who have published the galileo api integration or any developer outside the organization who wishes to register to access the interface.
The Joomla API Integration is critical to the development of businesses such as hotel industry decision-makers because their use affects the entire organization. Technology is an important part of the modern hospitality industry, and organizations that are becoming major branches of the hotel industry are all digital-based, such as OTAs.
To create the perfect pricing strategy that maintains the desired profit and growth rate, you must use tools that give you the freedom to edit rates according to the changing circumstances. Your access to comprehensive market behavior analysis to efficiently manage hotel revenue and increase returns with the adivaha® management tool. Adivaha, inventory management tool also can call competitors' prices for comparison, where you can adjust your rates for maximum profits. To give you more insight into your pricing strategy, you can compare dates, last year, to assess the best retail price.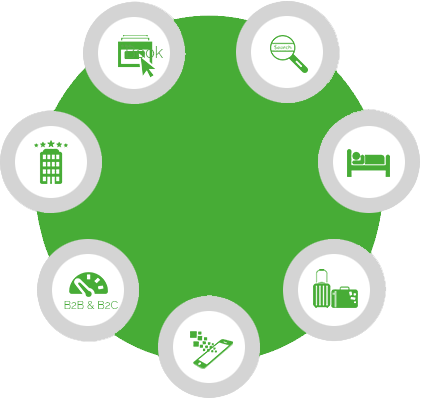 Power of Joomla API Integration for Hotel Booking
The Adivaha, Joomla hotel's gds api integration system can easily compare all-important statistics from the current and previous years and plan to get the Best Available Rate (BAR).
Joomla hotel API shows local attractions and all activities that will take place in the vicinity to attract tourists.
Joomla hotel API software analyzes and compares the prices and income of your competitors through the rates drawn from the adivaha® OTA.
Joomla hotel API software provides complete details about how Booker is engaging with your property website, with details such as search criteria, the currency used, etc. Visitors' statistics will help you identify the most interesting features of the property and use it for strategic planning by Adivaha.
Joomla Hotel APIs are the interface of applications, or in other words, the backbone of digital networking applications. They connect various hotel reservation software, applications, and programs that perform hotel operations daily. Therefore, when choosing any new technology for your hotel, it is important to consider how the Joomla Hotel API Integration will work. For example, there were 10,000 open joomla modules provided by a variety of IT companies around the world. Was.
The good news is that Joomla Hotel API growth is moving toward openness, meaning that developers can easily access them to connect systems, gather more information, and have a simple user experience. And create customers. Many powerful companies in the field of advanced technology have open and accessible amadeus api integration.
Joomla API best hotel reservation software
Hotel, room, villa, accommodation, taxi, ticket booking software, conference, concert and reservation software.Reservation software and reservation management can define a variety of reserves that can be reserved and mass management of pricing and pricing and its limitations. Joomla API software includes the possibility of defining different types of hotels, with different types of rooms and defining the number of rooms of any type or defining different types of villas and accommodations and their daily reservations and managing additional options and discounts and time and pricing restrictions. Also, for example, it is possible to define work offices and meeting rooms with the possibility of hourly reservations.
Increase your booking efficiency with Joomla hotel's API System.
Help designers and developers to optimize your accommodation website. The Joomla hotel API reservation system has various APIs available to easily integrate with your website. Give your guests a great booking experience. Adivaha available Joomla hotel API Integration allows you to display hotel prices and advertising space, hotel facilities, hotel listings, etc. in the various sections; you select, such as hotel websites, pages. Face book, etc.
The Joomla hotel API can be used for hotels or affiliated hotel groups that want to create their free page, using rate and availability information for hotel properties.
Price and availability
Restore real-time rates and inventory that are configured in the back-end system automatically.
Special service
With the help of the booking system of Joomla hotel API Integration, you can promote many special services that you provide such as free breakfast, meal plans, vouchers, dinner, etc.
Book now
We also have a list of available rooms. We also have an interface available for instant bookings in our hotel reservation system.
A list of hotels and settings is best
Adivaha can easily access the Joomla hotel API to list hotel chains, along with real-time rates and availability, facilities, and all other important information about hotel rooms.
adivaha® eliminates the hassle of managing multiple user logins; the central reservation system will provide all important information in one panel of Joomla hotel API. Increasing operational efficiencies for many hotels allows CRS to give you access to areas, prices, inventory, and reservations. Also, the toggle feature allows you to switch between features to easily manage the rates and inventory of all features.
Dashboard for Revenue, reservations, and visitor statistics is available in adivaha® OTA.
Receive significant real-time information about bookings, occupancy levels, etc.
With all of the information on one screen, you or the Adivaha team can make informed decisions while booking rooms for pedestrians.
No juggling between multiple login panels. Maintain all ad space and reservation rates in one login panel of adivaha® OTA.
With the help of an outstanding rate management tool, it makes a perfect pricing mechanism to maximize efficiency, profit.
Joomla hotel API's Integration is without a doubt one of the largest and most popular content management systems for managing and designing Internet websites in the world.Joomla plugin can be very helpful in growing your small business. If you are looking for a platform that can grow with your business and budget. At the same time, due to its open-source text, it will give you unlimited opportunities for customization.
Travel agencies and entertainment are for the refreshment of body and soul. However, if you jump into the water without a plan, you will only waste your time, energy, and money. We recommend that you consider accommodation before taking any trip and take advantage of the hotel's online booking benefits with flights api integration.
Our Comprehensive List of Services
adivaha® is a one-stop-shop for all your travel website needs. We offer a multitude of services that empower you to become a market leader. Contact us for more info.
Have Questions?
The Internet is a huge resource, but
if your question requires particular expertise.
Keep Refreshing your customers - Who doesn't want his site to stand out from crowd? adivaha® gives you multiple options for home pages, headers, colors etc. Which can easily be managed from admin via shortcodes and settings. The theme supports almost all the big players in this market ie, WEGO, Travelpayouts, Agoda, Booking, Expedia etc.
Frequently Asked Questions
Below are some of the questions asked by visitors. Do visit our adivaha® Digest for more such questions. Don't hesitate to ask us if you have any questions
What all GDS and Providers are connected in the platform?

34

views

1

answers

0

votes