Build your own Travel Brand!
Ready to go-LIVE travel solutions that helps your travel agency to sell a range of travel services pretty instantly. adivaha® travel solutions make sure you have no boundation over your imagination, you can do everything online, without the need for any technical knowledge or design skills. Easy Backoffice, extensive reporting with integrated Funds Management System. Upload funds easily and instantly through Netbanking, Debit Card, Credit Card. The best part is, we do offer customizations in case you believe it will boost your business!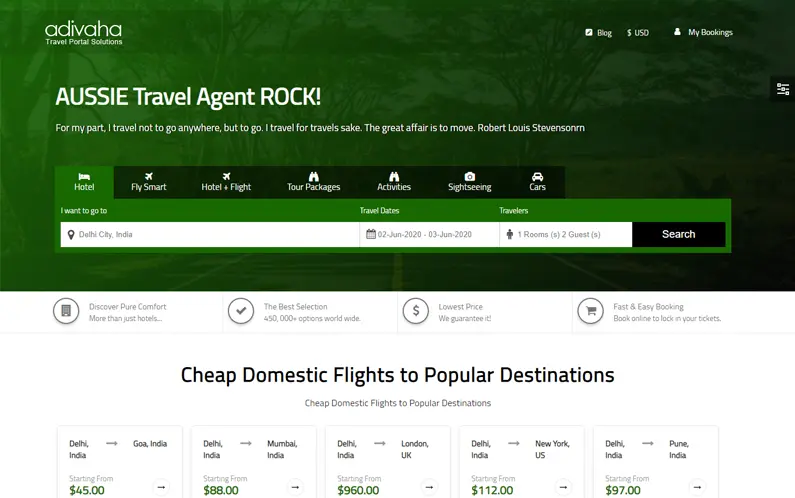 How To Set Up a Successful Galileo GDS API Integration
Galileo is one of the most renowned GDS. It is a technological leader in the distribution of services to the travel and tourism sector through an advanced computerized reservation system.
It has remained at the forefront by developing advanced products and innovative Internet solutions. Galileo is a value-added distributor of tourism products which, by supporting travel agencies and their client companies, expands the choice of travellers.
Galileo GDS is an advanced network of travel agencies that specialize in selling and booking travel products, such as rooms, flights and service packages. It belongs to the Travelport company and was created in 1987 by various European flight agencies to compete with Saber who were the industry giants at that point of time. When an operator connects to a GDS, they can access all the service providers within the GDS network.
Think of a unique program centralizing telephone, website, mobile and XML reservations, with integrated operations and billing, with an online strategy to attract and convert customers and enjoy success.
adivaha® Travel Portal Solutions is a global provider of travel technology. We excel in analyzing and listening to the specific needs of our clients, we offer our consultation and deliver software that adapts to the scale of operations, for online and offline travel agencies, Travel Wholesalers / Aggregators / Consolidators / Distributors, Operators tourist/excursion and activity providers etc. With our years of experience, we can ascertain the industry's flight booking software requirements.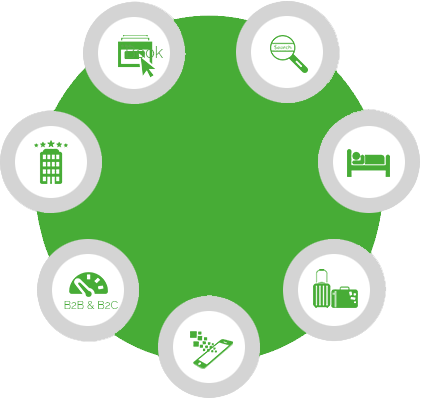 Tips to Ensure a Smooth Galileo GDS API Integration
We offer a wide range of solutions to travel companies ranging from a start-up to a large travel company. Our travel software solutions are used by traditional and online travel agencies, travel wholesalers, tour operators, online ticketing agencies, marketing companies of different destinations, intercity transport companies (bus, train, charter), rental companies and technology development companies.
he products we develope Recently, there have been major developments in the travel agency and wholesale operator systems. We provide you with solutions that will handle all of your agency needs and can be implemented immediately. We have software that covers all the characteristics of an OTA (Online Travel Agency), mixing the versatility of personalized service and the flexibility of integrations. We provide you with B2B, B2C, B2B2C booking engines, plus you can add multiple inventory providers into a single booking engine for hotels, flight price api, packages, excursions, car rentals, transfers and buses. This GDS makes things easier for you with its customer management, back end system, business rules, connectivity to third-party systems and CRM.
The system has connectivity with global travel inventory providers such as GDS (for flights, hotel, car rental, excursions, cruises and many more): Gallileo, Amadeus, Travelport, Ábacus and Saber, GTA, HotelBeds, HotelsPro, Tourico, Travco. The Galileo GDS API integration with a travel wholesaler is a technological tool that serves to connect in real-time with tour operators, wholesale tourism agencies, airlines, hotel chains, and other providers of tourism products. With this connection, the products of the wholesalers can be offered in a single search engine from their website, with complete freedom to personalize and make it usable and simple for the end customer.
Grow the lucrative corporate segment with us An important access point for travel agencies and large companies looking to book trips; Galileo travel software is an important mix in distribution channels to large properties.
The advantage that Galileo gds api documentation integration offers us compared to other distribution systems is that using XML we can edit the contents and descriptions of the offers. It also allows us to decide the final price of the product, always respecting the minimum price imposed by the tour operator. Thus, it is possible to increase the profit margin on the sale, but if you plan to go overboard with the price hike, customers may choose other cheaper options in the market.
This means that you would sell from your website in the same way that tour packages are sold from a traditional travel agency counter. Like a showcase, with XML gds api integration we have free access for the design and presentation of the product. Commissions on the sale are agreed with the tour operator.
Full coverage on the web By being connected to all GDS networks, you never miss out on an opportunity to promote your property. Another advantage offered by the XML/ api integration interface is the possibility of combining products from different suppliers or wholesalers, which in other words is known as cross-selling, this means that from your online travel agency you can sell, for example, a vacation package that includes flight + hotel + leisure activities + transfers.
What are the benefits of XML integrations with Galileo by adivaha®?
Galileo is the world's leading reservation galileo crs system. XML integrations with Galileo will allow your customers to find their tickets at the best price on the market.
Are you the owner of a travel agency or are you thinking of creating one? And do you want to offer airline tickets among your products? If the answers to these questions are yes, then it is in your best interest to read everything we are going to write below. And what are we going to talk about? Well, from a world leader company in the distribution of flights to travel agencies. This is travel galileo reservation software by Travelport, one of the most popular GDS' in the world. Its structure is already serving the most important travel agencies in the world. It also serves corporate travel programs. How can you get their services too? At Adivaha, we have the answer because we are in a position to offer XML integrations with Galileo. With Galileo, you will see how you get more customers and more sales and for less effort you will generate more income. These are some of the "little secrets" of the XML integrations with Galileo:
The world's leading online travel agencies already offer XML integrations with Galileo. More than 60% of the flight bookings are made using GDS (Global Distribution System)
Travel Management Companies (TMCs) contribute to over 50% of flight bookings made through GDS.
Also, 70% of Business Travel News 100 (BTN 100) corporate travel programs choose Galileo
What can you access with Galileo XML integration?
There are a lot of products and services. We will highlight some of them:
With the Galileo GDS, you can have on your computer screen the tickets of more than 400 airlines.
Also, more than 20,000 hotels
13 cruise companies
25 car rental companies
It is not surprising that online travel agencies, the so-called OTA's, have increased astronomically over the years. This pattern indicates that they will not stop growing any time in the future. You also have the chance to participate in all the possibilities that this sector has to offer. Of course, to create a travel agency you have to follow certain steps that we explain in this post.
Acquiring adivaha's services have many advantages, some of them are listed below:
Your customers will save an average of 19% when they purchase a plane ticket through our reservation system. When you include our technology in your database, your clients will be able to carry out continuous searches to find the cheapest tickets available. So, with these prices, you will surely be able to anticipate your competition in this segment of the tourism sector.
Customers who enter your booking system after our Galileo XML integration will be able to find what they are looking for without any difficulty. On your screen, they will see first the direct flights and then the flights with a stopover. This allows the trips they take to be much more comfortable.
what will you get with collaborating with adivaha®?
First, more sales revenue. Suppliers offering Galileo products are estimated to increase their billing by an average of 20%.
You will gain much more agility so that your clients contract the flights of practically all the companies in the world. Your shopping cart may increase by 35% as a result of additional services.
You will save time. At least between 10 and 20 minutes in each operation thanks to the fully automatic management of the flight reservation system offered by Galileo.
As the process is fully automated, you will avoid human errors and therefore your productivity index will reach unsuspected limits.
And how to get all these integrations and therefore all these advantages? It's very simple, you just have to contact us. adivaha® will help you integrate with this worldwide flight reservation system. You only need your computer and we will do the rest. We are experts in XML integrations and there are already many companies that trust our technology.
Galileo gds system calculates fares, shows any flight availability and gives a whole web of travel information on and in the most difficult and complex route. In addition to booking the flight, they also perform processing, such as issuing tickets, vouchers, and cards boarding. In essence, GDS enables those who do use, which may be travel agents, organizations and even individuals, to make reservations in real-time and having all the latest information on various vendors, including airlines, hotels, car rentals, organized excursions and trains.
galileo api integration GDS information can give us access to independently timetables for more than 600 airlines, availability, prices and seat layout while giving us access to 15 more than 45 million fare prices and fare prices on various currencies. It also gives us access to electronic rules or detailed fare rules that are easily obtained and defined clearly, in more than 50 car rental companies across the country people in hotel businesses and api for flight booking companies and full potential issuance of tickets through a declared ticket printer of the agency.
The flagship solution of the Galileo range which, through a private network with advanced TCP / IP connectivity, allows connected travel agencies to book, print tickets and capture data both in the Galileo GDS and for local services. It is equipped with an advanced simplified and intuitive graphic interface that speeds up work, even without knowing the codes of the traditional GDS language. The Graphical Interface is fully customizable so that each travel agent can have his customized system, designed according to his specific work style, habits and preferences.
Our GDS connector allows you to connect to your suppliers and translate messages in a single format (XFT).
This gives you an API to connect to your applications and interfaces, allowing you to search for flights, sell air, and manage your files. This connector format is also extensible to other types of connection (Hotel, Insurance, etc.). If desired, this API can also be accompanied by a B2B or B2C interface to integrate with your platforms.
If desired, this API can also be accompanied by a B2B or B2C interface to integrate with your platforms.
The GDS connector supports all transactions necessary for flight search, purchase, and air travel record management.
The particular attention paid to the processes allows us to optimize the exchanges carried out with the suppliers, and thus to optimize your look-to-book ratio, among other advantages
Finally, our connector can then allow you to implement additional solutions, such as call queue management, batch processing, etc. We also offer supplements such as revenue optimization, or even quality control which allows automated ticketing.
Advantages of working with adivaha®
There are many sales of using a GDS in the hospitality industry. When you examine the different types of GDS, you have to consider what benefits it offers you:
Significant increase in visibility- With GDS integration by Adivaha, you will be able to access more than 500,000 agencies worldwide using the most widely used GDS galileo booking system. This real-time connection allows you to discover customer segments that may be interested in your establishment.
Connecting with agents is fast and affordable- Instead of working individually with each GDS system, you can use Galileo GDS Integration to connect with the best networks in the hospitality industry. This way you can easily connect with an advanced network of agencies, so you can avoid the commissions that the GDS usually include if you contract them individually.
You no longer have to enter reservation information manually- If you want to work with a different GDS or use several GDS systems, you will have to accept the reservations from your GDS and then enter them manually in your PMS. This is a cumbersome and time-consuming process, and you risk incurring double room reservations. With Galileo Travel Software, your GDS will automatically integrate with your PMS and your reservation information will be automatically updated. Forget about entering the data manually; You can dedicate this energy to serving the guests who stay at your establishment.
You can make better decisions for your business- With the appropriate travel technology, you can access useful information that will help you control the development and progression of your portal. Galileo Travel Software offers you complete reporting tools that allow you to obtain recent and relevant information. Thus, you can make more effective and beneficial decisions for your business. You can easily adjust your marketing, revenue management and distribution strategies; increasing your reserves in all the market segments that interest you.
You can reach interested travellers from anywhere in the world - The Travel industry has always been at the forefront of globalization, but it has never been as connected as it is now. Travellers from all over the world work with agencies that have a large amount of information thanks to the different GDS systems they use. With reservation system by adivaha® Travel Portal Solutions, you get access to all these systems from a single connection, and you can work with hundreds of thousands of travel agencies. You'll start receiving guest bookings from around the world, increasing your brand's visibility and allowing you to launch a marketing campaign globally. Discovering new markets is the best way to optimize your full potential in this highly competitive industry. If you want more information on how Galileo API Integration by adivaha® can help your travel portal expand its reach throughout the industry, then we are only a call away.
Our Comprehensive List of Services
adivaha® is a one-stop-shop for all your travel website needs. We offer a multitude of services that empower you to become a market leader. Contact us for more info.
Have Questions?
The Internet is a huge resource, but
if your question requires particular expertise.
Keep Refreshing your customers - Who doesn't want his site to stand out from crowd? adivaha® gives you multiple options for home pages, headers, colors etc. Which can easily be managed from admin via shortcodes and settings. The theme supports almost all the big players in this market ie, WEGO, Travelpayouts, Agoda, Booking, Expedia etc.
Frequently Asked Questions
Below are some of the questions asked by visitors. Do visit our adivaha® Digest for more such questions. Don't hesitate to ask us if you have any questions
Hello friends. I have a question. How can I use hotel GIATA ID?

14

views

2

answers

0

votes
Contact
Have something unique in mind? Drop a message.
Estimated reply time: 3-5 Working Days