Build your own Travel Brand!
Ready to go-LIVE travel solutions that helps your travel agency to sell a range of travel services pretty instantly. adivaha® travel solutions make sure you have no boundation over your imagination, you can do everything online, without the need for any technical knowledge or design skills. Easy Backoffice, extensive reporting with integrated Funds Management System. Upload funds easily and instantly through Netbanking, Debit Card, Credit Card. The best part is, we do offer customizations in case you believe it will boost your business!
How to Set Up a Successful Galileo GDS API Integration
Discover the ultimate guide to seamlessly integrating Galileo GDS API into your travel business. Learn step-by-step strategies, technical insights, and post-integration maintenance tips for a successful setup. Unlock the potential of Galileo's API and stay ahead in the travel industry.
How do you choose the right partner for Galileo GDS API integration?
Selecting the ideal partner for Galileo GDS API integration is pivotal for a seamless and successful collaboration. At Adivaha, we prioritize certain key criteria when choosing a partner for integration:
Expertise and Experience: Look for a partner with extensive experience in GDS integrations, particularly with Galileo. Assess their track record and expertise in handling complex integrations.
Reliability and Reputation: Consider partners with a strong reputation for reliability and professionalism. Reviews, testimonials, and industry recognition can provide valuable insights.
Technical Competence: Evaluate the partner's technical capabilities. They should have a deep understanding of APIs, strong development skills, and a proactive approach to handling technical challenges.
Support and Communication: A reliable partner offers continuous support throughout the integration process and beyond. Clear communication channels and responsiveness are crucial for a successful partnership.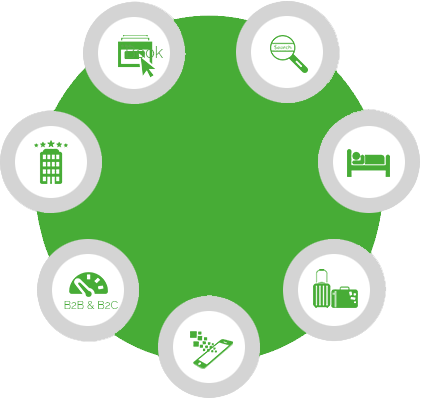 Tips to Ensure a Smooth Galileo GDS API Integration
Adaptability and Scalability: Ensure that the partner can adapt to evolving needs and scale the integration as your business grows. Flexibility and scalability are essential for long-term success.
By considering these factors, Adivaha ensures that the chosen partner aligns with our standards of excellence, reliability, and technical proficiency, ensuring a successful Galileo GDS API integration for travel businesses.
What preliminary steps are crucial before starting the integration process?
Before diving into the Galileo GDS API integration process, several crucial preliminary steps set the foundation for a successful integration:
Clear Objectives and Requirements:
Determine the specific functionalities or services you aim to achieve through the integration. For instance, it could be flight bookings, hotel reservations, or comprehensive travel itineraries. Understand how these functionalities align with your business objectives and customer needs. Prioritize the features that will add the most value to your services.
Thorough Research and Documentation:
Dive into Galileo's API documentation. Understand the available endpoints, data structures, supported functionalities, and any specific requirements or limitations. Assess how your existing data aligns with the structure and requirements of Galileo's API. Identify any potential mismatches that may need adjustments.
Assessment of Resources:
Evaluate the technical skills and expertise required for API integration. Assess whether your in-house team possesses the necessary capabilities or if external support is needed. Identify the tools and software necessary for integration. Ensure compatibility with Galileo's API and the scalability to handle future requirements.
Legal and Compliance Considerations:
Review Galileo's terms of use for their API. Ensure compliance with their usage policies, including any limitations on API calls, data usage, or access restrictions. Assess data privacy laws and regulations relevant to the handling of customer information. Implement necessary measures to ensure compliance and data security.
Communication and Collaboration:
Engage with internal stakeholders to align integration goals with broader business objectives. Ensure clarity on expectations and the potential impact on different departments. If engaging third-party service providers, establish communication channels, and ensure a clear understanding of roles, responsibilities, and expectations.
Risk Assessment and Mitigation:
Anticipate challenges that may arise during integration, such as technical complexities, data discrepancies, or resource limitations. Develop strategies to mitigate these risks. Create backup plans or alternative approaches to address potential obstacles.
Integration Roadmap and Timeline:
Develop a comprehensive integration roadmap that outlines each stage of the process, including testing, deployment, and post-implementation support. Set achievable milestones and establish a realistic timeline for each phase of the integration, considering the complexities involved and resource availability.
What are the steps for a Successful Galileo GDS API Integration?
Setting up a successful Galileo GDS API integration involves several key steps to ensure a smooth and efficient process:
1. Understand Galileo's API: Thoroughly study Galileo's API documentation to understand available endpoints, data structures, and authentication methods.
2. Define Integration Goals: Align integration goals with your business needs. Determine the specific functionalities (flight bookings, hotel reservations) to be integrated.
3. Choose the Right Partner: Select a partner with extensive experience in GDS integrations, particularly with Galileo. Ensure they have a strong track record of successful integrations.
4. Technical Execution:
Accessing Galileo's API: Gain access to Galileo's Developer Portal and understand the resources available for integration.
Authentication and Security: Implement secure authentication methods to access the API and prioritize data security.
Data Mapping and Formatting: Ensure accurate mapping and formatting of data to align with Galileo's API requirements.
5. Testing and Troubleshooting: Conduct thorough testing to identify and resolve any integration issues or bugs. Develop strategies to handle common integration errors and troubleshoot effectively.
6. Post-Integration Maintenance: Continuously monitor the integrated system for optimal performance and efficiency. Stay updated with Galileo's API changes and implement upgrades accordingly. Provide ongoing support to clients for integration-related queries or issues.
How do you keep the integration up-to-date with Galileo's API changes and updates?
Keeping the integration up-to-date with Galileo's API changes and updates is crucial for maintaining functionality and maximizing the benefits of the integration. Here's how this can be achieved:
Monitor Galileo's Updates: Stay informed about Galileo's API updates by subscribing to their notifications, newsletters, or developer forums. Periodically review Galileo's API documentation for any new features, changes in endpoints, or updated guidelines.
Assess Impact on Integration: Assess how the updates or changes in Galileo's API might affect your current integration setup and functionalities. Determine the relevance of these updates to your business objectives and customer needs.
Plan for Integration Updates: Create a structured plan to incorporate new API changes into your existing integration framework. Assign resources, including technical expertise and time, to implement these updates effectively.
Test and Deploy Updates: Conduct thorough testing of the updated integration to ensure compatibility and functionality. Implement the updates in a phased manner or during low-traffic periods to minimize disruption.
Maintain Communication Channels: Maintain communication channels with Galileo's support or developer teams to clarify doubts or seek assistance during the update process. Ensure all stakeholders within your organization are informed about the updates and their potential impact.
Documentation and Documentation: Revise internal documentation, guidelines, or manuals related to the integration process to reflect the changes made. Conduct training sessions or awareness programs for relevant teams to adapt to the updated integration functionalities.
What additional benefits does Adivaha offer in tandem with Galileo's API integration?
In tandem with Galileo's API integration, Adivaha offers additional benefits that significantly enhance the overall capabilities and services provided by travel businesses:
1. Diverse Travel Offerings: Adivaha extends Galileo's offerings by integrating multiple GDSs, aggregators, and suppliers, providing access to a broader range of flights, accommodations, car rentals, and more. It allows for customization and aggregation of travel services, empowering businesses to offer tailored packages and unique travel experiences to customers.
2. User-Friendly Interface: Adivaha®'s user interface enhances the booking experience, simplifying navigation and providing a seamless, intuitive booking process for travelers. It supplements Galileo's functionalities with additional features like dynamic packaging, multi-language support, and personalized recommendations, enriching user engagement.
3. Innovative Technologies: Adivaha leverages advanced technologies, including AI-driven analytics, catboats, and mobile responsiveness, to elevate the overall functionality and performance of travel platforms. Its scalable architecture accommodates growth and evolving business needs, ensuring flexibility and adaptability as businesses expand.
4. Robust Management Dashboard: Adivaha provides a comprehensive dashboard for inventory management, reporting, and analytics, enabling better control and decision-making for travel businesses.
5. Dedicated Customer Support: We offer dedicated customer support, aiding businesses with integration-related queries, technical assistance, and ongoing support post-implementation. It fosters strategic partnerships and collaborations, enhancing the network and potential opportunities for travel businesses.
6. Competitive Edge: Adivaha®'s additional features and functionalities provide a competitive edge in the market, allowing businesses to differentiate themselves and attract more customers. Tapping into diverse inventory sources and offering personalized travel solutions, opens up new revenue streams and business opportunities.
In conclusion, setting up a successful Galileo GDS API integration demands meticulous planning, technical expertise, and ongoing commitment to excellence. Understanding Galileo's API, defining integration goals, choosing the right partner, and executing the technical aspects are foundational steps. Rigorous testing, post-integration maintenance, and staying updated with Galileo's API changes ensure a seamless and efficient integration.
Our Comprehensive List of Services
adivaha® is a one-stop-shop for all your travel website needs. We offer a multitude of services that empower you to become a market leader. Contact us for more info.
Have Questions?
The Internet is a huge resource, but
if your question requires particular expertise.
Keep Refreshing your customers - Who doesn't want his site to stand out from crowd? adivaha® gives you multiple options for home pages, headers, colors etc. Which can easily be managed from admin via shortcodes and settings. The theme supports almost all the big players in this market ie, WEGO, Travelpayouts, Agoda, Booking, Expedia etc.
Frequently Asked Questions
Below are some of the questions asked by visitors. Do visit our adivaha® Digest for more such questions. Don't hesitate to ask us if you have any questions