Build your own Travel Brand!
Ready to go-LIVE travel solutions that helps your travel agency to sell a range of travel services pretty instantly. adivaha® travel solutions make sure you have no boundation over your imagination, you can do everything online, without the need for any technical knowledge or design skills. Easy Backoffice, extensive reporting with integrated Funds Management System. Upload funds easily and instantly through Netbanking, Debit Card, Credit Card. The best part is, we do offer customizations in case you believe it will boost your business!
Integrating Worldspan in Joomla Through API: System Details
Discover the power of seamless travel management with our in-depth guide on Integrating World Span in Joomla through API. Uncover system details for enhanced efficiency and customer experiences. Dive into the world of travel technology with Adivaha.
At Adivaha, we are committed to providing comprehensive travel-related solutions to travel businesses. In our quest to enhance the efficiency and effectiveness of travel management systems, we recognize the importance of integrating World Span, a leading global distribution system (GDS), into Joomla using API (Application Programming Interface). In this article, we delve into the intricacies of integrating World span in Joomla through API, offering a detailed system overview, and step-by-step implementation guide, and highlighting the advantages of this integration.
What are the key components of the World span GDS and how do they operate?
At Adivaha, we understand the importance of comprehending the key components of the World span Global Distribution System (GDS) to streamline your travel business operations. World span, a prominent GDS in the travel industry, consists of several integral components that work harmoniously to deliver essential travel information and services to travel businesses and end-users.
Airline Content: World Span's airline content is the cornerstone of its GDS functionality. It provides access to an extensive database of flight schedules, fares, and availability from a vast network of airlines worldwide. This component ensures that travel businesses can offer a comprehensive range of flight options to their customers.
Hotel Content: Another vital component is World Span's hotel content, which aggregates information from hotels globally. This includes details on room availability, rates, amenities, and more. By integrating this component, travel businesses can provide customers with a diverse selection of accommodations to suit their preferences and budgets.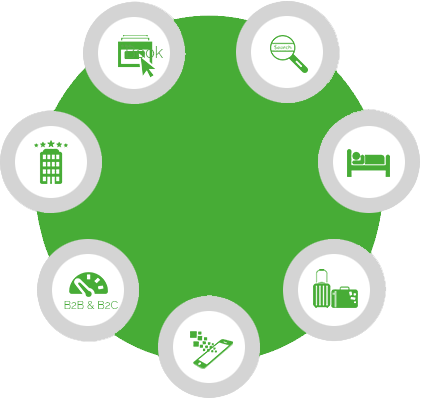 Integrating Worldspan API into Your Joomla System
Car Rental Content: World span's car rental content offers access to an extensive inventory of rental cars from various providers. This component enables travel businesses to facilitate the booking of rental vehicles, enhancing the overall travel experience for their customers.
How These Components Operate
World Span's components operate seamlessly through its robust technology infrastructure. The GDS continually aggregates and updates data from airlines, hotels, car rental agencies, and cruise companies, ensuring that the information provided to travel businesses and customers is current and accurate.
Travel businesses connect to World span's GDS through APIs (Application Programming Interfaces) or other integration methods, allowing them to access and utilize the data within their own systems, such as Joomla. This integration facilitates real-time searches, bookings, and reservations, enhancing the speed and efficiency of the travel booking process.
How does Joomla serve as a content management system for travel businesses?
At Adivaha, we recognize the pivotal role that Joomla plays as a content management system (CMS) for travel businesses. Joomla's versatile and user-friendly platform empowers travel businesses to efficiently manage their online content, streamline operations, and provide an exceptional experience to their customers.
Flexible Content Management: Joomla excels in managing diverse types of content, including text, images, videos, and documents. Travel businesses can effortlessly create, edit, and organize their content, making it an ideal choice for maintaining websites, blogs, and travel guides.
User-Friendly Interface: Joomla boasts an intuitive and user-friendly interface, allowing even non-technical users within the travel industry to manage and update content without extensive training. This accessibility enables travel businesses to maintain their online presence efficiently.
Customization Capabilities: Joomla offers extensive customization options through themes and templates. Travel businesses can tailor their websites to reflect their unique branding, creating a distinctive and memorable online presence.
Multilingual Support: In the global travel industry, multilingual support is essential. Joomla provides built-in multilingual capabilities, enabling travel businesses to reach a broader audience and cater to travelers from around the world.
Scalability: As travel businesses grow, their content management needs evolve. Joomla's scalability ensures that businesses can expand their online offerings without the need for a complete overhaul, saving time and resources.
The Role of an API in Integrating World Span into Joomla
The API enables Joomla and World Span to communicate effectively by providing a standardized way for these systems to exchange data. This bi-directional flow of information ensures that both platforms stay updated with the latest travel data, including flight schedules, pricing, availability, and more.
API integration streamlines the booking process for travel businesses and their customers. Travelers can search for flights, hotels, and other services directly through Joomla, and the API connects to World Span in the background to fetch real-time results. This eliminates the need for travelers to visit multiple websites, providing a more seamless booking experience. By integrating World Span through an API, Joomla can offer a user-friendly interface with advanced search and filtering options. Travel businesses can customize the user experience, making it easier for customers to find and book their desired travel options. World Span offers access to a vast inventory of travel services, including flights, hotels, car rentals, and more. API integration allows Joomla-powered websites to provide comprehensive travel offerings, making them more competitive in the market.
How does data synchronization between Joomla and World Span occur, and why is it crucial for travel businesses?
Data synchronization is the process that ensures both systems have access to up-to-date travel information, including flight schedules, pricing, availability, and more. Here's how data synchronization takes place and why it is crucial for travel businesses:
1. API Integration: Data synchronization primarily occurs through the API (Application Programming Interface) integration between Joomla and World Span. The API serves as a conduit, connecting the two systems and facilitating the exchange of travel data in real time.
2. Real-Time Communication: When a user searches for travel options on a Joomla-powered website, the API sends the user's query to World Span. World Span processes the request and returns relevant data to Joomla, all in real-time. This real-time communication ensures that users receive the most current information available.
3. Data Mapping and Translation: Data synchronization involves mapping and translating data between Joomla and World span to ensure seamless compatibility. This includes converting data formats, such as currency and language, to provide users with a consistent and user-friendly experience.
4. Automatic Updates: As data changes in World span, such as new flight schedules or price adjustments, the API integration automatically updates the corresponding data in Joomla. This automation eliminates the need for manual data entry and reduces the risk of errors.
5. Inventory Management: Travel businesses can efficiently manage their inventory through data synchronization. When a booking is made through Joomla, the API communicates with World Span to update the availability of flights, hotel rooms, or other travel services. This prevents overbooking and ensures accurate inventory management.
How Adivaha Enhances the Capabilities of Joomla and World Span for Travel Businesses?
At Adivaha, we pride ourselves on revolutionizing the travel technology landscape by seamlessly integrating advanced solutions into existing platforms like Joomla and World Span. Our expertise lies in enhancing the capabilities of these systems to empower travel businesses with a range of benefits. Adivaha augments Joomla's search capabilities by integrating advanced search algorithms. This ensures that customers can quickly and effortlessly find the travel options that best suit their preferences, leading to improved user satisfaction. Our integration ensures that Joomla and World Span remain synchronized in real time, offering customers the most current information on flights, hotels, and more. This accuracy builds trust and reliability among travelers.
Adivaha expands the range of travel services your business can offer by integrating a vast inventory of flights, hotels, car rentals, and other travel options from World Span. This extensive inventory sets you apart in a competitive market. We focus on enhancing the user experience by optimizing Joomla's interface. Our design ensures that customers can easily navigate and use the platform, resulting in higher conversion rates and customer satisfaction. Adivaha provides customization options to make your Joomla-powered website unique to your brand. Tailor the design and layout to reflect your business identity, creating a memorable online presence. Our integration seamlessly incorporates Adivaha®'s proprietary features into Joomla and World Span. This includes additional functionalities such as dynamic packaging, multiple payment gateways, and more, enhancing your service offerings. By enhancing the capabilities of Joomla and World Span, Adivaha gives your travel business a competitive advantage. You can offer a superior booking experience and a wider range of services, attracting and retaining customers.
Conclusion
In conclusion, integrating World Span in Joomla through API is a game-changing move for travel businesses looking to stay competitive in the ever-evolving travel industry. It not only streamlines operations but also enhances the overall travel booking experience. With the introduction of Adivaha into the equation, the possibilities for growth and innovation are boundless.
Our Comprehensive List of Services
adivaha® is a one-stop-shop for all your travel website needs. We offer a multitude of services that empower you to become a market leader. Contact us for more info.
Have Questions?
The Internet is a huge resource, but
if your question requires particular expertise.
Keep Refreshing your customers - Who doesn't want his site to stand out from crowd? adivaha® gives you multiple options for home pages, headers, colors etc. Which can easily be managed from admin via shortcodes and settings. The theme supports almost all the big players in this market ie, WEGO, Travelpayouts, Agoda, Booking, Expedia etc.
Frequently Asked Questions
Below are some of the questions asked by visitors. Do visit our adivaha® Digest for more such questions. Don't hesitate to ask us if you have any questions
I am setting up this plugin for my client's website, I tried registering and received the account activation email, but …

21

views

1

answers

0

votes