Build your own Travel Brand!
Ready to go-LIVE travel solutions that helps your travel agency to sell a range of travel services pretty instantly. adivaha® travel solutions make sure you have no boundation over your imagination, you can do everything online, without the need for any technical knowledge or design skills. Easy Backoffice, extensive reporting with integrated Funds Management System. Upload funds easily and instantly through Netbanking, Debit Card, Credit Card. The best part is, we do offer customizations in case you believe it will boost your business!
The Benefits of Using Travel Portal Software with API
Discover the benefits of integrating travel portal software with API and how it can streamline your travel business operations.
As the travel industry software grows more competitive, travel businesses are seeking innovative ways to enhance their customer experience and streamline their operations. One solution gaining popularity is integrating travel portal software with API (Application Programming Interface), a process that can unlock substantial benefits for businesses in this sector. Let's take a closer look at how API integration can help travel portals operate more efficiently and provide better services to customers.
Travel portal software with API: Understanding the Basics.
Travel portal software with API refers to the integration of travel agency software with a third party API provider. The software enables travel agents to access and offer a wide range of travel technology services, such as flight booking, hotel reservation, car rental, and tour packages, through multiple providers on one platform. The software providing sales, bookings, and other metrics, allows travel agencies to make informed business decisions. The API integration allows real-time data synchronization between the portal and the providers' inventory, ensuring accurate availability and pricing information. The result is a streamlined booking process for agents and customers alike that saves time and minimizes errors. The software manages customer data and interactions, allowing online travel agencies to provide personalized service and targeted marketing.
Improved Efficiency and Faster Booking Experience.
One of the most significant benefits of using travel portal software with API integration is improved efficiency and faster booking experience. With everything in one platform, travel agents can quickly search for available flights, hotels, cars, and tour packages and provide customers with real-time, accurate pricing information. The automated system also reduces manual errors that could occur during data entry, customer support, and payment processing. This streamlines the booking process from start to finish and frees up time for agents to focus on other business operations or serve more customers. In summary, integrating travel agency software with API is an excellent way to improve your travel business operations' efficiency by providing a fast and reliable booking experience while minimizing errors.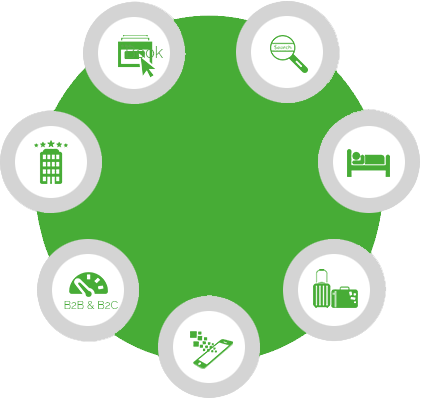 The Top Benefits of Using Travel Portal Software with API
Increased Inventory and Access to Multiple Suppliers.
Travel portal software with API integration provides travel businesses with increased access to multiple suppliers and a wider range of inventory options. With access to more suppliers comes greater diversity in products, which leads to more competitive price offerings for customers. Plus, this feature allows travel agents to quickly search for available flights, hotels, cars, and tour packages from various sources on one platform. Instead of manually checking multiple supplier websites or contacting individual suppliers, the system does it automatically through one travel api integration platform. Increased inventory and access to multiple suppliers allow travel agencies to offer a wider range of travel products and services, giving customers greater flexibility and choice in their travel arrangements. This saves travel agents a considerable amount of time searching through multiple wordpress website and ensures they can offer their customers the best prices and availability possible.
Personalization and Enhanced User Experience.
B2b Travel software with API integration also offers personalization and an enhanced user experience for customers. Personalization and enhanced user experience are two key factors in the travel industry that can help travel agencies, tour operators, and online travel agencies to stand out from the competition and provide better service to their customers. With the ability to access multiple suppliers, travel agents can tailor their package offerings based on customer preferences, such as preferred airlines or hotel chains. This level of customization results in happier customers who are more likely to return and recommend the business to others. Additionally, the system can save customer information and booking history for future trips, providing a personalized experience that is convenient and efficient. Overall, integrating travel portal software with API offers numerous benefits for both travel businesses and their customers.
Real-time Updates and Accurate Information for Better Decision Making.
One of the key benefits of using travel portal software with API integration is the ability to receive real-time updates and accurate information. With access to real-time information, travel businesses can make better decisions when it comes to booking flights, hotels, and other services for their customers, allowing them to make quick and informed decisions. They can monitor availability and pricing changes in real time, ensuring that they book the best deals for their customers. Additionally, accurate information ensures that bookings are made with the correct details and reduces the likelihood of errors or double bookings. By utilizing travel technology software with API integration for their business operations, travel agents can benefit from streamlined processes and a more efficient workflow, ultimately leading to increased profitability and customer satisfaction.
Our Comprehensive List of Services
adivaha® is a one-stop-shop for all your travel website needs. We offer a multitude of services that empower you to become a market leader. Contact us for more info.
Have Questions?
The Internet is a huge resource, but
if your question requires particular expertise.
Keep Refreshing your customers - Who doesn't want his site to stand out from crowd? adivaha® gives you multiple options for home pages, headers, colors etc. Which can easily be managed from admin via shortcodes and settings. The theme supports almost all the big players in this market ie, WEGO, Travelpayouts, Agoda, Booking, Expedia etc.
Frequently Asked Questions
Below are some of the questions asked by visitors. Do visit our adivaha® Digest for more such questions. Don't hesitate to ask us if you have any questions
Hello team, can you tell me if I can connect several APIs in one platform or website?

20

views

1

answers

0

votes