Build your own Travel Brand!
Ready to go-LIVE travel solutions that helps your travel agency to sell a range of travel services pretty instantly. adivaha® travel solutions make sure you have no boundation over your imagination, you can do everything online, without the need for any technical knowledge or design skills. Easy Backoffice, extensive reporting with integrated Funds Management System. Upload funds easily and instantly through Netbanking, Debit Card, Credit Card. The best part is, we do offer customizations in case you believe it will boost your business!
Cost-Effective Online Booking Engine for your Travel Agency
The white label travel agency or industry has become the most challenging business, so having the appropriate technology is crucial to success. For instance, a great hotel booking engine can improve your hotel's performance and make certain processes easier to automate. In recent years, more and more independent hotels and other tourist accommodations have turned their focus to attracting more reservations at the lowest possible cost. Many properties have successfully built their direct sales channel using a good booking engine and better marketing strategies.
Integrating your booking engine into your hotel website templates allows you to save on commissions charged by portals for acting as intermediaries between your hotel and the end customer. Your booking engine lets your client's book directly through your hotel's website. This represents a saving in your distribution costs. Therefore, a booking engine helps you increase the profitability of your hotel.
If you're considering the possibility of incorporating the possibility of a booking engine online to increase direct sales for your hotel, we've put together this guide to help be aware of how this tool operates as well as the top attributes you need to look for, and the best way to utilize white label travel portal hotel engine.
What is a hotel booking engine?
A hotel booking engine online is a reservation processing tool used by hostels, hotels, B&Bs, vacation rental properties, or other lodging establishments to take reservations via their websites, social media channels, and other marketing channels. Hotel booking engines are electronic technology specifically designed to sell products in the hotel market. OTAs have utilized this technology for a while. However, allowing direct bookings via your website can have many advantages. Some small and independent hotel owners and chains are still hesitant to invest in this kind of tool for sales. But the trend toward automating hotel processes internally will continue to grow.
After all, the pandemic has accelerated technological processes that were previously considered to be helpful. Concentrating reservations on the hotel's website, with exclusive promotions dedicated to the guest's interest, is essential for high performance in direct sales.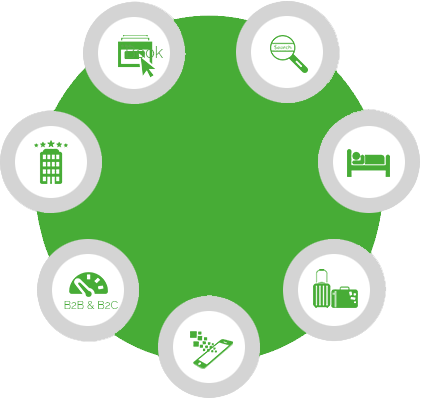 Developing a Cost-Effective Online Booking Engine for Hotels
However, increasing direct bookings is not an objective that can be achieved with a single tool… A set of strategies will improve your hotel's profitability correctly and effectively. The hotel booking engine is a fundamental part of this strategic plan because it provides many advantages to the hotel. Find out in this hotel receptionist course article why a booking engine makes a difference in a hotel's sales strategy.
How does a white label booking engine work?
Many travel booking engine can be integrated into a hotel's existing website to work solely as the reservation system. They can also be used as the hotel's website, thanks to the customizable and ready-to-use web templates that are usually provided.
The hotel booking engine is a fundamental part of this strategic plan because it provides many advantages to the hotel. Find out in this hotel receptionist course article why a booking engine makes a difference in a hotel's sales strategy.
A hotel booking engine's main benefit is generating new reservations without commission from an external distribution channel, including OTAs, GDSs, travel agents, or online marketplaces. Guests can book online anytime, anywhere, and their credit cards can be charged immediately if the booking engine is integrated with a payment platform. Integrating a booking engine into your hotel's customer acquisition channels is a great idea. It will allow potential guests to automatically reserve their room without putting off the idea until you can call the hotel.
Reasons to use a white-label hotel booking system.
For many hotel owners, the online reservation system with a booking engine represents the possibility of direct sales. It is much more than that…From the moment customers have an e-commerce tool to make reservations on your website, they deal directly with you. In addition, direct sales are more profitable since they do not involve the payment of commissions to third parties, and there is no risk of duplicating reservations or making manual errors.
This is because the hotel booking engine updates in real-time and integrates with other tools… as soon as the customer clicks to complete the purchase, the reservation is made, and their inventory is updated. It is certainly one of the best competitive advantages in the market. The hotel booking engine is such a useful tool that it promises to improve your… profitability.
Therefore, developing a website for your hotel with an integrated booking engine without thinking about the strategies for your sales channel may not achieve the expected result. The first step of the strategy is to know your audience. From there, the tool can be adopted along with other strategies that bring the hotel closer to the customer.
The booking engine must be in harmony with a set of marketing strategies embedded in your website and online campaigns. When choosing your page layout and content, for example, think about what your audience would like to see. It is useless to be the cheapest among competitors to sell more. A good price combined with pages created without planning may not give positive results.
Get direct sales

Directly selling hotel rooms and eliminating fees from the distribution channel will substantially increase your profit margins and reduce the expense of acquiring customers. One of the benefits of booking engines is that they can increase direct sales by facilitating the process of making your hotel's website an online store open 24 hours a day. In the example above, on average, hotels that use the hotel booking engine experience an increase of 20% in direct bookings.

Although maximizing direct sales with advertising on the internet or social media marketing campaigns and branding programs is feasible, having a reservation system is an important differentiation. It will allow you to control your guest's procedure and experience and also permit you to experiment with different pricing strategies and revenue management techniques.

Get extra income

Work less to earn more? This is what a hotel booking engine offers on a hotel website. No more phone calls. The hotel booking engine simplifies processes and instantly generates money for hoteliers by generating real-time reservations and avoiding any risk of customer churn between the time of booking and arrival at the hotel.

Guests will always look for new ways to enhance their stay at your property and location. Services at your hotel and third-party services are important sources of income for all accommodation providers. Your website is the perfect place to offer these extra services to improve the shopping experience and make life easier for your guests.

Meet guest expectations

More travelers than ever book directly through an accommodation company. You've probably heard of the Billboard effect, a phenomenon in which guests find the property through or through an OTA and then go to the hotel's website to make a reservation. With so many options, it is common for travelers to conduct due diligence before making a choice. They want a smooth booking experience and immediate contact with their selected hotel.

Customize your service

Your website allows you to provide an individual service for your visitors. By knowing the type of customer you want to reach your customers, you can alter the type of rooms you offer, and the services offered or construct packages. You can ensure that your content is appealing to your ideal guest and provides answers to frequently requested questions. Safety and health are an issue of great importance right now, and you'll want to use your site to show the measures your business and location is adopting to deal with these concerns.

Create the customer's loyalty

The speed and convenience that an engine for booking hotels can make making reservations for a room in your hotel much quicker and more convenient for you to increase loyal customers. You can also include promotions or other tools to build loyalty to the system.

A booking engine is mandatory for a guest loyalty strategy. Whether launching a marketing campaign to attract repeat customers or capture new ones through referrals, the most efficient and cost-effective way to process these reservations while ensuring a seamless experience is through your reservation system.

Be a distributor for your product.

When they create an engine for booking on their website, hotels can become distributors of their inventory and can avoid the systematic and nearly exclusive utilization of intermediaries. This means that the price of rooms will be more tightly controlled by hoteliers who can enforce their conditions on online travel portal software agencies.

Best customer service

It will give them an immediate and fully guaranteed service without reservation errors, it will also be beneficial for the hotel's image, and it will be able to serve its clients 24 hours a day in different languages.

Less work for you

You will have a tool that automatically manages online reservations. Customers do not have to be called since they can see if it is available, its prices, and its conditions. You do not have to send confirmation emails indicating amounts, be aware of the deposit, etc.

Fully customizable

You can customize the engine so that it fully adapts to the characteristics of your business. They can create all kinds of offers and combined services that you want to offer at any time. This helps you increase the average customer spend.

Get Bookings from Metasearch Engines

adivaha travel portal meta-search engines offer users a place to compare rates from various online travel agencies, marketplaces, and hotel websites. With the introduction of free booking links and vacation rental inventory on Google, accommodation providers can appear in search and plot results on partner OTAs. Hotels must have a booking engine with real-time pricing and up-to-date availability to stay competitive on a metasearch level.

The reservations you make, the terms

Your website is your shop where visitors confirm their reservations without interrupting the intermediary or involvement of your sales or receptionists. Direct booking implies that your hotel holds the booking, the information, and the relationship with guests. You'll be able to engage directly with guests without intermediaries.

Maintain a brand image

To grow tourism businesses creating your unique branding is essential. Apart from the value proposition of your hotel and establishing your brand's value proposition, it helps to create trust and loyalty in direct-to-consumer environments like hospitality. Once you've identified the characteristics associated with your business, from the color scheme and logo to your company's "personality, "your website is the best location to begin implementing your brand's characteristics. Choose a flexible booking engine that you can modify to fit your branding.

24/7 Availability

Your booking engine is the hotel's online store, open 24 hours a day, seven days a week so that visitors from anywhere can access and make a reservation. If you can't receive bookings automatically, you'll lose business. System availability is also essential to maintaining the strength of your direct sales channel.

Flawless experience booking

Visitors to your website can expect your booking process to be simple, easy, and speedy like other stores online. The simplicity and clarity of the steps are the most important factors. The most important steps in the buying process should be straightforward, such as searching for dates, choosing rooms, and making payments. According to Google, 77% of smartphone customers will be more inclined to finish the purchase when it's easy to complete the transaction. So, avoid the many steps and options that could confuse customers.

Integrations

Your booking engine needs to be reliable regarding rates, availability, and rates. This is why real-time integrations between the Channel Manager and booking management software are vital. It will prevent duplicate bookings, pricing mistakes, and manual transfer of information from one program to another. Other crucial Integrations are Google Analytics and plugins to book bookings on your social media networks.

Payment Processing

An online payment gateway automates the booking process for the property owner and guest. Nowadays, people prefer paying online using a credit card and getting instant confirmation of reservations. This method will also spare you from manual costs and the need to confirm the credit card's legitimacy.

Mobile Friendly

Find an online white label booking engine that loads quickly and is optimized for mobile devices. Smartphones have revolutionized the way that consumers interact. We now expect reservations and self-service regardless of the device we are using. Google states that mobile search results are increasing each year. You don't want to miss out on reservations due to an unresponsive website—function on a mobile device or tablet.

Our reservation system has a version for computers and another for mobile devices, allowing the availability check and making the reservation comfortably and simply for the client. It is developed in HTML5 and is compatible with all operating systems.

You can configure extra services.

It is possible to create optional contracting services by the client, such as continental breakfast, buffet breakfast, parking, cot, diving classes, excursion, etc., to define the price, frequency, service description, and other parameters.

The hotel's website is the ideal location for guests to get special rates, apply promo codes, and buy additional services like local tours, activities, and many more. Promoting rates on partner companies like conference centers, tour operators, business travelers, etc. It is much simpler to control using the booking engine designed with features promoting your business.

Design & Personalization

Choose a B2B booking engine with customizable options or the possibility of incorporating additional CSS code if you need it. Choose an image-rich design to highlight your rooms, amenities, and location to inspire guests.

We offer a powerful hotel booking engine to make live reservations for hotel establishments. Intuitive, secure, and easy to use, Rate Match is a new generation booking engine designed for all hotels that want to increase their direct sales significantly. Thanks to its automated management that uses Rate Match data extraction algorithms, the hotel booking engine is the tool that takes direct hotel marketing to the level of OTAs.
Conclusion
Through a good booking engine, the client makes his online reservation in a few minutes and has three simple steps: select dates, choose the type of room and provide his contact information and the payment method. It can also be customized and configured, incorporating the specific needs of each hotel, such as offers or minimum stays. It also encourages you to purchase complements to the stay such as excursions or services such as airport pick-up, a bottle of cava in the room, parking, late checkout, and offering a more personalized reservation for our clients.
Other advantages of a best white label travel portal hotel booking engine are immediacy and automation. A client can enter your hotel website and formalize the reservation in real time, pay it instantly and without the need to occupy the time of the hotel staff with calls, emails, etc. All in real-time and in a safe way for both the hotel and the end customer.
Suppose we also integrate our booking engine api with the hotel management software. In that case, it is when we reduce time and therefore save money and manage to optimize the management of our hotel. At Adivaha, we select the booking engine that best suits your hotel's needs based on our experience with hundreds of clients.
Our Comprehensive List of Services
adivaha® is a one-stop-shop for all your travel website needs. We offer a multitude of services that empower you to become a market leader. Contact us for more info.
Have Questions?
The Internet is a huge resource, but
if your question requires particular expertise.
Keep Refreshing your customers - Who doesn't want his site to stand out from crowd? adivaha® gives you multiple options for home pages, headers, colors etc. Which can easily be managed from admin via shortcodes and settings. The theme supports almost all the big players in this market ie, WEGO, Travelpayouts, Agoda, Booking, Expedia etc.
Frequently Asked Questions
Below are some of the questions asked by visitors. Do visit our adivaha® Digest for more such questions. Don't hesitate to ask us if you have any questions