Save Time With Pre-Made White Label Templates
Create a professional brand quickly and easily with
travel white label
templates. Customize the templates with your logo and colors to showcase your unique style and save time and money in the process. Best and easiest solution to go LIVE within few mins.
Save Time With Pre-Made White Label Travel Templates
Create stunning, professional-grade travel booking portal quickly and easily with our exclusive collection of pre-made white label templates. Get access now and save time! Stop spending extra time making your best travel sites from scratch when you can get the best pre-made white label templates! Save time, energy and resources with these templates.
What is Travel White Label Travel Template?
The whitelabeling templates allow travel businesses to create professional looking websites without any technical knowledge. They come with ready made designs with customizable elements so that agencies can tailor them as per their brand. With all the design and coding already in place along with features like responsiveness and mobile compatibility, white label templates are a time-saving way to get a high-performing site up and running with minimal effort.
Most of the white label travel web templates include sections for creating a custom home page, contact page, Search travel services feature, and other standard elements. They are available in various and unique designs that allow users to edit colors and layouts to match the look and feel of their desired branding. White label templates come with basic SEO and security optimization so you can easily rank high in search engine results pages (SERPs). And with minimal additional coding requirements, you don't need extensive technical knowledge to get your site online. In short, white-label templates provide businesses with a quick-and-easy way to create beautiful travel sites that are optimized for performance right out of the box.
Choose the Most Professional White Label Travel Template for Your Brand.
Choosing the right website template for your travel business is essential to create a professional image. Evaluate different white label website templates based on their colors, design elements, and customizable options. Consider which template best represents your brand and would be the most marketable to potential customers. Once you have chosen a template, add in your logo, color combinations, target destination landing pages, and other branding elements to further customize it.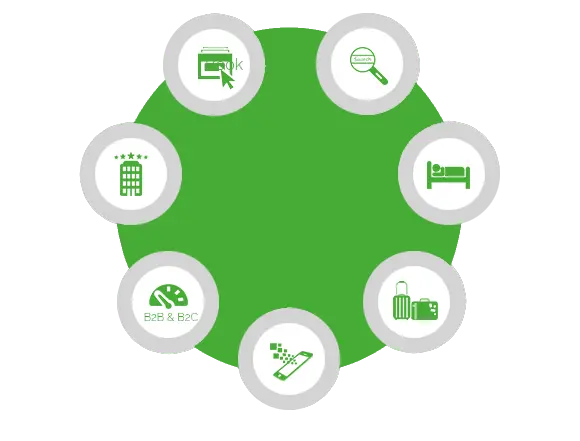 Saving Time and Money With White Label Travel Templates
Customize and Integrate the Design Elements Easily.
Pre made white label templates make it easy to customize and integrate design elements so you can focus on promoting your business. The options are endless; add a logo, change the font, and pick special colors for fonts or backgrounds. You can also add photos and videos quickly with pre-made templates – no coding or extra help needed. And you can easily integrate the template into any website by embedding code -simple as that!
Monitor the Performance of Your White Label Templates Regularly.
It's important to monitor the performance of your white label travel templates regularly. Keeping track of the number of visitors, leads, and clicks can help you identify any areas where improvements can be made and make the needed tweaks to further optimize the white label travel portal for success. By regularly checking these metrics through the adivaha dashboard received at the time of subscription, you can ensure that your templates are performing as expected and drawing in customers.
Mobile Responsive White Label Travel Templates: Design for Multiple Devices and Viewports.
To ensure your white label travel site templates are truly optimized for success, make sure that they have been designed to be responsive and display correctly no matter the device or viewport. This is especially important for templates used on travel agency website, as more people tend to shop from mobile devices now. Be sure to test out different devices before launching a white label template and making it live, in order to make sure it's visually appealing and user-friendly on all devices.
Third Party Travel Templates
When it comes to setting up your best travel agency websites, the right theme makes all the difference. With the right combination of visuals and features, your visitors will have a seamless experience while they browse through services they can book with you. Look for any third party themes that are specifically designed and optimized for travel agencies. Our Cross-Platform Travel Plugin can be integrated in any Website, all you have to do is to add two simple straight forward shortcodes to add the travel booking feature in your preffered travel template. Find a theme that works with your mission, and leave the rest on us.