Build your own Travel Brand!
Ready to go-LIVE travel solutions that helps your travel agency to sell a range of travel services pretty instantly. adivaha® travel solutions make sure you have no boundation over your imagination, you can do everything online, without the need for any technical knowledge or design skills. Easy Backoffice, extensive reporting with integrated Funds Management System. Upload funds easily and instantly through Netbanking, Debit Card, Credit Card. The best part is, we do offer customizations in case you believe it will boost your business!
How to Choose the Best Wordpress Vehicle Booking Plugin
Discover the key factors to consider when selecting the perfect WordPress Vehicle Booking Plugin for your online travel business. Learn about essential features, customization options, integration capabilities, and customer support. Find out why Adivaha®'s plugin stands out as a reliable and efficient solution for enhancing your booking process and delivering an exceptional user experience.
One of the most popular platforms for creating and managing websites is WordPress, and with the help of specialized plugins, travel businesses can easily integrate vehicle booking functionalities into their websites. A Booking WordPress Plugin is a powerful tool that enables travel businesses to streamline their booking processes, improve customer experience, and boost overall efficiency.
Understanding the Importance of a Vehicle Booking Plugin
At Adivaha, we understand the ever-evolving landscape of the travel industry and the increasing importance of online bookings. As more travelers turn to the internet to plan and book their trips, having an efficient and user-friendly booking system becomes paramount for travel businesses to stay competitive.
With the rising demand for seamless online reservations, a specialized vehicle booking plugin for WordPress-powered websites becomes a game-changer for travel businesses like yours. Our team of experts has carefully curated a top-notch plugin that integrates seamlessly into your WordPress travel website, empowering you to offer hassle-free vehicle booking services to your customers.
The advantages of implementing our specialized vehicle booking plugin are far-reaching. By embracing this cutting-edge technology, you gain a significant edge over competitors still relying on outdated booking methods. Your customers will appreciate the convenience of browsing available vehicles, checking real-time availability, and securing their reservations with just a few clicks.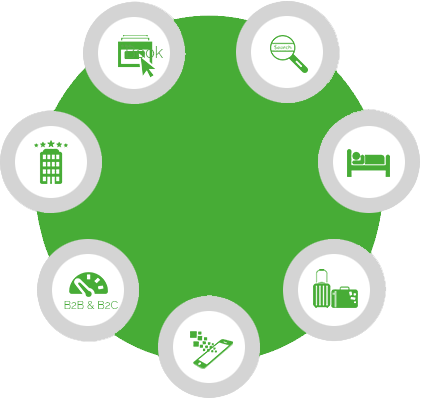 The Best WordPress Vehicle Booking Plugins
As a third-party service provider, we prioritize enhancing your customer's experience, and our vehicle booking plugin plays a crucial role in achieving that goal. By providing an intuitive and user-friendly booking process, we aim to streamline the path to purchase for your customers, thereby encouraging more bookings and increasing your revenue.
Essential Features to Look for in a WordPress Vehicle Booking Plugin
At Adivaha, we understand the critical role that a feature-rich WordPress Vehicle Booking Plugin plays in enhancing the booking process for travel businesses like yours. When considering the right plugin for your travel portal website, it's essential to focus on the following essential features that can significantly impact your customers' experience and overall business success:
Availability Management: Real-time availability updates and seamless synchronization with existing calendars are crucial aspects of a top-notch vehicle booking b2b wordpress plugin. This feature ensures that your customers have access to the latest information on vehicle availability, helping them make informed decisions and secure their preferred bookings instantly. With our advanced plugin, you can say goodbye to double bookings and administrative headaches, as it keeps your availability data accurate and up-to-date in real time.
Flexible Pricing Options: In the dynamic world of travel software, pricing can vary based on seasons, demand, and booking duration. Our WordPress Vehicle Booking Plugin empowers you to implement dynamic pricing strategies, allowing you to adjust rates according to market fluctuations automatically. With this flexibility, you can optimize revenue and attract customers during off-peak seasons while maximizing profits during peak periods.
Multiple Vehicle Support: As a travel business offering a diverse range of vehicles, such as cars, bikes, and RVs, it is essential to have a plugin that can handle them all. Our feature-rich plugin provides seamless support for multiple vehicle types, ensuring that your customers can easily browse and book their preferred mode of transportation with ease and convenience.
Online Payment Integration: The significance of secure payment gateways and multiple payment options cannot be overstated in today's digital landscape. Our WordPress Vehicle Booking Plugin offers seamless integration with trusted and secure payment gateways, providing your customers with peace of mind while making online transactions. Whether it's credit/debit cards, PayPal, or other popular payment methods, our plugin ensures a smooth and secure payment process.
Booking Modification and Cancellation: We understand that travel plans can be subject to changes, and customer satisfaction hinges on flexibility. With our plugin, your customers can easily modify or cancel their bookings hassle-free. By offering this convenience, you foster a positive customer experience, leading to increased trust and loyalty towards your business.
As a leading third-party service provider, Adivaha takes pride in offering a WordPress Vehicle Booking Plugin that incorporates all these essential features and more. Our user-friendly interface and seamless integration with your existing WordPress website ensure a seamless booking process for your customers. With a focus on performance, security, and customer satisfaction, our plugin is designed to elevate your travel business to new heights.
Choose Adivaha as your trusted partner, and let our expertise and dedication transform your online booking system Wordpress into a competitive advantage. Experience the convenience of a feature-rich WordPress Vehicle Booking Plugin that empowers your business to thrive in the ever-evolving travel industry.
Integration and Compatibility
At Adivaha, we understand the significance of seamless integration and compatibility when it comes to selecting a WordPress Vehicle Booking Plugin for your travel business. Our top priority is to provide you with a plugin that effortlessly integrates into your existing WordPress theme and complements your website's design and functionality.
Seamless Integration with Your WordPress Theme: Our expert team has meticulously developed a WordPress Vehicle Booking Plugin that harmoniously blends with your website's aesthetics and structure. We ensure that the plugin's design seamlessly aligns with your brand identity, creating a cohesive and immersive user experience for your customers. By choosing our plugin, you can rest assured that it will not disrupt the visual appeal or user-friendliness of your website.
We understand that your website represents your travel business's online presence, and any discrepancies in integration can create a negative impression among your potential customers. That's why our plugin is designed to seamlessly fit into your existing theme, making it feel like a natural extension of your website.
Compatibility with Third-Party Services: In the modern travel technology company, a successful online booking system relies on smooth interactions with various third-party services. At Adivaha, we have prioritized ensuring the compatibility of our WordPress Vehicle Booking Plugin with a wide range of third-party services, such as payment gateways and CRM systems.
By integrating with reputable payment gateways, our plugin enables your customers to make secure online transactions with ease. The seamless connection ensures that your customer's payment details are protected, instilling trust and confidence in your booking process.
Furthermore, we understand the importance of efficient customer relationship management (CRM) systems in maintaining excellent customer service. Our plugin can seamlessly integrate with popular CRM platforms, allowing you to centralize customer data and streamline communication. This integration simplifies the management of customer inquiries, bookings, and support, enhancing your overall operational efficiency.
Why Choose the Best Wordpress Vehicle Booking Plugin?
At Adivaha, we understand the importance of providing you with a top-notch plugin that effortlessly enhances your vehicle rental bookings. With seamless integration into your preferred travel b2b website wordpress, our plugin offers real-time availability updates, flexible pricing options, and an extensive selection of vehicles tailored to meet your unique travel needs. Enjoy the convenience of modifying or canceling bookings hassle-free, knowing that your sensitive information is protected by our state-of-the-art security measures. Our commitment to unbeatable speed, reliability, and performance ensures that you can embark on your journeys with utmost confidence and peace of mind. Bid farewell to cumbersome booking procedures and embrace a new era of streamlined travel arrangements, all made possible by the best WordPress Vehicle Booking Plugin, exclusively offered by Adivaha.
How can our plugin's lightweight development ensure faster loading times for travel websites, leading to a more enjoyable user experience?
At Adivaha, our WordPress Vehicle Booking Plugin stands out for its lightweight travel portal development, which directly translates to faster loading times for travel websites and an ultimately more enjoyable user experience. The lightweight nature of our plugin ensures that it does not burden your website with unnecessary code or excessive resources, preventing any potential slowdowns. With faster loading times, your best travel website pages load swiftly and smoothly, enabling your customers to access the vehicle booking functionality without any frustrating delays. This enhanced speed not only improves user satisfaction but also reduces the risk of high bounce rates, as customers are more likely to stay engaged and explore further.
A seamless and rapid booking process instills a sense of efficiency and professionalism in your custom website, leaving a positive impression on your potential customers. Moreover, improved loading times have a positive impact on search engine rankings, enhancing your website's visibility and accessibility to a broader audience. By choosing our lightweight WordPress Vehicle Booking Plugin, you ensure that your customers can swiftly navigate through various vehicle options, availability calendars, and payment gateways without encountering any lags. This streamlined experience fosters customer loyalty and encourages them to return for future bookings.
Conclusion:
Selecting the best WordPress Vehicle Booking Plugin is critical for travel business to business looking to stay competitive in the ever-evolving digital landscape. By considering essential features such as availability management, flexible pricing options, and user experience, businesses can enhance their online booking process and attract more customers. Additionally, factors like compatibility, security, and reliable customer support should be taken into account while making the final decision. As a third-party service provider, Adivaha stands out as an excellent option, offering a top-notch vehicle booking plugin that meets all these requirements and ensures a seamless booking experience for customers and business owners alike.
Our Comprehensive List of Services
adivaha® is a one-stop-shop for all your travel website needs. We offer a multitude of services that empower you to become a market leader. Contact us for more info.
Have Questions?
The Internet is a huge resource, but
if your question requires particular expertise.
Keep Refreshing your customers - Who doesn't want his site to stand out from crowd? adivaha® gives you multiple options for home pages, headers, colors etc. Which can easily be managed from admin via shortcodes and settings. The theme supports almost all the big players in this market ie, WEGO, Travelpayouts, Agoda, Booking, Expedia etc.
Frequently Asked Questions
Below are some of the questions asked by visitors. Do visit our adivaha® Digest for more such questions. Don't hesitate to ask us if you have any questions
I am setting up this plugin for my client's website, I tried registering and received the account activation email, but …

9

views

0

answers

0

votes